NFL
NFL Injuries That Could Affect Your Fantasy Team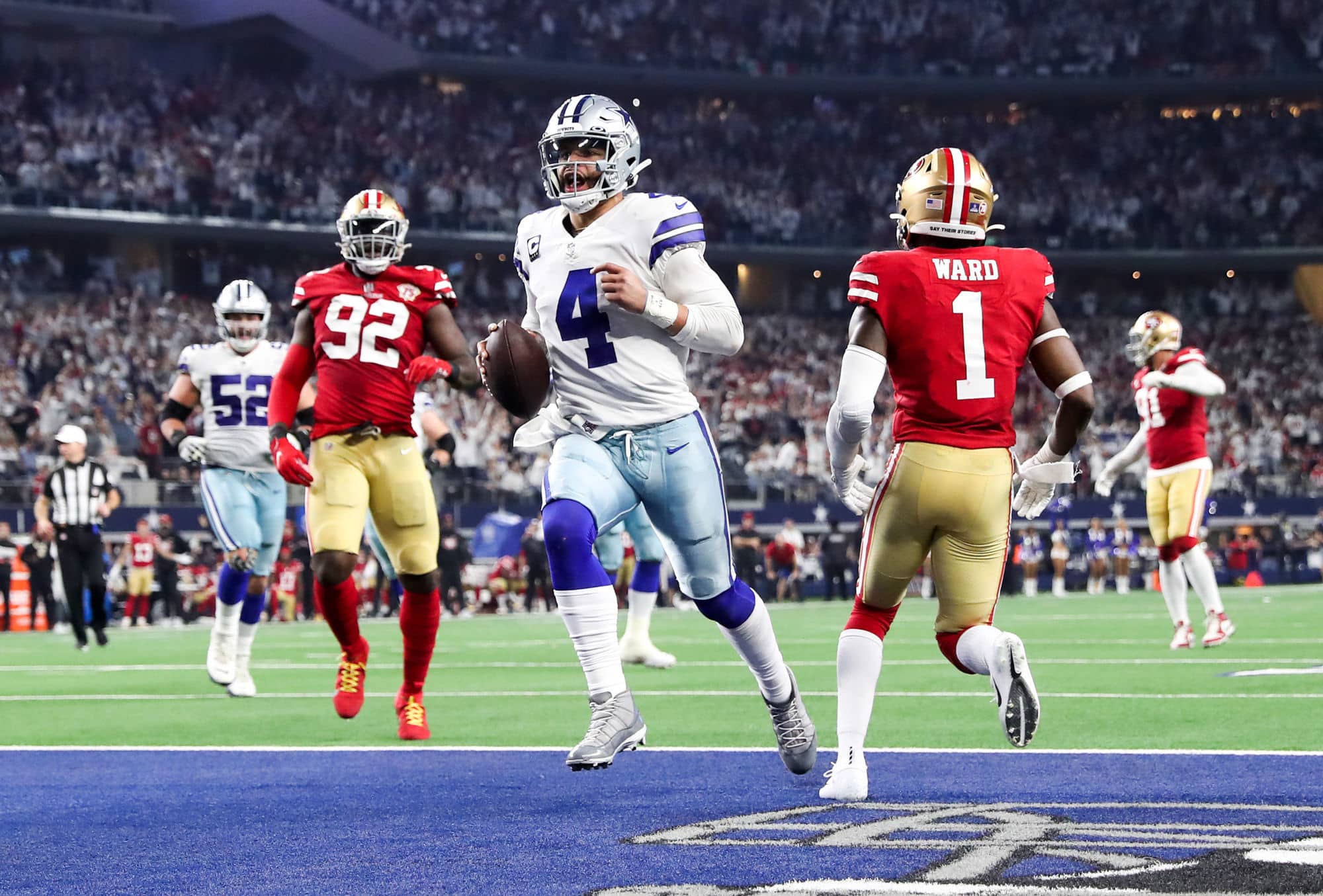 By Scott Kacsmar
After one week of the 2022 NFL season, we were reminded of just how brutal and unfair this game can be when it comes to health. Some big-name players were already absent for the opener, but several more were unable to finish their Week 1 game due to injury.
Let's review the key injuries from Week 1 that could affect your fantasy team and player prop bets this week and beyond.
For the second time in three seasons, head coach Mike McCarthy must coach the Cowboys through a major Dak Prescott injury. The quarterback had thumb surgery on his throwing hand and will miss 6-to-8 weeks. The good news is this isn't season-ending like his severe leg injury in 2020.
More decent news is that backup Cooper Rush threw for 325 yards in a comeback win in prime time over the Vikings last season. If Rush can stay healthy, the Cowboys won't resort to starting third and fourth stringers like Garrett Gilbert and Ben DiNucci as they did in 2020. McCarthy has had some success before with unknown backups in Green Bay, including surprisingly big games from Matt Flynn and Brett Hundley.
But the bad news is this offense looked terrible with Prescott on Sunday night in the 19-3 loss to Tampa Bay. Dallas was the only team to not score a touchdown in Week 1. The Buccaneers said they studied the film of last year's matchup and knew what to expect from the offense, making it an easy night.
However, we know those weren't the same Cowboys on the field Sunday night. There was no Amari Cooper, Michael Gallup, Tyron Smith, La'el Collins, or Cedrick Wilson Jr. available. All five players played for Dallas on opening night in 2021. Three are on other teams in 2022, and Smith and Gallup remain out for an extended time with injury.
Now add Dak to that list, but I still wouldn't rule out the Cowboys staying competitive for the next six weeks or however long it takes to get Prescott back. They still have their backfield, some of their best linemen, No. 1 wideout CeeDee Lamb, and starting tight end Dalton Schultz. Dallas is not at 2015 levels of Matt Cassel and Brandon Weeden throwing to Terrance Williams and Darren McFadden just yet.
Besides, things really could not get any worse than they were in Week 1, could they?
A huge injury that could affect Week 2 is Keenan Allen's hamstring right before his Chargers head to Kansas City for a pivotal division matchup on Thursday night. The shortness of the week makes it more likely that Allen will not be able to play in this big game.
Allen did not make it to halftime of Sunday's win against the Raiders. Despite that fact, he still led the team with 66 receiving yards on four catches. Mike Williams was unusually quiet with two catches for 10 yards, his fewest yards in his last 27 games.
But Justin Herbert did a great job of spreading the ball around so accurately. He hit nine receivers at least twice in the game. Maybe that committee approach is what the Chargers lean on again this week in Kansas City, but you have to think if the team is going to score enough points to win that one, Williams will have to be much more involved in Allen's absence.
Williams had 122 yards and two touchdowns in Arrowhead last season when the Chargers upset the Chiefs. After failing to surpass 10 receiving yards for only the second time in his last 50 games, Williams could be a player who explodes in the stat column on Thursday night if Allen sits out to heal that hamstring.
Lost in Sunday's highly-dramatic loss to Pittsburgh was a concussion suffered by wide receiver Tee Higgins in the second quarter. Higgins had two catches for 27 yards before leaving after 26 snaps. He is the No. 2 behind Ja'Marr Chase, but Higgins would be a No. 1 receiver on several teams in the NFL right now.
Burrow certainly seemed to miss having his other big target, but Chase did his best to pick up the slack and help get the game to overtime before the Bengals ultimately lost due to a poor kicking process.
Higgins is in the concussion protocol and will have a chance to return this week. His status is questionable at best as of right now. At worst, he shouldn't miss more than one game for the Bengals.
The good news is the Cowboys are up next with Cooper Rush starting for Dak Prescott, so it probably shouldn't be a shootout. Then again, the Bengals weren't expected to give up 400 passing yards to Mike White and the Jets last year either, so you never know for sure.
But if Higgins is out, Chase is always a threat, and third wideout Tyler Boyd is the next man up. Boyd caught a touchdown against Pittsburgh on Sunday, making it four straight regular-season games where he has scored, the longest streak of his career. Boyd could be a quality play this week in Dallas.
One of Week 1's toughest injuries happened to second-year running back Elijah Mitchell for San Francisco. He has a major MCL sprain that could sideline him for two months. Mitchell showed some great potential in his rookie season with five 100-yard rushing games, but staying healthy looks like a huge hurdle for him to overcome at the NFL level.
This is already going to be the fourth injury situation that keeps Mitchell out of games in his career. He missed two games early last season, played in the next five, missed another one, played two, missed three more, then finished the season. Now he will probably miss more games this year than all of last year.
The next man up could be Jeff Wilson, who has been with the team since 2018. But outside of a few big games in 2020 when the 49ers were hit hard with injuries, he has not really delivered much with his opportunities in that great Kyle Shanahan rushing system. Since 2021, Wilson is only averaging 3.6 yards per carry.
Worse, Wilson now has to split carries with his mobile quarterback (Trey Lance) and with his wide receiver, Deebo Samuel, who runs with the ball in a way no other wideout does in the game right now. Lance and Samuel had 21 runs for 106 yards in Sunday's disappointing loss to Chicago. Wilson had just nine carries for 22 yards after the Mitchell injury.
The 49ers may have to turn to more backs if Wilson does not get the job done while Mitchell is out.
After tearing his ACL last December, Chris Godwin's status for Week 1 had been doubtful for much of the offseason. But the Tampa Bay wideout surprised people with a quick recovery and he was deemed ready to play in the opener.
Godwin looked like his old self with a 24-yard catch early before finishing with 35 yards. When he had to reach low to grab a Tom Brady pass, Godwin came up hobbling and left the game with a hamstring injury, something new.
This hamstring injury could keep him out a few weeks too, giving some credence to the idea that he was rushed back and should have waited.
But the Buccaneers still have Mike Evans, who had 71 yards to lead the team as he eyes a ninth-straight 1,000-yard season to begin his career, an NFL record. Julio Jones also impressed in his debut with a 48-yard catch that reminded you of how dangerous this trio can be when Godwin is back healthy.
However, this injury does come at a bad time with the Buccaneers set to take on the Saints, Packers, and Chiefs in the next three games. The Saints have usually held Evans in check, so that may need to be a Julio game. The Packers may not be as good this year, but you still generally think you need to score a fair amount to beat Aaron Rodgers. The Chiefs could also come in red hot for that Week 4 game, so Godwin would be a nice addition for that. But we'll just have to see how his latest recovery process goes.
Quick Healers
Finally, here is a list of notable skill players who had an injury scare in Week 1, but all reports indicate they should be just fine for Week 2:
QB Patrick Mahomes, Kansas City Chiefs (hand)
QB Mac Jones, New England Patriots (back)
RB Najee Harris, Pittsburgh Steelers (foot)
RB Alvin Kamara, New Orleans Saints (rib)