NFL
Matt's Corner: Breaking down the NFL's biggest Week 2 matchups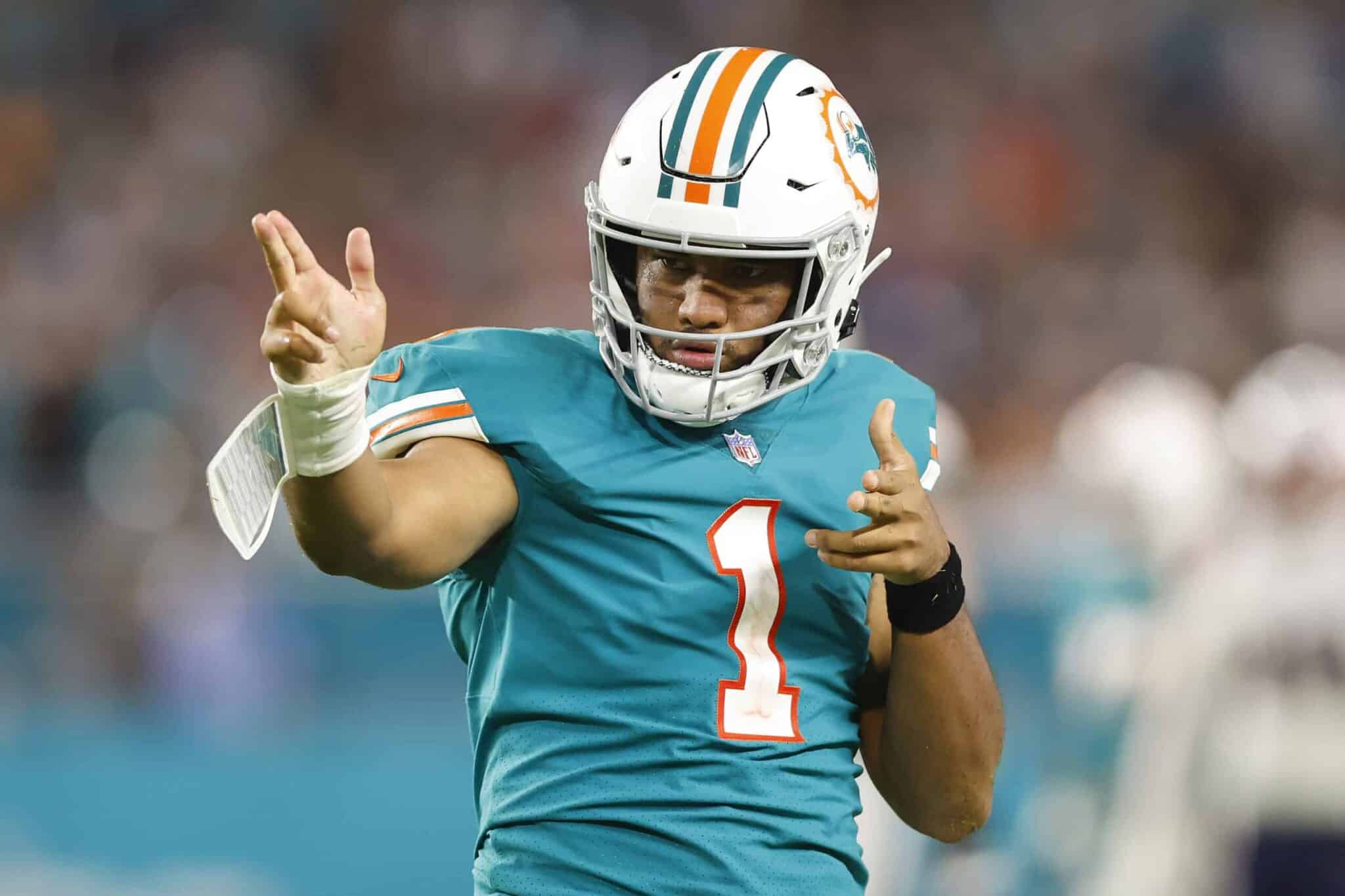 By Matt Williamson
Welcome to the NFL's Week 2. After a tremendous Week 1 filled with action, we can't wait to see how the top games shake out. Let's dive into my favorite games of Week 2!
After beating up on the Patriots, Miami travels north to Baltimore for what should be a stiffer test in Week 2. Both these teams are coming off double-digit victories, but neither offense was overly impressive. Neither offense was stressed either.
The Dolphins and Ravens each just averaged 5.2 yards per play last week and they ran for 2.8 and 3.0 yards per rush respectively. With Mike McDaniel coming from San Francisco to coach the Dolphins, most expected Miami to be a very run-heavy team. That wasn't the case.
Miami did play at a very slow pace while controlling the game from the start, but they stuck with the pass even with a substantial lead. It does look as though Chase Edmonds is the clear lead back though for Miami.
Meanwhile, Baltimore-known as one of the top rushing attacks in football-didn't have a true lead back and finished the day with just 63 rushing yards, the lowest output in any game Lamar Jackson has started. The Ravens running backs averaged a paltry 1.2 yards per carry in the first half. Jackson rushed for just 17 yards and completed less than 57% of his passes.
The Ravens only dialed up two designed rushes for Jackson last week. Baltimore should be on their third-string left tackle for this game and is uncertain if JK Dobbins will be ready for much of a workload if he plays at all. Kenyan Drake dominated the running back workload but was highly inefficient. Quinnen Williams gave the Ravens interior offensive line fits last week and Christian Wilkins could do the same for Miami.
The Jets threw the ball at a 78.5% clip against Baltimore last week, the highest percentage of any Week 1 game. Last year for the world to see on Thursday night, Miami tormented Jackson and the Ravens offense with an uncanny number of blitzes (60% blitz rate) and Cover 0 on the backend, something that gave Jackson and Baltimore's protection schemes an extremely tough time. But Miami's pass rush wasn't great last week, even with a lot of blitzes.
Tyreek Hill had a ridiculous 41.4% target share in his first game for the Dolphins while Jaylen Waddle should be fully over his quad injury. The Ravens have a great secondary, but Hill and Waddle present massive problems. The passing game goes through these two with little input from the tight end position, but Chase Edmonds did run the third most pass routes for the Dolphins last week.
After investing in their offensive line this offseason, the returns on investment in Week 1 were promising for Miami. This should be an excellent matchup.
This projects to be a grind-it-out low-scoring game with two offenses that are extreme works in progress. This is the second straight road game for New England and Mac Jones is battling a back injury. Injuries are very much in play for the home team though too.
Reigning Defensive Player of the Year TJ Watt will not play and while Najee Harris looks to be likely to play, he is dealing with a foot issue. Jaylen Warren is Harris' clear handcuff. Mitch Trubisky's first start for the Steelers was very underwhelming and Pittsburgh struggled to move the ball with any consistency.
The Steelers rarely threw to their running backs last week, which is in stark contrast to a year ago. New England's defense last year was soft on running backs, but very strong against opposing tight ends. But Pittsburgh's group of weapons is very dangerous with Diontae Johnson and George Pickens on the outside and Chase Claypool operating out of the slot.
There are clear concerns with the Steelers offensive line however and Matt Judon is New England's most threatening edge rusher and Christian Barmore has the ability to wreck the game from the interior. This Patriots offense has a wide variety of weapons, but no one particularly threatening and overall, this is an offense that really lacks team speed. Pittsburgh's defense really upped their usage of Cover 2 last week against the explosive downfield Bengals passing attack.
That should change against New England, with Minkah Fitzpatrick parked more in the deep middle of the field. The Steelers could also boost up their blitz percentage with Watt out of the lineup. New England has a very solid offensive line, but where they should be most concerned is the interior pressure the Steelers can create with Cameron Heyward.
This game could come down to turnovers and special teams. 
The Saints home opener should present a very difficult environment, but Tom Brady's squad should be better equipped to handle such conditions than maybe any team in the league. Still, the Saints have been a really tough matchup for Tampa Bay of late.
Tampa Bay dominated the Cowboys on Sunday night, giving up just three points and 3.8 yards per play. After a very slow start for the entire Saints offense, Jameis Winston caught fire in the fourth quarter, throwing for 213 yards and two touchdowns in that final frame. Winston will be wound up for this matchup against the team that drafted him first overall.
Tampa Bay is always a nightmare to run the ball against and they are also very blitz heavy. Still, expect New Orleans to feature Alvin Kamara (if his rib injury isn't a problem) much more than last week and their trio of receivers, Michael Thomas, Jarvis Landry, and Chris Olave will have a great battle against the Buccaneers excellent secondary.
The interior of New Orleans' offensive line was problematic in Week 1 and now gets a much stiffer test against Vita Vea and Akiem Hicks, particularly in the run game. A huge part of the Saints success against Tampa Bay derives from the pressure they put on Brady, but New Orleans' showed very little pass-rush in Week 1.
However, the Buccaneers lost yet another starting offensive lineman, Donovan Smith, in last week's game and Brady was pressured quite a bit in Dallas, mostly by Micah Parsons. Brady probably will also be without Chris Godwin and Marcus Lattimore has done a great job against Mike Evans over the years. Julio Jones will act as Tampa's number two receiver and while he has absolutely lost a step, Jones can still impact the game.
The Saints run defense was problematic against Cordarrelle Patterson, so this might be a game in which Tampa Bay really leans on Leonard Fournette. Expect a real physical affair in New Orleans. 
Members of two of the most difficult divisions in the league, both these teams already cannot afford to fall to 0-2. This could be the highest-scoring game of the week with two very questionable defenses and potentially high-powered offenses.
The pass defense in particular from both these teams last week was particularly worrisome and we know that Kyler Murray and Derek Carr can take advantage of poor pass defenses. These are both very questionable secondaries. The Raiders at least have two stud pass-rushers in Maxx Crosby and Chandler Jones and the Cardinals allowed a lot of pressure on Murray last week.
Arizona isn't that fortunate and are working to find ways of creating pressure. Everyone knows that blitzing Patrick Mahomes is a very bad idea, but Arizona blitzed him time and time again last week with terrible results.
Josh Jacobs still isn't involved on passing downs, but he is clearly the Raiders runner of choice. Still, only 20% of the Raiders yardage came via the run, the lowest percentage from Week 1 across the league. But Arizona did surrender 185 total yards and three touchdowns to running backs last week.
As for Derek Carr's receivers, it was all about Devante Adams last week. Adams had an amazing 45% target share in his first game as a Raider. That isn't to imply that Hunter Renfrow and Darren Waller aren't major parts of this passing game though. Everything goes through these three and their varied skill sets.
The Cardinals have allowed multiple passing touchdowns now in eight straight games, but Carr did throw three interceptions last week. Slot receivers like Renfrow also abused this defense last season, as did tight end Travis Kelce in Week 1. Arizona's back seven could be overwhelmed by Adams, Renfrow, and Waller, but the Raiders offensive line is very suspect.
Arizona was very light on weapons last week, with Marquise Brown as the clear top option. James Conner played 90% of the first-half snaps and was the featured running back for Arizona in every situation. No offense went three and out on a higher percentage of their drives last week than the Cardinals.
This will be a very difficult environment for the Cardinals and no team allowed more points or yards per play than Arizona in Week 1. Expect fireworks. 
Minnesota Vikings at Philadelphia Eagles
In one of two Monday night games, there is a lot of momentum surrounding the Vikings and Eagles. Can either of these teams show the world that they are now true contenders?
As was the case last year, the Eagles made it clear in Week 1 that they will continue to design plenty of runs for Jalen Hurts, but what has really changed for this offense is the addition of AJ Brown, who Hurts targeted over and over and at the expense of Devonta Smith. Brown received an amazing 45% of the Eagles total targets.
The Eagles very well could have the NFL's best offensive line and it lacks an obvious weakness, but Minnesota's defensive front was dominant against Aaron Rodgers in Week 1. Danielle Hunter is healthy, and the addition of Za'Darius Smith paid off huge for Minnesota.
The Vikings controlled last week's game from the start with Justin Jefferson showing once again that he is a truly elite wide receiver. They didn't need much Dalvin Cook, but the Vikings should lean on him heavily on the road on Monday night. But while Minnesota's offensive line has come a long way, moving the Eagles defensive tackles on interior runs could prove to be a real chore.
With Kevin O'Connell now in charge of the Vikings, maybe we will see more of a wide-open passing approach with three wide receivers on the field a high percentage of the time. Irv Smith should also be more involved in the second game of the season, especially if O'Connell can get him matched up on Eagles linebackers.
The Eagles should have a very distinct home-field advantage and Kirk Cousins has not historically excelled in situations such as this.