NFL
NFL Injuries from Week 2 That Could Affect Your Fantasy Team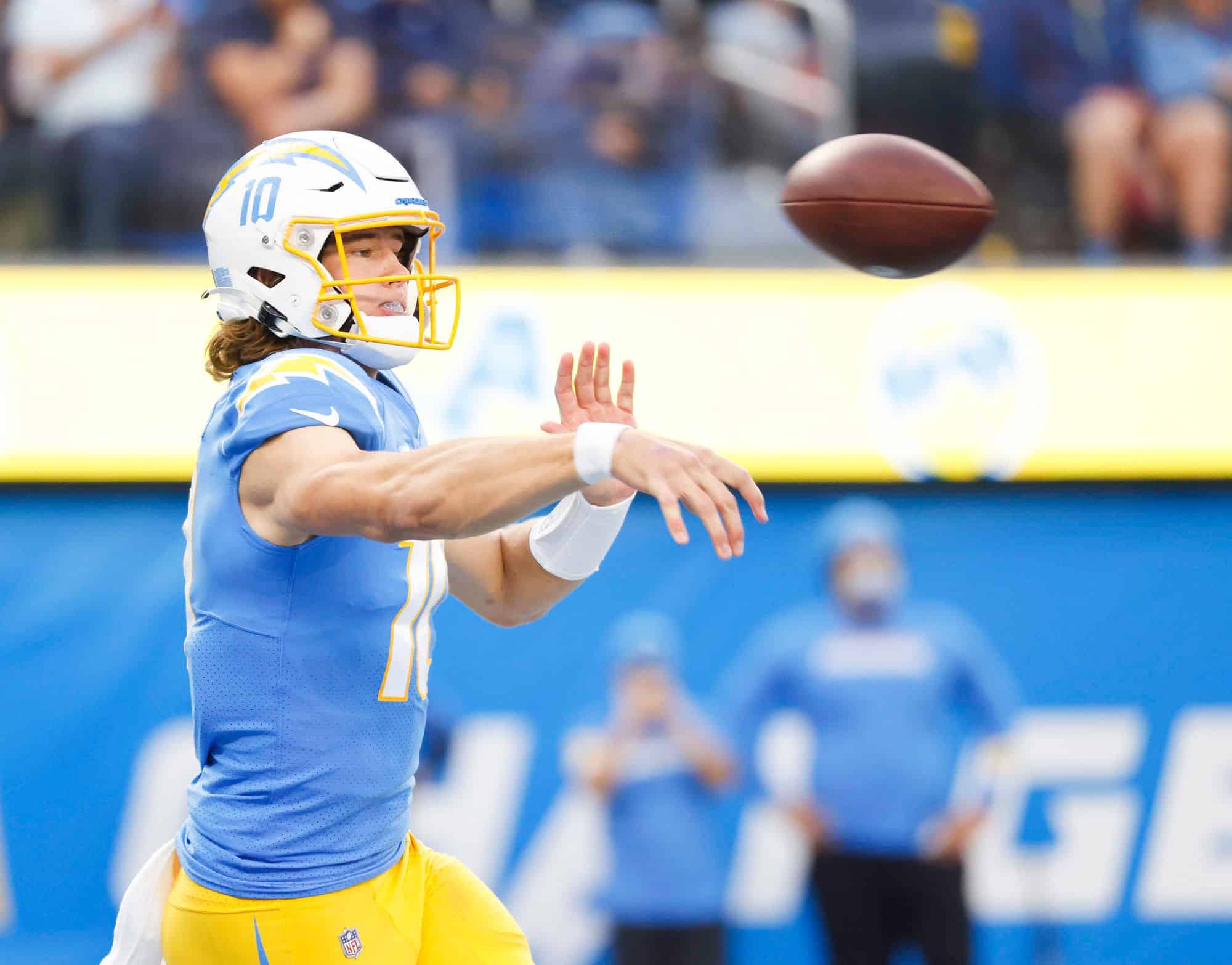 By Scott Kacsmar
After a preseason injury to Jets quarterback Zach Wilson and thumb surgery for Dak Prescott after Week 1, the NFL had its biggest quarterback injury of the 2022 season with Trey Lance in San Francisco. He was just five quarters into his first season as the starter before fracturing his ankle.  
But beyond the devastating ending for Lance, there were some other notable injuries in Week 2 that should have you looking differently at your fantasy team, DFS lineups, Same Game Parlays, and prop bets this week.
QB Justin Herbert, Los Angeles Chargers
Week 2 started with another major quarterback injury scare when Justin Herbert was down for the Chargers on Thursday night in Kansas City. At one point, Herbert pulled up from running for an easy first down as his body looked unable to compete. But on the very next play, he threw a strike down the field, the best throw of the night, to convert a fourth down and eventually get a touchdown.
Herbert finished the game, but he did in fact fracture some rib cartilage. The extra days off could help him get ready for the Jaguars on Sunday, but it is not a guarantee that Herbert, who has yet to miss any NFL games for injuries, will be the starter this week. Backup Chase Daniel would be a big step down even if his bank account is the envy of most Americans.
QB Trey Lance, San Francisco 49ers
The big injury this week was second-year quarterback Trey Lance in San Francisco. He was hit awkwardly on a designed run, his leg went the wrong way, and it just crumbled after he tried to stand up.
Lance was diagnosed with a fibula fracture and some ligament disruption. He should be able to return for the 2023 season, but maybe not at the beginning of it. With the injury happening on his 16th rushing attempt of the young season and on a designed run, there will be major questions for head coach Kyle Shanahan about the ability to run an offense in this fashion for the long term. Lamar Jackson has done it in Baltimore, but he may be a unicorn. Cam Newton's body also broke down within a decade in Carolina after a lot of runs, and he has a bigger frame than Lance.
It is a disappointing way for things to end for Lance after the anticipation to see him bring something different to the 49ers this year. But the team may actually be in better shape with Jimmy Garoppolo, who is back in the position as starter.
Garoppolo's return could mean a lot for wide receiver Brandon Aiyuk, who leads the team in receiving after tight end George Kittle missed Week 1 and Deebo Samuel continues to see more runs than an abundance of pass targets so far.
Garoppolo finished 2021 as the 17th-ranked quarterback in fantasy points, so he is rarely a good start in those formats, though he did have five 300-yard passing games last year. He just has not had more than two touchdown passes in any game since October 2020.
Known for his own durability issues, Garoppolo is going to have to stay healthy or else the 49ers will really be feeling the heat with a third-string quarterback starting.
RB James Conner, Arizona Cardinals
Touchdown machine James Conner left Sunday's game against the Raiders win an ankle injury. In his place, backup Darrel Williams scored his first rushing touchdown of the season during the team's comeback win.
So did quarterback Kyler Murray, who showed off his impressive scrambling ability during those incredible touchdown drives in the fourth quarter. If Conner is out this week against the Rams, Williams may not be a strong choice against that defensive front. But it could mean more scrambling attempts by Murray, raising his stock while Arizona's best touchdown scorer is out.
Make that two best touchdown scorers as wide receiver DeAndre Hopkins continues to serve his six-game suspension this week.
WR Jerry Jeudy, Denver Broncos
Russell Wilson had a really poor start to his first game at home as Denver's quarterback, but the loss of wide receiver Jerry Jeudy did not help. Jeudy was knocked out in the first quarter with a rib injury. He expects to have a career year with Wilson, but this could slow things down as that is a painful injury to deal with.
Jeudy's status is day-to-day, so there is a decent chance he will return on Sunday night against San Francisco. Wilson will certainly need him with the team already losing No. 3 wideout Tim Patrick for the season with a training camp injury. This just leaves Courtland Sutton on an island for the Broncos, an offense that ranks No. 1 in yards per drive but has played pathetic in situational football (third downs and red zone).
Wide Receiver Room, Tampa Bay Buccaneers
Mike Evans was not injured in Sunday's win in New Orleans, but his involvement in a fight on the field is leading to a one-game suspension this week. If upheld, this could really put the Tampa Bay receiving corps in a bind with Chris Godwin (hamstring) and Julio Jones (knee) already ailing.
Jones tried to go in Week 2 but was unable to do it. He should be closer to returning in Week 3 for a big game with the Packers, but it is not certain he will play. Godwin remains out after injuring the hamstring in Week 1.
The Buccaneers may just need to rely on Breshad Perriman and Russell Gage this week. The team also signed veteran slot receiver Cole Beasley on Tuesday. He could slide right into the familiar slot role in a Tom Brady-led offense, but if he runs a wrong route on Sunday because he doesn't know the playbook yet, then Brady's head just may explode.
Maybe retirement was the right option after all.
WR Devin Duvernay, Baltimore Ravens
Duvernay had a couple of touchdowns in Week 1 for the Ravens, then opened the scoring in Week 2 with a 103-yard kick return touchdown against Miami. Unfortunately, a concussion cut his day short. But after playing just over 50% of the offensive snaps these first two weeks, Duvernay looks to be a weapon for the team this year. If the concussion keeps him out in New England, that could just mean bigger games for Mark Andrews or Rashod Bateman.
TE Dalton Schultz, Dallas Cowboys
Can this Dallas offense catch a break that isn't a broken bone for one of its players? After seeing left tackle Tyron Smith and quarterback Dak Prescott go down – don't forget they are waiting for wide receivers Michael Gallup and James Washington to heal – the Cowboys lost tight end Dalton Schultz on Sunday's game-winning drive.
Schultz is the third-leading receiver on the team this year with 80 yards and just as many receptions (nine) as CeeDee Lamb. The good news is the MRI for Schultz did not show a torn ACL, so his season is not over. He may miss a little time however with the Cowboys playing the Giants on Monday night.
The other good news is that Gallup may be ready to return this week. But with Cooper Rush starting at quarterback, the hot receiver in Dallas right now is Noah Brown. He is crushing it with 10 catches on 14 targets for 159 yards and a touchdown.
Quick Healers
Finally, here is a list of notable skill players who had an injury scare in Week 2, but early reports indicate they should be fine for Week 3:
QB Jacoby Brissett, Cleveland Browns (ankle)
RB Damien Harris, New England Patriots (knee)
WR Mecole Hardman, Kansas City Chiefs (ankle)