NFL
The Best Super Bowl 57 Prop Bets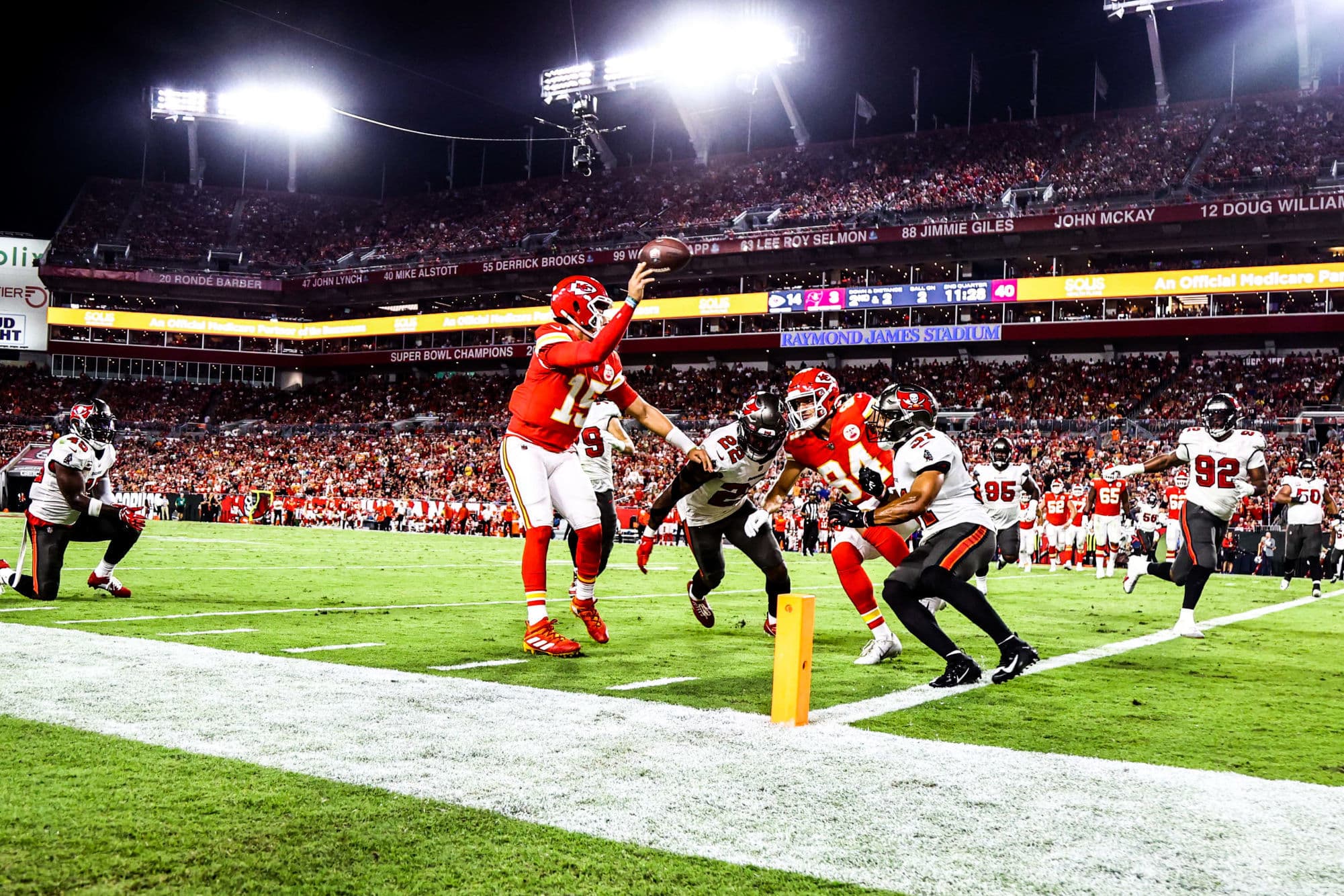 By Scott Kacsmar
After nearly two weeks of crunching the numbers and hyping the game, Super Bowl 57 is almost here for the Kansas City Chiefs and Philadelphia Eagles. With the Super Bowl comes more prop bets than any other game on the NFL schedule.
You can bet on how many yards Patrick Mahomes' first touchdown pass will travel, and here is hoping he throws one because we cannot stand for another Super Bowl with a projected total over 50 points that results in one team not scoring a single touchdown. It has already happened twice in the last four years with the 2018 Rams also doing so.
Our goal today is not to talk about the weirdest Super Bowl props out there like Jason Kelce punching his brother Travis in the face. This is almost game time, and we are looking for the best value to be found in all types of props for this Super Bowl.
We have come up with four groupings of the best Super Bowl LVII props for you, and we have included the best sportsbook and odds for each prop so you can go play them before kickoff.
1. Officiating Props: Referee Carl Cheffers Is Free Money
Prop: Accepted Penalty Yards Committed by Chiefs – Over 47.5 Yards (-115 at PointsBet)
Prop: Penalty Yards Accepted, Total – Over 90.5 Yards (-115 at PointsBet)
We start with everyone's favorite part of an NFL game: Officiating.
After the absurd outcry that the refs helped the Chiefs "steal" the AFC Championship Game from Cincinnati, do you think there could be an overcorrection to penalize the Chiefs in this game? Even if you don't believe that, Super Bowl head referee Carl Cheffers might be willing to oblige.
Despite working with an "all-star crew" in the Super Bowl, Cheffers still has a reputation for enjoying calling more penalties than most refs. He did Super Bowl LV with the Chiefs against Tampa Bay, and the Chiefs were penalized 11 times for 120 yards in that game, including some very suspect defensive pass interference (DPI) penalties in the first half on the Chiefs that blew the game open for Tampa.
Guess which defense had the most DPI calls go against it with 15 this year? The Chiefs. Guess which offense tied for the fewest DPI calls go against their opponents with 3 this year? The Chiefs. Guess which ref's crew had the most yardage in DPI penalties this season? Cheffers.
If that isn't bad enough, consider these stats from the last 12 games Cheffers officiated for the Chiefs (all since 2017):
The Chiefs were penalized an average of 74.5 yards per game with at least 48 penalty yards in all 12 games.
The Chiefs had more penalty yardage than the opponent in 8-of-12 games (66.7%).
There was an average of 130.3 accepted penalty yards in these 12 games, and every game had at least 93 penalty yards between the two teams.
If this is business as usual for Cheffers and the Chiefs, then over 47.5 penalty yards on Kansas City and over 90.5 penalty yards on both teams are both locks as they were 12-for-12 in these games.
But the plot thickens. While 12 games spread out over six seasons can be your usual NFL small sample randomness, Cheffers may have an origin story for being a Chiefs villain. After a controversial call on a two-point conversion went against the Chiefs in a 2016 divisional round playoff loss to the Steelers, a young Travis Kelce went off on the referee after the game, saying he shouldn't even be allowed to work at Foot Locker:
That ref just so happened to be Cheffers, and the stats in these 12 games are all games that took place after Kelce sounded off about him.
Could it all be a coincidence? Sure. But after watching the Eagles get plenty of calls against the 49ers in the NFC Championship Game and these damning numbers on Cheffers with the Chiefs, I am hammering the over on these penalty props.
They just may prove to be the steal of the weekend.
2. The Best Touchdown Scorer Props
Prop: Jalen Hurts Anytime Touchdown Scorer (+100 at FanDuel)
No one really knows how Jalen Hurts is going to perform in his first Super Bowl. He could throw for 350 yards, or he could struggle to throw for half of that. He could run for 100 yards, or he could finish with under 25 yards on the ground. He could average 10 yards per pass attempt, or he could finish at 4.84 like he did in the NFC Championship Game.
He is a bit all over the map, especially since the shoulder injury in Week 15. But one thing that seems to be consistent regardless of Hurts' level of play or the game script is his ability to score a rushing touchdown.
Hurts already set the record for his position with 15 rushing touchdowns (playoffs included) this year. They are mostly all short plays as the Eagles have been unstoppable with the sneaks this season. Hurts has scored in 11 different games, including both playoff games. He also is facing a Kansas City defense that is 31st in red zone touchdown rate.
If I have to bet on one player to score a touchdown in this game, I am taking Hurts over anybody. Also, him catching a touchdown would count for this, and if any team would throw a touchdown to their quarterback in the Super Bowl, it has to be Philadelphia, right? If everything else gets a sequel these days, why not the Philly Special?
Prop: Eagles Defense Anytime Touchdown Scorer (+750 at FanDuel)
For a longshot touchdown, what about this Philadelphia defense against the quarterback with the ankle injury and some gimpy wide receivers? You could see the Chiefs turning it over and one of these great defenders cashing in with a return score.
Not to gas up the Philadelphia defense when we have criticized the schedule so much, but 70 sacks is the number that stands out. The Eagles are only No. 5 in yards per drive and No. 11 in points per drive allowed – not the kind of elite numbers you would expect from such a great pass rush and coverage unit.
But 70 sacks are what puts this defense into historic territory, 17th game or not. If we know anything about historic defenses in the Super Bowl, they tend to do pretty well at scoring a touchdown. The 2000 Ravens, 2002 Buccaneers, 2008 Steelers, 2013 Seahawks, and 2015 Broncos all scored at least one return touchdown in the Super Bowl. We have seen it happen in other Super Bowls too for winning efforts by the 2001 Patriots, 2006 Colts, 2009 Saints, and 2010 Packers.
There has been an interception in 22 straight Super Bowls, so that is a good start for potential on a return. The Chiefs also like to cough up an obligatory fumble, and they were minus-3 in turnover differential, which would be tied for the sixth worst by a Super Bowl winner.
The Eagles taking this game over with a couple quick edge pressures is why we liked Haason Reddick as a Super Bowl MVP dark horse (+3400 odds). You could see him help force a defensive touchdown here. It is worth a play this week. At least play the odds on Reddick to get a sack (-154 at FanDuel).
3. If History Doesn't Repeat Itself, It Can Still Rhyme (42-30 Facts)
These teams last met in Week 4 of the 2021 season in Philadelphia. The Chiefs won 42-30 after the Eagles added a meaningless touchdown with 4 seconds left. People will tell you that whole game is completely meaningless for this Super Bowl on Sunday, and they may very well be right.
But it would be a bit foolish to completely ignore that game as a data point when both teams have retained the same head coach, offensive coordinator, defensive coordinator, and quarterback for this matchup. Some big-name talents have come and gone since that game, which does change things, but 42-30 was such an outlier for both teams that we have to at least acknowledge some of these numbers to give us some ideas for interesting bets this week.
History may rarely repeat itself, but it can often rhyme. Here are some of the outliers from the 42-30 meeting the last time these teams played each other:
Patrick Mahomes threw his average pass in 2.32 seconds, the fastest game of his 93-game NFL career according to Next Gen Stats. Mahomes is 46-4 (.920) when his average pass is under 2.9 seconds and 14-10 (.583) when he is above 3.0 seconds.
Tyreek Hill had 186 yards and three of Mahomes' five touchdown passes, but no other Kansas City player had more than 23 receiving yards. Hill is gone and the new wide receivers (JuJu Smith-Schuster and Kadarius Toney) are coming off ineffective games where they were injured, and now they take on the best cover duo in the league in Darius Slay and James Bradberry.
Even Travis Kelce had 23 yards against the Eagles, his lowest game in the last four seasons.
But the Chiefs rushed for 200 yards for just the second time in Mahomes' 93 starts. It was Clyde-Edwards Helaire who had over 100 yards, but we have seen Isiah Pacheco and Jerick McKinnon look capable as runners this year. Also, run defense is the only real mediocre area for the Philadelphia Eagles (16th in yards and 24th in yards per carry allowed).
With the Chiefs moving and scoring often, Jalen Hurts was involved in the passing shootout of his career and had what is still his most prolific passing game in 37 NFL starts. Hurts set career highs with 32 completions, 48 attempts, and 387 yards. He also did not just do this as a result of garbage time as he was 18-of-24 for 217 yards at halftime.
When you start talking about game No. 1 of 93, or No. 1 of 37, or lowest game in four years, that is a lot of outliers for both sides.
Again, things have changed. A.J. Brown, Haason Reddick, and James Bradberry are three players that make the Eagles much better this year. The Chiefs got better this year on offense without Hill, though that move may sadly cost them in this game as people watch a limited receiving corps run into the best pass rush and coverage secondary in the league. That's not going to stop some people from saying I guess they shouldn't have got rid of the guy who had 186 yards and three touchdowns if no one else can produce on this defense.
Alas, it feels like there should be some betting value gained from this outlier of a game. Going against the grain is how you win valuable bets sometimes in this goofy league. Maybe you should throw a few bucks on Hurts having the most passing yards in this game (+210 at FanDuel).
But these are our favorite prop bets for the Super Bowl with this 42-30 game in mind.
Prop: Isiah Pacheco Over 46.5 Rushing Yards (-110 at FanDuel)
To help out Mahomes' ankle, the Chiefs ran the ball just 17 times for 34 yards in the AFC Championship Game. If they do that in this game, they will lose. What if the Chiefs slow this pass rush down by getting the running game going again like it did in Philadelphia last year when they had 200 yards and a 100-yard game from CEH?
You can also get Pacheco to rush for 90-plus yards at +640 at FanDuel. He is a good runner who fights hard on every snap like it's going to be his last. His over should be an easy hit if the Chiefs put any effort at all in having a run game in this one so that it's not just Mahomes against those great pass rushers.
Did you think Damien Williams was going to run for 104 yards in Super Bowl LIV against the 49ers? Of course you didn't, but the Chiefs still made that happen. Maybe history repeats itself and Pacheco has a big game against the biggest weakness on Philadelphia this year.
Prop: Travis Kelce Under 79.5 Receiving Yards (-110 at FanDuel)
I am fading a big game from Kelce as he is the only receiver the Eagles should be overly concerned with. The wide receivers have really tough matchups with Slay and Bradberry, and the Eagles have to contain Kelce to slow this offense down. Kelce only had 23 yards on six targets in the meeting last year.
Kelce has gone over 75 receiving yards in eight straight playoff games, which is two games past the old record. He is due for a disappointing game, and this is the right defense to do it to him. Terry McLaurin has two of the four 80-yard receiving games against this defense in 2022.
Prop: DeVonta Smith 100+ Receiving Yards (+410 at FanDuel)
Some receiver is going off in this game, and Smith feels like the right pick as he has been more productive lately than A.J. Brown. Smith had over 120 yards against the Chiefs last year in that big Hurts passing game, and he has four 100-yard games since Week 13 this year.
The Chiefs have allowed many big receiving games to top receivers this year, so this would just be another for that young secondary. Brown bouncing back big is another possibility, but this just feels like Smith in the way that Tee Higgins was the top receiver last year instead of Ja'Marr Chase in the Super Bowl.
4. Game Script Props: Comeback or Blowout?
For our final grouping of props, we are looking at the game script for this Super Bowl.
After two weeks of analyzing this game, it does feel like it will play out similar to one of Kansas City's first two Super Bowls with Mahomes as the matchups are again similar with Kansas City having the better quarterback but the lesser defense and trench play.
If it is Super Bowl LIV all over again, then that means a mediocre start for the Chiefs with the Eagles showing their advantages in the trenches, then Mahomes just solves them in the fourth quarter after converting a big third down. Remember, the Eagles lost a game this year in Dallas after allowing a third-and-30 conversion to Dak Prescott.
But if it is Super Bowl LV all over again, then that means the Eagles limiting the big plays, making Mahomes run for his life with their pass rush, and blowing things open in the second quarter to the point where the second half is not even competitive. Remember, the 2022 Eagles set an NFL record with 133 points scored in the second quarter during their 8-0 start. They were deciding games before halftime this year, and while they could not sustain that, they have done it again this postseason, albeit playing the Giants and quarterback-less 49ers.
Depending on which Super Bowl rerun you like, there should be some decent bets to make here.
Prop: Second Quarter Spread – Eagles -1.5 (+120 at FanDuel)
In scoring differential by quarter for the regular season, the 2022 Eagles were plus-5 in the first quarter, plus-116 in the second quarter, plus-26 in the third quarter, and minus-14 in the fourth quarter.
Throw in plus-21 in the playoffs, and the Eagles are plus-143 in the second quarter this season with Hurts at quarterback. The Chiefs are plus-40 in the second quarter this year (plus-51 including playoffs).
Even if there are some first Super Bowl jitters early for Hurts and Sirianni, they should be fine by the second quarter. Steve Spagnuolo's young defense can struggle out the gates at times, so it would be very on brand for both teams to see the Eagles win the second quarter here and easily cover that 1.5-point spread.
But that does not mean they will win the game in the second quarter. Not against this opponent.
Prop: First-Half Winner/End of Regulation Winner Parlay: Eagles – Chiefs (+700 at FanDuel)
If you have a good feel for when teams are going to pull off a comeback, then these props can be very beneficial as they can be parlayed with other player props for the game.
Even going back to when the Eagles were 8-0 and never trailed in the second half, they looked like a team that was ripe for blowing a 14 or 17-point lead after halftime in the playoffs. You could just see the offense going conservative and failing to keep up scoring as the Eagles only hit 30 points twice in their first 10 games. Maybe a defense finally stops that quarterback push sneak on a fourth down for the Eagles. Then in actually facing a good quarterback and receiving corps, the Eagles get exposed on defense and give up a lead.
But we almost never saw that all year because the Eagles almost never played a good quarterback. Prescott and the Cowboys were as good as it got, and despite Prescott taking six sacks and throwing a pick-six, he still hung 40 points on this defense by converting a third-and-30 and completing 27-of-35 passes with six drops on top of it.
Think Mahomes can do that? It won't be easy, but this is the Super Bowl. It is not supposed to come easy, and Super Bowl LIV certainly did not look easy for Mahomes against the 49ers, but he still found a way to quickly lead three touchdowns in half a quarter for the win.
That might be what he has to do here in a game where he will take sacks, probably throw a pick or two, and have to run for his life to make things happen. But if he comes back to win the game, then it will be the stuff of legends.
Or maybe you took our other advice and loaded up on Hurts and his defense scoring touchdowns in a blowout win. Either way, here is to hoping you nail the game script on your prop bets this weekend.