NBA
NBA DFS Prop Picks for Friday Night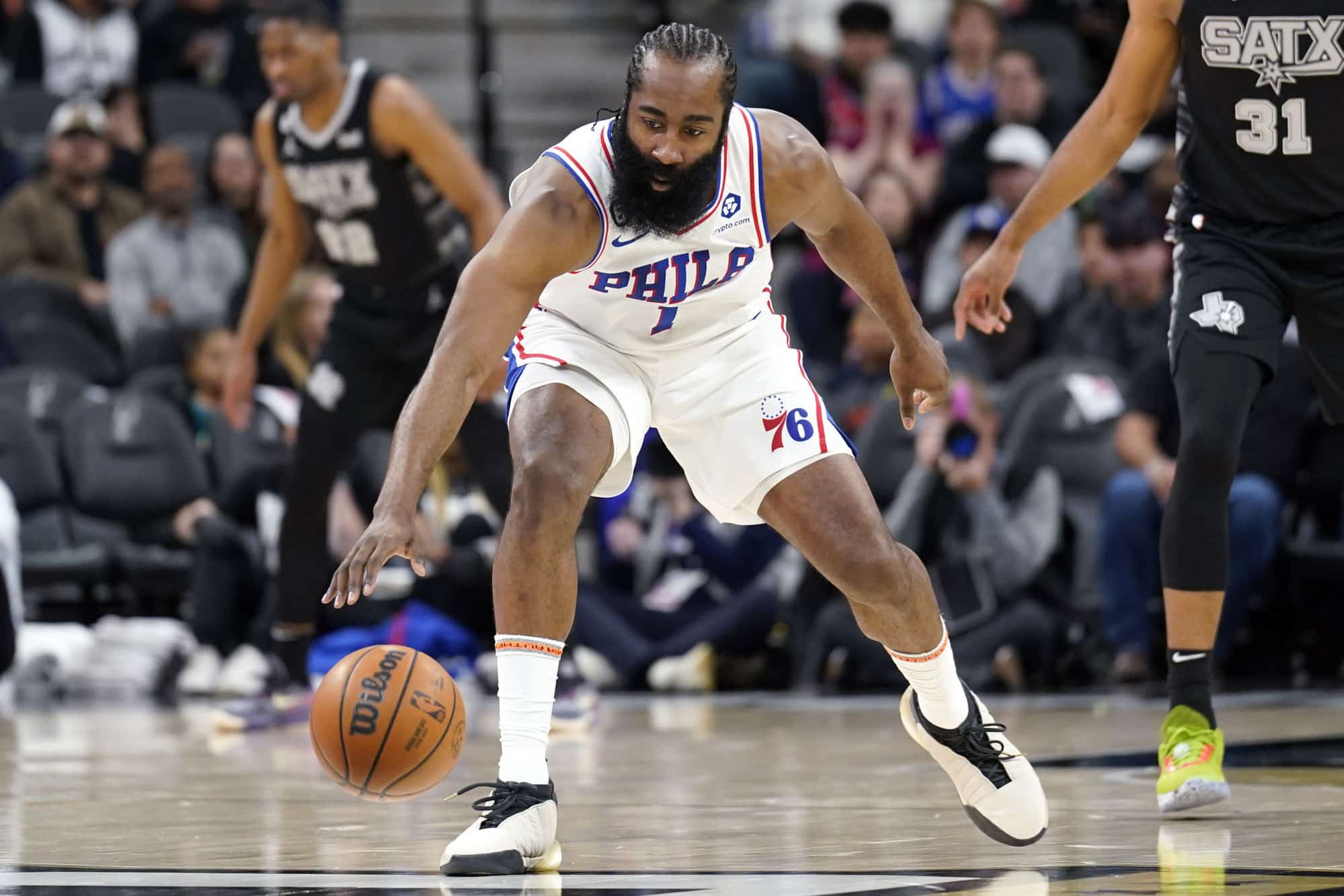 By Scott Kacsmar
It may be Super Bowl weekend but the NBA is having a wild week with huge trades involving Kyrie Irving and Kevin Durant. The Suns are in action as the first of 11 games this Friday night, but Durant is not yet ready to return from injury, so that will have to wait. We are looking at some of our favorite over/under props grouped by the markets for points, rebounds, assists, and three-point field goals.
Points – Over/Unders
Jaden Ivey (Pistons) – Over 15.5 Points vs. Spurs
The rookie is coming off a quiet game where he attempted just six field goals, his fewest attempts in any game where he played at least 20 minutes this season.
But here come the Spurs, the defense that ranks the worst in points allowed to shooting guards (25.7 per game) this season according to Fantasy Pros. Just a month ago, Ivey had one of his eight games with 20 points against these Spurs and he should be in position to hit that number again. But we will settle for 16 and the over.
The Spurs are 30th in points allowed and 30th in Defensive Rating. Great opportunity for a bounce-back game for Ivey.
Desmond Bane (Grizzlies) – Over 20.5 Points vs. Timberwolves
These teams had a solid first-round playoff series last year that the Grizzlies won in six games. Bane was really sharp to close the series out with 27.0 points per game over the last four games in that series. He shot 53.5% from three in those games.
This season, Bane missed two of the meetings with the Timberwolves to injury, but he scored 24 points in the game he did play despite only shooting 2-of-7 from three.
Bane has scored over 20.5 points in just under half of his games this year, but Minnesota has been a good opponent for him, and he is at home where his efficiency stats are modestly better this year. We can trust him to score 21 in this matchup.
Damian Lillard (Trail Blazers) – Under 33.5 Points vs. Thunder
Is it sacrilegious to take the under on Lillard when he is on a heater? But he has gone under 33.5 points in three of the last four games, and he only goes over that mark 41.9% of the time this season.
The Thunder just allowed LeBron James to score 38 points the other night, but notice how he had just one basket in the fourth quarter after setting the scoring record late in the third. The Thunder have allowed nine players in 54 games to score at least 34 points this year.
Lillard played the Thunder twice in December before his recent hot stretch, and he finished those games with 28 and 16 points (his lowest in any game with at least 27 minutes played this year).
There is no reason Lillard will not play well in this game where the Trail Blazers are a 3.5-point favorite, but I am fading the 35-point shootout with SGA this Friday evening.
Rebounds – Over/Unders
CJ McCollum (Pelicans) – Under 3.5 Rebounds vs. Cavaliers
When these teams met almost a month ago, McCollum had zero rebounds in 35 minutes, which is something he has only done in one other game this year. It is not exactly a fluke either as the Cavaliers are just really good at limiting rebounds to guards.
The Pelicans as a team had 28 rebounds that day, their second-worst game of the season. But in looking at McCollum's recent games, he has finished three of the last five games with exactly two rebounds, so going under 3.5 is not foreign to him. He has only done it in 34% of games this year, but we like the matchup here to do it again to him.
Assists – Over/Unders
James Harden (76ers) – Over 10.5 Assists vs. Knicks
These teams played Sunday and the Knicks' big fourth-quarter comeback led to a weird stat line for Harden. He was plus-15 in 38 minutes, yet the 76ers lost by 11 points. Harden is 15-1 in games this season when he is better than a plus-5, but this was the one loss after a bad fourth-quarter finish by the 76ers.
Harden has 12 and 13 assists in his two games against the Knicks this season. The 76ers have failed to score 100 points in consecutive games for the first time this year, but they should snap out of it. Harden's scoring was down to just 12 points on Sunday, but we are fading him as a scorer and focusing on his assists in this game. Harden is over 10.5 assists in 10-of-15 games coming into this one.
Fred VanVleet (Raptors) – Over 6.5 Assists vs. Jazz
These teams met to start February and it was one of VanVleet's finest games with his only triple-double of the season: 34 points, 12 rebounds, and 10 assists.
VanVleet only had 4 assists in his last game against the Spurs, but his teammates were not good to him as they only made 4-of-12 potential assists according to NBA.com. When VanVleet played the Jazz last, his teammates were 10-of-17 on potential assists. That is a better shooting rate for sure, but the high volume of attempts are also encouraging as VanVleet was a big passer in that game in addition to putting up his triple-double.
VanVleet has hit over 6.5 assists in 25-of-47 games (53.2%) this season, so it is a little over a coin flip, but we like him to shine again against this particular opponent.
Three-Point Field Goals – Over/Unders
Tyler Herro (Heat) – Over 3.5 Threes Made vs. Rockets
Can history repeat itself? Back on December 14, Tyler Herro shot 9-of-17 from three against the Thunder. The next night he was in Houston and he shot 10-of-15 from three, giving him back-to-back days with at least nine made threes, a franchise record.
Prior to those two games, Herro had never made more than seven threes in any game in his career. Since that two-game shooting hot streak, Herro is shooting an unremarkable 32.1% from three with 2.6 makes per game.
But here comes Houston again, the defense that is still allowing the most made threes (3.8 per game to shooting guards) this year. We are not exactly going to bet on history to repeat itself with 10 threes, but we'll take four from Herro against a poor defense.
De'Aaron Fox (Kings) – Over 1.5 Threes Made vs. Mavericks
We just talked about how bad the Rockets are against the three ball, but De'Aaron Fox just shot 0-for-4 in two road games in Houston this week. He has not gone three games in a row without a made three since December 2021.
After missing two games from injury, Fox was more active and productive in his second game against Houston, so hopefully he is back to good shape because he will need it with the Mavericks possibly unveiling the first game with Luka Doncic and Kyrie Irving. Doncic was upgraded to questionable and should have a chance to return after Irving made his debut in the last game for the team after the blockbuster trade.
If Fox has to go up against Doncic and Irving, then that should only bring out the best in his game as his team will not settle for less to win this game. I would bet on Fox to snap out of his slump and hit a couple threes in this game.