NFL
Will Jalen Hurts Win Super Bowl MVP?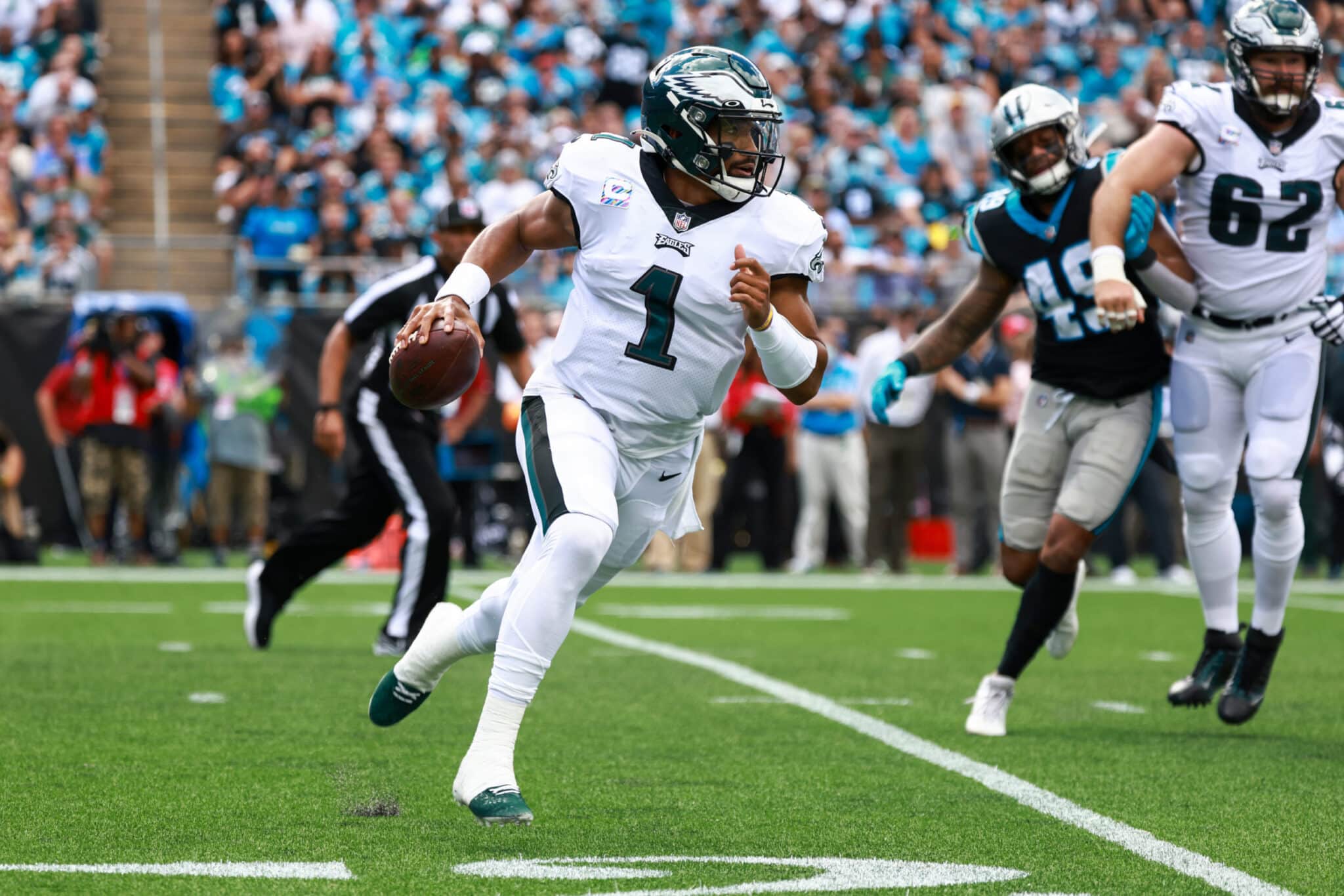 By Andrew Doherty
While it might not be the best bang for your buck, obviously the quarterback of the winning team is the safest bet to win MVP. Hurts is currently the odds on favorite at +120 odds, with Patrick Mahomes just behind him at +125 odds. For reference, the next closest players are wide receiver AJ Brown and tight end Travis Kelce, both coming in at +1200 odds.
Just how healthy is Jalen Hurts? He sprained his shoulder late in the season and was sidelined until Week 18. Although Hurts is not officially listed on the injury report, we know that his shoulder won't be 100% until next season.
While the Eagles have won all 3 of their games since his return, including a pair of blowouts in the playoffs, Hurts has been statistically underwhelming as a passer to say the least. Through 2 playoff games, Hurts has gone a combined 31 for 49 for 275 yards and 2 touchdowns with a 63.3% completion rate. Over his last 3 games since his shoulder injury, Hurts has thrown for only 2 touchdowns along with 1 interception.
Now, time for some context. Hurts hasn't really needed to put up gaudy passing numbers since returning. The Eagles had already locked up the one seed when Hurts returned in Week 18, so the presumptive thinking is that he was only out there to shake off the rust before the playoffs started. Once the playoffs rolled around, Philadelphia completely dismantled both of their opponents pretty much from start to finish. Are Hurts numbers down because of the circumstances of his last 3 games? Is it because of the shoulder injury? The answer likely lies somewhere in the middle.
Luckily for Hurts, he's got about as good of a matchup as you can reasonably ask for in the Super Bowl. The Chiefs defense not only allows the 5th most total yards to opposing quarterbacks, but they also allow the 3rd most rushing attempts.
The Eagles are currently -1.5 point favorites, which bodes well for Hurts MVP chances as he tends to run significantly more often in close games. Kansas City ranks 3rd worst in DVOA defending the short middle of the field, where YAC monsters AJ Brown and Dallas Goedert can create easy throws for Hurts and rack up additional yardage after the catch.
The Chiefs linebackers haven't been very good in coverage this year and haven't faced a tight end of Goedert's caliber this season with the exception of George Kittle (who had 6 catches for 98 yards) in the NFC Championship game. Goedert should feast for as long as Hurts wants to feed him.
If you think the Eagles, who are currently narrow favorites, are going to win this game then Hurts is a no-brainer pick for MVP.