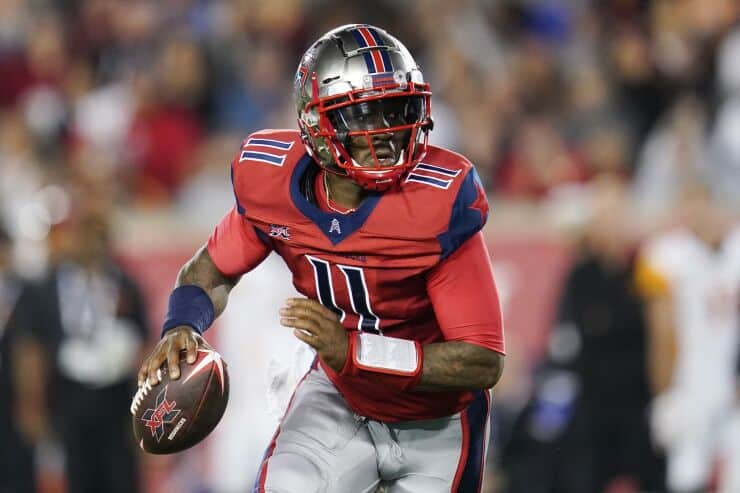 By Will Helms
It wasn't our best week of the year, but that's easy to say following two perfect XFL weeks. Vegas is starting to extend its lines as more data becomes available, but there's still value and that's where I'm looking this week.
XFL Spread of the Week: Roughnecks -8.5 @ Guardians
If you've followed any of my picks this year, I've backed the Roughnecks and whoever plays Orlando every week. So far, we're 5-1 on those picks, with only one of the wins being close at all.
This XFL week 4, we have the opportunity to do both in just one pick.
Houston is, in my opinion, the best team in the XFL and faces the team that is far and away the worst in the league. Orlando had its chance for a win last week after finally holding a team under 30 points. The offense, however, put up just nine points, which isn't very far off from its season average.
Vegas can't make this line large enough.
Prediction: Houston by a million, 31-6.
XFL Total of the Week: Defenders-Vipers u42
Vegas has the Defenders as slight favorites to take home the championship and 6-point favorites in this game. I think the high total (The highest of the week) is an overreaction to the two results in week 3, in which each of these teams was involved in the only two games this season not involving Orlando to have a total over 42.
The Vipers gave up 30 to a strong Sea Dragons offense and scored 26 on a weak Sea Dragons defense while the Defenders had to play an uncharacteristically high-scoring game to beat a talented Battlehawks squad.
The Defenders should settle back down into its conservative, defense-first approach against a team it beat 18-6 a few weeks ago. I'm still not sold on their offense and cannot fathom the Vipers putting up a lot of points against the defense this week.
Prediction: Defenders win, 20-10.
XFL Parlay of the Week: Sea Dragons ML + Battlehawks ML (+133)
I'm keeping it simple this weekend and taking the two favorites in our remaining games. The Sea Dragon offense finally played to its potential last weekend, putting up 30 on the Vipers.
The Battlehawks dropped a close one to the Defenders, but scored 26 on a strong defense. St. Louis looks like it may be getting closer to reaching its full potential. I'm not sold on the Renegades, especially after a rough showing against Orlando last week.
If you want the juice, I'm inclined to take the Battlehawks and the points, but I'm okay simply parlaying the moneylines.
Prediction: Sea Dragons outlast the Brahmas, 24-20; Battlehawks beat the Renegades, 18-10.