NBA
NBA DFS Prop Picks for Friday Night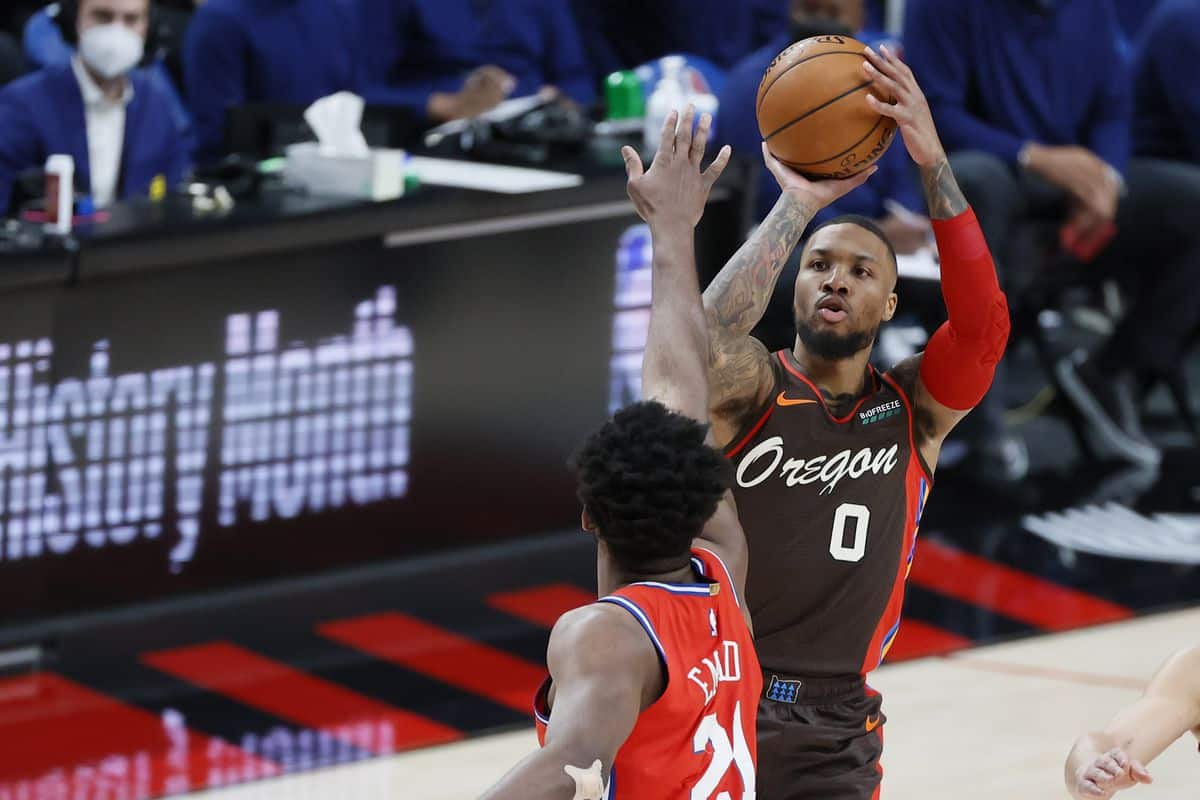 By Scott Kacsmar
The NBA continues this Friday with a 6-game slate, including an NBA TV doubleheader with Cavaliers-Heat and Raptors-Lakers. We are looking at some of our favorite over/under props grouped by the markets for points, rebounds, assists, and three-point field goals.
Points – Over/Unders
Joel Embiid (76ers) – Over 32.5 Points vs. Trail Blazers
Damian Lillard (Trail Blazers) – Under 32.5 Points vs. 76ers
We have a big-time scorer matchup as the NBA's leading scorer, Joel Embiid (33.3 points per game), hosts the No. 3 scorer, Damian Lillard (32.3). These teams met once in January, and the 76ers won with Embiid scoring 32 points and Lillard struggling to score 25 points on 6-of-21 shooting.
The 76ers are back home after a 5-game road trip where Embiid averaged 36.8 points per game. He has 42 and 39 points in his last two games. Portland allows a league-high 26.05 points per game to centers according to FantasyPros.
Portland is on the road for a fifth-straight game and Lillard has averaged 33.0 points per game so far on the trip. He has 31 and 27 points in his last two games. The 76ers allow the second-fewest points per game to point guards, though Tyrese Haliburton of the Pacers did have a 40-point game earlier this week.
But with the 76ers at home as a 9-point favorite, this feels like a game where they could get up big and Lillard may not be able to close things out similar to Portland's last game in Boston where he scored 27 in a 22-point loss. I would take Embiid to hit his over and Lillard to go under.
Kyle Kuzma (Wizards) – Over 21.5 Points vs. Hawks
Betting on Kyle Kuzma is always a major gamble, but this is the third meeting between these teams since February 28. They just played each other on Wednesday, and Kuzma had 25 points on 10-of-15 shooting. He was much more efficient than his 10-of-26 night against Atlanta two weeks ago, but he still scored 28 points in that game too to hit this over line.
Kuzma has gone over 21.5 points in 4-of-5 games coming into Friday night. He has done it in 31-of-60 games this season, so a coin flip for sure.
But we are playing the matchup as these teams have gotten used to playing each other. The Hawks allow the 4th-most points to power forwards and the 5th-most points to small forwards this season, according to FantasyPros. That forward position has been their weak point this season.
By logic, Kuzma should hit his over. But with Kuzma, you have to go with the reverse of logic, meaning to take his under. But since he is extra devilish to bettors, you go with the double-reverse jinx, which means over 21.5 points.
Rebounds – Over/Unders
Rudy Gobert (Timberwolves) – Over 11.5 Rebounds vs. Nets
Rudy Gobert averages 11.5 rebounds this year, which is just about his career average. He has gone over 11.5 boards in 29-of-55 games (52.7%), so more often than not.
He has not played against the Nets this season, but Brooklyn allows the 3rd-most rebounds per game (16.16) to opposing centers, according to FantasyPros.
Minnesota is a 5-point home favorite, and Gobert averages 12.1 rebounds in wins compared to 11.0 rebounds in losses in his first year with Minnesota. We'll take the over for the better rebounding team here.
Assists – Over/Unders
Nikola Jokic (Nuggets) – Under 10.5 Assists vs. Spurs
Look for the Nuggets to rebound after losing badly to the Bulls in their last outing. Denver is a whopping 12-point road favorite here, and the Nuggets already have one 25-point win on the books against the Spurs this season.
In that game, Nikola Jokic only had to play 26 minutes. He has finished with 10 assists in both games against the Spurs this year, so right up on that number of 10.5 twice.
However, Jokic has gone under 10.5 assists in 10-of-11 games coming into Friday night. He may make you frequently sweat it out with 10 assists, but in a game where Denver could be in control of for the whole second half, we will bank on the under hitting again.
Darius Garland (Cavaliers) – Under 7.5 Assists vs. Heat
This is another rematch from Wednesday night, and the fourth meeting overall this season between these teams.
Darius Garland has finished with 7, 5, and 7 assists in three games against the Heat this year. On Wednesday, Garland's teammates shot 7-of-9 on his potential assists according to NBA.com. That is hot shooting that could regress to the mean Friday night. Even with that rate, Garland still finished under 7.5 assists.
Garland averages 7.4 assists per game on the road compared to 8.4 at home this year. With his numbers limited against the Heat's defense this year, we will take another game where he finishes under 7.5 assists.
Three-Point Field Goals – Over/Unders
Fred VanVleet (Raptors) – Over 3.5 Threes Made vs. Lakers
After going off on the officiating Wednesday night, VanVleet has been fined by the NBA. It was an illuminating, brutally honest interview by the point guard. Look for him to come out strong in this one against a Los Angeles defense that allows the 6th-most threes to point guards, according to FantasyPros.
Four threes sounds like a lot, but VanVleet has done it 20 times this year. He shot 3-of-12 from three in his only game against the Lakers this season. Look for him to let it rip in this matchup, and he should be properly motivated to play well.
Anthony Edwards (Timberwolves) – Over 2.5 Threes Made vs. Nets
Edwards has not been quite up to the task of carrying the scoring load with Karl-Anthony Towns injured and D'Angelo Russell sent off to Los Angeles. Edwards just recently had a three-game streak without scoring 20 points.
But Edwards has made multiple threes in seven straight games. He has gone over 2.5 made threes in 34-of-67 games, so just about a coin flip again.
Edwards has been hot in recent games, making five threes in 2-of-3 games coming into Friday night. The good news is he is playing the Nets at home. The Nets allow the 2nd-most made threes to shooting guards according to FantasyPros.