NFL
Post Combine 2023 NFL Mock Draft: Bryce Young, C.J. Stroud, and Anthony Richardson Go High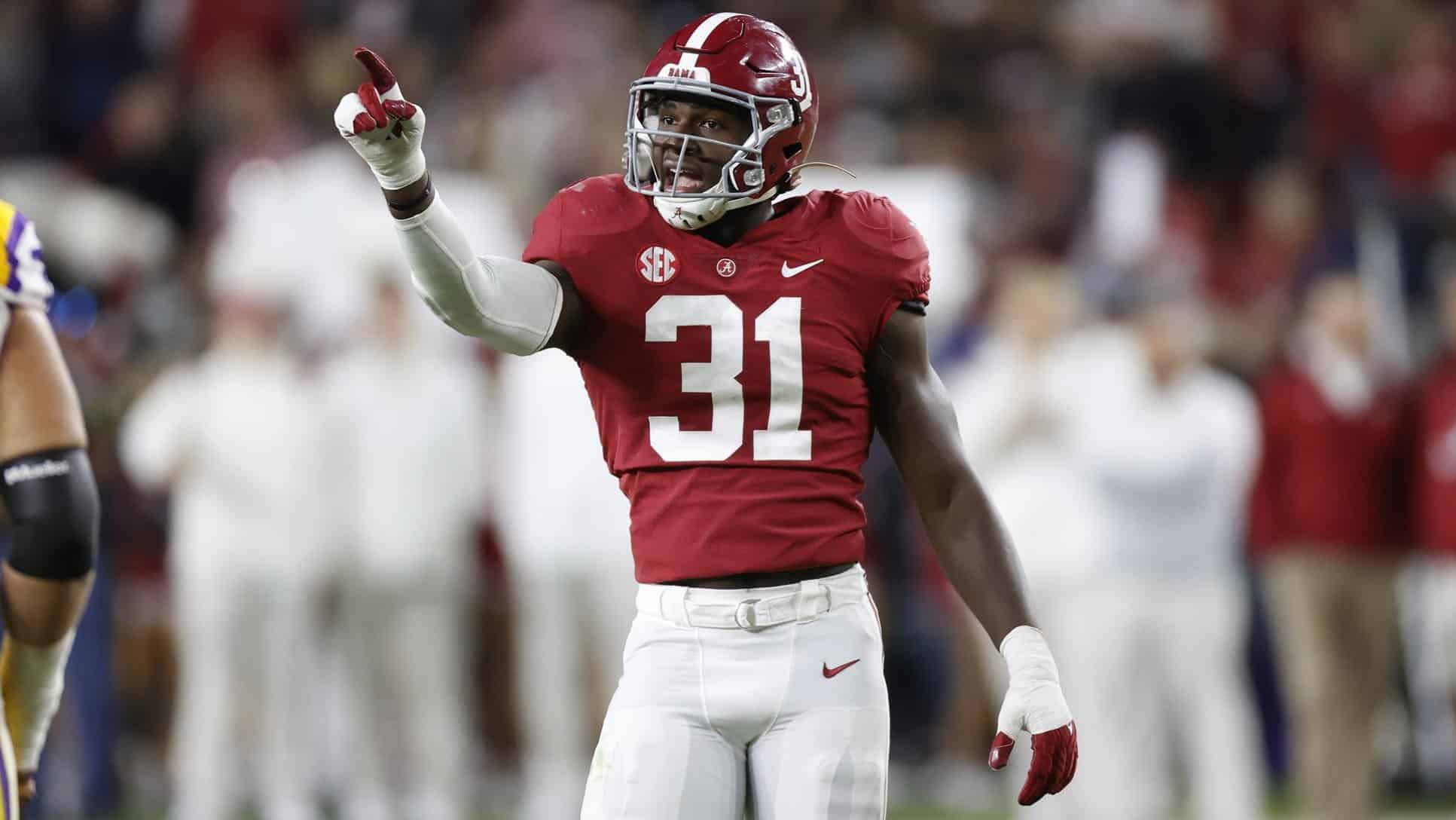 By Andrew Doherty
You're typically on one of the extreme ends of the spectrum when it comes to mock drafts – you either love them or you hate them. Due to the fact that I am a football obsessed lunatic, I absolutely love mock drafts. Mocks aren't just a fun exercise, they're also useful; they can be a tremendous tool for betting or just figuring out what each team needs from a roster standpoint.
Post-Combine 2023 NFL Mock Draft
I've gotten pretty accurate with my mock drafts over the years. Obviously, expecting to get every selection correct is a fools errand but each year I typically get double digit picks correct along with correctly projecting most of the players who will be first round selections. I don't usually predict exact trades – that's a futile exercise. My mocks are about pairing players with teams and are predictive, not necessarily indicating what I would do personally. It's a fluid process and there will undoubtedly be many changes between this version and my final version, but I present to you my post-combine mock 1.0:
Chicago Bears Will Anderson Jr, Edge Alabama I fully expect the Bears to trade down and quite frankly they'd be foolish not to, as they can still land their guy after a trade back while acquiring additional picks. Will Anderson Jr has been an elite pass rusher since he was a freshman at Alabama and should be ready to make an instant impact in the NFL.
Houston Texans Bryce Young, QB Alabama Houston may be able to sit at 2nd overall and land Young, but don't rule out a trade up either. With Young, they get an exciting young playmaker who may be the key to turning their franchise around.
Arizona Cardinals Jalen Carter, DT Georgia Obviously things can change pretty quickly when a prospect has legal issues, but as of now I don't see Carter sliding too far down the board because of how talented he is. He's arguably the best player in this entire class.
Indianapolis Colts CJ Stroud, QB Ohio State The Colts are one of the top teams to watch for a trade up. After wasting several years with aging veterans and reclamation projects at QB, this is the year they finally draft a young prospect to build around.
Seattle Seahawks (from Broncos) Anthony Richardson, QB Florida Seattle may have tipped their hand as to their draft intentions with the way they structured QB Geno Smith's new contract. Richardson needs a "redshirt" year in the NFL but his tantalizing upside is the highest of any QB in this class.
Detroit Lions (from Rams) Lukas Van Ness, Edge Iowa Detroit's defense would greatly benefit from adding another highly distributive pass rusher opposite Aidan Hutchinson. Van Ness is going to shoot up draft boards after his combine performance.
Las Vegas Raiders Will Levis, QB Kentucky Unless they land Aaron Rodgers or Jimmy G prior to the draft, the Raiders will almost certainly be taking a quarterback here if one is available. They have significantly less draft capital than the other QB needy teams in the top 10, making a trade up unlikely.
Atlanta Falcons Myles Murphy, Edge Clemson Atlanta appears comfortable heading into the 2023 season with Desmond Ridder at QB. Murphy, who didn't get to participate in the combine, is an ideal blend of size, length and athleticism.
Carolina Panthers Tyree Wilson, Edge Texas Tech It's no secret that Carolina is searching for a QB in this draft, but someone has to be the odd man out. Wilson is an excellent consolation prize who may slide further than he should if there is a run of quarterbacks taken in the top 7 picks.
Philadelphia Eagles (from Saints) Christian Gonzalez, CB Oregon With starter James Bradberry set to hit free agency, Philadelphia can take advantage of a talented cornerback class to replace his production for a fraction of the price. Gonzalez, the consensus CB1 of this class, allows the Eagles to have one of the leagues top CB tandems again in 2023.
Tennessee Titans Paris Johnson, OT Ohio State After releasing LT Taylor Lewan earlier this offseason, the Titans draft his replacement. Paris Johnson has the build of someone who was built in a lab to play LT in the NFL.
Houston Texans (from Browns) Quentin Johnston, WR TCU After drafting their new franchise quarterback, I think the Texans will invest in surrounding him with talent. Johnston offers more upside than any wideout in this years class with his rare combination of size, speed, elusiveness and agility.
New York Jets Peter Skoronski, OT Northwestern Arm length concerns will cause Skoronski to slide a bit on draft day, but prior to the combine he was the top offensive lineman on many draft boards.
New England Patriots Broderick Jones, OT Georgia Both tackle spots were a problem area for New England last season and addressing the issue will be their top priority this offseason. Jones may have a limited number of starts in his college career, but he allowed zero sacks on 439 pass blocking snaps last season.
Green Bay Packers Jaxon Smith-Njiba, WR Ohio State Regardless of who is under center for the Packers next season, they'll need to upgrade their weapons in the passing game. Despite opting out of the 40 yard dash, Smith-Njiba proved at the combine that any concerns about his athleticism are overblown.
Washington Commanders Anton Harrison, OT Oklahoma Harrison has experience at both left and right tackle, which would allow the Commanders plenty of flexibility as he develops.
Pittsburgh Steelers Joey Porter Jr, CB Penn State This feels like a match made in heaven. Pittsburgh could use a physical press corner and the son of a former Steelers All-Pro follows in his fathers footsteps on draft day.
Detroit Lions Devon Witherspoon, CB Illinois After passing on Christian Gonzalez earlier in the draft in favor of adding a pass rusher, the Lions take advantage of a deep cornerback class later in round one. Witherspoon addresses a huge need for Detroit and should be a day one starter opposite Jeff Okudah.
Tampa Bay Buccaneers Darnell Wright, OT Tennessee With a rebuild looming, there are a few directions the Bucs can go with this pick. Solidifying the protection up front is the most likely scenario, and Wright would be an excellent addition as Tampa Bay looks to get back on track.
Seattle Seahawks Nolan Smith, Edge Georgia Seattle could go in a number of different directions with this pick, but Smith is too good of a prospect to pass up if he falls this far.
Miami Dolphins – Forfeited Pick
Los Angeles Chargers Darnell Washington, TE Georgia The Chargers will undoubtedly be looking to surround Justin Herbert with more talent. Washington absolutely crushed the combine and his performance will land him in the first round.
Baltimore Ravens Zay Flowers, WR Boston College Baltimore needs to surround Lamar Jackson with more talent if they're ever going to win with him. Enter Zay Flowers, a burner that's also a nuanced route runner and is a threat to score every time he touches the ball.
Minnesota Vikings Deonte Banks, CB Maryland Anybody who watched the Vikings last year is already well aware of how badly they need help in the secondary. With Banks, Minnesota gets a lengthy perimeter cornerback that will provide their secondary with a much needed upgrade.
Jacksonville Jaguars Dawand Jones, OT Ohio State With starting right tackle Jawaan Taylor set to test free agency, there is a glaring need for the Jaguars. Dawand Jones is an absolute mountain of a man with a massive wingspan who would be a perfect fit for Jacksonville.
New York Giants Jordan Addison, WR USC The Giants over-performed last season with a subpar supporting cast on offense outside of Saquon Barkley. Addison, who saw his stock take a hit after his combine performance, will give the Giants the reliable pass catcher they were lacking in 2022.
Dallas Cowboys Calijah Kancey, DL Pittsburgh As if their defense wasn't already talented enough, Dallas gets a steal here. While the Aaron Donald comparisons from some are a bit much, Kancey is a very talented player who will make an immediate impact in the league.
Buffalo Bills Brian Branch, Safety Alabama With starter Jordan Poyer headed for free agency, the Bills have an obvious need at safety. Branch is a talented, versatile player who is only available this late due to positional value.
Cincinnati Bengals Bryan Breese, DL Clemson The Bengals are in the ideal spot of being able to take the best player available, regardless of position. Breeze has the intriguing size and athletic profile that make him a high upside pick at 29.
New Orleans Saints (from 49ers) Emmanuel Forbes, CB Mississippi State Forbes has the ideal length for a boundary corner at 6'1" but his 166 pound weigh-in at the combine will cause him to fall to the end of round one. If and when he's able to bulk up, the Saints could end up getting a steal here.
Philadelphia Eagles Bijan Robinson, RB Texas This is a luxury pick for what may be the most complete roster in the league. Robinson is the complete package and one of the best RB prospects in recent years.
Kansas City Chiefs Michael Mayer, TE Notre Dame Though he showed no signs of slowing down last season, Travis Kelce isn't getting any younger. Mayer, arguably the top tight end in this years class, will most definitely be on the Chiefs radar.