NFL
NFC Wild Card Preview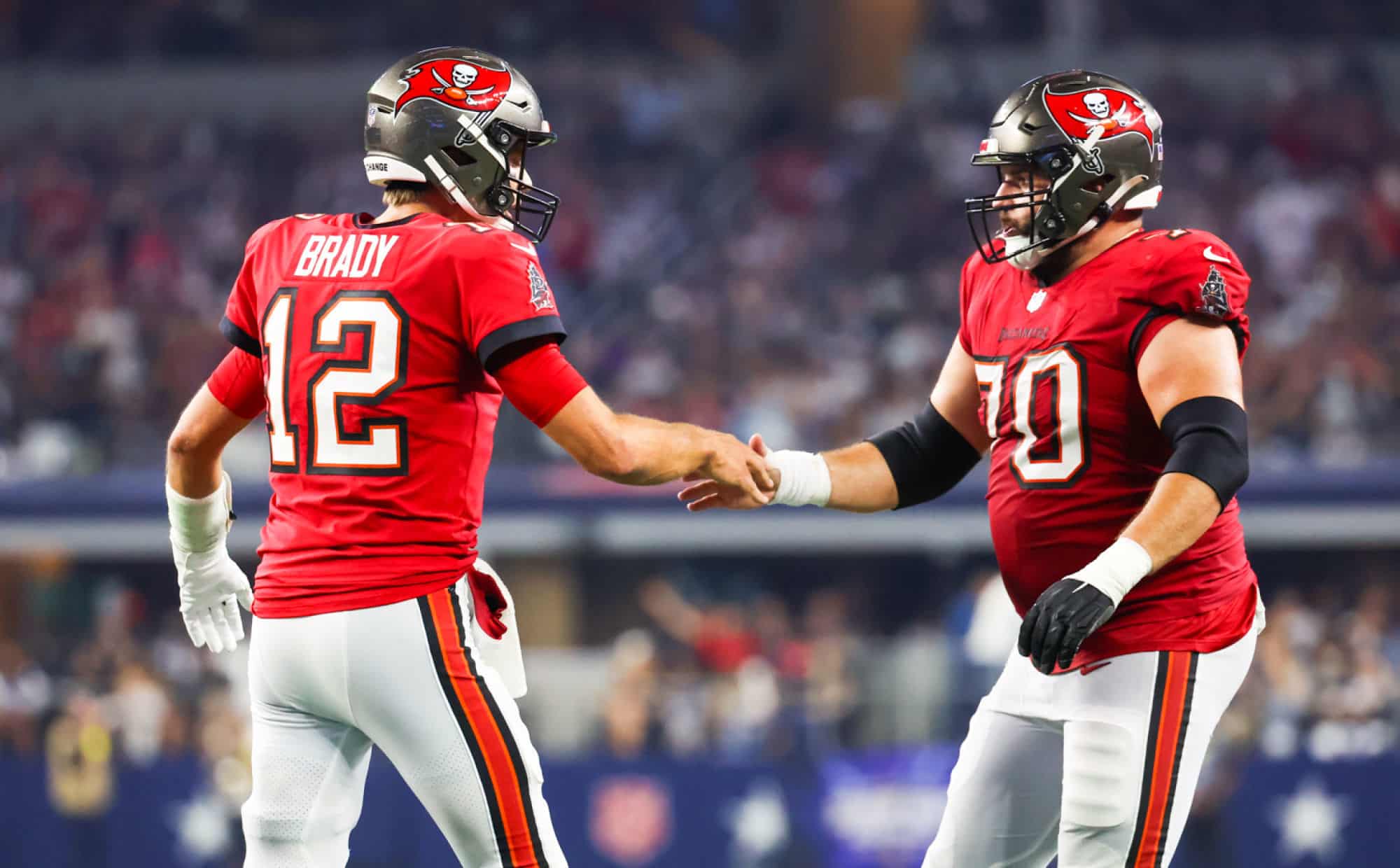 By Scott Kacsmar
Like in the AFC, the NFC wild card playoffs are filled with rematches. The home team can pull off a sweep in each case here.
Unlike the AFC, the quarterbacks are healthy here. We'll see the first playoff games for Geno Smith, Brock Purdy, and Daniel Jones. This NFC side of the slate feels like it has a lot more drama and significance this weekend than the AFC, but we'll see how it shakes out.
We have previews, predictions, and betting advice for each of the NFC wild card matchups below.
Seattle Seahawks vs. San Francisco 49ers (-9.5)
The No. 7 Seattle Seahawks (9-8) will take on the No. 2 San Francisco 49ers (13-4) this Saturday afternoon in San Francisco to kick off the wild card playoffs.
The Last Matchup
Week 15: 49ers 21, Seahawks 13
Seattle is the only team this year to face all three quarterbacks for the 49ers. They were the opponent in Week 2 when Trey Lance broke his ankle and Jimmy Garoppolo had to come in, and they got their first taste of rookie Brock Purdy on a Thursday night in Week 15.
Purdy was able to get two big touchdown catches out of tight end George Kittle, who has been unstoppable lately. But if there is a positive to take away, it would be that the 49ers only scored 21 points in this game. The 49ers have scored at least 33 points in Purdy's other five appearances since Garoppolo was injured.
But the rookie quarterback may not even be the story here. The real matchup is strength vs. strength with the Seattle offense against the San Francisco defense, but that has heavily gone in the favor of the 49ers, who have allowed 13 points in eight quarters so far. Remember, Seattle's only score in the 27-7 loss in Week 2 was a blocked field goal returned for a touchdown. Seattle's offense was shutout.
Geno Smith is completing well over 70% of his passes against these 49ers, but the big plays just haven't been there, and rushing is nearly impossible against this front.
If there is a reason to think this matchup will have more points, it would be that the last one was on a Thursday night (short week), and rookie back Kenneth Walker was just coming back from injury.
But even Purdy wasn't 100% that night and still gutted it out in the win. The 49ers even had to stop themselves from scoring a long touchdown run with Jordan Mason as he pulled up at the 2-yard line to end the game. It was a dominant victory despite a 21-13 final on the scoreboard.
Stats to Know
Here are some relevant and informative statistics for these teams heading into this matchup:
Teams going for the 3-0 sweep of a division rival in the playoffs are 14-9 (.609), so it happens more often than not.
However, the 2021 49ers just lost to the Rams in last year's NFC Championship Game after sweeping them in the regular season.
The 49ers have won 10 games in a row entering the playoffs. Three of the last four teams to do that have lost their first playoff game (2019 Ravens, 2012 Broncos, and 2009 Chargers).
The 49ers played a league-low five teams with a winning record this year, posted a 4-1 record, and half the wins are against this 9-8 Seattle team.
Two of Seattle's three-lowest scoring games this season have been against the 49ers.
Seattle rushed for a season-low 36 yards and had a season-worst three turnovers in San Francisco in Week 2.
The Seahawks are 30th in rushing yards allowed, allowed 170-plus rushing yards in both games to the 49ers, and are 1-7 when allowing over 160 rushing yards this season.
Seattle's defense has four games without a takeaway and two of them are against the 49ers, who have just five giveaways during the 10-game winning streak (no game with multiple giveaways).
The 49ers have allowed more than 20 points in three games this season (1-2 record).
San Francisco has lost three games to teams that finished with double-digit losses (3-14 Bears, 5-12 Broncos, and 7-10 Falcons). The other loss was 44-23 vs. Chiefs (14-3).
Raiders running back Josh Jacobs, the rushing champion this season, was the only player nice enough to rush for 60 yards on the 49ers in 2022. He had 69 yards in Week 17, a 37-34 overtime loss.
No running back has rushed for 60 yards in regulation against this defense this year.
Seattle running back Kenneth Walker has rushed for over 100 yards in three straight games, but he had 47 yards in Week 15 against the 49ers and 4 carries for 10 yards in Week 2.
Seattle wideout D.K. Metcalf (O/U 61.5 receiving yards) has finished under 61 yards in four of his last five games against the 49ers.
Seattle wideout Tyler Lockett has one 100-yard receiving game in 15 games against the 49ers, doing so in Week 2 this year (107 yards).
49ers running back Christian McCaffrey has rushed for at least 87 yards and a touchdown in all three meetings against Seattle.
This game has multiple leading candidates for three awards in Comeback Player of the Year (Geno Smith and Christian McCaffrey), Defensive Player of the Year (Nick Bosa), and Offensive Rookie of the Year (Kenneth Walker and Brock Purdy).
The Fatal Flaw
What is the factor most likely to lead to each team's downfall this postseason and in this matchup in particular?
Seahawks – It's the Schedule, Stupid
You could simply argue Seattle's biggest flaw is being the last team in the tournament and facing the unenviable task of going to San Francisco and Philadelphia, the two best teams in the NFC, to get this run going. If the Seahawks somehow pull this one off, they'll still be a big underdog next week in Philly too.
This is what happens when you are 9-8 with some bad home losses on your resume and a defense that ranks 25th in scoring, 30th against the run, 27th on third down, and 24th in the red zone.
49ers – Quarterback Inexperience
We can expand on this in future rounds if the 49ers advance, but there is no getting around the fact that no rookie quarterback has ever reached a Super Bowl as a starter. Granted, Purdy may have the best situation of any rookie quarterback ever, but he's still trying to make big history here.
This will also be the first time he faces an opponent for the second time, and say what you want about Pete Carroll, but he is still better at coaching football than most people.
Purdy is still an unknown commodity, and the playoffs are a different beast as Jimmy Garoppolo's career has shown. That's where Kyle Shanahan tries to hide him like he's the lovechild of Trent Dilfer and Bob Griese. We'll see how Purdy handles this postseason debut first, but tougher tests are coming.
Best Bets and Prediction
The 49ers absolutely should win this game, but the fear of Shanahan holding onto a double-digit lead in the playoffs is real. That is why I prefer the over 42.5 points more than the spread, because it is easy to see this being the highest-scoring game yet between these teams this season.
Even just 27-17 would do the trick here.
The over could also be good for props with some big-name players in this one. For a big playoff game involving an elite defense, favor the clutch, precise route runner (Lockett) over the physical freak at receiver (Metcalf), and I would go over on McCaffrey's rushing yards (74.5) with another touchdown.
New York Giants vs. Minnesota Vikings (-3)
The No. 6 New York Giants will take on the No. 3 Minnesota Vikings this Sunday afternoon in Minnesota.
The Last Matchup
Week 16: Vikings 27, Giants 24
This was a very good game just a couple weeks ago as both offenses played well, the receivers were productive, and it came down to the Vikings nailing a 61-yard field goal with no time left.
But the Giants should have a lot to feel good about despite the loss. The defense limited big plays, especially in the last 3.5 quarters when the Vikings didn't have a gain longer than 18 yards. They moved the ball very well, but they turned it over twice in Minnesota scoring territory. A blocked punt in the fourth quarter also didn't help. But when the Giants needed a score down 24-16, they quickly marched down the field and scored all eight points.
Daniel Jones showed he could move the ball with his receivers against a Minnesota defense that has not been playing well. The Giants just have to find a way to close. Someone has to find a way to beat these Vikings in a close game.
Injury Watch
Not a ton to report here, but the Vikings have lost some starting offensive linemen late in the year, which can be a big issue against a blitz-happy defense. The Vikings lost right tackle Brian O'Neill in Green Bay in Week 17, and it is unclear if center Garrett Bradbury can return this week.
The Giants could be getting corner Adoree' Jackson back, who hasn't played since Week 11. He's allowed 6.6 yards per target in coverage this year, and the Giants can use all the corners they can get to slow down these Minnesota receivers.
Stats to Know
Here are some useful and informative statistics for these teams heading into this matchup:
When these teams are not playing each other, they are 0-8 against the rest of the NFC playoff field this year (Giants are 0-6 and Vikings are 0-2).
The 2022 Vikings (13-4) are the first team in NFL history to win more than 11 games despite being outscored by their opponents on the season (-3 scoring differential). The Giants have been outscored by 6 points this year.
Of the nine teams in NFL history with double-digit wins and a negative scoring differential, six of them won a playoff game, but only one (1978 Oilers) won two playoff games before losing in the Conference Championship Game.
The Vikings tied an NFL record by winning seven straight games by 1-to-8 points back in Weeks 3-10.
The 2022 Vikings tied the NFL records set by the 2016 Lions with eight game-winning drives and eight fourth-quarter comeback wins.
The Vikings won four games this year after trailing by double digits in the fourth quarter after winning three such games in 2011-2021 combined.
The Giants were tied for second in the NFL with five game-winning drives as Daniel Jones became the first quarterback in NFL history to lead five game-winning drives in a team's first seven games.
The Giants won three games this season after trailing by at least 7 points in the fourth quarter – they were 3-78 (.037) in such games in 2012-2021 combined.
The Vikings are the only team to not blow a fourth-quarter lead this season.
The Giants' only blown fourth-quarter lead this season was in Minnesota in Week 16.
Dating back to last year as offensive coordinator for the Rams, Vikings coach Kevin O'Connell is 14-0 in close games with 11 game-winning drives and 10 fourth-quarter comeback wins (five from double digits) in his last 20 games.
The Giants had a season-high 445 yards in Minnesota (Week 16) and a season-high 38 points against the Colts (Week 17). It was their first 30-point game all season.
The Giants are 31st in rushing yards per carry allowed, but they held the Vikings to 83 rushing yards, the lowest mark this year for the defense.
The Giants are 0-6 when allowing more than 22 points this year and 9-1-1 when allowing no more than 22 points.
The Vikings have scored fewer than 20 points in three of their four losses this year, losing by 17, 24, and 37 points.
Vikings wideout Justin Jefferson had 133 yards against the Giants in Week 16. In his three division matchups this year, Jefferson has dramatically differed in yards from game to game against the Packers (184 down to 15), Lions (14 up to 223), and Bears (154 down to 38).
The Giants blitz 39.7% of the time, the highest rate by any defense according to Pro Football Reference.
The Giants are tied with the Raiders for a league-low six interceptions on defense.
The Fatal Flaw
What is the factor most likely to lead to each team's downfall this postseason and in this matchup in particular?
Giants – Lack of Scoring
While the Giants scored 38 points in their last outing with starters against the Colts, this team usually always settles down in that 18-to-24 point range this season. In fact, the Giants had 12 games this season with 18-to-24 points, three more than any other team in history. They also tied the 1991 Giants for the most games with 13-to-24 points in a season with 15.
The Vikings are 12-1 when they allow under 34 points this year, so it could take a solid number to get past this game. Beyond that, it is hard to see the Giants having the firepower to deal with the Eagles and 49ers later in the playoffs, let alone one of those AFC teams.
Vikings – Win Small, Lose Big
The Vikings seem to either win close or lose big. Three of their losses have been ugly blowouts that were over in the first half to the Packers, Eagles, Cowboys. That's not good when two of those teams are in the NFC playoffs. It's not any one unit that let the team down in those games. It was complete and thorough domination even on special teams at times.
That is why it is hard to vote for O'Connell for Coach of the Year even if he has done the unthinkable and got Kirk Cousins, Mr. .500, to start winning every close game and get to 13-4.
But O'Connell is coming off a postseason where his team (Rams) won three straight games by three points, which had never been done before in NFL history. It is hard to imagine he can keep this streak of 14-0 in close games going through another postseason. Not after he's already had the most fortunate fumble return touchdown (in Buffalo) in over 40 years and the largest comeback (33 points) in NFL history go his way.
To quote Jesse Pinkman, he can't keep getting away with this.
Best Bets and Prediction
Another close win over the Giants followed by a demolition in San Francisco next week seems like the most logical postseason for these Vikings, a historic, frustrating, but fun team to follow.
But I really do like Giants +3 in this one, and it could be the game most likely to push this weekend on the spread. The Giants won't score enough to blow the Vikings out, but Jones should go over in passing again and it should be a close and exciting game that goes down to the fourth quarter. Not something you can say about many games this weekend.
Dallas Cowboys vs. Tampa Bay Buccaneers (+2.5)
The No. 5 Dallas Cowboys will take on the No. 4 Tampa Bay Buccaneers this Monday evening on ESPN in Tampa Bay.
The Last Matchup
Week 1: Buccaneers 19, Cowboys 3
On the one hand, we should give Dallas credit for rebounding from an awful opening night against Tampa Bay to win 12 games and lead the league in takeaways again. They were left for dead after that first game, which ended with thumb surgery for Dak Prescott, before they got it together to basically repeat what they accomplished in 2021 (minus a division title). Maybe that happens too if Dak returned one week earlier in Philadelphia in Week 6.
But on the other hand, this team has been a massive tease at times, they can't stop turning the ball over, and in Washington they just had their worst offensive game of the season since Week 1 against the Tampa team they now have to face Monday night on the road.
It was eerie how the Cowboys played Week 18 against Washington so much like they played Week 1 against Tampa Bay:
It's the only two games this season with Prescott where the Cowboys scored fewer than 24 points and had under 330 yards of offense and 20 first downs. They were also the two worst rushing games they had. Prescott didn't even complete 50% of his passes in either game after he was woefully inaccurate.
Tampa did pressure Dak 35.5% of the time, his highest game this season. That's bad news for Monday night, though it can be said that the Cowboys have improved along the offensive line since Week 1, and the Buccaneers lost one of their best pass rushers in Shaquil Barrett.
But it should be very concerning to Dallas fans that the team looked like it was in Week 1 form in its final tune-up in the regular season.
Injury Watch
Not a lot to monitor here, but the Cowboys could be getting center Tyler Biadasz, linebacker Leighton Vander Esch, and nose tackle Johnathan Hankins back this week, which is good for them.
Stats to Know
Here are some useful and informative statistics for these teams heading into this matchup:
Teams who did not have a winning record but get to host a playoff game for winning a bad division are 4-1 in their first playoff game.
The Buccaneers have been to three NFC Championship Games and won two Super Bowls since Dallas' last trip to either round in the 1995 season.
Tom Brady is 7-0 vs. Dallas in his career.
Brady is also 5-0 vs. defensive coordinator Dan Quinn, including two double-digit comebacks in the fourth quarter of Super Bowls 49 and 51.
The Cowboys have blown leads of 14 (Packers) and 17 (Jaguars) points in the second half this season.
Playoff Lenny: Leonard Fournette (127 yards) had his only 100-yard rushing game this season in Week 1 at Dallas.
Prescott is 0-3 against Brady's teams despite the Cowboys holding Brady under 20 points twice.
With the help of a 17th game, the 2022 Buccaneers set NFL records for the most pass attempts (751) and pass completions (499) in a season.
Tampa Bay ranks dead last in rushing yards and yards per carry this season, but its 152 rushing yards against Dallas was its second-best game of the season.
The Buccaneers allowed a season-low 3 points to Dallas in Week 1.
The Buccaneers are 1-8 when allowing more than 16 points this season.
The only team Tampa beat with double-digit wins this season is Dallas (0-4 vs. Chiefs, Bengals, 49ers, and Ravens).
Brady only had three games this year where he averaged over 4.5 completed air yards per attempt, but one of them was against Dallas.
Brady's average time to throw is 2.45 seconds, the fastest in the league this season and his fastest since at least 2016 (source: Next Gen Stats).
Tampa Bay's defense allows 28.0 yards per drive, No. 2 in the NFL behind only Washington (27.5), the defense that stymied Dallas in Week 18.
Tampa Bay's offense ranks 26th in points per drive (1.65) – every other team ranked No. 17 through No. 32 missed the playoffs.
The Fatal Flaw
What is the factor most likely to lead to each team's downfall this postseason and in this matchup in particular?
Cowboys – Mr. Self Destruct
When it's not turning the ball over at gross rates or blowing big leads after halftime, this Dallas team looks great. But too often they make killer mistakes, and a lot of them are self-inflicted with tipped balls that should have been caught getting intercepted like the pick-six in overtime against the Jaguars, a blown 17-point lead.
The Packers also came back from 14 down in the fourth quarter to win in overtime, a game where Prescott was too careless with the ball early too.
Call it bad luck, call it carelessness, but this team cannot get out of its own way enough to think it will pull off this road Super Bowl run against the Buccaneers, Eagles, and 49ers.
Buccaneers – What Happens When a Good Team Doesn't Hand Them the Game?
For an 8-9 team, the Buccaneers are actually worse than their record suggests. They needed three double-digit comebacks in the fourth quarter against bad teams like the Saints, Cardinals, and Panthers. That does not even include the Rams, who blew a late lead in incredulous fashion in Week 9. That is half the team's wins.
Tampa Bay's rope-a-dope strategy is to keep the game close into the fourth quarter, wait for the pass rush to tire out, then go to a no-huddle offense with all those quick throws that start adding up to damage. If fatigue wasn't a factor in this working, then they would do it earlier in the game instead of wasting 45-to-50 minutes on 1-yard runs by Fournette, deep passes that are uncatchable or pass interference prayers, and Brady throwing ground balls on third-and-long to kill all the earthworms and bring out the punt team.
But even then, they needed ridiculous things to go their way like Mark Ingram voluntarily stepping out of bounds short of the marker on a second down for the Saints, Cooper Kupp sliding in bounds instead of getting a game-clinching first down, or the Cardinals fumbling a run to a rookie back at midfield on Christmas.
Guess which team is built to help an opponent out with stupid mistakes? The Cowboys. But if the Buccaneers have to play the Eagles and 49ers next, that won't be as easy. The 49ers were up 35-0 on the Buccaneers already once this season, though Kyle Shanahan with a rookie quarterback is a shaky duo to trust in the playoffs.
For how fraudulent this NFC has looked at times this year, do not be surprised if it takes an AFC team in the Super Bowl to slay this Tampa dragon. The Buccaneers were 0-5 against the AFC this year, losing by double digits at home to the Chiefs and Bengals. Maybe the Bills can complete the trio of blowouts there. The Bucs are 4-0 against the Cowboys and Eagles since 2021.
But in this NFC, only the Rams and Saints have really shown much resistance against Brady's luck in Tampa since 2020. Even then, the Saints royally blew that 2020 divisional round game, and the Rams nearly blew that 27-3 lead last year with losing four fumbles and missing a short field goal.
This is why he ended his 40-day retirement. This NFC is set up perfectly to get him back to the Super Bowl, 8-9 be damned. Just watch what happens Monday night when the Cowboys take their clown show on the road.
Best Bets and Prediction
If it's not obvious, my favorite bet is to find a sportsbook that will allow you to parlay Tampa Bay's moneyline with Dak Prescott's over in interceptions thrown. Maybe add in the Dallas team under (23.5 points) for good measure, because 2021 is long gone for this Tampa team. This won't be a 31-29 shootout, nor will it be 19-3 again.
This has 20-17 or 23-20, Tampa wins by a field goal after a Dallas mistake written all over it.