NFL
AFC Wild Card Preview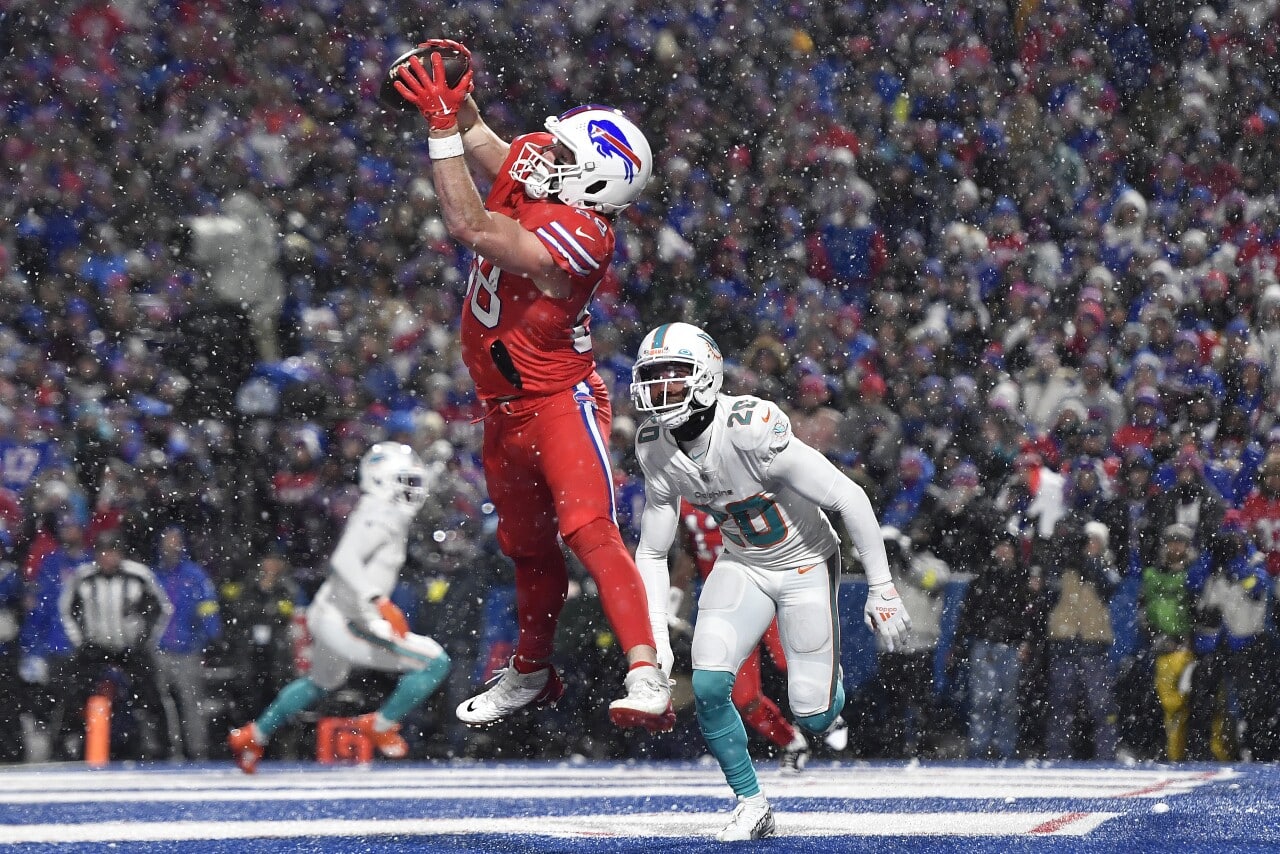 By Scott Kacsmar
Rematches are everything in the NFL wild card playoffs this season with all six matchups being rematches from the regular season. The AFC side even has two divisional matchups for a third time this year that will serve as the rubber match after the teams split.
But the AFC also has two major quarterback questions. Will Lamar Jackson (PCL) and Tua Tagovailoa (concussion) be able to play for the Ravens and Dolphins in Cincinnati and Buffalo, respectively?
It is not looking great for either this weekend, but nothing definitive has been decided yet. Still, we have previews, predictions, and betting advice for each of the AFC wild card matchups below.
Los Angeles Chargers at Jacksonville Jaguars (+1.5)
The No. 5 Los Angeles Chargers will take on the No. 4 Jacksonville Jaguars this Saturday evening in Jacksonville. It is the first playoff game for Justin Herbert and Trevor Lawrence.
The Last Matchup
Week 3: Jaguars 38, Chargers 10
That stunning blowout in Week 3 throws a wrench into the thinking about how this rematch plays out, because it is fair to say the Jaguars never looked better and the Chargers never looked worse than they did in that game in Los Angeles. The Chargers scored a season-low 10 points and allowed a season-high 38 points. All you could reasonably predict is this game will be much closer.
The build-up for that early game was whether or not Herbert would play after injuring his ribs in Kansas City the previous week. He ended up playing, but the Chargers were dominated on both sides of the ball. The Jaguars got 262 yards and three touchdown passes out of Lawrence, who was clean with no sacks or turnovers. Herbert had two turnovers and the Chargers had no running game to speak of.
The Jaguars broke the game open in the third quarter when James Robinson took a fourth-and-1 carry 50 yards for a touchdown and 23-10 lead. The Chargers went three-and-out, and the Jaguars went on another long touchdown drive to take a 30-10 lead into the fourth where they added on for the 38-10 win. The 38 offensive points are the most the Jaguars have scored in a game this year.
Injury Watch
In Week 3, Herbert did not have No. 1 wide receiver Keenan Allen due to injury. This time, Herbert may not have Mike Williams, his No. 2, after he suffered back spasms in the finale against Denver. Williams is considered day-to-day and could play, but it is not a given. He had just one 15-yard catch in Week 3 against Jacksonville, but it was the team's only touchdown that day.
Some of this offense's biggest problems this year have been from the lack of snaps together for Allen and Williams. It would be a big blow if Williams cannot go in this one, but he has not been ruled out yet.
Stats to Know
Here are some relevant and informative statistics for these teams heading into this matchup:
Since 1990, teams favored by 1-to-1.5 points in the playoffs are 5-7.
Chargers edge rusher Joey Bosa was injured in Week 3 in Jacksonville, returned in Week 17, and has been on a pitch count with 24 and 23 snaps in the last two games. He hopes to play a full game this week but has not done so since Week 2.
Chargers running back Austin Ekeler has scored a touchdown in 11 of the last 14 games after going scoreless in the first three games, including the Jacksonville loss.
Watch the Fumbilitis: Jacksonville has the second-most lost fumbles on offense (13) and the second most recovered fumbles on defense (13) this season. The defense's fumble return touchdown against Tennessee clinched the AFC South last week.
The Chargers have the sixth-highest blitz rate on defense (31.1%), but they are only 23rd in pressure rate (19.8%) according to Pro Football Reference.
The average depth of target (aDOT) against the Chargers' defense is 9.1 yards, the second deepest in the league. The Jaguars are 1-6 this season when Lawrence's aDOT is at least 7.2 yards and 8-2 when his aDOT is under 7.2 yards. Lawrence's aDOT in Week 3 against the Chargers was 4.9 yards, his second lowest of 2022.
The Chargers got pressure on Lawrence on 7.5% of plays in Week 3, his second-lowest pressure rate in a game in his career.
Brandon Staley is known for going for it on fourth down with the Chargers, but Jacksonville's defense has been the best in the league at stopping such plays this year. Teams are just 10-of-31 (32.3%) on fourth down against the Jaguars this year. However, the Jaguars have been the fourth-worst defense on third down (43.2%).
The Fatal Flaw
What is the factor most likely to lead to each team's downfall this postseason and in this matchup in particular?
Chargers – Run Game Disparity
We know the Chargers put a lot on Herbert to carry the offense, but Week 3 was even more extreme. The Chargers had a season-low 26 rushing yards, which was also Jacksonville's best game on run defense. The Chargers had 11 handoffs for 19 yards as Austin Ekeler only got 4 carries for 5 yards that day. Herbert threw 45 passes and took one sack.
It was a completely imbalanced attack even though it was a 16-10 game in the third quarter. The Jaguars rushed for 151 yards and that was before they unleashed Travis Etienne, who has looked good this year.
The Chargers rank 28th in rushing yards allowed and dead last in yards per carry (5.4). The Jaguars just had a season-low 19 rushing yards because they were playing the tough Titans. Look for that to flip around this week and the Jaguars to get a lot more out of the run than the Chargers will.
Jaguars – Stopping High-Powered Offenses
It is hard to complain about too much with the Jaguars after finishing 7-2 down the stretch, but if there is something, it would be the schedule the team has improved against.
We aren't seeing the defense shut down high-powered offenses outside of the Chargers in Week 3, and even that was a game where Allen was out and Herbert had his rib concern. The Chargers also are not an elite offense in 2022 like they were last year.
That aside, the Jaguars come into this game beating up on Josh Dobbs (Titans), Davis Mills (Texans), and Zach Wilson (Jets) the last three weeks. Dobbs even looked competent for a while until his late fumble gaffe.
That's the other thing. The Jaguars rely a bit too much on turnovers to stop good offenses. They rank below average in yards per drive and punts per drive. They used turnovers against the Cowboys when a Dak Prescott pick in the third quarter started the comeback, and a pick-six in overtime on a tipped ball won it 40-34. A fumble also got the Baltimore comeback going.
We've seen the Jaguars lose 27-17 to the Chiefs despite winning the turnover battle 3-0. We've seen the Jaguars give up 40 points on eight drives in Detroit. Those are the team's last two losses, and they were against elite offenses.
The Chargers may not be able to score 30-plus points on the road in this one, but they are a more formidable challenge than what the Jaguars have been facing.
Best Bets and Prediction
With the smallest spread this week, it is easy to see this game going either way. The gut wants to take the Chargers, who are slight favorites, just because Herbert is a more accomplished and proven quarterback than Lawrence.
But haven't we seen this play out many times in NFL playoff history? Dan Marino, Peyton Manning, and Drew Brees were almost always the better quarterback going into their playoff matchups, but they all lost their first playoff game too.
If you look at just about any statistical team measure (Pro Football Reference's Simple Rating System, FiveThirtyEight's Elo Ratings, Football Outsider's DVOA), the Jaguars are a better team this year than the Chargers Not by a huge margin, but still better and they got to stay home all week while the Chargers played on the road Sunday and will have to come across the country for a Saturday night game in front of a raucous crowd finally experiencing the playoffs again.
Twelve of the Chargers' games this season have been decided by 1-to-7 points. Jacksonville's last seven home games have all been decided by 1-to-7 points. So instead of picking the spread either way here, I may just say go with it being a close game (-120 odds on a parlay of Chargers +7.5 and Jaguars +7.5).
Sit back and enjoy the show between two of the top, young quarterbacks in the AFC. Maybe bet on some props like the over in receiving yards for Christian Kirk and Keenan Allen, an Ekeler touchdown, and Herbert's over in pass attempts.
Miami Dolphins at Buffalo Bills (-9)
The No. 7 Miami Dolphins will take on the No. 2 Buffalo Bills this Sunday afternoon in Buffalo where it looks like the weather will be low 30s, cloudy, and marginal winds.
The Last Matchup
Week 15: Bills 32, Dolphins 29
These teams have played two very good games this year, but the last one was even better with the snow playing a factor late. Josh Allen was money on the game-winning drive for a field goal with no time left, and it was one of his best games this season with 381 total yards and four touchdown passes.
The Dolphins used an uncharacteristically great running game with Raheem Mostert gaining 136 yards to pace the offense, and Tua Tagovailoa passed for 234 yards and two touchdowns, not struggling much at all in the cold.
But the Dolphins went away from the run on their final drive, punted in Buffalo territory, and that's when Allen worked his magic with the snow coming down in throwing pinpoint passes to set up Tyler Bass for a 25-yard field goal to end it and all but wrap up the AFC East.
Injury Watch
Tale as old as time, the Dolphins have a massive quarterback dilemma. They are trying to decide between Tua Tagovailoa (concussion), Teddy Bridgewater (finger), and Skylar Thompson (rookie).
While division games are tricky, if you saw the non-Tua options the last two weeks against the Patriots and Jets, then you know the Dolphins don't stand a chance without Tua in Buffalo.
The problem is Tua could be the least likely option this week since he has not been cleared for practice yet in the concussion protocol, which is serious stuff. It sounds like Bridgewater could have played last week in case of emergency, so he could get the start given his experience. But he has thrown some killer interceptions this season.
Thompson is just a rookie, and this might be too big for him. He has thrown 105 passes this season with one touchdown, three picks, and he is averaging 5.1 yards per pass attempt.
To make matters worse, the Dolphins may not have Raheem Mostert, their Week 15 stud, at running back this week. He broke his thumb and needed surgery, so it could be Jeff Wilson, who hasn't been as good this year.
Stats to Know
Here are some useful and informative statistics for these teams heading into this matchup:
Since 1990, home teams favored by at least 9 points in the playoffs are 46-10 SU (.821) and 35-21 ATS (.625).
The cumulative score in two games between these teams this year is Bills 51, Dolphins 50.
Buffalo has three games with at least 29 first downs this season and both games against Miami are in that group, including a season-high 31 first downs in Miami in Week 3.
Buffalo is the only offense to convert over 50% of the time on third down this season (50.3%).
Miami ranks No. 24 in third-down conversion rate on both offense (36.2%) and defense (41.6%).
Buffalo's 22-game streak of rushing for 100 yards was snapped last week with 90 rushing yards against the Patriots. It was the fourth-longest streak in the NFL since 1990.
Buffalo's 5.2 yards per rush attempt this season is the highest average ever for a team with over 4,000 passing yards too.
In Week 15, Miami joined Minnesota as the only offenses to gain over 400 yards of offense against the Bills this season. Miami's 29 points were also the most Buffalo's defense has allowed all season (Vikings had a fumble return touchdown in their 33 points).
Miami's 41 rushing yards in Week 3 are the fewest the Bills have allowed in a game this season, and Miami's 188 rushing yards in Week 15 are the second most the Bills have allowed in a game this season.
Only the Raiders (13) had fewer takeaways than Miami's defense (14) this season.
Buffalo's defense has three games without a takeaway this season and two of them were against Miami.
As a member of the Chiefs, Tyreek Hill had 172 yards in the 2020 AFC Championship Game and 150 yards and a touchdown in the 2021 AFC divisional against Buffalo. He had 69 yards and his first regular-season touchdown against Buffalo in Week 15 with Miami.
Josh Allen is 8-2 against Miami with multiple touchdown passes in every game.
In Week 3, the Bills outgained Miami 497-212 in yards. Since 1970, teams who outgain their opponent by 275-plus yards are 303-13-1 (.957), but Buffalo lost that day.
The Fatal Flaw
What is the factor most likely to lead to each team's downfall this postseason and in this matchup in particular?
Dolphins – Quarterback Play
This one is pretty obvious. Miami's early three-game losing streak came after Tua's concussion problems in Cincinnati, then it seems like Bridgewater cannot finish games healthy either when he comes in to play. If you have three quarterbacks, you really have none in this league.
Bills – Turnovers
This is another obvious one, though some may be surprised to learn that the Bills had 27 turnovers this year, which was the third most in the league and they even played one fewer game than 30 teams.
The Bills had seven turnovers in their three losses this year, including four in that absurd game against Minnesota in Week 10. Most of the turnovers were by Allen too. His botched quarterback sneak from the 1-yard line against the Vikings when he lost the snap was the worst, most improbable fumble return touchdown since Joe Pisarcik against the Eagles in 1978.
But even in overtime, Allen, who has some of that Brett Favre gunslinger in him, had a chance to be the hero and threw an interception, practically ending his MVP case right there.
After that three-game streak with multiple turnovers, Allen has gotten better with four interceptions in his last seven games. The Bills have also managed to beat the Bears and Patriots in games with three turnovers each in recent weeks, but good luck trying to do that in the playoffs against the Chiefs or Bengals.
But even the Dolphins could steal this game if the Bills are sloppy with the ball. That is why we are zeroing in on turnovers instead of the Von Miller injury, which is a bigger deal when it comes to slowing down the Bengals and Chiefs in later rounds.
Best Bets and Prediction
We are going to assume Tagovailoa does not play, and the Bills will play their best game of the three against Miami and win by double digits this time in front of an emotional home crowd happy to have Damar Hamlin back in Buffalo.
It could be interesting if Tua plays, but if the Dolphins have to play this game without their best quarterback and running back, then it just seems too hard to expect them to play well. Even Hill, the Buffalo playoff killer, is unlikely to do much damage in this game if he is stuck with someone like Thompson at quarterback. The health just hasn't been there at the most important position for the Dolphins this year.
Maybe better luck next year.
Baltimore Ravens at Cincinnati Bengals (-7)
The No. 6 Baltimore Ravens will take on the No. 3 Cincinnati Bengals this Sunday evening in Cincinnati.
The Last Matchup
Week 18: Bengals 27, Ravens 16
Do we really need to remember this game happened with the Raven scoring 16 points on 15 possessions with their third-string quarterback (Anthony Brown) and without Mark Andrews and J.K. Dobbins? Baltimore's four turnovers more than doubled their season high in any other game.
It did get chippy as these teams do not care for one another, but the Bengals controlled things quickly with a 17-0 lead and held on for the win as AFC North champions.
Injury Watch
Same as it ever was, all the focus is on Lamar Jackson, who has not played or even practiced since his knee injury in Week 13 against Denver. Some insiders think he is going to play Sunday. Some think he has played his last game with the Ravens as he is an undrafted free agent after the season.
Head coach John Harbaugh continues to be noncommittal about any Jackson news regarding this game. If he doesn't practice in the coming days, it is hard to think he is going to play Sunday. That would mean Tyler Huntley is going to get the start, which is an upgrade over Brown, but maybe not by a lot.
Stats to Know
Here are some useful and informative statistics for these teams heading into this matchup:
Home teams favored by exactly 7 points in 2022 are 32-13 SU and 23-22 ATS.
Since 1990, home teams in the playoffs favored by exactly 7 points are 17-8 SU and 12-13 ATS.
Baltimore has blown five leads of 9-plus points in the second half of games this season. The Bengals also came back from 10-0 down early in Week 5 to a late lead before losing on a last-second field goal.
In Week 5's 19-17 loss in Baltimore, Joe Burrow's aDOT was 3.4 yards, his lowest game of the season by 2 full yards. It was also the only game this season where the Bengals did not drop a pass.
But two of Burrow's four lowest games in completed air yards per pass attempt were against the Ravens.
The Bengals are 12-4 ATS this season, the second-best record in 2022.
The Ravens are 7-9-1 ATS this season.
Since 2019, Baltimore is 8-3-1 ATS as a road underdog, the third-best record in the league.
Since drafting Burrow in 2020, the Bengals are 35-17-1 ATS (67.3%), easily the best record in the NFL in that time.
Baltimore tight end Mark Andrews, who has six touchdowns in nine career meetings with the Bengals, has not caught a touchdown since Week 6.
Two of Baltimore's six least productive rushing games this year have been against Cincinnati.
Cincinnati's offense has not gained 300 yards in either game against the Ravens this year after Burrow passed for over 400 yards in both meetings in 2021.
The Fatal Flaw
What is the factor most likely to lead to each team's downfall this postseason and in this matchup in particular?
Ravens – Offense Can't Score
Can the Ravens keep up with the likes of the Bengals, Bills, and Chiefs when they couldn't stop Kenny Pickett from outscoring them at home late in the year?
Since Jackson's injury, the Ravens have not scored more than 17 points in the last six games. There were problems before that as the offense scored 13 points against Carolina in Week 11. Jackson's numbers have gone way down from the first month of the season when wide receiver Rashod Bateman was healthy and providing big plays.
Even if Jackson does play Sunday, we cannot forget that he has struggled in the postseason. For three straight postseasons, the Ravens scored their season low in points with Jackson at quarterback in a playoff game where he has yet to score more than 20 points in four tries. That is hard to do three years in a row as you can see when you compare how frequently that's happened to other notable quarterbacks:
Lamar Jackson (100%): three times in three postseasons (2018, 2019, 2020)
Philip Rivers (28.6%): two times in seven postseasons (2007, 2009)
Tom Brady (26.3%): five times in 19 postseasons (2005, 2007, 2011-T, 2012, 2019-T)
Patrick Mahomes (25.0%): once in four postseasons (2020)
Cam Newton (25.0%): once in four postseasons (2015)
Peyton Manning (20.0%): three times in 15 postseasons (2002, 2004, 2013)
Joe Flacco (16.7%): once in six postseasons (2009)
Matt Ryan (16.7%): once in six postseasons (2011)
Russell Wilson (12.5%): once in eight postseasons (2015)
Drew Brees (10.0%): once in 10 postseasons (2020)
Aaron Rodgers (0.0%): zero times in 11 postseasons
Ben Roethlisberger (0.0%): zero times in 12 postseasons
There are layers to why the Ravens have not locked up Jackson to a long-term deal, but postseason play is not an argument in his favor.
Bengals – Sack Attack
Where the Bengals tend to get in trouble, it is when they face an elite pass rusher. Five of Burrow's last six losses have been last year against the 49ers (Nick Bosa), the Rams in the Super Bowl (Aaron Donald), then 2022 games against the Steelers (T.J. Watt), Cowboys (Micah Parsons), and Browns (Myles Garrett). He was sacked at least five times in each game.
The other loss was against the Ravens, who sacked him twice despite almost never blitzing, but they mostly succeeded by taking away big plays. Baltimore's leader in sacks (Justin Houston, 9.5) did not play in Week 5. The Ravens had the fifth-most sacks (48) this season despite only ranking 25th in pressure rate (19.2%) according to Pro Football Reference. Their pressure has been effective.
Best Bets and Prediction
It is hard to talk definitively about predictions for this one when we still don't know if Jackson will play. But I am leaning towards Ravens +7 being the right play as this team does have the defense and experience to keep this game close. Unlike last year, Cincinnati's offense has not shredded the Ravens this year.
You can forget about all the turnovers last week. That game was essentially meaningless as both teams probably expected to be playing each other again this week. The Ravens will get Andrews and Dobbins back and a better quarterback than Brown for this game.
Week 5 was a long time ago, and the Bengals have clearly surpassed the Ravens since then. They should win this game even if Jackson makes a miraculous return, but I am leaning toward a Baltimore cover in another low-scoring game.