NFL
Best NFL Anytime TD Props for Wild Card Round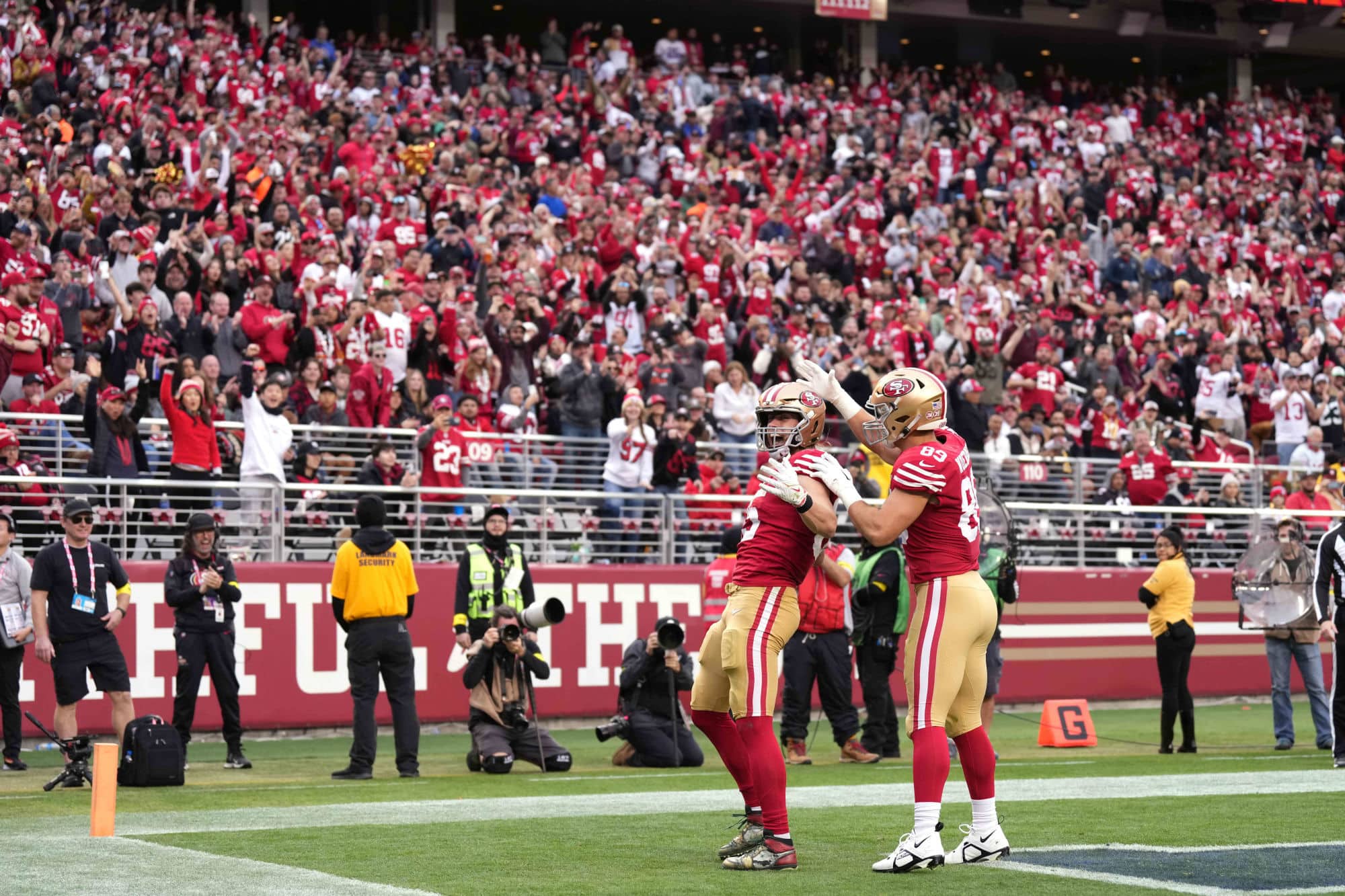 By Scott Kacsmar
With six games for the NFL's wild card weekend, we are looking at the best bets for one of everyone's favorite player props: Anytime Touchdown Scorer.
These NFL props can be found at most sportsbooks, and we are going to use the current odds at FanDuel as we look at the safest bets, the best value bets, and the longshots worth a play for each game this weekend.
Seattle Seahawks vs. San Francisco 49ers
Safest Pick: Christian McCaffrey (-160)
McCaffrey is the safest pick since he has eight games with a rushing touchdown this year, and he is a threat to score on a reception as well. He has caught a touchdown in three of the six games since Brock Purdy took over at quarterback.
CMC also scored a rushing touchdown in Week 15 in Seattle, but he got the lion's share of carries that night. Elijah Mitchell has returned and scored twice last week and could interfere with McCaffrey's scoring. But if you believe the Seahawks are going to roll against the No. 25 scoring defense at home, then chances are he finds himself in the end zone again.
Best Value: George Kittle (+155)
Who can stop George Kittle right now? He has three games with multiple touchdowns since he did it against these Seahawks in Week 15. He caught 11 touchdowns this year, tying his two best previous seasons combined.
Has the secret to unlocking the touchdown scorer in Kittle been Brock Purdy? A lot of these plays are the big YAC plays Kittle is known for, but his last three scores have all come inside the 5-yard line.
Kittle has four touchdowns in his last two games against the Seahawks. Trust him to keep rolling in this one.
Longshot: Tyler Lockett (+280)
Lockett has scored at least eight touchdowns in five straight seasons. He has scored in seven of his last nine games for one of the best stretches of his career. He had his first 100-yard game against the 49ers in Week 2.
The 49ers have a great defense, but they have allowed 16 touchdown catches to wide receivers, tied for the seventh most this year. The Seahawks have just 13 offensive points in two games against the 49ers this year, so scoring may be in short supply. If anyone is going to find the end zone for them, it should be Lockett.
Los Angeles Chargers vs. Jacksonville Jaguars
Safest Pick: Austin Ekeler (-155)
The last time Ekeler played the Jaguars in Week 3, he probably made fantasy owners hit the ceiling when he had 4 carries for 5 yards and did not score for the third game in a row.
But if you stuck with him, Ekeler came through with 18 touchdowns the rest of the way to lead the league again. He has scored in 11 of the last 14 games and should be as likely as anyone to find his way into the end zone again in this matchup.
Best Value: Christian Kirk (+160)
Kirk has scored eight touchdowns this year, including one last week against the Titans. Twice this year, Kirk has stacked games with touchdowns with two in one game and one in the next. Maybe he can do that again to put a bow on his excellent career season after many of us laughed at the contract the Jaguars gave him.
I initially thought to go Keenan Allen here, but he has half as many touchdowns as Kirk this season.
Longshot: Jacksonville Defense (+750)
The Jaguars already have four return touchdowns on defense this season, including one in each of their last two home games: pick-six vs. Dallas in overtime and a fumble return against Tennessee to win the AFC South.
Those were overly dramatic plays, but can they do it again here? For as great as Justin Herbert is, he does have four pick-sixes, including a huge one in Kansas City in Week 2 this season.
Miami Dolphins vs. Buffalo Bills
Safest Pick: Stefon Diggs (+110)
The playoffs sort of put Stefon Diggs on the map with his miracle touchdown to beat the Vikings in the 2017 NFC divisional round. He has four touchdowns in 10 playoff games and has been quiet at times, but he did score a touchdown in both games against the Dolphins in 2021, and they did keep the same defensive coordinator this year despite replacing Brian Flores with Mike McDaniel.
Another reason to like Diggs: Buffalo has six touchdowns in two games against Miami to six different players, and none of them are Diggs. This might be the week to get their best receiver in the end zone.
Best Value: Gabriel Davis (+160)
What does he have as an encore after last postseason when Davis caught one touchdown against the Patriots and four in Kansas City? He has scored three times in six games against Miami, though like Diggs, he is scoreless in two games this year. All of Buffalo's Miami touchdowns have gone to tight ends, running backs, and slot receiver Isiah McKenzie.
Davis could catch a long one here to get back on the board in the playoffs. Plus, CBS is calling the game with Jim Nantz and Tony Romo, who have been on the call for most of Davis's big games in the last year (Kansas City twice and Pittsburgh).
Longshot: Buffalo Defense (+600)
Hopefully your favorite sportsbook is still including special teams returns in these picks, because the Bills just had two kickoff return touchdowns by Nyheim Hines last week against the Patriots.
Something that stunning should not happen again here, but the Bills have the talent on defense to force rookie quarterback Skylar Thompson into a huge mistake for six points.
New York Giants vs. Minnesota Vikings
Safest Pick: Justin Jefferson (+110)
The best wide receiver in the NFL this year makes his playoff debut. Randy Moss caught a touchdown in each of his first five playoff games for the Vikings, so Jefferson has a high standard to live up to.
But five of his seven games with a score this year have been at home, including a touchdown in Week 16 against the Giants. Jefferson has been quiet in the two games since, but he should be ready for a big one here.
Best Value: Daniel Jones (+190)
The last we saw of Daniel Jones, he rushed for 91 yards and two touchdowns against the Colts. He has scored a rushing touchdown in five games this year.
Now we get to see his playoff debut, and it would be such a Giants thing for their unheralded quarterback to suddenly find playoff success a la Phil Simms, Jeff Hostetler, and Eli Manning. The Minnesota defense is a good matchup for him to do it as he already passed for 334 yards in Week 16, and this should be a higher-scoring game than most this weekend.
Longshot: Isaiah Hodgins (+280)
He started the year in Buffalo, but Isiah Hodgins has scored a touchdown in four of the last five games for the Giants, including one in Week 16 in Minnesota.
It was also his best game in the NFL with eight catches for 89 yards. The Vikings are arguably the worst defense in the league at defending wide receivers, so Hodgins could keep his hot streak going in this one.
Baltimore Ravens vs. Cincinnati Bengals
Safest Pick: Ja'Marr Chase (-105)
Is anything really safe in this matchup? These teams just played a chore of a 27-16 game last week that featured 28 possessions and a defensive touchdown. But Ja'Marr Chase did find the end zone as he continues to make plays against the Ravens. He is usually Joe Burrow's favorite target, and it is hard to trust anyone else in this matchup as a safe bet.
Best Value: Tyler Boyd (+165)
When you start focusing on Chase and Tee Higgins, you forget about how good Tyler Boyd is too. Remember when he caught that touchdown against the Raiders in the wild card last year when the inadvertent whistle blew? That one counted and he had the defender beat anyway.
Boyd also was the target on the touchdown we all watched but it never will officially count in the cancelled game against Buffalo two weeks ago. He is a sneaky good pick in this game.
Longshot: Joe Burrow (+600)
Burrow is no stranger to sneaking in touchdowns. He has scored in five games this season, and the first one was a quarterback sneak from the 1-yard line in Baltimore in Week 5. That put the Bengals ahead late before they lost on a last-second field goal.
Maybe Joe Mixon fails to get in from the 1 and Burrow takes matter into his own hands in this one.
Dallas Cowboys vs. Tampa Bay Buccaneers
Safest Pick: Ezekiel Elliott (+115)
Before last week's massive letdown against Washington, the Cowboys got Ezekiel Elliott into the end zone in nine straight games. They had scored at least 24 points in every game since Dak Prescott returned in Week 7 before last week's 26-6 finish.
Let's just hope that is not a sign of a repeat coming of 19-3 from Week 1 against Tampa Bay. The Cowboys did not find the end zone even once in that game and that was at home.
Best Value: Chris Godwin (+200)
The Cowboys allowed a league-high 22 touchdown passes to wide receivers this season. Mike Evans came alive with the deep balls against the Panthers in Week 17, but Tom Brady rarely ever throws long touchdown passes in the playoffs. Chris Godwin is a nice target in the red zone for the shorter throws and he could find pay dirt in this matchup.
Longshot: Tampa Bay Defense (+850)
The Cowboys are averaging 2.0 turnovers per game since Week 12. Dak Prescott leads the NFL in interceptions (15) even though he missed five games and ranks 19th in pass attempts.
Prescott has been intercepted for a touchdown three times in the last four games. Would it shock anyone to see Brady will his defense to get another Dallas mistake worth six points? The Cowboys are killing themselves with these turnovers going into the playoffs. Playing an aggressive defense on the road that held them to a field goal last time does not sound like a good recipe for success from this group.