NFL
NFC Divisional Round Preview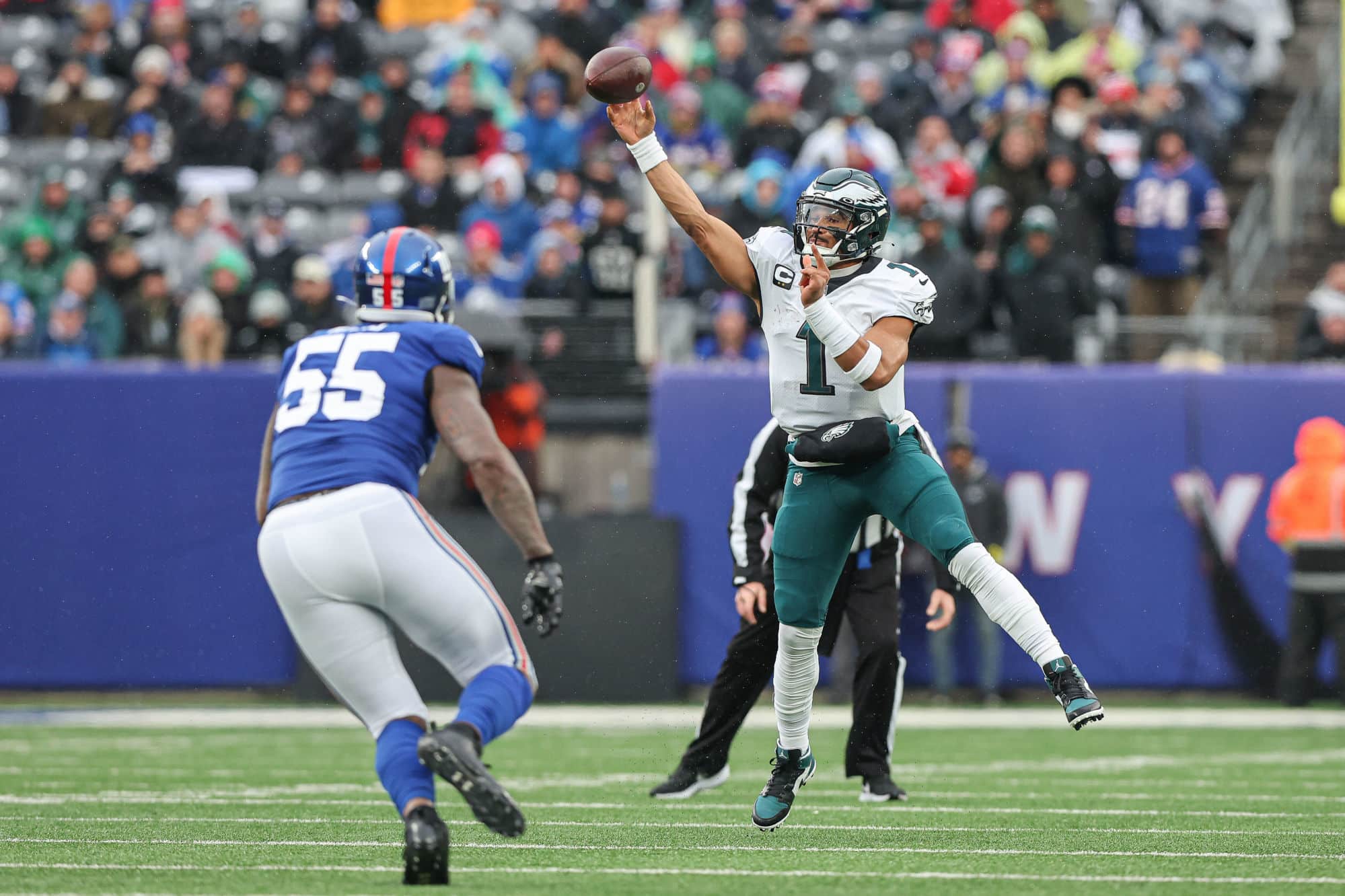 By Scott Kacsmar
The NFC divisional round features three NFC East teams – something no other division has done since realignment in 2002. The Philadelphia Eagles will attempt to sweep the New York Giants, and the Dallas Cowboys head out west to take on the San Francisco 49ers in a classic NFC matchup.
We have previews, predictions, and betting advice for each of the NFC divisional round matchups below.
New York Giants vs. Philadelphia Eagles (-7.5)
The No. 6 New York Giants (10-7-1) will try to avoid the 3-0 sweep by the No. 1 Philadelphia Eagles (14-3) this Saturday evening in Philadelphia.
Season Series Recap
Week 14: Eagles 48, Giants 22
Week 18: Eagles 22, Giants 16
This is unusual to see three matchups between teams in December and January, but that is the case here as the Eagles try to complete the 3-0 sweep. We just watched the 49ers sweep the Seahawks last week in a 41-23 final.
Teams are now 15-9 (.625) in completing the 3-0 sweep of their division rival in the playoffs. In the divisional round, those teams are 3-2 (.600) with the last two losing (2020 Saints vs. Buccaneers and 2007 Cowboys vs. Giants).
The Giants sure would love another crazy Super Bowl run like 2007, but this might be asking for a lot from a rookie head coach (Brian Daboll) and a quarterback like Daniel Jones. Then again, Daboll and Jones just won an NFL playoff game before Nick Sirianni and Jalen Hurts did.
But that first-round bye carries weight and is basically a playoff win. The once 8-0 Eagles finally locked it up in Week 18 by beating New York's backups in a 22-16 game despite being a 16-point favorite. They led 19-0 at one point before the Giants made it closer than it was at the end, but it still wasn't the dominant performance you'd expect for a top seed facing a lot of backups.
That makes it hard to put any real weight on that Week 18 game other than the fact that Eagles running back Boston Scott is such a hater of the Giants that he just had to score his 10th career touchdown against them. Scott only has seven touchdowns against the rest of the NFL.
But Week 14 is the last time Hurts threw a touchdown pass. He missed those two losses against the Cowboys and Saints with his shoulder sprain, but Week 18 was the first time this season he did not throw or rush for a touchdown.
In Week 14 on the road at the Giants, Hurts quickly put the Eagles up 21-0 and never looked back in a dominant rout. Running back Miles Sanders also had a monster game with 144 rushing yards and two touchdowns. A.J. Brown and DeVonta Smith each caught a touchdown, and this was before tight end Dallas Goedert returned to the offense.
Daniel Jones struggled with just 169 passing yards on 27 throws. He also took four sacks, and backup Tyrod Taylor quickly took three more sacks to give the Eagles seven on the day. For a positive, backup quarterback Davis Webb threw 40 passes and took zero sacks against the Eagles in Week 18.
As for the run game, Saquon Barkley was held to just 28 yards on 9 carries. The game got out of control quickly. If there was a bright side, New York's only turnover was a Taylor fumble late in the game with the score out of reach.
It was only the second time this season the Giants allowed more than 28 points in a game. It was the worst game of the year for the rushing defense, which allowed 253 yards.
The Giants have their work cut out for them, but the 2008 season should be a good reminder of how little a 48-22 game late in the season can mean for the playoffs. In 2008, the Eagles beat Arizona 48-20 on Thanksgiving before losing to them 32-25 in the NFC Championship Game. They were in that game one week after upsetting the top-seeded Giants as the No. 6 seed.
Maybe the Giants can finally get some revenge for that season and knock out the top-seeded Eagles in the first playoff game at home.
Injury Watch
The Eagles were able to remove quarterback Jalen Hurts from the injury report, which is great news for his shoulder after playing in the season finale and having a bye week to rest.
We'll see what happens with right tackle Lane Johnson, an important piece to that line, as he tries to return for the playoffs and play through a groin injury.
The Eagles may not have corner Avonte Maddox again.
Stats to Know
Here are some relevant and informative statistics for these teams heading into this matchup.
Spread records:
The Giants are a league-best 14-4 ATS this season.
The Giants are 11-2 ATS as an underdog this season and a league-best 7-1 ATS as a road underdog.
The Eagles are 8-9 ATS overall and 8-8 ATS as a favorite this season.
Under Nick Sirianni, the Eagles are 8-3-1 ATS as a home favorite, the third-best record in the league in that time (2021-22).
Scoring marks:
Underwhelming scoring consistency: The 2022 Giants had 14 games where they scored in the range of 16-to-24 points, two more games in a season than any other team in NFL history.
But in Daniel Jones' last two starts, he has led the Giants to over 30 points for the only two times this season.
The Eagles have scored at least 21 points in every home game with Hurts at quarterback this season.
The Giants were 0-6 when allowing more than 22 points this year, but they just won 31-24 in Minnesota in the wild card round.
Team stats:
The Giants are tied with the Raiders for a league-low six interceptions on defense.
The Eagles allow a league-low 4.9 net yards per pass attempt, a full 0.5 yards better than any other defense in 2022. The Giants rank No. 13 at 6.0 yards.
The Giants rank No. 30 in yards per rush (5.2) allowed.
The Giants blitz at the highest rate (39.7%) in the NFL according to Pro Football Reference, but they rank No. 7 in pressure rate (24.3%).
The Eagles lead the NFL with 70 sacks, 15 more than any other defense, and a 25.5% pressure rate.
Only the Titans (115) have committed more penalties than the Giants (111) this season.
The Eagles have turned the ball over four times in two of their losses (Commanders and Cowboys). They have 11 turnovers in the other 15 games combined this season.
In addition to turning the ball over four times in each game, the Eagles allowed a season-high 25 first downs to the Cowboys and Commanders.
The Cowboys completed a third-and-30 pass in the fourth quarter in beating the Eagles. The Commanders started the game 12-of-16 on third down to earn their upset win in Week 10.
The Eagles failed to rush for 100 yards in five games this year, including all three losses.
There are only two games this season where the Eagles did not register a takeaway on defense, and one was against the Giants (and their backups) in Week 18.
Player stats:
Jones has three games with more than 230 yards passing this season, and two of them were 300-yard passing games against Minnesota's poor pass defense.
Jones had 169 passing yards vs. Eagles in Week 14, his third-lowest game of the season.
The Giants are 5-0 when Jones does not take multiple sacks this season.
The Giants are 3-18 when Jones throws more than 35 passes in a game in his career (0-3 under Brian Daboll), though he did win in Minnesota last week with 35 passes, 3 sacks, and 17 runs.
Jones is 2-3 against the Eagles, but he has never taken more than four sacks in any of the games, and he has not turned the ball over once in the last three meetings. He also has 7 total touchdowns (5 passing, 2 rushing).
The Giant Stumble: Jones' most famous career play is against the Eagles in 2020 when he had an open field ahead of him on a would-be 88-yard touchdown run and he tripped over his own feet short of the end zone. The Giants would eventually finish the drive with a touchdown but blew the lead and lost the game 22-21.
Jones has led six game-winning drives this season, second in the NFL, and just had his sixth in Minnesota last week to win a playoff game.
Jalen Hurts is 3-1 as a starter against the Giants, winning three in a row after having the worst game of his career in 2021, a 13-7 loss where he threw three interceptions.
Hurts only averages 6.14 yards per pass attempt against the Giants, never surpassing 7.0 YPA in any of the four games.
The average pass thrown against New York's defense travels 8.5 yards, the sixth deepest in the NFL this season.
Giants running back Saquon Barkley rushed for over 100 yards in both games as a 2018 rookie against the Eagles, but he has not done it in the next five meetings, and he has not broken 3.11 yards per carry in the last three games.
Eagles running back Miles Sanders scored two rushing touchdowns in Week 14, but he has gone scoreless in his six other games against the Giants. That's because Boston Scott hogs all the touchdowns against the Giants when these teams meet. Week 14 was also the only time Sanders rushed for more than 85 yards against the Giants.
The Fatal Flaw
What is the factor most likely to lead to each team's downfall this postseason and in this matchup in particular?
Giants – Is the Defense the Issue Now?
With Jones and his new receivers (Richie James and Isaiah Hodgins) peaking at the right time in Daboll's offense, it could actually be a mediocre defense that does the Giants in this postseason. They were just able to get past the Vikings last week, but it is a tall task to expect them to slow down the Eagles on the road, then the Cowboys or 49ers in the NFC Championship Game just to get to the Super Bowl where they will be a big underdog again.
The Giants and Vikings split with each other in close games, but those teams are winless against the rest of the NFC playoff field this year. The Giants have been swept by the Cowboys, Eagles, and they also lost badly to the Seahawks.
Eagles – Where Is the Signature Win in the Jalen Hurts Era?
As predicted before the season, here we are in January questioning if the Eagles are a legit No. 1 seed because of the way their schedule broke down. In 2021, the Eagles were 0-6 against other playoff teams despite making the playoffs, which almost never happens in NFL history. After getting embarrassed by the Buccaneers in the wild card round, that record fell to 0-7.
In Jalen Hurts' rookie year in 2020, his first start was a win over a playoff team (Saints), but that comes with an asterisk too as the Saints had to start gadget player Taysom Hill at quarterback that day instead of first-ballot Hall of Famer Drew Brees.
This season, the Eagles finished 7-1 against teams that finished 2022 with a winning record, which was both the most wins and best winning percentage in that split. They are also 5-1 against 2022 playoff teams, including a 5-0 record when Hurts starts since he missed the loss in Dallas where Gardner Minshew almost pulled off an upset.
Surely with seven wins against winning teams this year, Hurts had to pick up a quality win against a good team somewhere in 2022, right?
Well, not quite. If you look at the context of these games and how the teams were playing at the time and who was inactive, there's not really a high-quality win here that gives you the confidence this team is going to go on a tear this postseason.
Week 1 vs. Lions (W 38-35): The Lions would rally to finish 9-8 with an impressive offense, but this team was 1-6 with the worst defense in football before that happened.
Week 2 vs. Vikings (W 24-7): It was Kirk Cousins on a Monday night where he is notoriously terrible, neither team scored in the second half, and no one knew the Vikings would set records for comeback wins (eight) and the worst statistical 13-win team in NFL history with a negative scoring differential.
Week 4 vs. Jaguars (W 29-21): While the Jaguars were 2-1 at the moment, no one knew if they were for real yet, and the winning and Trevor Lawrence breakout stretch wouldn't come until later after a bad 2-6 start. Even then, to win the AFC South the Jaguars still needed a Tennessee collapse in the form of a seven-game losing streak, which was another case of the Eagles catching a team at the right time.
Week 6 vs. Cowboys (W 26-17): It was a good win in prime time against a team that was playing well, but backup quarterback Cooper Rush played a poor game to show the value of Dak Prescott, who would not return for another week. The Eagles lost the rematch to Prescott on Christmas Eve when Hurts was unable to go, so neither team was able to beat the other with its backup quarterback this year.
Week 8 vs. Steelers (W 35-13): Hurts played great, and the Eagles destroyed the Steelers, but that team started 2-6 and T.J. Watt was out. They would not get better until after the bye in Week 10.
Week 14 vs. Giants (W 48-22): It was a fine division win on the road, but the Giants came into that game with one win (over Houston) in their last five games following a 6-1 start that was filled with close wins against struggling teams.
Week 18 vs. Giants (W 22-16): Yeah, they beat up on the backups and won 22-16 in a game they were favored at home to win by 16 with the No. 1 seed. Congrats on outscoring Davis Webb, Jalen.
There is not one time this year (or in 2020 and 2021) where the Eagles with Hurts went into a game against a team we knew was really good with their regular starting quarterback and beat them.
The Hurts era does not have a signature win in the NFL yet, and some would argue taking care of the Giants this week would barely qualify. But it would be the biggest win yet, and the Eagles would have to immediately replace it with something bigger next week and in the Super Bowl.
Maybe the time is now, but it's not like Hurts is coming into the playoffs on a hot streak.
Hurts has three games this year at Pro Football Reference where he was charted with a bad throw rate above 15% (read: inaccurate passes that were not tipped, dropped, or thrown away), and they just so happen to be his last three games against the Bears and twice against these Giants, including their backups in Week 18.
Best Bets and Prediction
The pressure is on the Eagles to advance as a big favorite, and they have some of the classic traits of a No. 1 seed who peaked early and could easily be upset at home by a familiar opponent.
Maybe the Giants can follow the lead of the Cowboys and Commanders and force four turnovers and do some incredible things on third down. That is what it has taken to put two losses on this team this year. The other game was the Saints roughing up Minshew and getting a pick-six in the fourth quarter.
Hell, even Jeff Saturday in his second game with the Colts had a fourth-quarter lead against these Eagles, who did in fact peak in the first half of the season. But these Giants do not have quite the upper-echelon talent that the 2007 and 2011 teams had with Michael Strahan or Justin Tuck providing the pass rush, and some of the more expert leadership from Eli Manning and coach Tom Coughlin.
But this isn't 2007 or 2011. The 2022 Giants do not force enough takeaways or defend the run well enough to think they can stuff the Eagles on those quarterback push sneaks or force the turnovers those other teams got to beat them.
The Eagles should have enough to get by this week as the Giants could have a hard time shutting down all these weapons, but we just have to see how the Eagles handle the pressure of a big playoff game they are expected to win. This is new for this regime, and Brian Daboll is coming in with house money as no one expects him to win. With his offense playing its best as of late, we are going to trust the Giants to make it interesting and cover the spread.
Dallas Cowboys vs. San Francisco 49ers (-3.5)
The No. 5 Dallas Cowboys (13-5) will take on the No. 2 San Francisco 49ers (14-4) this Sunday evening in San Francisco.
The Last Matchup
2021 Wild Card: 49ers 23, Cowboys 17
With respect to the Bills-Bengals game that was briefly played before getting cancelled for Damar Hamlin's cardiac arrest, this is the first game this postseason that is not a rematch from the 2022 regular season.
Finally, something fresh even if it is a rematch from the wild card round last year when the 49ers upset the Cowboys in Dallas. The Cowboys embarrassed themselves with a called quarterback draw in the closing seconds without a timeout available. The spike was technically awarded with no time left and the Cowboys were looking rather foolish.
A smarter approach to the last drive could have given the Cowboys a real shot at making a 23-7 comeback in the fourth quarter, and we know Kyle Shanahan has blown a double-digit fourth-quarter lead in three straight postseason trips as a coach.
But the story of the game was San Francisco's pressure on Dak Prescott, who was sacked five times and threw 14 off-target passes, which made up 34.1% of his attempts that day. Both marks are the highest for Prescott in any game since 2018 according to Pro Football Reference.
Similarly, Prescott was awful and off the mark in Week 1 against Tampa Bay this year. He sure rebounded from that with a dazzling performance in Tampa last Monday, so we'll see if he can do the same a year later against a San Francisco defense that is tops in the league, but it is not flawless.
Injury Watch
Both teams should be good here, though Dallas left tackle Jason Peters left Monday night's game and could be out. That is not a huge concern as the Cowboys can slide rookie Tyler Smith to left tackle.
Stats to Know
Here are some useful and informative statistics for these teams heading into this matchup:
Spread records:
In 2022, the 49ers are 12-6 ATS and Dallas is 11-7 ATS.
Since 2019, San Francisco is 16-12-1 ATS as a home favorite, the third-best record in the league.
Since 2020, Mike McCarthy's Cowboys are 4-3 ATS with a rest disadvantage. In that same time, Kyle Shanahan's 49ers are 7-5 ATS with a rest advantage.
Scoring marks:
Since Week 7, the Cowboys (32.3) and 49ers (30.8) are the highest-scoring teams in the NFL, including last week's playoff game. The 49ers (+13.2) and Cowboys (+10.8) are also the two best teams in averaging scoring differential since Week 7.
The Cowboys had a nine-game streak snapped in Week 18 of scoring at least 27 points. Of the previous 12 teams to have such a streak, all 12 played in a Super Bowl or championship game during at least one of the seasons that streak was active.
The Cowboys are 11-1 when they allow fewer than 26 points this season.
The 49ers are 11-0 when they score at least 24 points this season.
Team stats:
The 49ers are 0-4 when they have multiple turnovers this season and 14-0 when they do not.
On defense, the Cowboys have nine games where they created multiple turnovers this season.
On offense, the Cowboys are 10-1 when they do not have multiple turnovers this season.
There are seven games this season where the 49ers have not created multiple turnovers (4-3 record).
The Cowboys are 10-0 when they allow fewer than 130 rushing yards this season.
There are seven games this season where the 49ers have not rushed for 130 yards (4-3 record).
The 49ers have won 11 games in a row, but they have only played one team with double-digit wins (10-7 Chargers) during this streak. They needed a fourth-quarter comeback to win that game at home as a touchdown favorite.
The 49ers had the weakest strength of schedule (.417) in the NFL this season and played a league-low five games against teams that finished with a winning record.
The 49ers are 0-1 against teams with more than 10 wins this year, losing 44-23 at home to Kansas City, their last loss.
The Cowboys are 3-1 against teams with 12-plus wins this year, beating the Bengals, Vikings, and splitting with the Eagles.
The 49ers have lost three games this season to teams with double-digit losses: Bears (3-14), Broncos (5-12), and Falcons (7-10).
The Cowboys led the NFL with 33 takeaways on defense and the 49ers (30) were tied with New England for the second most.
Dallas recovered a league-high 17 fumbles on defense while the 49ers tied with Pittsburgh with a league-high 20 interceptions.
The 49ers have not allowed any individual to rush for 70 yards in any game this season. Josh Jacobs (69 yards) had the best game yet in a game that went to overtime in Week 17.
Player stats:
49ers quarterback Brock Purdy is the first rookie quarterback since Sammy Baugh in 1937 to throw for over 300 yards and three touchdowns in a playoff win. He also rushed for a touchdown and had a fourth touchdown pass dropped by Brandon Aiyuk late in the fourth quarter.
Purdy is the only quarterback in NFL history to start 6-0 with multiple touchdown passes in every game.
With four touchdown passes in Tampa, Dak Prescott had his first playoff game with multiple touchdown passes since his rookie season (2016) against Green Bay. He has scored a rushing touchdown in four straight playoff games, including one on Monday night.
Prescott has 14 total touchdowns (10 passing, 4 rushing) in five playoff games to go along with 3 interceptions.
Prescott has led the Cowboys to at least 22 points in all playoff games except for last year's 23-17 loss against San Francisco.
The Cowboys have allowed 23 touchdown passes this season and all but one of them have gone to wide receivers. But they did allow a touchdown pass to tight end Cameron Brate in the playoffs in Tampa Bay.
49ers tight end George Kittle has a career-high 11 touchdown catches this season, equaling his two previous best seasons combined. Most of them were thrown by Purdy in the last month.
Cowboys wide receiver CeeDee Lamb had one catch for 21 yards on five targets in the wild card loss vs. 49ers last year – his fewest yards in his last 25 games.
Cowboys running back Ezekiel Elliott's last 40 carries since Week 17 have gone for 70 yards.
The 49ers are 11-0 since Christian McCaffrey made his first start in Week 8 following the trade from Carolina, and he has scored a touchdown in seven straight games.
San Francisco defensive end Nick Bosa leads the NFL with 18.5 sacks. He only played 23 snaps due to injury in last year's wild card win in Dallas and he registered 0.5 of his team's 5.0 sacks.
The Fatal Flaw
What is the factor most likely to lead to each team's downfall this postseason and in this matchup in particular?
Cowboys – Mr. Self Destruct
We had this last week too, but the Cowboys flipped the script by having zero giveaways in a wire-to-wire road win in Tampa. Prescott was able to end his games with an interception streak at seven in one of the finest performances of his career.
If there was one area that stunk for Dallas, it was kicker Brett Maher, who became the first kicker in NFL history to miss four straight extra points in a game. He made his fifth, so hopefully that fixes his confidence, but the Cowboys better prepare some golden two-point conversion plays just in case.
But if you look at the Cowboys since Week 7 when Prescott returned, they really do have all the ingredients you could ask for to win a Super Bowl. The quarterback leads a very productive offense that can run and throw, the defense can either stop teams cold (better than in 2021) and leads the league in takeaways for the second year in a row, and the special teams are not as abysmal as Monday night looked with the missed extra points and onside kick failure at the end.
If there is a big flaw, it is largely self-inflicted, and you just expect this offense to self destruct with bad, untimely turnovers, for Mike McCarthy to make a bewildering decision, or for the defense to blow a 14 or 17-point lead in the second half like it did against the Packers and Jaguars.
Aside from that putrid Week 18 game in Washington – division games are weird – the Cowboys have looked like a very good team for a few months now. A team in better shape to go on a run this postseason than the team that mostly just destroyed the NFC East in six games in 2021 to pad its stats.
But we'll see if the Cowboys can overcome the travel and rest disadvantage and protect the ball better than a rookie quarterback does against this No. 1 defense.
Barring a Purdy meltdown, Prescott is going to have to play like a Hall of Famer for the second week in a row. That is very hard to do in the NFL playoffs.
49ers – If the Draft Status of Mr. Irrelevant Becomes Relevant
We are running out of historical comparisons for Brock Purdy's start to his career. When you do something the league has not seen since Sammy Baugh in a 1937 playoff game, you really have carved out your own piece of history.
If Purdy throws two touchdown passes in this game, he will stand alone at eight straight games doing that as a rookie. Justin Herbert (seven games) is the only other rookie to do that in more than five straight games.
Doesn't the other shoe have to drop at some point? Can't a defense figure out how to make him look like the last pick in the draft? There were about a handful of throws from Purdy in the Seattle game that you could see getting him into trouble against a better defense with better players than Seattle.
The Cowboys have that defense. Trevon Diggs is great at getting interceptions. Micah Parsons is great at getting pressures and sacks. Purdy has some athleticism to improvise, but the Cowboys pride themselves on having a great pass rush and they were near the top in pressure rate throughout this season. They just made a 45-year-old Tom Brady look more like 50 on Monday night.
A rookie quarterback going up against the best defense at forcing turnovers in a big playoff game sounds really favorable for Dallas, but Dan Quinn has to find a way to make it work for his unit. The Cowboys have to contend with so many great skill players, and we haven't even got into Christian McCaffrey being a beast on the ground.
But we are used to seeing Shanahan's magical offense go scoreless in the fourth quarter of playoff games and lose. It's happened to him all four times he's called an offense in the playoffs, including twice with these 49ers.
Maybe Purdy was the missing ingredient for him, but we have not seen him in very many disadvantageous situations yet this year. The Cowboys have to expose him or else we are going to see the third rookie quarterback to win two playoff games and start a Conference Championship Game.
Best Bets and Prediction
This game has the lowest total (45.5 points) of the divisional round, but there is arguably more offensive talent (skill players and offensive lines) on hand here than in any other game this weekend. The defenses may also be the two best, but that has not stopped the last four San Francisco games from going over 50 points.
If it was a 23-17 game last year and both offenses are in better shape now, then it would seem like a great pick to take the over in this one and hope for that scoring consistency these teams have shown since Week 7 to continue.
Much will be made of the rest advantage with the 49ers staying home and playing eight days after the Seattle win, while the Cowboys had to travel to Florida for a Monday night game, travel home, then travel west for a Sunday game. If there is an advantage to that, it should show itself early, so with the Shanahan script of plays in mind, maybe the value there is to take the 49ers' first-quarter spread (-1.5) if you expect a hot start from the 49ers and a sluggish one from Dallas.
But this really should be a game that comes down to turnovers. No defense forced more than these two this year. Do not think of the game as Dak vs. Purdy, but think of it as Nick Bosa vs. Micah Parsons, the two major Defensive Player of the Year contenders. Which one of those guys leads his unit to more splash plays and game-changing moments against these quarterbacks?
The 49ers upset the Cowboys on the road last year, but Dallas can return the favor here. More rookie quarterbacks have been to the Conference Championship Game than Dallas since the 1996 season, but I still will take the Cowboys with the points here. Maybe the franchise that has brought us Tony Romo's bobbled hold, Dez Caught It, and the Quarterback Draw of Doom invents a new way to lose a 3-point heartbreaker.
In a game with Shanahan, Quinn, and McCarthy, something unbelievable must go down here. Maybe Brett Maher even wins it on a 58-yard field goal.