NBA
NBA Spread and Player Prop Picks for Heat-Celtics Game 5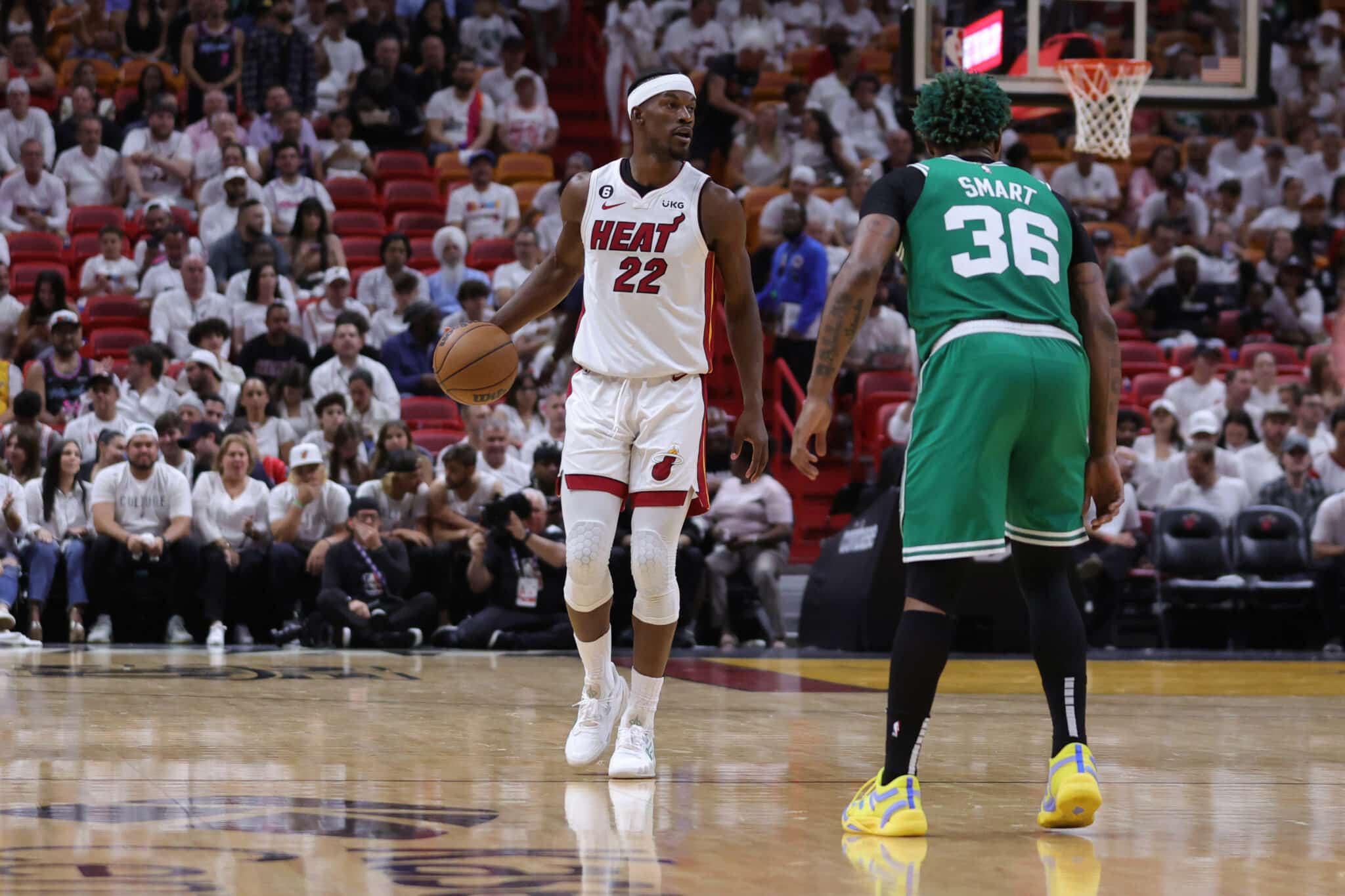 By Scott Kacsmar
While NBA teams are 0-for-150 at winning a best-of-7 series when trailing 3-0, the Boston Celtics seem to be getting a better shot than most at it against the Miami Heat. The Heat are only -260 to win the series at FanDuel, which is giving Boston about a 28% chance to make history and pull off the league's first 3-0 comeback.
Incredibly, after one bad performance the Heat are back to being an 8.5-point underdog in Game 5 in Boston. We will see if Game 4 was the start of something historic, or if the Heat can win 6-of-7 against Boston to end the season series.
We have our spread pick for Game 5 and our favorite player props for what could be an interesting game if Boston is going to start hitting 3s with consistency.
Miami Heat vs. Boston Celtics (-8.5)
Similar to the first two games in the series, the Heat are an 8.5-point road underdog with a total of 215.5 points. Here are some records and trends you should know for this matchup:
Miami is 9-2 ATS and 6-5 SU as an underdog of 7-plus points this season, including a 3-1 record against the Celtics in such games.
Boston is 10-12 ATS and 16-6 SU as a favorite of 7-to-9 points this season.
Miami has gone 22 games since last failing to cover in back-to-back losses.
Miami's 17-point loss in Game 4 was its biggest loss since a 29-point loss to the Nets on March 25.
Boston is 46-43 ATS as a favorite, the 14th-best record.
Miami is 20-15 ATS as an underdog, the 8th-best record.
The Celtics are 4-5 ATS at home this postseason.
NBA teams are 150-0 in best-of-7 series when leading 3-0, including a 33-0 record in this round of the playoffs.
This is only the 4th series in NBA playoff history to start LLLW for the team with home-court advantage (Boston). Previous teams were 1-2 at home in Game 5.
NBA teams leading 3-1 with Game 5 on the road are 22-59 (.272) in Game 5, including a 6-13 (.316) record in the Conference Finals.
Miami is 11-4 in Game 5 when leading a series 3-1.
Miami coach Erik Spoelstra is 4-10 SU in Game 5 on the road (10-3 at home).
More than ever in today's NBA, 3-point shooting can make or break a team. It also can be a cold one night, hot the next (or vice versa) situation, and we see that often in these playoff series. The last two games of this series are a great example as Boston went from a 26-point blowout loss to a 17-point blowout win largely due to getting hot from 3 while Miami cooled down:
In Game 3, Boston shot 11-of-42 (26.2%) from 3, its 6th-worst game this season.
In Game 4, Boston shot 18-of-45 (40.0%) from 3, ending a 3-game streak of failing to make a dozen 3s. Boston is 30-6 when making at least 18 3s this season.
In Game 3, Miami shot 19-of-35 from 3. The 19 makes were the second most in a game for the Heat this season, and the 54.3% success rate was the team's 4th-best game.
In Game 4, Miami shot 8-of-32 (25%) from 3. Miami is 5-11 when making no more than 8 3s this season.
Miami's role players struggled to shoot in Game 4 with no one making more than a pair of 3s. You know it was not Miami's night when Duncan Robinson, Max Strus, Gabe Vincent, and Kyle Lowry combined to shoot 3-for-18 from 3.
Meanwhile, Boston got a surprisingly big night from Grant Williams off the bench as he shot 4-of-6 from 3 on his way to 14 points to make up for a Malcolm Brogdon (2 points over the last two games) no-show. Al Horford, Marcus Smart, and Derrick White all made 3 from 3-point territory too.
Boston's 20-5 run to start the third quarter completely changed the game. The Heat had 9 turnovers after halftime and will need to protect the ball better on the road.
But Boston has not been strong at home this postseason (4-5 SU), and the 3-point shooting margin will likely shrink dramatically in this game from Game 4. The Heat have already shown they can rally from double-digit deficits for six wins this postseason, and this is a large spread for a Boston team that is not clicking on all cylinders. Despite the win, Jaylen Brown still scored just 17 points on 16 shots and is not delivering like a No. 2 player should.
The Celtics may very well win and extend this to an interesting Game 6 this weekend, but let's trust Jimmy Butler and company to hang around and get at least a cover.
NBA Pick: Heat +8.5 (-112) at FanDuel
Player Prop Picks
Is it a Gabe Vincent or Caleb Martin night for Miami? Is Jaylen Brown cooked as a scorer in this series? We have a handful of our favorite player props and a few additional considerations to make in this game.
Gabe Vincent (Heat) – Over 11.5 Points
Gabe Vincent was the Game 3 hero with 29 points, but he cooled down a lot from 3-point territory in Game 4. While he still scored 17 points in 27 minutes, he was only 1-for-4 from 3 after going 6-for-9 in the previous game.
Fortunately, Vincent has done most of his damage on the road this postseason. He has eight games with 15-plus points this postseason, and 6-of-8 were on the road. Look for the Heat to shoot better in this game and with a purpose to end this series now. Vincent should be able to go over 11.5 points as he has become one of the team's better players since the Tyler Herro injury this postseason.
Other considerations for scorers: Jaylen Brown could go under 23.5 points for the eighth time in his last 10 games, and you could not fault trusting Jimmy Butler to go over 28.5 with an eye on the NBA Finals for his spectacular postseason.
Bam Adebayo (Heat) – Over 3.5 Assists
The Heat are going to need Bam Adebayo to be the aggressive player he was in Boston in Games 1-2 when he averaged 21.0 points, 12.5 rebounds, and 7.0 assists. He was not nearly as productive in the two home games, and he had some foul trouble in Game 4 that threw him out of rhythm, not to mention the score in the fourth quarter.
Adebayo can be hit or miss with his assists, but of his six games this postseason with 5-plus assists, all but one came on the road where they rely on him more. There is also a good regression angle here both in Miami's expected better offensive showing and that Adebayo's teammates shot 0-for-5 on his potential assists in Game 4 according to NBA.com. Let's trust Adebayo to get over 3.5 helpers in this one.
Other consideration for assists: Derrick White could present some value in going over 2.5 assists as his Boston teammates have shot just 5-of-16 on his potential assists in this series, including 2-for-7 in Game 4.
Al Horford (Celtics) – Over 5.5 Rebounds
The veteran has had a rocky postseason, but he usually seems to deliver some key plays when the team needs him most. His Game 4 was a great example of that as Horford scored 12 points, pulled down 7 rebounds, and dished out 4 assists – his highest totals in all three categories in this series.
Horford has gone over 5.5 rebounds in 12-of-17 games this postseason. The games where he goes under are usually the ugly losses for Boston, so if you expect a close game or a good Boston win in Game 5, then Horford going over 5.5 rebounds should be a sound pick.
Other consideration for rebounds: Caleb Martin is well under 50% in rebound opportunities the last two games, and he had a fifth board taken off the final stat sheet in his last game, allowing his under to hit. He could be a good choice for going over here as he has been very active for the Heat, and he also deferred two chances last game.
Marcus Smart (Celtics) – Over 1.5 Made Threes
At halftime in Game 4, Marcus Smart looked like a weak link for Boston again as he was 0-for-4 from 3 despite a lot of open looks. But he finally got a trio to drop in the second half and finished with a solid game in the win.
Going back home, let's count on Smart to keep it up and make multiple 3s for the 12th time in 18 playoff games this year. Just do not count on him to make over 2.5 as he somehow has done that six times on the road and zero at home in the playoffs.
Other considerations for 3-point shooters: Jaylen Brown (under 2.5) and Malcolm Brogdon (under 1.5) have been so cold for Boston that it is hard to trust them right now. If you would rather go the Miami positive regression route, Max Strus was 3-of-5 in Boston to start this series and is coming off a poor 1-for-5 game.
Jimmy Butler (Heat) – Over 1.5 Steals
Butler started this series in incredible fashion with 6 steals in Game 1. That number has decreased in each game since with 3, 2, and 1 steal for Butler. But he has gone over 1.5 steals in 10-of-14 playoff games, and he also did it 34 times in the regular season and in more than 50% of his games.
Look for Butler's active hands to snag a couple of steals to hit another over for him.
Other consideration for defense: If steals are not your speed, then consider Bam Adebayo had a blocked shot in 54.7% of regular-season games this year, but he only has 1 block in this Boston series. He could be due for another here.