NBA
Basketball
NBA Finals Spread and Player Prop Picks for Nuggets-Heat Game 3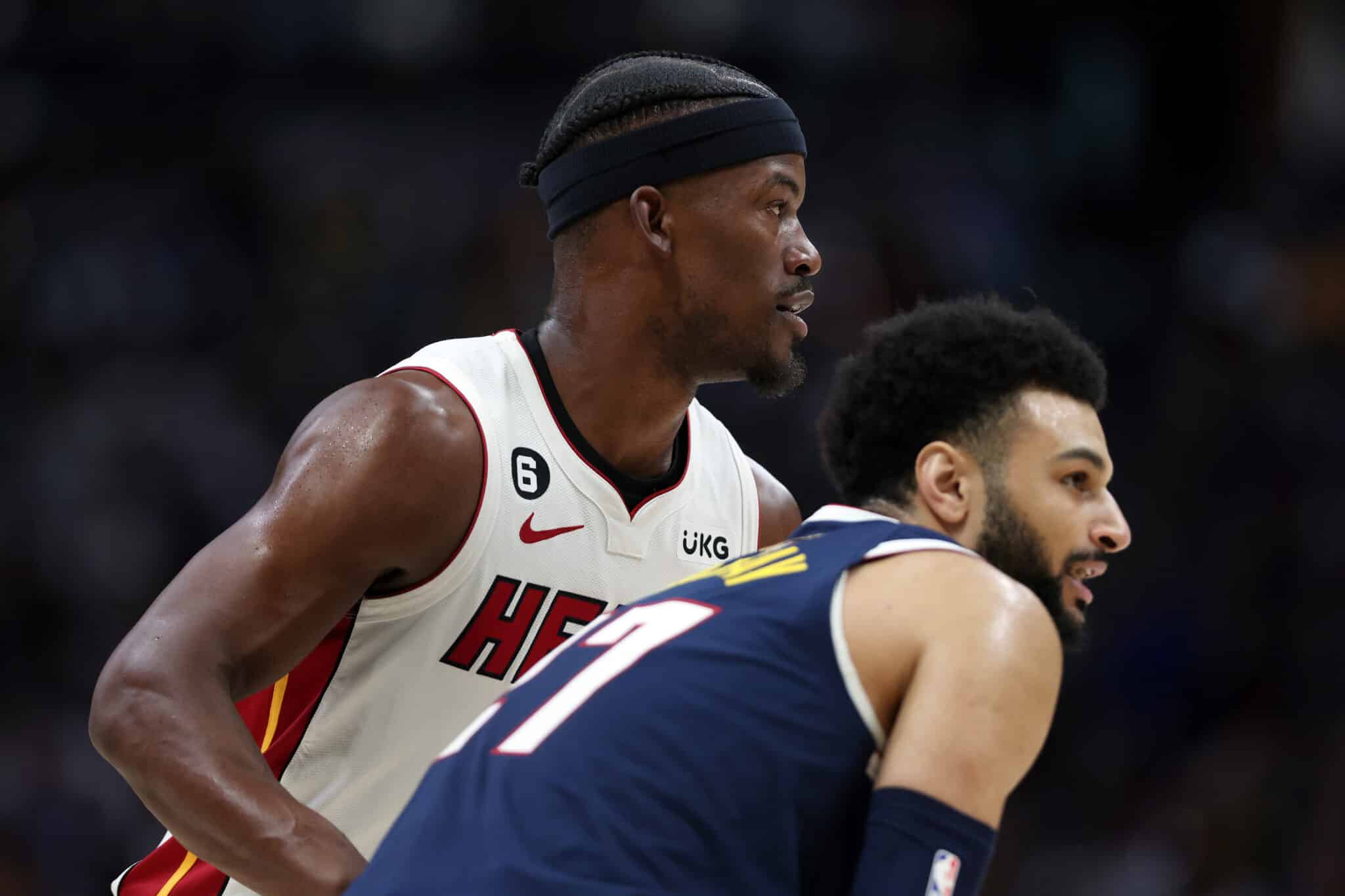 By Scott Kacsmar
The 2023 NBA Finals are tied 1-1 after the Miami Heat erased a 15-point deficit to hand the Denver Nuggets their first home loss of the postseason. The series shifts to Miami this Wednesday night in what is suddenly a huge game.
Teams with home court (Denver) who are tied at 1-1 are only 22-18 (.550) at winning the NBA Finals, so this becomes a more important game for Denver to win after coming up short in Game 2.
We have our spread pick for Game 3, as well as a handful of our favorite player prop, picks for what is turning into a very interesting series.  
Denver Nuggets vs. Miami Heat (+2.5)
Not to sound like a broken record, but the Miami Heat are underdogs again at home in the playoffs. This time Denver is a 2.5-point road favorite with a total of 214.5 points. Here are some notable records and stats for this matchup:
Denver is 19-13 ATS (59.4%) following a loss this season, the 2nd-best record in the NBA.
Denver is only 11-17 ATS (39.3%) as a road favorite this season while the Heat are 7-2 ATS (77.8%) as a home underdog.
Teams like Denver who start WL in the NBA Finals are 15-8 SU (.652) in Game 3 and 16-7 (.696) at winning the series.
Game 2 was Denver's first loss in the last five seasons to Miami that did not occur in the bubble.
Miami has 15 games this season where it shot over 45% from 3, including 7 playoff games and 3 of the last 4 games played.
Denver has shot over 50% from the field in both Finals games and still failed to score more than 108 points in either.
Miami is absolutely frustrating the Nuggets, who would prefer to play at a faster pace than these games have been played at. While the Nuggets do not shoot many 3s, they are more efficient at it than Miami, and they usually defend it better than the Heat. But that has not been the case in either game so far, and the Heat largely won Game 2 by being up 18 points in made 3s. Jamal Murray missed the game-tying 3 that would have sent the game to overtime.
Miami's strategy in Game 2 was to get a little bigger by starting Kevin Love, who played 22 minutes, made a couple of 3s, and led the team with 10 rebounds. Max Strus went from a dreadful 0-for-10 shooting night in Game 1 to making 4 early 3s in Game 2. While Caleb Martin only scored 3 points again, the Heat got a quick 10 points from Duncan Robinson to start the fourth quarter, Bam Adebayo remained aggressive with 21 points, and Gabe Vincent stayed hot with a team-high 23 points to help the Heat pull off the upset.
Miami will still not have Tyler Herro back for Game 3 as he continues his rehab, but the team clearly has done just fine without him all postseason long. Still, you have to wonder what happens when the 3-point shooting goes sour, though some of that could be offset if Martin starts playing like he did against the Celtics.
As for Denver, Game 2 was one of those rare cases where a team forced Nikola Jokic into becoming a scorer instead of an all-around facilitator making everything easier for his teammates. Jokic scored 41 points and was spectacular at getting the bounces on the rim all night long, but he was held to 4 assists, his second-lowest total in a game this season.
Jamal Murray did not score until the second quarter, Kentavious Caldwell-Pope was held to 6 points, and Michael Porter Jr. is in a shooting slump and only had 5 points. That trio produced just 29 points in Game 2, which is a great way to beat Denver even when Jokic scores 41. But it is hard to get all those role players stifled like they were in Game 2.
Early on in Game 2, Denver did not meet the intensity that Miami had. Now tied 1-1, both teams should understand the effort it is going to take to win this series. Look for Jokic to get better shooting from his teammates and get those assists up, and the Heat should come back to earth more on the 3-point shooting. Only once in 14 tries this season did Miami shoot over 45% from 3 in consecutive games. Meanwhile, Denver is shooting over 50% in both games. The Nuggets just need to sink more 3s as they were under 30% in Game 1 and under 40% in Game 2.
The Nuggets are only 4-3 on the road this postseason, but this is a small spread to cover. The game should be higher scoring and played more at Denver's pace if Jokic is passing more instead of taking so many shots himself. Trust the Nuggets to deliver the road win and take a 2-1 lead into Friday's Game 4.
NBA Pick: Nuggets -2.5 (-108) at FanDuel
Player Prop Picks
We know Tyler Herro is still out for Miami, but will Michael Porter Jr. or KCP finally show up for Denver? Do we go with Jokic the scorer or Jokic the assist MVP this time?
Jamal Murray (Nuggets) – Over 24.5 Points
Aaron Gordon is way too volatile, Kentavious Caldwell-Pope is not always involved as a scorer, and Michael Porter Jr. is shooting 6-for-27 from 3 since Game 4 of the Western Conference Finals. Someone has to step up their scoring for Denver that is not named Jokic, and that person needs to be Jamal Murray.
Murray tied his playoff low with 15 shot attempts in Game 2, he started slow, and he missed the 3 that would have forced overtime. He needs to deliver something special on the road here, and he has gone over 24.5 points in 5-of-7 road playoff games this year.
With Jokic looking to pass more, let's make Murray the beneficiary of the shot attempts for Denver. He is also 5-of-19 from 3 over the last trio of games, so he needs to bounce back in a big way too.
Nikola Jokic (Nuggets) – Over 9.5 Assists
If there is a blueprint to beat Denver, it would be to make Jokic score a lot to compensate for his teammates. However, that plan involves several Nuggets starters having poor shooting nights. It happened in Game 2, but it is unlikely to happen again in Game 3.
The Nuggets were 7-13 (.350) in the regular season when Jokic did not have more than 8 assists. The Nuggets are 0-3 this postseason when Jokic scores 40 points. In Game 2, Jokic was only 4-of-11 on potential assists according to NBA.com, so the Heat did a good job of making his passes not lead to open shots as his teammates were just not confident at shooting that night.
However, look for the Nuggets to correct this, push the pace, and Jokic should threaten with another triple-double like he had in Game 1 when he had 14 assists. He just needs over 9.5 to hit the over here.
Kyle Lowry (Heat) – Over 2.5 Rebounds
Lowry played 23:38 in Game 2 but did not have a single rebound opportunity for the first time this postseason. He has gone over 2.5 rebounds in 12-of-20 playoff games this year, including 6-of-8 home games. He has gone over 2.5 rebounds in 11-of-14 playoff games when he plays at least 23 minutes.
With the Heat potentially cutting Caleb Martin's playing time after two underwhelming games, Lowry is the kind of cagy veteran the team needs at home in this series. He had 5 rebounds in Game 1 of the Finals.
The Heat get very few rebounds from point guard Gabe Vincent, so Lowry is a good play off the bench.
Kentavious Caldwell-Pope (Nuggets) – Over 1.5 Made Threes
The Michael Porter Jr. positive regression game should be coming soon, but right now, we trust KCP to make over 1.5 3s more than we trust MPJ to make over 2.5. Caldwell-Pope has finished 1-for-3 from downtown in both games this series, so it has been a lack of opportunity more than anything. He attempted 7 3s in each of the last two games against the Lakers.
KCP has gone over 1.5 made 3s in 9-of-17 playoff games this year. He was 2-for-3 in Miami in February. His 4 field goal attempts in Game 2 were tied for his fewest in a playoff game this year. He needs to be more aggressive on the road in Game 3.
Aaron Gordon (Nuggets) – Over 0.5 Steals
We are running this one back from Game 1 too. Aaron Gordon has now gone 8 straight games without a steal, the second-longest streak of his NBA career. He had a 10-game streak end last March.
Gordon has played at least 32 minutes in all 8 games, so it is actually the longest streak of his career by 3 games if we add that element of time to it. You have to go back to 2019 to find the last time Gordon went more than 3 straight games where he played 32 minutes without registering a steal.
For all the defensive credit he gets at times, he needs to end this streak and pick off a pass in Game 3.