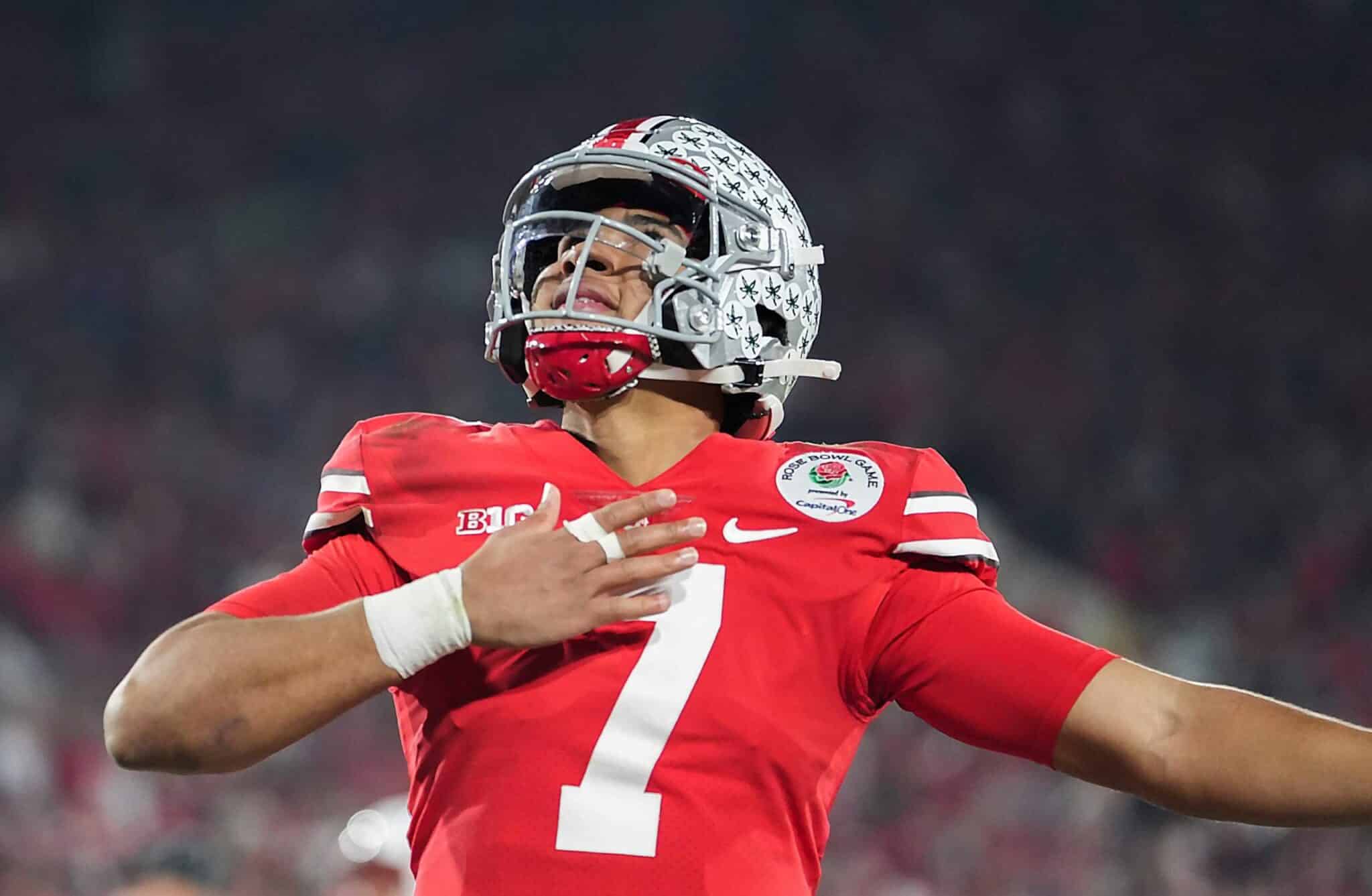 By Will Helms
We knew the Bears wouldn't keep their first draft pick, but there was a question of who would trade for it. Following the Panthers trade up, there's a bit more clarity on how the top 5 will take shape. Starting this week, I'll have a mock each week leading up to the draft in late April.
Editor's Note: This mock draft will be a combination of what I think teams should do and what I think they will do. Future drafts may have one or the other, but this one is a combination of both.
And here we go.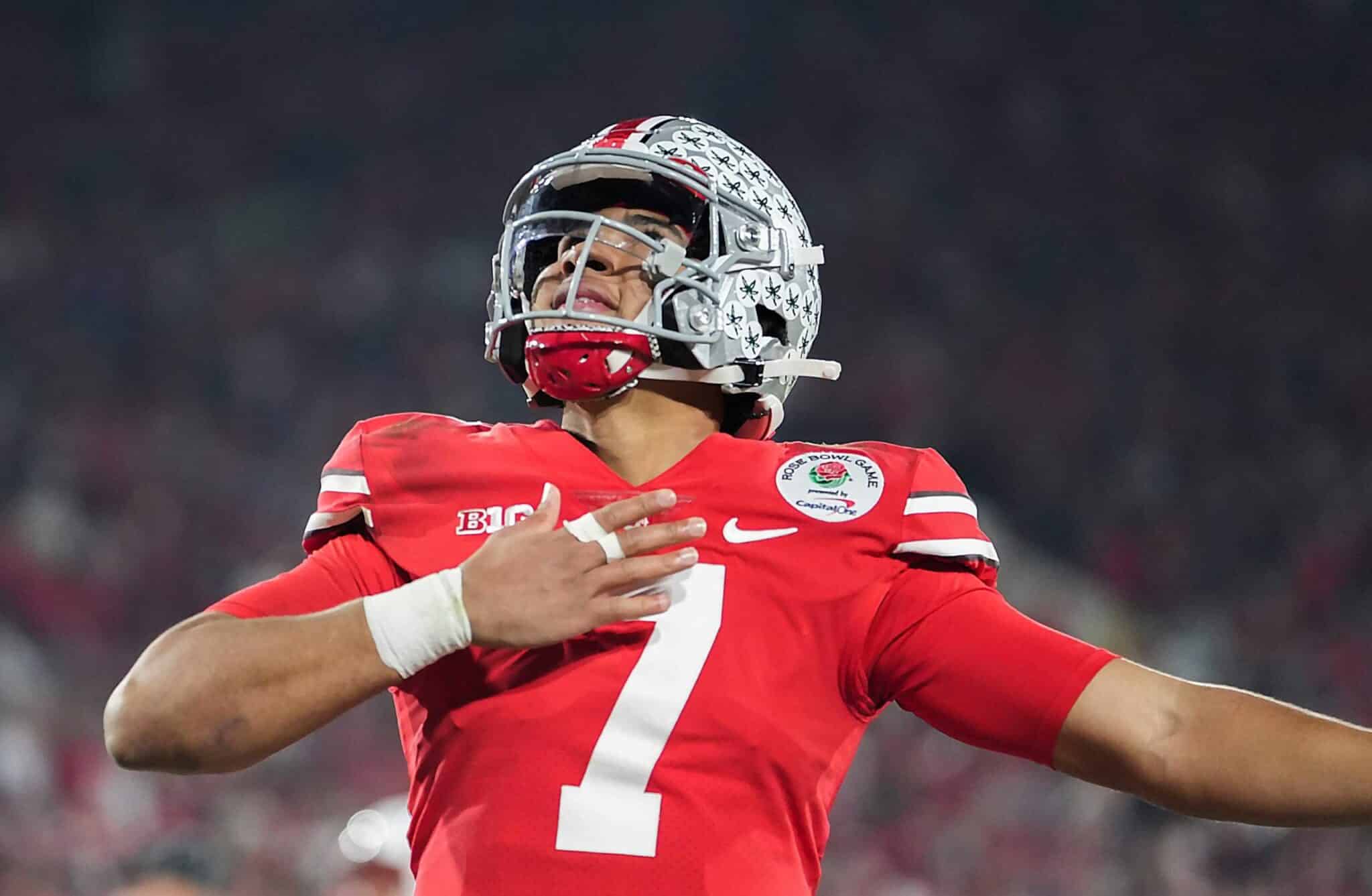 1. Panthers: CJ Stroud, QB- Ohio State
As a Panthers fan, I have mixed feelings about the trade. The Panthers gave up a lot to move up for their QB despite a strong quarterback class. According to reports, they haven't yet decided who the guy will be, only that they'll get their guy. I'd probably prefer Bryce Young or the higher ceiling Anthony Richardson, but Frank Reich can mold Stroud into a pro passer. He has great anticipation and a good arm, though I need to see him use his athleticism to escape the pocket more often and I'm nervous about the transition from the best receiver room in college football to whatever the Panthers have.
2. Texans: Bryce Young, QB- Alabama
The Texans have holes everywhere on their roster and I'm not ruling out the possibility of a trade back. Being more than a QB away, it also wouldn't surprise me to see Will Anderson go here, but I'll give them Young. His height and lack of elite arm strength concern me a bit, but he's the most pro-ready guy in the draft. He has elite processing and movement skills and makes all the NFL throws. He's going to be a really solid quarterback for years to come.
3. Cardinals: Will Anderson Jr., Edge- Alabama
Anderson's name isn't getting the buzz it did before last season but he still may be the most talented player in the draft. This comes down to best player available and while the Cardinals could trade out or shock us all and take a quarterback, Anderson seems the most logical decision. He's a strong pass rusher and can hold his own against the run. Despite having some strong edge rushers in the past, this Cardinal defense is sorely lacking in pass rushers.
4. Colts: Anthony Richardson, QB- Florida
Richardson is the most athletic quarterback in the history of the NFL, at least according to the numbers. He has some well-documented accuracy issues, but Billy Napier's offense was a mess at Florida and I'm not as concerned as many because of that. Because of the athleticism, Richardson's floor may be higher than most believe and he has elite arm talent. His ceiling is above Josh Allen's. He'll battle Young for QB1 in my rankings.
TRADE: Seahawks receive No. 8, No. 44, Falcons receive No. 5
5. Falcons: Will Levis, QB- Kentucky
The Falcons have been aggressive on the free agent market and I could see them moving up for the last of the big four quarterbacks. Levis has a howitzer for an arm, but seemingly regressed in 2022 (Probably because he went from a pro-style system in 2021 to whatever that was in the fall). Levis' athleticism will serve him well, though he needs to become more consistent in the pocket. He'll get to throw to Drake London and Kyle Pitts though, so that should help.
6. Lions: Christian Gonzalez, CB- Oregon
Here's where we get weird. A bunch of mocks have Myles Murphy or Tyree Wilson going here across from Aidan Hutchinson, but I want to give one of the top corners to Detroit. Gonzalez is separating himself as CB1 in a talented class and he's an instant starter for the Lions.
7. Raiders: Jalen Carter, IDL- Georgia
Carter falls in this mock more due to needs above than to his impending legal issues. I don't get the sense it should affect him that much, so he'll still be a top 10 pick. If Levis lasts until 7, he's the pick, but with the Falcons jumping in line in this mock, Las Vegas gets an anchor on the defensive line.
8. Seahawks: Tyree Wilson, Edge- Texas Tech
Wilson has flown up draft boards after a superb 2022 season and here the Seahawks get a guy they would have considered at five. He seems like a Seahawk pick to me and I like the player-team pairing here. Seattle continues to reload on the defensive side of the ball after a strong 2022 season.
9. Bears: Myles Murphy, Edge- Clemson
Murphy has some positional versatility and can improve a weak Chicago front. This would be a kind of dream scenario for the Bears, who get a receiver, first round pick, two seconds and an instant impact guy out of the top pick. Murphy can step in right away and compete.
10. Eagles: Devon Witherspoon, CB- Illinois
There are rumblings of a Bijan Robinson pick here, but Howie Roseman isn't likely to take a running back in the top 10. I like a corner pairing here and they get a guy that fits their defensive system well. Witherspoon is strong in man coverage and has top-notch ball skills. The Eagles are likely to churn through some corners this offseason so Witherspoon is an apt replacement.
11. Titans: Peter Skoronski, OT- Northwestern
The Titans need offensive linemen so they'll take the best one available. There's some chatter about some teams wanting Skoronski to kick inside because he has short arms. Outside of that, he's a tackle through and through. He has the versatility to start no matter who Tennessee brings in through free agency.
12. Texans: Jaxon Smith-Njigba, WR- Ohio State
Is there a better pairing than teams taking an elite wideout after they take an elite quarterback? Here, I pair Smith-Njigba with Young. An elite separator, Smith-Njigba will still need to hit a few thresholds at his Pro Day, but he's the heavy favorite to be the first wideout off the board.
13. Jets: Paris Johnson Jr., OT- Ohio State
Assuming Aaron Rodgers goes to New York, he'll need a tackle. Duane Brown is there but he'll be gone after a year and they'll need to look to the future. Johnson Jr. played guard at Ohio State, but he's likely to kick outside in the NFL.
14. Patriots: Dawand Jones, OT- Ohio State
The run on Buckeyes continues as Jones has flown up draft boards. He's a prototypical tackle with good college film who should be an instant contributor for Mac Jones and the Patriot offense.
15. Packers: Bryan Bresee, DL- Clemson
Bresee is a versatile defensive lineman capable of playing inside or outside. I see him as a 3-4 defensive end and the Packers fit that mold. There's rumor they're looking to go a bit more versatile with their front and Bresee and do a lot of different things for the defense in that regard. He's a high-character guy that should fit in well in the locker room.
16. Commanders: Joey Porter Jr., CB- Penn State
Porter Jr. is as athletic as his dad was, though at a very different position. He has some of the longest arms we've ever seen from a corner and can run with just about anybody. He's physical at the line and should be able to matchup with some of the more talented receivers in the division, like AJ Brown and Ceedee Lamb.
17. Steelers: Jordan Addison, WR- Pittsburgh
I love reuniting a young quarterback with his favorite college target and that's what we're doing here with Addison and Kenny Pickett. Addison didn't have the strongest combine, but he has great ball skills and knows how to get open, something the Steelers need on offense.
18. Lions: Quentin Johnston, WR- TCU
I don't see the Lions staying with Jared Goff in 2024, especially given the market after the Daniel Jones deal. So, we're going to set up whoever is next with a strong group of wideouts. The Lions already have an elite possession receiver (Amon-Ra St. Brown) and a promising deep threat (Jameson Williams) so giving them a red zone threat can turn this offense under Dan Campbell into one that is appealing to quarterbacks.
19. Buccaneers: Brian Branch, Safety- Alabama
I'm a bit perplexed on what to do for the Buccaneers here, so I went with the top safety in the draft. Branch can come down and play in the box, kick out to nickel or play as a deep safety and pairing him with Antoine Winfield gives Tampa Bay options.
20. Seahawks: Michael Mayer, TE- Notre Dame
Let's give the Seahawks another prototypical tight end here with a guy I think has lost some elite buzz simply because the other tight ends in the draft put up flashy combine numbers. Mayer is the most polished tight end to come out of college since TJ Hockenson and he could thrive in Seattle. Some teams in the early 20s will be upset if he goes here.
21. Dolphins vacated pick as part of tampering punishment
22. Ravens: Nolan Smith, Edge- Georgia
Amidst all the Lamar Jackson rumors, the Ravens still need help on defense, especially in the front four. Smith is crazy athletic and fits what the Ravens are trying to do defensively. Assuming Baltimore ultimately accepts an offer for Jackson, shoring up the defense is a great way to ensure that the team can still find success in 2023 while preparing to start anew in 2024.
23. Chargers: Bijan Robinson, RB- Texas
The fall is over for a top 5 talent in the draft. Teams just don't value running backs anymore and Los Angeles can reset the money at the position (I think Austin Ekeler will ultimately be dealt in a trade similar to Christian McCaffrey's). Robinson is an elite playmaker that will be one of the best backs in the league for years.
24. Vikings: Cam Smith, CB- South Carolina
This is my favorite team-player match for a defensive player in this draft. Desperate to become younger on defense, the Vikings have been cutting veterans left and right leaving them with holes at several positions. Smith is my top corner and he's the most technically-sound defensive back in the draft. He'll get handsy every once in a while but then again, that was the knock on Jaycee Horn too and we see how that's worked out.
25. Jaguars: Clark Phillips III, CB- Utah
I think there will be a run on corners in this area of the draft. Phillips is aggressive and fits a Doug Pederson defense. He's not the biggest corner in the class, but he'll stick his nose in there and tackle anyway. He has elite ball skills and returned four interceptions for touchdowns in his career.
26. Giants: Josh Downs, WR- North Carolina
The Giants are committed to Daniel Jones, so it's time to get him a true number one receiver. Downs can fly and creates separation at the top of routes. Part of my thinks the Giants could opt to go with a guy better against zone as they'll see a lot with Jones' rushing ability, but Downs is the best receiver available here.
27. Cowboys: Zay Flowers, WR- Boston College
While I personally prefer Jalin Hyatt to Flowers in this spot, Flowers is the one getting the first round buzz. He's elite in small spaces and will primarily play in the slot for Dallas, who desperately needs another receiver to go with Lamb.
28. Bills: Jaylin Hyatt, WR- Tennessee
Oh hey, there's Hyatt. Gabe Davis flashed last season, but he was far too inconsistent for a team that should be competing for Super Bowls. Hyatt can take the top off a defense and excels after the catch. Ken Dorsey should be able to get him some one-on-one matchups with Stefon Diggs and Davis on the outside.
29. Bengals: Christopher Smith, Safety- Georgia
This pick was made easier when the Bengals lost both starting safeties in free agency. Smith has an elite football IQ and can play multiple positions at the next level which should pair nicely with Dax Hill's skillset.
30. Saints: Keyshon Boutte, WR- LSU
Here's my surprise first round entry. Boutte had an up-and-down season (along with the entire LSU team) but brings elite potential. Here, the Saints opt for the local kid at the tail end of a run on receivers. He's a solid route runner who can get deep and make huge plays.
31. Eagles: Jahmyr Gibbs, RB- Alabama
Gibbs is the prototypical modern day running back. His best feature might be his ability as a receiver out of the backfield, but don't downplay his ability to run between the tackles. He'll need to improve as a pass blocker, but every running back prospect needs to do that. The Eagles will be comfortable letting Miles Sanders walk with the running back class this year.
32. Chiefs: Lukas Van Ness, Edge- Iowa
Given the run on receivers, the Chiefs opt to go with a defensive player here. If they do indeed let Chris Jones walk, they'll need a versatile defensive lineman. Van Ness played inside in 2021 and outside in 2022, where he'll likely play in the NFL (Though Kansas City likes to shift its edge guys inside on passing downs). Don't rule out a guy like Calijah Kancey here either.