NFL
Kansas City Chiefs Swiftly Become the Highest-Ranked NFL Game of the Week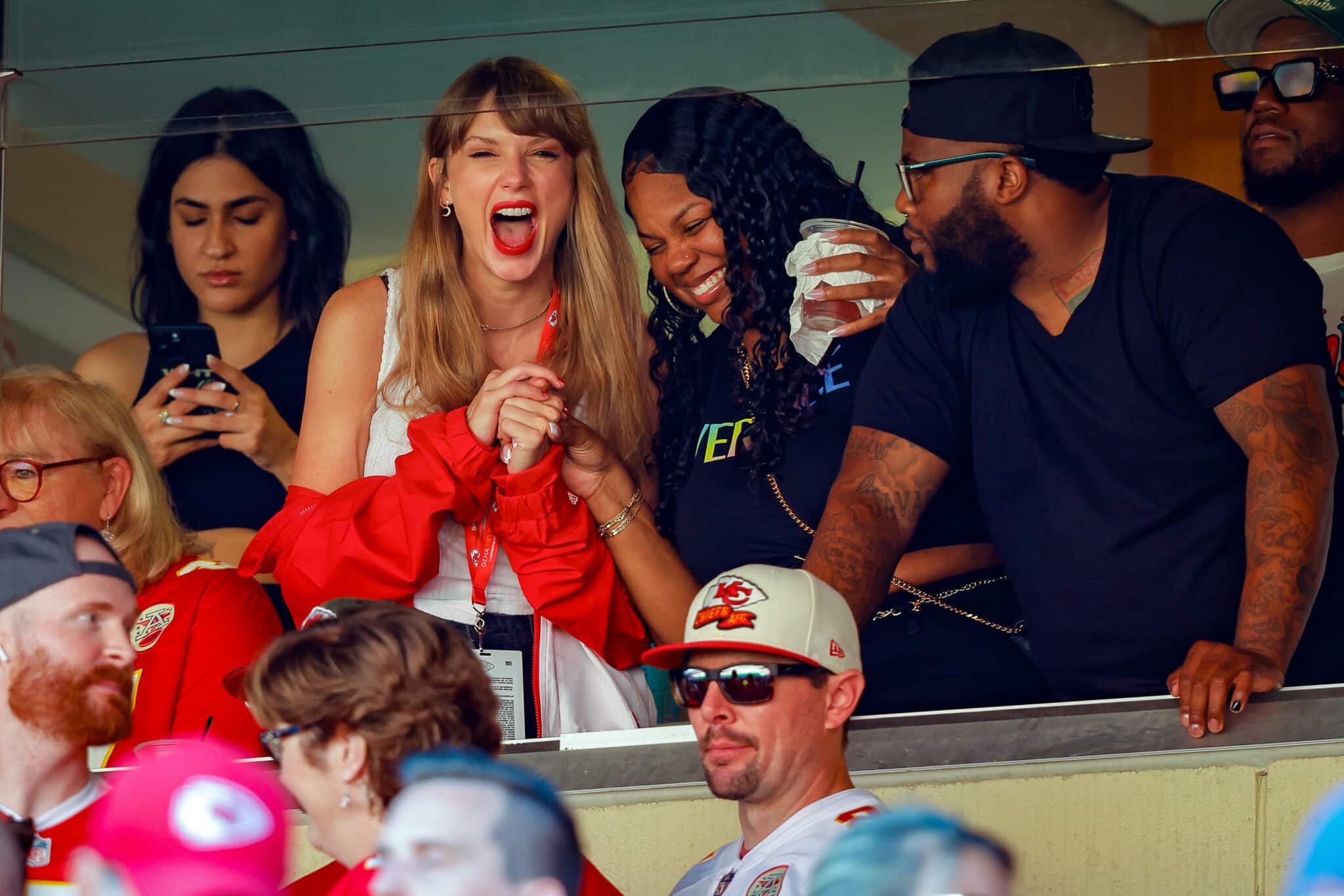 On September 24, the Kansas City Chiefs made headlines as Travis Kelce's rumored girlfriend, Taylor Swift, was in attendance at Sunday's game at Arrowhead Stadium. Kelce and Swift have been rumored to be dating for some time now, and the couple made their first public appearance as the two were spotted leaving the Chiefs' locker room together following the game. During the game against the Chicago Bears, the acclaimed singer was spotted cheering on the Chiefs throughout the game in a suite alongside the tight end's mom, Donna Kelce.
Taylor Swift is HERE for the Chiefs game 👀 pic.twitter.com/46SW4gEodz

— FOX Sports: NFL (@NFLonFOX) September 24, 2023
Taylor Swift's shocking appearance at the Chiefs vs. Bears game drastically affected the game's broadcast ranking. FOX's national broadcast of the Chiefs vs. Bears game was the highest-rated NFL game of the past week, drawing in 24.3 million total viewers, and it was ranked first amongst various demographics of women. The game was ranked the no. 1 broadcast among women ages 12-17, 18-34, and 18-49. This increase in female viewership can be attributed to Taylor Swift's appearance at the game.
Following all the excitement surrounding the rumored couple, the acclaimed tight end gained over 380,000 followers just this past week, which was more than the amount he gained following his Super Bowl LVII win. Additionally, Kelce saw over a 400% increase in his merchandise sales, and following the game on Sunday, his jersey had become one of the top 5 selling jerseys in the NFL. Kelce is ranked the number one tight end in the NFL, so this significant increase in merchandise and jersey sales following Sunday's game is no coincidence and can be attributed to his alleged girlfriend. Furthermore, Travis' podcast, New Heights, with his brother Jason Kelce, has become the no. 1 podcast on Apple, as fans are waiting in anticipation to hear about this new alleged relationship.
Since Taylor Swift showed up to Sunday's Chiefs-Bears game:

• 400% spike in Travis Kelce jersey sales
• Kelce's podcast ranks #1 overall on Apple
• Kelce adds 383K Instagram followers
• 24.3M viewers watch, #1 game this week
• 63% jump in female viewers age 18-49
• 3x… pic.twitter.com/Wqtu1vgMCT

— Front Office Sports (@FOS) September 26, 2023
Taylor Swift has over 270 million followers on Instagram alone. If her relationship with Kelce progresses, the NFL and Kansas City Chiefs may continue to see an increase in female viewers and merchandise sales. The world has seen the effect that one NFL game appearance had on the Chiefs and Travis Kelce, so it will be interesting to see how the NFL will continue to benefit from this new relationship throughout the season.
With the rumored relationships between NFL players and celebrities/influencers, this 2023-24 NFL season can potentially see an increase in viewership among various female demographics. TikTok star Alix Earle has been linked to Miami Dolphins wide receiver Braxton Berrios. With nearly 6 million followers on TikTok and 3.1 million on Instagram, the TikTok star's fans have started taking an interest in the Dolphins wide receiver. Additionally, the Miami Dolphins acknowledged the influence that Earle could have on their fanbase, so the team decided to collaborate with the star for an Instagram post.
Allison Kuch, wife of the Las Vegas Raiders defensive end Isaac Rochell, has documented her husband's NFL journey on TikTok and even made some NFL appearances. Kuch has become TikTok famous for her amusing TikToks and has nearly 3 million followers on the platform. Both Earle and Kuch have a significant amount of female followers that can translate into more female fans of the NFL as a result of their significant others. With these new celebrity and influencer relationships with NFL players, it will be neat to see if female viewership of NFL games increases throughout the season.