NFL
The Top 5 Offensive Performances in NFL History: Where Does Miami Rank?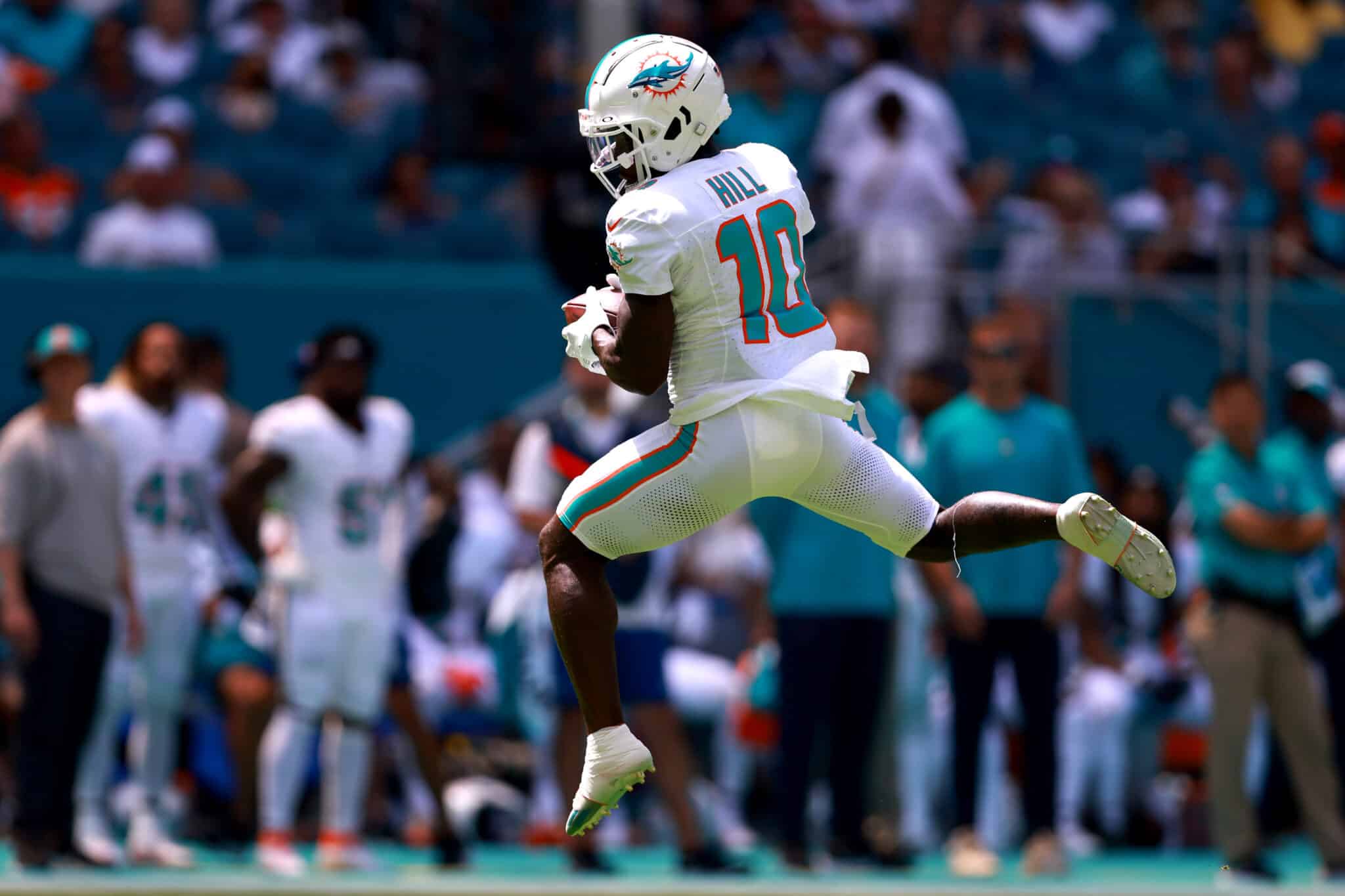 By Scott Kacsmar
For the first time since 1966, we witnessed an NFL team score 70 points in a game when the Miami Dolphins used their speed to destroy the Denver Broncos, 70-20, in Week 3. Miami's 726 yards were also just shy of a single-game record.
Did we just watch the best performance by an offense in NFL history?
When you consider that Miami is the only team among the four to ever reach 70 points that got to that mark with all offensive touchdowns (no returns), you have to consider if we just watched the best of the best.
But with Miami heading to Buffalo for an early Game of the Year candidate in Week 4, we are looking back at the five best performances by an offense in NFL history.
Consideration was given to how unstoppable the offense was that day, how many punts, field goal attempts, and turnovers they had, how many big plays they produced, the quality of the opponent, and the importance of the game.
Honorable Mentions
Before we get into the top five, we have a few honorable mentions of what did not make the list.
1940 Chicago Bears at Washington Redskins (12/8/1940, NFL Championship Game, W 73-0)
The 1940 Bears still hold the record for points in a game (73), and the fact that they did it on the road in an NFL Championship Game makes it even harder to believe. But for as great as the Bears were that day, this game was a total failing by the Washington offense, which contributed 9 turnovers, including 3 interceptions returned for a touchdown. The Bears only had to throw 10 passes while running the ball 53 times for 381 yards. Chicago finished with 519 yards and 1 turnover.
You can expect the scoring differential record (+73) in this game to never be broken, but it was not a top-five offensive performance.
1950 Los Angeles Rams vs. Baltimore Colts (10/22/1950, W 70-27)
The 1950 Rams are still the record holders with the highest single-season scoring average at 38.8 points per game. A big reason for that is what they did in Weeks 6-7 when they scored 70 points against the Baltimore Colts and 65 points against the Detroit Lions, the greatest 2-game stretch of scoring in NFL history.
We don't rank the Colts game higher because that was against the original Baltimore Colts, a transplant from the AAFC who lasted one year in the NFL with a 1-11 record before they went defunct. The real Baltimore Colts came back in 1953, starting a whole new franchise.
The Rams were also sloppy in this game with 4 turnovers and 15 penalties for 162 yards, and they were still throwing deep well into the fourth quarter with their backup (and future Hall of Fame) quarterback Bob Waterfield against one of the worst defenses of all time.
1949 Chicago Cardinals at New York Bulldogs (11/13/1949, W 65-20)
This was very impressive for pre-1950 football as the Cardinals scored all 65 points on offense (no returns), which was the single-game record before the Dolphins scored 70 on Sunday. Chicago had 572 yards with 319 on the ground and two different passers threw 3 touchdown passes. But the Bulldogs were an expansion team that finished 1-10-1, changed their name to the Yanks in 1950, and disbanded after the 1951 season.
1966 Washington Redskins vs. New York Giants (11/27/1966, W 72-41)
Just a quick mention on why the highest-scoring game in NFL history did not make the top-five list. The Redskins had a great day, but they also had 3 return touchdowns (fumble, interception, and punt return), they turned it over twice, and they only had 341 yards. They also kicked a late field goal while up 28 points to get to 72 points, which feels like the cheapest way any team got to 70.
1972 New York Jets vs. Baltimore Colts (9/24/1972, W 44-34)
While many of these performances were blowouts, one of the best offensive performances came in a shootout between Joe Namath and Johnny Unitas in 1972. Namath got the best of the legend by throwing 6 touchdowns that covered 65, 67, 28, 10, 79, and 80 yards. It is still the only game in NFL history where a quarterback had 4 touchdown passes of 65-plus yards, which is the reason the Jets still hold the record with 10.61 yards per play. But it just misses the mark of the top five for Namath only completing 15-of-28 passes, the Jets turning it over twice, and the running game was held to 83 yards on 25 carries.
2000 St. Louis Rams vs. San Diego Chargers (10/1/2000, W 57-31)
A highlight game for the Greatest Show on Turf-era Rams came against the Chargers, a team that would finish 1-15 in 2000. The Rams had 57 points, 614 yards, and no turnovers, and they scored on all 11 of their possessions before taking 3 kneeldowns on the 12th drive to end the game. The only thing stopping this from being the best performance is that the Rams settled for 5 field goals instead of breaking the scoring record with more touchdowns.
The Top 5 Offensive Performances in NFL History
5. 1993 San Francisco 49ers at Detroit Lions (12/19/1993, W 55-17)
Game Stats:
Offensive Points: 55 points on 10 drives* (5.55 Pts/Dr) [*excludes 1 kneeldown drive to end game]
Drive Breakdown: 7 touchdowns, 2 field goals, 1 end of half drive
First Downs: 26
Passing: 20-of-28 for 393 yards, 4 TD, 0 INT, 0 sacks
Rushing: 37 carries for 172 yards, 3 TD
Total Yards: 565 yards
Turnovers: 0
Third Down Conversions: 10-of-14 (1-of-1 on fourth down)
Opponent: 10-6 final record, 15th in points allowed, 6th in yards allowed
This is one of three games since World War II where a team had at least 7 touchdowns with no punts or turnovers. This is also the only game on the list where a team did it on the road against what was a playoff team. Since it was in December, there were expectations that the Lions would be a solid team that year too.
But this was a masterclass from the 49ers, who opened with 4 straight touchdowns, including Steve Young and Jerry Rice connecting on an 80-yard touchdown pass, tied for their longest together.
It fails to rank higher because of a little struggle in the second quarter when the 49ers went three-and-out after getting a turnover and settled for a 43-yard field goal on a drive that gained 3 yards. Then in the final minute of the half, the 49ers hurt themselves by kicking another field goal with a penalty, and Young completed a meaningless pass for 13 yards to the Detroit 29 as time expired in the half.
But the offense added two more touchdowns before pulling Young late in the third quarter with a 45-10 lead. The backups produced a field goal and a 50-yard touchdown run before kneeling out the clock in an easy win.
The 49ers went on to lose to Dallas in the NFC Championship Game for the second year in a row.
4. 2007 New England Patriots at Buffalo Bills (11/18/2007, W 56-10)
Game Stats:
Offensive Points: 49 points on 8 drives (6.13 Pts/Dr)
Drive Breakdown: 7 straight touchdowns followed by punt in 4th quarter
First Downs: 30
Passing: 33-of-41 for 383 yards, 5 TD, 0 INT, 0 sacks
Rushing: 29 carries for 127 yards, 2 TD
Total Yards: 510 yards
Turnovers: 0
Third Down Conversions: 8-of-11 (2-of-2 on fourth down)
Opponent: 7-9 final record, 18th in points allowed, 31st in yards allowed
Get used to the AFC East dominating this list. After surviving the Colts in Week 9's epic showdown, the 9-0 Patriots emerged from their bye week and were in Buffalo for Sunday Night Football. The 5-4 Bills were hoping to stay relevant, but they were hit with an early knockout as the Patriots scored touchdowns on their first 7 possessions, including 5 straight touchdown drives of at least 72 yards.
Randy Moss caught 4 touchdowns in the first half, the only 4 touchdown game of the Hall of Fame receiver's career. He would finish the season with 23 touchdown catches, an NFL record. Tom Brady had 5 touchdown passes on his way to eventually throwing 50 to set what was then a new record.
Of all the games Brady started in New England in his career, this one had the highest EPA on offense (40.46) according to Pro Football Reference. The only stop the Bills got all night was when the Patriots, leading 56-10 in the fourth quarter, replaced Brady with Matt Cassel and the backup offense eventually punted, but not before burning over 7 minutes off the clock.
The 56 points were the most scored by the 2007 Patriots, who were 10-0 at this point and looked like a team that would go undefeated. Oddly enough, this Buffalo game proved to be the peak and the beginning of the end for the Patriots that year. They never scored more than 38 points in any game the rest of the season, and their stats over the final 9 games were significantly below the 10-game start. The Patriots finally fell, 17-14, in Super Bowl 42 to the New York Giants to finish 18-1 without a ring.
3. 1951 Los Angeles Rams vs. New York Yanks (9/28/1951, W 54-14)
Game Stats:
Offensive Points: 54 points on 17 drives* (3.18 Pts/Dr) [*drive total is not 100% certain]
Drive Breakdown: 8 touchdowns, 4 punts, 3 interceptions, 2 lost fumbles
First Downs: 34
Passing: 27-of-42 for 554 yards, 5 TD, 3 INT, 1 sack for 13 yards
Rushing: 29 carries for 181 yards, 3 TD
Total Yards: 735 yards (NFL record)
Turnovers: 5
Third Down Conversions: Unknown
Opponent: 1-9-2 final record, 12th (last) in points allowed, 12th (last) in yards allowed
This game is one of those unicorns that any real NFL historian should know about. First, it was a season opener played on a Friday, which already makes it sound crazy. The New York Yanks went on to be the worst team and defense in the league and folded after the season, so the opponent was nothing to write home about.
For a Strike 3, the Rams also turned it over 5 times in this game, though it is unclear if any of the 2 lost fumbles were on special teams, so the total number of possessions should be either 15, 16, or 17.
So, there have been several more efficient offensive games than this, but the records set by the Rams in this game continue to stand the test of time. Despite offense, especially the passing game, evolving so much since 1951, Norm Van Brocklin still holds the single-game record with 554 passing yards. No one has come closer than 527 yards.
The Rams also had 735 yards, which is still the record after Miami came so close Sunday with 726 yards. However, there is some conflicting info on this one as Pro Football Reference has the Rams with 722 yards after subtracting 13 sack yards. But the NFL Record & Fact Book and Elias Sports Bureau still stick with the number of 735 yards for the Rams, so that record seems to be safe despite a new dispute.
Just imagine how lethal the Rams could have been that day if they turned it over less. Oddly enough, the Rams faced the Yanks again in Week 8 and scored 48 points in that game, but they had 371 rushing yards in the rematch. They destroyed them in two different ways as 371 rushing yards ranked as the 6th-highest game in NFL history through 1951.
We mentioned before how the 1950s Rams were a historically great offense. The 1951 team went on to win the championship in a year in which they had the most passing yards. This has only happened two more times since in the NFL with the 1959 Colts (Johnny Unitas) and not in the Super Bowl era until Patrick Mahomes did it for the Chiefs last year.
2. 2023 Miami Dolphins vs. Denver Broncos (9/24/2023, W 70-20)
Game Stats:
Offensive Points: 70 points on 14 drives (5.00 Pts/Dr)
Drive Breakdown: 10 touchdowns, 2 turnover on downs, 1 punt, 1 end of half drive
First Downs: 30
Passing: 25-of-28 for 376 yards, 5 TD, 0 INT, 0 sacks
Rushing: 43 carries for 350 yards, 5 TD
Total Yards: 726 yards
Turnovers: 0
Third Down Conversions: 5-of-9 (1-of-3 on fourth down)
Opponent: final stats to be determined
Before you complain that Miami is not No. 1, let's look back at how impressive this game was for displaying the unbelievable speed Miami has. If you look at Next Gen Stats for this season, the Dolphins have the top five plays with the fastest ball carriers, and Devon Achane had two of those plays in the Week 3 win over Denver.
The other highlights from Miami's epic day:
Miami's 726 yards are 9 yards shy of the NFL record held by the 1951 Rams, and it is only the second time a team has had more than 683 yards in a game.
Miami's 70 offensive points (no return scores) are the most ever in a game, breaking the record of 65 offensive points by the 1949 Cardinals against the Bulldogs.
Miami running backs Devon Achane and Raheem Mostert each scored 4 touchdowns, which has only been done by teammates one other time by running backs Priest Holmes and Derrick Blaylock for the 2004 Chiefs in a 56-10 win over Atlanta.
Miami had 8 touchdown drives that gained at least 68 yards.
Miami had 5 touchdown passes and 3 pass incompletions – the only other offense to ever be +2 in that category on at least 28 passes was the 2019 Saints against the Colts (4 touchdowns, 1 incompletion, +3).
Miami had 376 passing yards and 350 rushing yards – only the 2012 49ers have gone over 300 in each category with 310 passing yards and 311 rushing yards against the Bills.
On 71 plays, Miami's 10.23 yards per play is the 3rd-highest game in NFL history, and it is a full yard ahead of the next closest team in a game with at least 70 plays ran (1966 Cowboys averaged 9.18 yards per play on 71 plays against Philadelphia).
Miami also did this with Jaylen Waddle, their excellent No. 2 wide receiver and another speed demon, not available with a concussion.
So, why not put Miami at No. 1? You can scroll down for the reasons why the No. 1 spot went to the team it did, but for the Dolphins, they were just a little short of offensive perfection.
Note that we aren't dinging the Dolphins for a 6-yard run on a drive that started with 3 seconds in the first half, which was technically one of 4 stops the Broncos had. The main culprit was the 4-and-out drive in the second quarter when it was still a 21-10 game. The Dolphins were stuffed twice on 3rd-and-1 and 4th-and-1 runs, giving up possession at their own 33, which Denver was unable to capitalize on.
Miami also took advantage of two short fields after Denver's turnovers with touchdown drives of 3 and 8 yards. It felt a bit cheap to bring Tua Tagovailoa back into the game with a 49-13 lead to start the fourth quarter before he threw another touchdown pass to Achane. We see most teams go with backups at that point. When the Dolphins brought backup Mike White into the game on their next drive, they were again stopped on a 3rd-and-1 run, which led to their only punt of the game.
Miami arguably should have kicked a field goal on fourth down at the Denver 27 with 33 seconds left to get to 73 points and tie the league scoring record. But White just took a knee to turn it over on downs, which was the sportsmanship play. It would have been a cheap way to tie a record, but after the day Miami had, it earned it. Also, it does not look like the 2023 Broncos are going to be anything to write home about, so there's no extra credit for the opponent factor.
But when perfection is our standard for the best offensive game ever, the Dolphins fell just a little short. Still, it was an incredible game and the first time many of us were alive to see a team hit 70 on the scoreboard in the NFL.
We'll see what they can cook up the rest of the year because their next opponent recently delivered our No. 1 offensive performance of all time.
1. 2021 Buffalo Bills vs. New England Patriots (1/15/2022, AFC Wild Card, W 47-17)
Game Stats:
Offensive Points: 47 points on 7 drives* (6.71 Pts/Dr) [*excludes 1 kneeldown drive to end game]
Drive Breakdown: 7 straight touchdowns, 1 kneeldown drive to end game
First Downs: 29
Passing: 21-of-25 for 308 yards, 5 TD, 0 INT, 0 sacks
Rushing: 29 carries for 174 yards, 2 TD
Total Yards: 482 yards
Turnovers: 0
Third Down Conversions: 6-of-7
Opponent: 10-7 final record, 2nd in points allowed, 4th in yards allowed
We told you the AFC East was going to dominate this list. While the 2007 Patriots nearly had a perfect game in Buffalo, the Bills did them one better in 2021 by achieving offensive perfection, and they did it in a playoff game with 7-degree temperatures no less.
Buffalo had 7 touchdowns on 7 drives, covering 70, 80, 81, 89, 58, 77, and 39 yards.
New England's only "stop" of the night was when Buffalo took 3 kneeldowns to end the game, a 47-17 win.
Two missed extra points were the only thing stopping the Bills from averaging a perfect 7.0 points per drive on the night.
The Bills were 6-of-7 on third down, and the only miss was a kneeldown to end the game, meaning the Bills never faced a fourth down all night.
The kneeldowns were the only Buffalo plays that lost yardage, and they did not give up any sacks.
In 497 games as a head coach, this is the only time Bill Belichick's team allowed 47 points in a game.
That last point is a very important piece of the puzzle, because look at how Belichick already held the 2023 Dolphins to 24 points and 389 yards in Week 2, and the Patriots do not look like they will be as good as the 2021 team. Those numbers sound incredible given what the Chargers (36 points and 536 yards) and Broncos (70 points and 726 yards) did against Miami, which had Waddle in Week 2.
It would be hard to argue against this being the best game on performance alone with the way the Bills scored a touchdown every time they tried to move the ball that night. But when you add in the context of the cold conditions, the fact it was a wild card playoff game, the Belichick factor, and that the Patriots were the only elite defense on our list, this is hands down the right choice for the best offensive performance of all time.
This is the perfect week for the Bills to host Miami in a heavyweight battle in the AFC East. The Bills have outscored their last two opponents 75-13, so they come in hot as well. These teams played three games decided by a combined 8 points last year.
We just laid out why these teams had the two best offensive performances in NFL history just 21 months apart. There should be plenty of fireworks when they meet on Sunday.