NFL
Best NFL Anytime TD Props for NFL Championship Games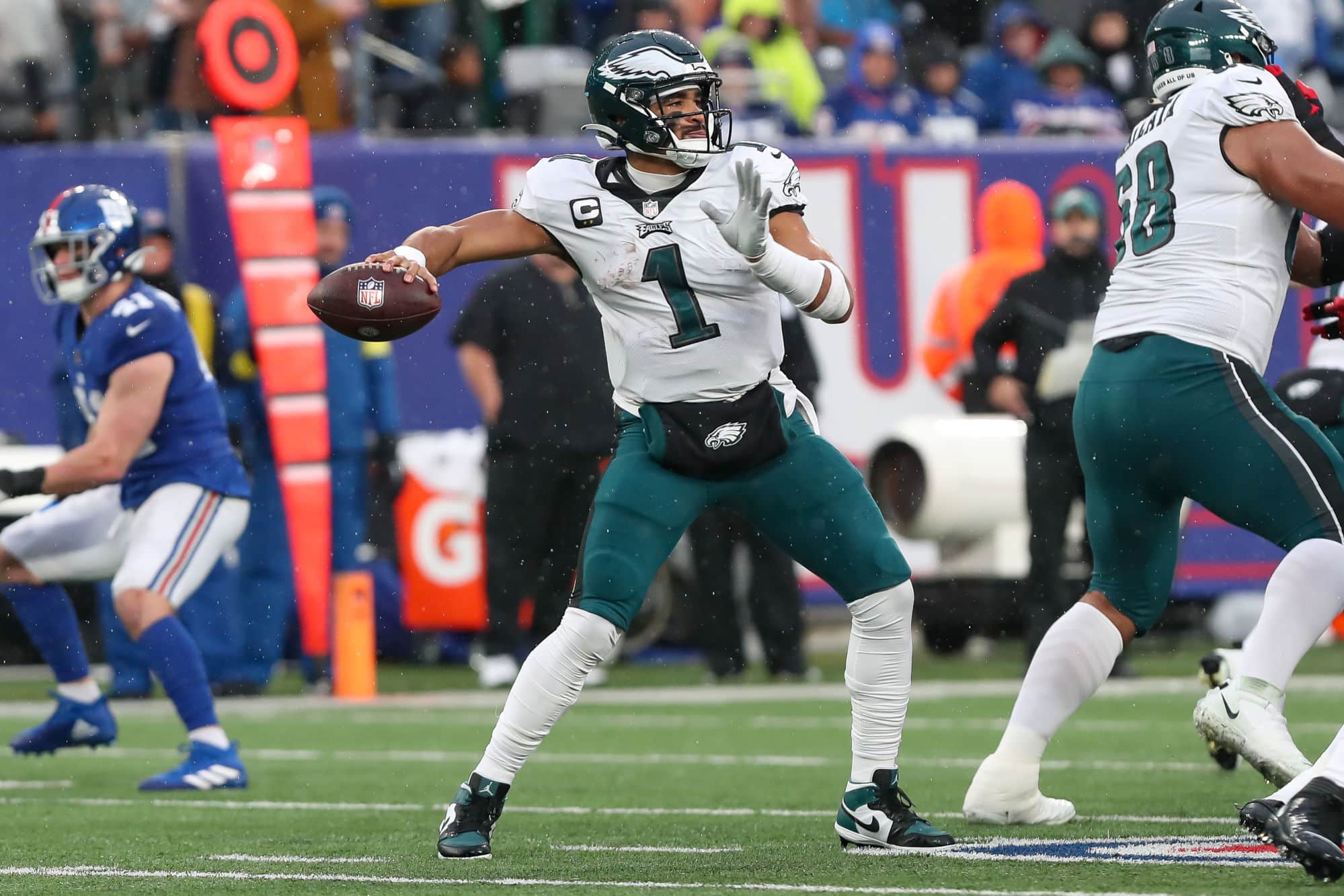 By Scott Kacsmar
Championship Sunday in the NFL showcases several of the best skill players in the league in what should be two exciting games. We are looking at the best bets for one of everyone's favorite player props: Anytime Touchdown Scorer.
These NFL props can be found at most sportsbooks, and we are going to use the current odds at FanDuel as we look at the safest bets, the best value bets, and the longshots worth a play for each team in each game this weekend.
Hopefully there will be more touchdowns this week as last week's games saw three losing teams fail to break 12 points for the first time in 20 years in the divisional round.
San Francisco 49ers vs. Philadelphia Eagles
Safest 49ers Pick: Christian McCaffrey (-130)
CMC is the odds-on favorite to score in this game, but it would be nice to see him practice before the week ends as he deals with a calf injury. This has been the knock on him in recent years, though he has been available this season, and he says there is zero chance he is missing this game.
Technically, zero percent is impossible as anything can happen between now and kickoff, but McCaffrey has scored in eight straight games and this is why the 49ers traded for him. He needs to produce in this game and can help out rookie quarterback Brock Purdy, who did not throw a single touchdown last week after seven straight games with multiple.
Safest Eagles Pick: Jalen Hurts (+125)
With the way these defenses play and the injury situation going on with the San Francisco running backs, the safest option in the game really may be Jalen Hurts, who has 14 rushing touchdowns in 16 games this year.
Hurts scored a 1-yard rushing touchdown against the 49ers in 2021, and it was the team's only touchdown in that game. They also tried unsuccessfully to throw a touchdown to Hurts on a fourth-down play in that game, which also would count for this prop if they pull it off.
But if the Eagles are at the goal line, Hurts may just have to call his number and give the team a better shot of converting than if they hand it off deep in the backfield to Miles Sanders or another back.
The 49ers allow the second-fewest rushing yards this season, but they have allowed 11 rushing touchdowns, which ranks as the eighth fewest.
Best 49ers Value: Deebo Samuel (+170)
An ankle has limited Samuel in practice this week, which gets you a bit worried about this matchup. But Samuel is another gamer who will no doubt suit up and play just as he did last postseason when he was not 100%.
Also, he is a really good weapon who can score from anywhere on the field and in just about any variety from a handoff to a screen to a longer throw. The 49ers are going to need him in this one to show off that YAC ability as Samuel is the hardest wide receiver in the league to tackle.
Best Eagles Value: DeVonta Smith (+180)
Late in the season, the 49ers did give up a 60-yard touchdown to Davante Adams (Raiders) and a 77-yard touchdown to old man A.J. Green (Cardinals) to end the regular season.
In the wild card round, Seattle's DK Metcalf beat the 49ers for a 50-yard touchdown, so we have seen several of the longest touchdowns the 49ers have allowed all year come in the last four games.
One unexpected fact about Smith is that he has one 41-yard touchdown catch in his career (this year against the Giants), and all his other scores are under 40 yards. So, we have not seen the big bomb go for a score yet from him. He is no DeSean Jackson, but he is very good and he scored on a short throw last week with YAC. If A.J. Brown ends up being quiet again, Smith is a great alternative for the Eagles.
Longshot (49ers): Elijah Mitchell (+370)
In digging for gold, what about Mitchell if McCaffrey takes a breather and he steals one? We have seen it a few times this year, and Mitchell was the leading rusher last week over CMC after both had an injury situation come up. But this is one to think about if you do not see the value in McCaffrey this week.
Longshot (Eagles): Philadelphia Defense (+600)
Heinz Field in Pittsburgh was the site of two of the best chances in NFL history for a rookie quarterback to start a Super Bowl. But in 2004, Ben Roethlisberger threw a pick-six in the first half against the Patriots to fall in a big hole in a 41-27 loss.
Four years later, Roethlisberger was the championship veteran while he hosted rookie Joe Flacco of the Baltimore Ravens. It was a typical 16-14 grind between the rivals before Troy Polamalu intercepted Flacco for a highlight-worthy touchdown in a 23-14 win to help the Steelers to another Super Bowl.
What if history repeats itself and the Eagles get a pick-six from Purdy here? He puts a few opportunities out there each week, and this defense also has 70 sacks, so the strip-sack and score is an option too. Just seems like one of these defenses can make its mark with a defensive touchdown, and we'll go with the team playing the rookie.
Cincinnati Bengals vs. Kansas City Chiefs
Safest Bengals Pick: Ja'Marr Chase (-105)
Hard to go wrong here. Chase has scored a touchdown in 9-of-14 games this season, including both playoff games. He has scored in 2-of-3 games against the Chiefs, including a touchdown in last year's AFC Championship Game.
He is always the preferred choice of Joe Burrow, and the Chiefs have allowed most elite wideouts to put up big numbers on them this year. In fact, it is a surprise Chase did not score in Week 13, but it was his first game back from a hip injury.
Safest Chiefs Pick: Travis Kelce (-105)
Just another common sense one here. Kelce scored twice last week, ending his longest scoring drought of his career with Patrick Mahomes as his quarterback (six games). He ended up catching 14 passes for 98 yards, dominating underneath. It is unclear if the Chiefs can do that again this week, but they might want to try to get the ball out of Mahomes' hand faster.
Kelce also needs to atone for his lost fumble against the Bengals in the fourth quarter of Week 13. He scored a touchdown in last year's AFC Championship Game too before the collapse.
The Bengals have only allowed three touchdowns to tight ends this year, but how many good ones did they really play? The Chiefs use Kelce like a wide receiver and a running back at times, so it really makes no difference with that stat. It's Kelce.
Best Bengals Value: Tyler Boyd (+300)
Six of the top nine options in the odds are Chiefs, so the pickings are a little slim for the Bengals. Tempting to take tight end Hayden Hurst, but he is another skill player dealing with injury going into this one.
So, let's go with the old reliable Tyler Boyd, who usually shows up to catch a touchdown when you least expect him to in a big moment for this team. His last unofficial score came in Week 17 when we watched him open the Buffalo game with a touchdown, but that game was suspended and cancelled.
But the Chiefs allowed 33 touchdown passes this season, which is four more than any other defense, so Burrow will have some options here and they are unlikely to all go to Chase.
Best Chiefs Value: Isiah Pacheco (+140)
The Bengals have only allowed 17 passing touchdowns to 12 rushing touchdowns, but Pacheco scored on them in Week 13. He did not score last week against Jacksonville, but his 39-yard run during the Chad Henne-led 98-yard touchdown drive was a huge play. He finished with 95 yards.
This needs to be a good Pacheco game to help Mahomes out. He runs hard and that should make him ideal for a no-nonsense play at the goal line. Cut out the cute stuff with your gimpy quarterback and just plow ahead with this rookie.
Longshot (Bengals): Joe Burrow (+500)
Another edge the Bengals have in this matchup is they have no reservations about calling Burrow's number for a quarterback sneak at the goal line. He has six games with a touchdown run this year, and his last was in the wild card game against Baltimore.
Instead of relying on Joe Mixon, the Bengals may just be better off if Burrow cuts one in from the 1-yard line.
Longshot (Chiefs): Mecole Hardman (+400)
Hardman has not played since Week 9, but he has been trying to come back this postseason, and the fact he is listed in the odds is a promising sign. If he plays, this could be a steal if you get it early as Hardman scored in his last three games, including three touchdowns against the 49ers (two rushing, one receiving).
Hardman could be a gadget player for the Chiefs in his return and score on something they have not shown all year. But if he does not play or you want a safer bet with value, maybe try Kadarius Toney (+260) who is basically filling the Hardman role for this offense in his absence.