NFL
NFC Championship Game Preview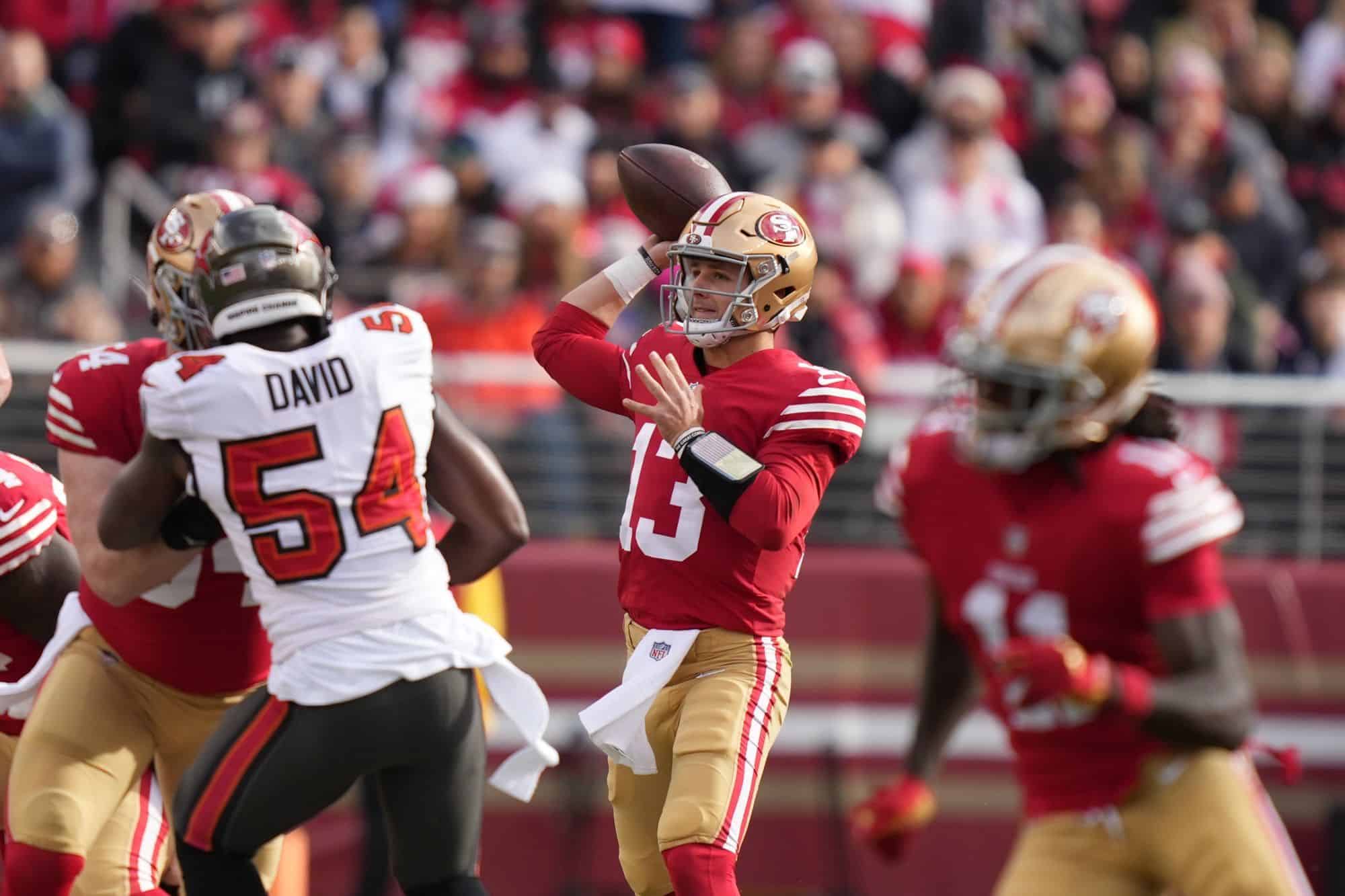 By Scott Kacsmar
The San Francisco 49ers are in their sixth NFC Championship Game in the last 12 seasons, a remarkable feat that involves two head coaches and now four different starting quarterbacks with the latest being a rookie (Brock Purdy) who can break the Super Bowl glass ceiling with a win here.
But the Philadelphia Eagles are the No. 1 seed and have home-field advantage, and they can win their second Super Bowl in six seasons with a different head coach and quarterback in Year 2 together for Nick Sirianni and MVP finalist Jalen Hurts.
The Eagles are a 2.5-point favorite with a total of 46.5 points.
Two elite offenses. Two elite defenses. A fresh matchup we have not seen this year. This is the best game we could have for the 2022 NFC Championship Game.
We have a full preview, predictions, and betting advice for this huge matchup below.
The Last Meeting
2021 Week 2: 49ers 17, Eagles 11
This game is old, the teams are different and better now, but there are a couple interesting notes to mention from it anyway.
The Eagles had a 91-yard completion to Quez Watkins that somehow did not result in a touchdown, and the drive came up empty after the Eagles tried to throw a touchdown to Jalen Hurts on fourth down from the 3-yard line. That 91-yard completion made up almost half of Hurts' 190 passing yards.
Hurts also rushed for 82 yards and the team's only touchdown as the Eagles were stuck on 3 points with over 55 minutes played.
The 49ers were not overly impressive on offense, but they did have two touchdown drives that covered 97 and 92 yards. Deebo Samuel had 93 receiving yards. The 49ers were able to run the clock out with one first down in the 17-11 win.
It was a little more offensive than that final suggests with a blocked field goal, that botched red-zone sequence by the Eagles, and the long drives limiting possessions.
But both teams are really better on both sides of the ball right now.
Injury Watch
This one lacks the Patrick Mahomes' injury watch, but you may want to keep an eye on the practice statuses for Christian McCaffrey (calf) and Elijah Mitchell (groin). Both San Francisco backs picked up little injuries on Sunday and are considered day-to-day.
Injuries have plagued both in the past, but you have to figure with the game of this magnitude, both are going to do whatever it takes to play. They also can split carries and also split some runs with Deebo Samuel.
Stats to Know
Here are some relevant and informative statistics for these teams heading into this matchup.
Spread records:
The 49ers are 13-6 ATS this season, which ranks fourth.
The Eagles are 9-9 ATS this season, which ranks 13th.
Kyle Shanahan is 7-1 ATS in the playoffs as a head coach with the 49ers.
Since 2017, Shanahan's 49ers are 20-10 ATS as a road underdog, tied for the fifth-best record.
Eagles coach Nick Sirianni is 9-3-1 ATS (75.0%) as a home favorite.
Since 2021, the Eagles are 12-13-1 ATS (48.0%) against conference opponents.
Since 2021, the 49ers are 21-8 ATS (72.4%) against conference opponents, the best record in the league.
Since 2021, the 49ers are 6-2 ATS as an underdog and Philadelphia is 13-10-1 ATS as a favorite.
During the 49ers' 12-game winning streak, they have one win by 3 points and 11 wins by 6-plus points.
The 49ers have lost three games by 9-plus points this season.
Sirianni is 11-7 SU in home games, and all 11 wins have been by 6-plus points.
Scoring marks:
The Eagles have scored at least 17 points in every game started by Jalen Hurts this season.
Incredibly, the Indianapolis Colts are the only team to hold both Patrick Mahomes (17) and Jalen Hurts (17) under 20 points this season in games they started.
The 2022 Eagles set an NFL record with 133 points in the second quarter of their first eight games. The Eagles were the third team since the 1970 merger to not trail in the second half of their first eight games.
Over the last nine games of 2022, the Eagles ranked No. 9 in second-quarter scoring with 74 points. The 49ers were No. 2 with 94 points.
The 49ers allowed just 54 points in the fourth quarter of the last 10 games this regular season (20 fewer than the next best team).
The Eagles are 13-0 with Hurts when allowing fewer than 23 points this season.
The 49ers are 14-1 when they score at least 19 points this season.
The 49ers have allowed just three opponents to score more than 23 points this season (one in the last 12 games).
Team stats:
The 49ers are 0-4 when they have multiple giveaways and 15-0 when they do not.
The Eagles have forced multiple giveaways in 7-of-18 games this season, including six times at home.
The Eagles turned the ball over four times each in losses to the Commanders and Cowboys.
The 49ers have blown a 10-point fourth-quarter lead in their last two playoff losses: Super Bowl 54 vs. Chiefs (led 20-10, lost 31-20) and 2021 NFC Championship Game vs. Rams (led 17-7, lost 20-17)
San Francisco's defense allowed the fewest points, yards, and tied for the most interceptions (20).
San Francisco tied for No. 2 with 30 takeaways on defense. The Eagles were one of seven teams with at least 27 takeaways.
The 49ers are No. 2 in rushing defense in both yards and yards per carry (3.4) allowed.
The Eagles are 2-3 when rushing for under 100 yards this season.
The 49ers have not allowed a single player to rush for 70 yards this season. Josh Jacobs (69 yards) came the closest and he was the rushing champion and needed overtime to do it.
Oddly mediocre: Philadelphia's defense ranks No. 14 in third-down conversion rate (38.6%) and No. 12 in red zone touchdown rate (52.7%). San Francisco's defense ranks No. 16 in third-down conversion rate (39.0%) and No. 20 in red zone touchdown rate (56.8%).
Player stats:
Purdy has been intercepted three times since taking over for Jimmy Garoppolo, and he has not thrown multiple picks in a game yet.
Purdy has averaged at least 7.38 yards per pass attempt in all seven starts, and his game against Dallas (7.38) was the first time he was under 8.1.
Against the 49ers in 2021, Hurts' average pass traveled 14.6 yards, his highest game of his career.
Hurts has only thrown multiple picks in one game this season in Chicago.
The Eagles are still 3-0 with every win by two scores when Hurts is sacked at least four times this season.
In six games where Hurts rushed for at least 60 yards this season, the Eagles were 6-0 but all but one win was by 1-to-7 points. Tighter games seem to bring the runner out in him.
Hurts has five games this season where he passed for over 250 yards, and the Eagles won all but one by 16-plus points.
The Fatal Flaw
What is the factor most likely to lead to each team's downfall this postseason and in this matchup in particular?
49ers – Rookie Quarterback
Brock Purdy did not throw an interception or a touchdown pass against the Cowboys, a strong defense, last week. It was the first time he did not throw multiple touchdowns since taking over for Garoppolo.
But we are in dangerous territory with a road start for a rookie quarterback against the defense with 70 sacks. That helps them to the No. 1 pass defense ranking, and not many quarterbacks have been able to throw for 200 yards against this defense.
Shaun King (1999 Buccaneers), Ben Roethlisberger (2004 Steelers), Joe Flacco (2008 Ravens), and Mark Sanchez (2009 Jets) were the four rookies to start a Conference Championship. They all had a strong defense backing them, but they all made too many mistakes and lost. Three of them lost by multiple scores, including Roethlisberger (41-27) who is the closest to Purdy statistically after his record-breaking rookie year.
That is not to say Purdy will do the same, but the rookie quarterback who has risked some dangerous throws against the Seahawks and Cowboys and got away with them turning into a deer in the headlights against the Eagles is an all too easy a narrative to write.
But if he can avoid the mistakes, then the 49ers have the insulation with the run game and defense to pull this out. Remember, the 49ers are 15-0 when they do not turn the ball over multiple times this year.
Eagles – Turnovers and Third Downs
This is a hard one since the Eagles really do lack a glaring weakness in the way the other three teams have this weekend. But in losses to the Commanders and Cowboys, the Eagles turned it over four times. They also were terrible on third down defense, allowing Taylor Heinicke to start 12-of-16 in that Washington upset, and the Cowboys converted a third-and-30 in the fourth quarter of the Christmas Eve game.
We know the 49ers have 30 takeaways and get a lot of picks. We know the 49ers have a solid offense that has been good on third downs and can isolate safeties and linebackers with George Kittle and Christian McCaffrey on easier throws for Purdy so that he isn't trying to throw outside the numbers to test those corners that have shut down so many this year. They can keep the offense out of third-and-10 and into third-and-manageable.
But it really is just a matter of the Eagles not getting frustrated if the run is shut down and forcing things in the passing game.
Best Bets and Prediction
Would not fault anyone who hammers the Eagles' spread. Home game against a rookie quarterback who has yet to lose, doesn't always protect the ball smartly, and your defense has 70 sacks. Throw in your MVP finalist quarterback and it is a tempting setup to just expect the Eagles to dominate this game to remind us why Hurts has lost one game all season.
But I have been drinking the San Francisco Kool-Aid, and I believe in what Ryans does with this defense since Week 1, and they have the front seven to keep this running game contained in a way few can. Hurts has had some questionable passing games and some of his worst-charted games for accuracy have been late in the season. The 49ers obviously have the ability to put the quarterback down too with Bosa and others.
Shanahan has never seen his team lay an egg in the playoffs. They usually start strong, but finishing the game is a different story. However, I think they put the clamps on A.J. Brown and take their chances with DeVonta Smith or Dallas Goedert being the leading receiver of the day. Miles Sanders will not crack 70 yards like everyone else who has played this defense, and Hurts will have to get a spy after he burned them on some runs last year as a new opponent.
Samuel should be a good bet for a touchdown scorer as they should look to use him in a variety of ways in this game with the two running backs possibly ailing. Purdy just has to wrap up the ball and not turn a sack into a strip-sack.
But the main reason I maintain confidence in him in this tough environment is a strong offensive line, Shanahan's play designs, and that they have great weapons to attack the middle of the field with. They don't have to try throwing outside the numbers to Brandon Aiyuk with Darius Slay and James Bradberry in coverage. They have Kittle, who looks fantastic with Purdy at quarterback, and they can always use McCaffrey as a receiver too.
It should be a great game, but I like the 49ers straight up to win it and advance to their second Super Bowl in four years. That would be 13 wins in a row and the first rookie quarterback to start a Super Bowl. Remarkable stuff for a team that entered the season thinking this was Trey Lance's team now.