NFL
Which NFL Team Is the Best Fit for Derek Carr in 2023?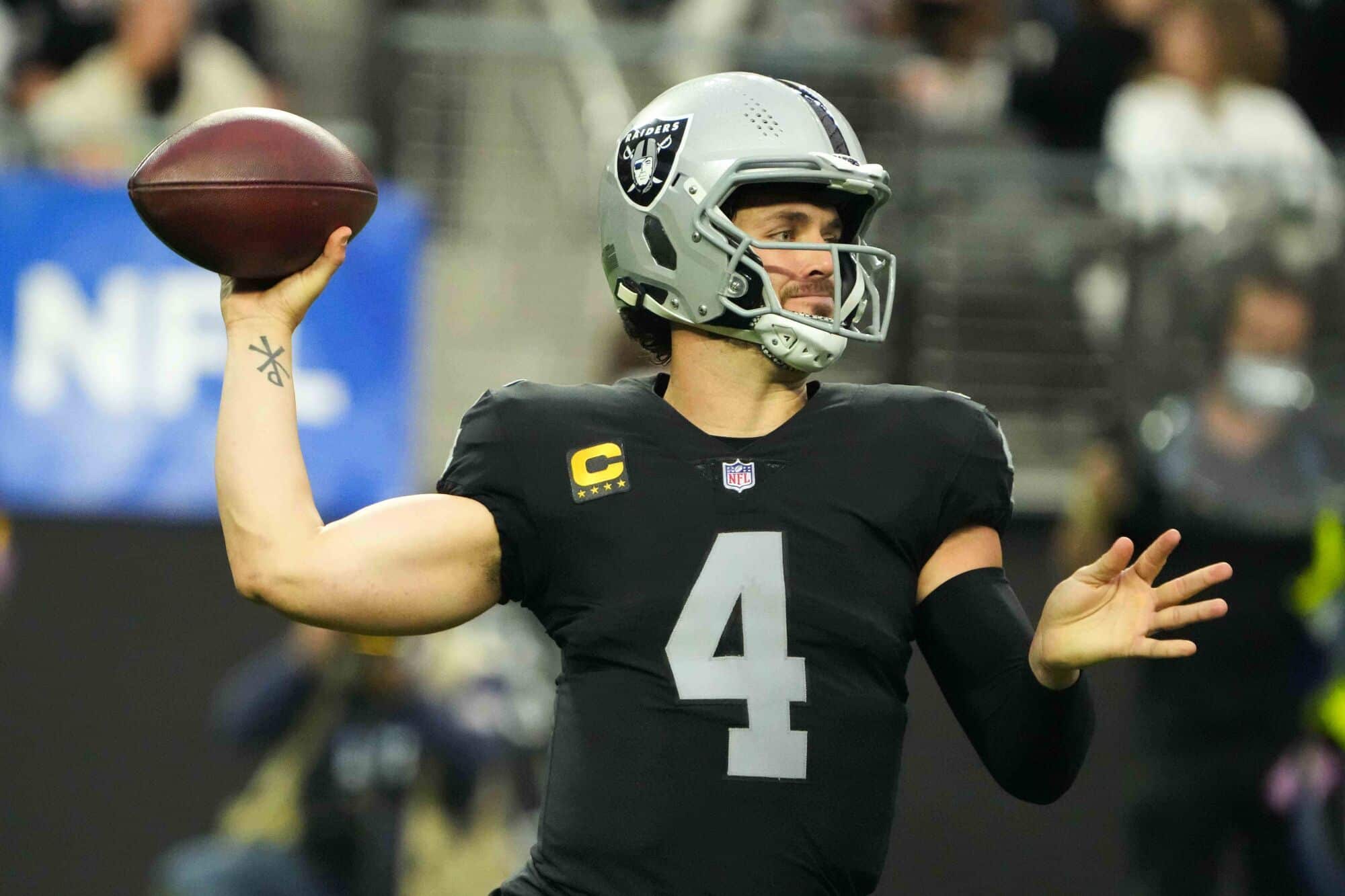 By Scott Kacsmar
Quarterback Derek Carr is officially a free agent after the Raiders released him on Tuesday in a move saving them from paying him over $40 million this year. After nine years with the Raiders, this relationship ends, and on Valentine's Day no less.
But it was time to move on for both parties after two postseason appearances in nine years and just one playoff start (and loss) for Carr individually. Carr became a bit of the scapegoat for the team's disappointing 6-11 season under Josh McDaniels, though he was not the main reason that team blew an unimaginable six fourth-quarter leads.
Carr will be 32 years old for the 2023 season, and he expects to draw interest from several quarterback-needy teams. The Saints were reportedly the only team interested in working out a trade with him, but now they can negotiate for his services in free agency.
What are Carr's strengths, and what team would best be served to cover up his weaknesses? We look at both aspects of it as Carr figures to be a central figure in the quarterback market for 2023. We identified the three divisions where Carr is most likely to land.
What Does Derek Carr Bring To A Team?
After nine seasons, you can say the book is out on Carr, and it's not exactly a classic best-seller. Carr is 63-80 (.441) as a starter, and the record would be more forgivable if Carr's offensive production was better. He has only led two top 10 offenses in points per drive in nine years, and those were units that finished No. 8 in two of the last three seasons.
Here is where Carr ranks among the 55 quarterbacks with at least 1,000 pass attempts since his 2014 rookie year (playoffs included):
64.4% pass completions (24th)
7.1 yards per pass attempt (32nd)
4.3% touchdown pass rate (31st)
2.0% interception rate (17th lowest)
91.5 passer rating (27th)
5.06% sack rate (13th lowest)
6.39 adjusted net yards per pass attempt (23rd)
Carr has been reliably durable with a minimal injury history. He has above-average accuracy, ball security, and he can get the ball out on time better than most. But finishing drives in the end zone and with more touchdown passes has often been an issue, so his overall stats are close to average in this sample of quarterbacks.
I have jokingly said over the years that Carr is great if you are content with having the 14th-best quarterback in the NFL, and sure enough, Carr finished 2022 ranked No. 14 in ESPN's QBR metric for the second year in a row.
It is not impossible to win a Super Bowl with what is roughly the 14th-best quarterback in the NFL. Even Andy Dalton once made the playoffs five years in a row with Cincinnati. But it is impossible to win like that if you do not have a great defense, and/or if said quarterback cannot catch fire for a month and play above his head against playoff competition like Eli Manning, Joe Flacco, or Nick Foles did.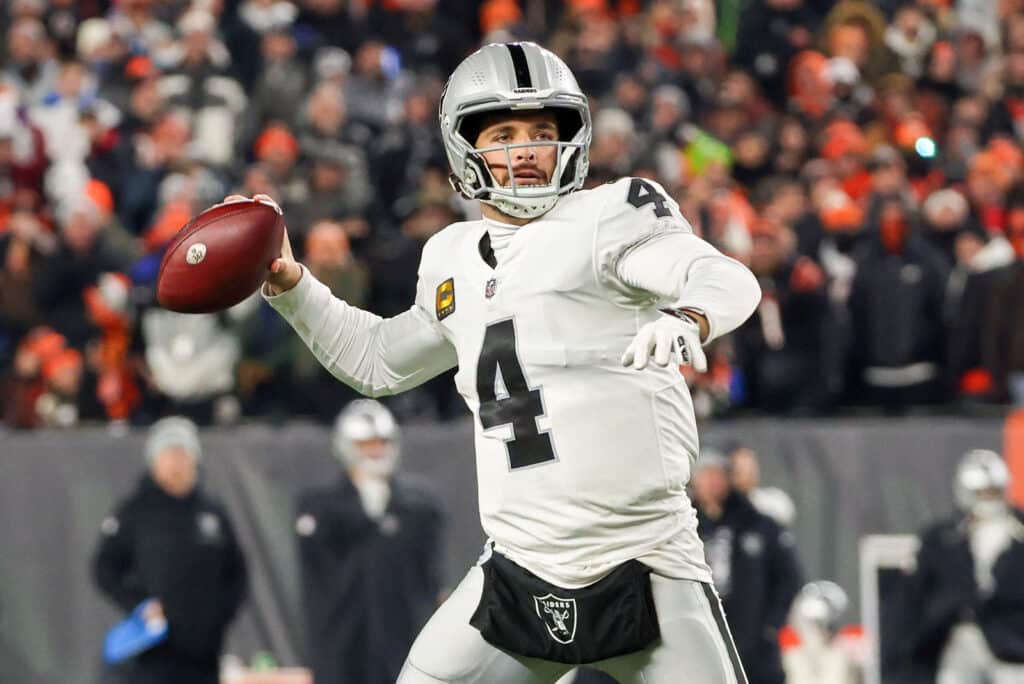 Why A Team Should Not Sign Derek Carr
But this is where we run into some issues for Carr.
First, he has never had a good defense in nine years. The Raiders, on average, ranked 26.8 in points per drive allowed, which is far worse than even the mediocre defensive results on a yearly basis for quarterbacks like Peyton Manning (17.4), Aaron Rodgers (17.9), Drew Brees (19.8), Matthew Stafford (20.6), and Matt Ryan (21.7).
In four of the last five seasons when Carr has done some of his best work as a passer, the Raiders have ranked 30th or worse in points per drive allowed. The Raiders blew four leads of 13-plus points last season alone.
But the "give Carr a defense and watch him win" crowd might still end up disappointed in the end, because Carr is not impressive even on days where his defense manages to keep the score down.
Carr is 18-12 (.600) when his team holds the opponent under 20 points. Unfortunately, the Raiders have only managed to do that 30 times since 2014, which is by far the lowest in the league as the next-closest team (Jets) had 38 such games, and the Titans are next with 59.
But here's the kicker. The Raiders' record with Carr is the worst of any team in the NFL since 2014 when allowing fewer than 20 points. Winning 60% of your games in that split is lousy when the rest of the league wins 82.8% of the time. The only other team under 70% wins in that split is the Jets (26-12, .684).
For another comparison, Justin Herbert was a division rival of Carr's and is also known for not getting defensive help. But Herbert is 12-0 when the Chargers allow under 20 points and 19-4 (.826) when the Chargers allow under 27 points.
With Patrick Mahomes running that division, and Sean Payton on his way to fix Russell Wilson, you can see why the Raiders were out on paying $40 million for Carr when he cannot carry a team to winning seasons.
He's just not that kind of quarterback. With better team support, he can be serviceable, but there is some concern that he will never be someone who can get through a Super Bowl run like Matthew Stafford did when he left Detroit for the Rams in 2021.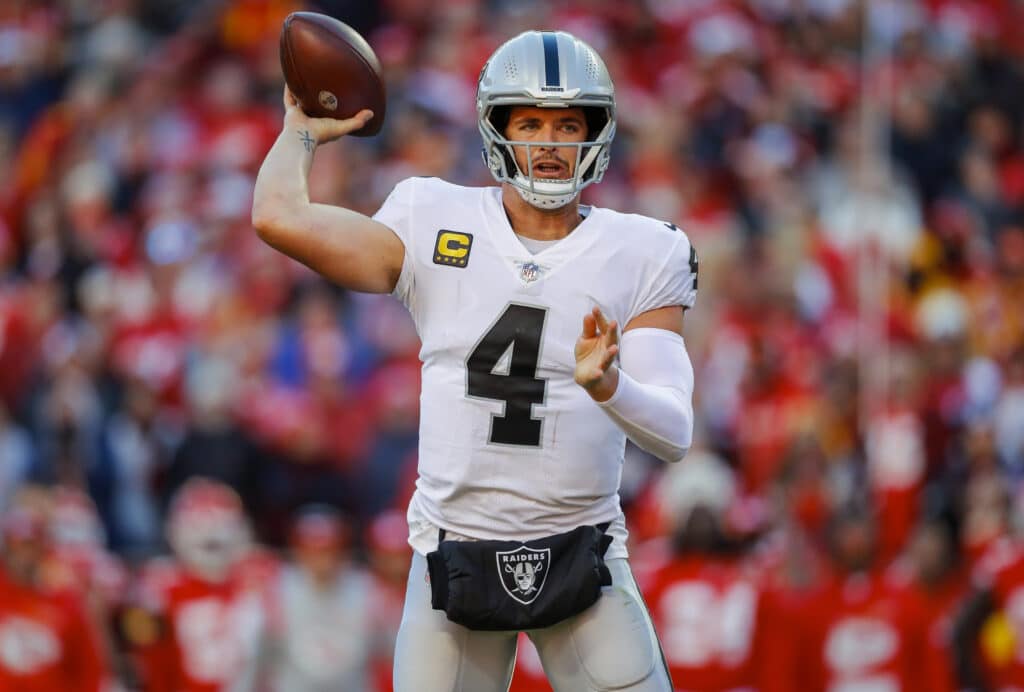 In some ways, the two have been similar quarterbacks with a lot of passing volume year after year, a lot of dramatic fourth-quarter comebacks and game-winning drives, but no playoff success, and almost no big wins to speak of.
Carr is 12-44 (.214) against playoff opponents in his career. Only four NFL teams since 2014 have a worse record than that. But remember, Stafford was infamously 8-68 against teams that finished the season with a winning record when he was in Detroit. He finished the 2021 season with the Rams with seven such wins on his way to a Super Bowl win, almost doubling his career total in one year.
That would be the dream for Carr, but his best moments are not quite up to par with Stafford's best days in Detroit. Still, it's at least in the ballpark.
If there is an oddity to Carr's career, it is that he is 34-42 (.447) at fourth-quarter comeback and game-winning drive opportunities. That is higher than his overall winning percentage (.441), which should be impossible to do but Carr has done it.
Carr has the most fourth-quarter comeback wins (28) through a quarterback's first 10 seasons in NFL history, and he has only played nine seasons. Imagine that. Carr's 33 game-winning drives are tied for the second most through a quarterback's first nine seasons.
Game on the line, Carr is surprisingly better than expected in those situations. The problem has been keeping more games close enough to do that, but maybe with the right team, he can shine in a way that was not likely with the Raiders for nine years.
Welcome to the NFC South?
The NFC South is absolutely starving for quarterbacks and should be the most likely destination for Carr in 2023. He would be smart to join it too as the Buccaneers just won the NFC South with an 8-9 record and they looked even worse than that record suggested. The Atlanta Falcons, who gave the starting job to Desmond Ridder late in the year, are probably the only team out on Carr.
New Orleans Saints
The New Orleans Saints have shown interest with head coach Dennis Allen being the coach who was fired four games into Carr's 2014 rookie year in Oakland. They have a bit of a mess at the position with Jameis Winston, Andy Dalton, and Taysom Hill there. Dalton is a free agent after doing an adequate job for an injury-plagued offense.
Just from a durability standpoint, Carr could be a decent move there. He would have a legit No. 1 wideout in Chris Olave and likely a better defense than most of his ones with the Raiders. Alvin Kamara and a decent offensive line are still in place too.
Tampa Bay Buccaneers
Even if Tom Brady pulls a Brett Favre and comes back in August, it won't be with Tampa Bay. This looks like a team that loaded up in 2020, did its job with a Super Bowl, and we are seeing the decay of a veteran-laden squad that has been rocked by retirements the last two years.
Carr could still throw to Mike Evans and Chris Godwin, but the running game was a joke last year, and Todd Bowles did not impress as the only head coach to have a losing record with Brady as his quarterback.
With Kyle Trask having a shot at being the starting quarterback in Week 1, it is unclear what the post-Brady plan is in Tampa. But Carr certainly has better choices to choose from.
Carolina Panthers
The Panthers finished 7-10 and almost made the playoffs thanks to playing in the worst division, but when push came to shove in Tampa Bay in Week 17, Sam Darnold folded like he usually does in the fourth quarter. The team also had an embarrassing home loss to Pittsburgh where Mitch Trubisky engineered a 12-minute touchdown drive.
But the Panthers have some adequate pieces on both sides of the ball, and they just hired Frank Reich as the head coach. He has plenty of experience at adapting his offense to different quarterbacks after going through Andrew Luck, Jacoby Brissett, Philip Rivers, Carson Wentz, and Matt Ryan in five years in Indianapolis.
After that experience, he may be reluctant to go the route of a veteran quarterback again, but at least Carr is 32 and has been durable. It could last for a handful of years if they have success together. The Panthers have the No. 9 pick in the draft, and with the Texans, Colts, Raiders, and Falcons ahead of them, they may not be able to get the rookie quarterback they want without a really aggressive trade up.
Regardless of what happened to Reich in Indy, Carr has to be an option here.
Half the AFC South Needs Quarterbacks
The Jaguars have Trevor Lawrence and the brightest future in the division now, but the Titans could still give it one more try with Ryan Tannehill. Carr would be a lateral move there. That leaves the other two teams.
Indianapolis Colts
We touched on Frank Reich and the Colts earlier, but they definitely need to do something at the most important position after getting burned by the Matt Ryan trade. He was not given much help at all and kept the team competitive in most games, but it just did not work out.
But after bombing out with Carson Wentz and Ryan, owner Jim Irsay is unlikely to sign off on another veteran like Carr. Also, the Colts hold the No.4 pick in the draft, so they likely won't get the first quarterback off the board, but they can get the second-best option, which may not be a bad idea in this class. Give rookie coach Shane Steichen someone younger and more mobile than Carr to develop after he got spoiled with Justin Herbert and Jalen Hurts the last three years.
Houston Texans
While Houston blew having the No. 1 pick, it sounds like Chicago is staying with Justin Fields, so if the Texans want to draft Alabama quarterback Bryce Young to go with new coach DeMeco Ryans, it likely will be available to them.
Frankly, that should be the move for that team as they need a new face of the franchise after Deshaun Watson disgraced his career and ruined the team's last two seasons. Carr joining one of the worst rosters in football would do no one good, and he would likely be too expensive to be a stop-gap starter for the rookie the Texans draft and decide to start soon.
Dark Horse: AFC East Adds Another Quarterback?
Teams may want to wait for Aaron Rodgers to come out of his darkness retreat with an answer on his future before jumping the gun on signing Carr. But there are a couple AFC East teams who could be interested in Carr.
New York Jets
Which team nailed their draft like the Jets did in 2022? If Garrett Wilson didn't win Offensive Rookie of the Year, running back Breece Hall probably does if he didn't get injured. Sauce Gardner won Defensive Rookie of the Year and the defense was greatly improved from 2021 in Robert Saleh's second year as head coach.
But once again, the Jets do not have a quarterback. Zach Wilson is a joke, Mike White is about as durable as Anthony Davis while built like DeVonta Smith, and Joe Flacco doesn't have the cholesterol for this job full time anymore.
While bringing Aaron Rodgers to town to complete his Brett Favre arc would be the dream, getting Carr may not be a bad idea as he would have weapons and a defense around him in a way he's never had before. Still a tough division with the Bills and the way the Dolphins looked when Tua Tagovailoa was healthy, but Carr is used to being in a division where he is the third-best quarterback at best.
New England Patriots
This one is probably the biggest longshot of any team we mentioned, but it sure would be nice if Bill Belichick could get a top-14 (ish) quarterback in one of these seasons without Tom Brady so people can stop hammering his record in those years. How many other coaches go 11-5 with Vinny Testaverde in Cleveland or a high school quarterback (Matt Cassel) in 2008, or a 10-win season with Mac Jones as a rookie?
But Jones greatly disappointed last season, and it wasn't all his fault as losing offensive coordinator Josh McDaniels and replacing him with Matt Patricia was a disaster. Carr would certainly benefit learning from the master, and he can bring knowledge of McDaniels' system with him from the Raiders.
The Patriots probably will not pull the plug on Jones yet, but this is at least an option to explore this offseason.
Conclusion: Carr's Best Option Is Carolina
At the end of the day, it feels like Carr will most likely end up in the NFC South. But if he has his choice of offers, he should take Carolina if he wants to set himself up for the most success as they showed a dominant running game last year even after trading Christian McCaffrey.
They also have a legit No. 1 wide receiver in D.J. Moore, and we saw how Carr lit it up with Davante Adams last year in ways that even Aaron Rodgers never did when the two played together for eight years. Adams caught as many touchdowns of 30-plus yards from Carr in one year (eight) as he had from Rodgers in 2014-21 combined (playoffs included).
Let's face it, Darnold is not the answer in Carolina. Darnold is 5-14 (.263) at game-winning drive opportunities in his career. The Panthers have lost 50 straight games while trailing in the fourth quarter, which goes back to the 2018 season. Carr would be a huge upgrade to end that streak for Frank Reich.
The defense may not be elite, but Brian Burns is a stud pass rusher and they can take advantage of an NFC-heavy schedule, which means facing lesser quarterbacks. Dak Prescott and Tua Tagovailoa might be the toughest quarterbacks the Panthers face all year.
Reich and Carr may not make the Panthers a Super Bowl contender in 2023, but it could be enough to make them the favorites to win the NFC South, which is a good start.