NFL
Top Storylines for Super Bowl 57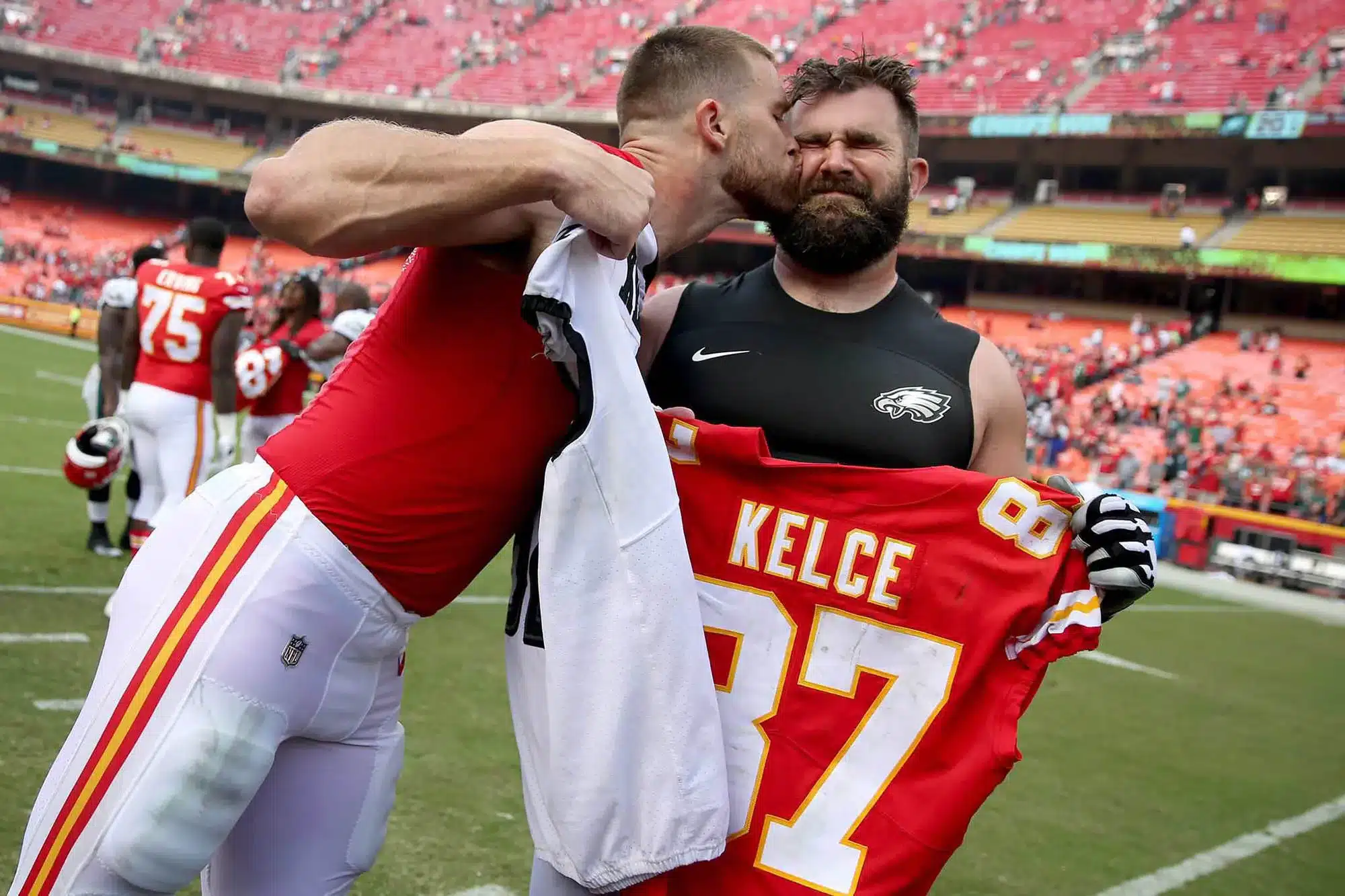 By Scott Kacsmar
In Super Bowl 57, the two No. 1 seeds will meet as the Kansas City Chiefs take on the Philadelphia Eagles in Arizona. The last Super Bowl between No. 1 seeds also featured the Eagles when they beat the Patriots in Super Bowl 52 for the 2017 season.
We will have more matchup analysis to come, but with plenty of days left before kickoff, we are looking at the top storylines surrounding this interesting matchup.
The Kelce Bowl
With Canton in their future, you can add a second Super Bowl ring to the hand of Travis Kelce or Jason Kelce. They will make history as the first pair of brothers to face off in a Super Bowl even though they will not be on the field at the same time.
Chiefs tight end Travis Kelce has had at least 75 receiving yards in eight straight playoff games, which is two games longer than the next-best streak in NFL history. No tight end has ever won Super Bowl MVP, but if anyone could do it, it would be Kelce.
Eagles center Jason Kelce notched his fifth first-team All-Pro selection since he had his first in 2017, the Eagles' last Super Bowl season. At 35, he is still a top center and the heart of the offensive line.
You can count on the winner to entertain once he is handed a microphone on the stage.
The First Super Bowl with Two Black Quarterbacks
If you want to feel old, then consider it was 16 years ago when Super Bowl 41 became the first Super Bowl between two Black head coaches (Tony Dungy and Lovie Smith). Given the frequency of Black coaches to quarterbacks, it is harder to believe it took until the 2022 season to have a Super Bowl between two Black quarterbacks in Patrick Mahomes and Jalen Hurts.
Both could finish as the top two vote getters in the MVP race with Mahomes expected to win by a landslide.
Six of the top 12 quarterbacks in ESPN's QBR metric this season were Black, and the top draft prospects in 2023 include Bryce Young (Alabama) and C.J. Stroud (Ohio State).
If the Eagles win, Hurts will join Doug Williams, Russell Wilson, and Mahomes as the only four Black quarterbacks to win a Super Bowl.
The Andy Reid Bowl
Eagles fans will act crazy regardless of the outcome, but if there is one AFC team they could stomach losing this game to, it might be the Chiefs because of the Andy Reid factor.
Big Red coached the Eagles from 1999-2012, brought them to one Super Bowl and several more NFC Championship Games. Time just ran its course and the split has been beneficial to both parties as the Eagles are in their second Super Bowl in six years and the Chiefs are in their third in the last four years.
Eagles coach Nick Sirianni has never worked for Reid and is not really under his extensive coaching tree, but there could be a chip on Sirianni's shoulder in this matchup. He was an assistant coach with the Chiefs for four years in 2009-12 and coached the wide receivers in 2012, but when Reid took the job in 2013, he did not keep Sirianni on his staff.
So far, Reid has won their only matchup 42-30 last season, but Sirianni has a chance to win the big one here as the Eagles are a slight favorite. Speaking of which…
Will Patrick Mahomes Be a Playoff Underdog?
This spread has been jumping around with the Chiefs opening as a small favorite before the Eagles went up to a 2.5-point favorite, then dropped to 1.5. More money is bet on the Super Bowl than any other single game in the world, so who knows where this line could end up before kickoff on February 12.
But if the Eagles are favored, then it will be the first time in 14 playoff games that the Mahomes-led Chiefs are an underdog.
Underdog has suited Mahomes just fine. He is 7-1-1 ATS and 6-3 SU as an underdog in his career with 30 touchdown passes in those nine games.
Mahomes vs. Top Pass Defenses Poses Familiar Challenge
If Mahomes wins the Super Bowl, he will be the first quarterback in NFL history to lead the league in passing yards and win the Super Bowl in the same season. It has never been done in 56 seasons, though a few have come close.
Mahomes had 5,250 passing yards this year and he also led the league with 41 touchdown passes. That is why he will win MVP after getting 49 of the 50 votes for first-team All-Pro quarterback.
But no MVP has won the Super Bowl in the same season since Kurt Warner did it for the 1999 Rams when he also won Super Bowl MVP honors. So, this has been a bit of a curse in the 21st century as too often the MVP is left hanging in the playoffs by an underachieving defense or not enough balance with the run game.
We'll see if Mahomes can end those streaks and become the most recent quarterback to notch multiple Super Bowl wins since Peyton Manning ended his career with a win in Super Bowl 50 seven years ago.
Eagles Could Pull Off Rare Feat
The Eagles are attempting to win their second Super Bowl in the last six seasons, but they would be doing it with a new head coach and quarterback. It was Doug Pederson and Nick Foles on the 2017 Eagles in the Super Bowl run. Now it is Nick Sirianni and Jalen Hurts in their second year together.
The only other team in NFL history to win two Super Bowls in a six-year window with a different head coach and quarterback was the Raiders. In 1976, they had John Madden and Ken Stabler. In 1980, it was Tom Flores and Jim Plunkett.
Best for the Eagles to strike now when Hurts is young and on his rookie contract.
Sack Attack
The 2022 Eagles finished with 70 sacks, the fourth team to officially notch 70 sacks in a season in NFL history. If they win the Super Bowl, it would be the most sacks ever by a Super Bowl champion, surpassing the 1985 Bears (64).
There are 28 teams with at least 60 sacks in a season, and so far, the 1985 Bears are the only one on the list to win a Super Bowl. The 1967 Raiders are the only other team to lose the Super Bowl. The Eagles hope to join Chicago on the winners list and it likely is going to take multiple sacks of Mahomes to do it.
The Eagles' Schedule: Sorting Myths from Facts
The facts are clear that the 2022 Eagles have had a favorable schedule to get to 16-3 and the Super Bowl. Some are calling it the easiest path ever to a Super Bowl, though that is unlikely.
But it belongs in the conversation at least.
Some people saw the schedule advantage before the season started, but a lot more people caught on after the Eagles beat a San Francisco team in the title game that lost its fourth-string quarterback to a concussion and had to go back to its third-string rookie who literally could not throw the ball because of his elbow injury.
But if you include the playoffs, the Eagles are 9-1 against teams who finished the season with a winning record, which is one of the best records and highest win totals ever for that split.
If the Eagles win this game to finish 10-1 against winning teams, they would tie for the most such wins ever in a season, and they would tie the 2004 Patriots (10-1) for the second-best win percentage ever against winning teams (min. 10 games). The only better team would be the 2003 Patriots, who were 10-0.
So, how does one possibly conflate easy schedule with 9-1 against winning teams?
The answer is timing as the 2022 season was historically strange with several teams going on winning and losing streaks, so catching them at the right time determined how difficult that game really was.
For example, Philadelphia's only loss to a winning team was Week 16 in Dallas, a game that Hurts had to miss with his mysterious shoulder injury that took everyone by surprise as he finished the Chicago game in Week 15. Gardner Minshew did not play badly to lose that 40-34 game for the Eagles, but he did not win it either at the end.
But when you break down the nine wins against winning teams for the Eagles, there are red flags everywhere:
The Lions, Jaguars, and Steelers all started 2-6 before finishing 9-8 to clinch a winning record in Week 18, meaning they all would have been non-winning teams (8-8) in any past season that had 16 games instead of 17.
Only four teams in NFL history started 2-6 and still won nine games, and you are looking at 75% of them this year.
Playing those teams early in the season was advantageous to playing them in the second half, and sure enough, the Eagles went 3-0 against them during their 2-6 starts.
The Lions had the worst defense in football for much of the season, the Jaguars turned the ball over five times in the wet conditions in Philadelphia in Week 4, and the Steelers were without T.J. Watt as rookie quarterback Kenny Pickett was only making his fourth start in Week 8.
That is one-third of the nine wins, and the Lions and Steelers still missed the playoffs. The Giants account for another third of the wins as the Eagles swept them 3-0. That team deserves its own list of feats:
New York started 6-1 thanks to Daniel Jones becoming the first quarterback in NFL history to lead five game-winning drives in his team's first seven games.
After the 6-1 start, the Giants were 1-3-1 in their five games leading into the first meeting with the Eagles in Week 14.
The Giants rested starters in Week 18 against the Eagles and lost 22-16 despite being a 16.5-point underdog.
New York was outscored by 6 points on the season despite finishing 9-7-1 and making the playoffs.
The Giants beat the Vikings, who were winless against the rest of the NFC playoff field, in the wild card round. Those teams were a match made for each other to play a close game.
The Giants lost 38-7 in Philadelphia in the playoffs after a lethargic performance.
Finally, here are Philadelphia's other three wins against winning teams:
Week 2 vs. Minnesota: Kirk Cousins is notoriously terrible on Monday night, and little did we know the Vikings would go on to set the record for fourth-quarter comeback wins (eight) while being the only team to win more than 11 games with a negative scoring differential (minus-3).
Week 6 vs. Dallas: The Cowboys were 4-1 and undefeated with backup Cooper Rush, but this game was too big for him and he threw three interceptions as the Eagles led 20-0 before hanging on. Dak Prescott was only able to return one week later, and he scored 40 points on the Eagles in Week 16 as neither team was able to beat its rival with their backup quarterback this year.
NFC Championship Game vs. 49ers: Brock Purdy looked like a great rookie quarterback for a team that won 12 games in a row, but we'll never know what he would have done in this game because his elbow was injured on the third pass attempt. Josh Johnson was also concussed, and the 49ers had to put Purdy back in just to hand the ball off as he could not throw. Hard to believe one Super Bowl contending team could lose four quarterbacks in one season.
Three wins against teams that started 2-6 and were not playing with confidence. Four wins against two teams that lived on close wins and had negative scoring differentials. Two wins against very good teams that were saddled by their backup quarterbacks playing. And the Eagles know all about trying to win with your backup quarterback this year as they were 0-2 with Minshew and 16-1 with Hurts.
That is the truth of the Eagles' nine wins against winning teams and why people are skeptical of how great this team really is.
After going 0-7 last year against playoff teams, the Eagles are really putting us in a bind to say they have any real impressive wins in the Hurts-Sirianni era. Even Hurts' first start and win in his 2020 rookie season was against a 12-4 Saints team that had to start Taysom Hill instead of Hall of Famer Drew Brees.
But as long as we don't see Chad Henne in the Super Bowl, the Eagles can start putting this criticism, which is valid, to rest with a win by beating Mahomes and the Chiefs.
Kansas City's Health
Finally, it would not be a long Super Bowl build-up without a key injury to monitor. For the Chiefs, it really is a collection of skill player injuries, and none are bigger than Mahomes.
We know Mahomes is going to play obviously, but he needs to look more like the quarterback who was mobile enough in the first 2.5 quarters against the Bengals instead of the quarterback who scored 10 points on his last five drives after he aggravated the ankle in the third quarter. The Eagles have this great pass rush and can get to him with four different players who had double-digit sacks this year. He will need all the mobility he can get, though it probably is in Kansas City's best interest if he does not run around all night like he did the last time the Chiefs were in the Super Bowl against Tampa Bay.
But the wide receiver position is another question mark after Kadarius Toney, Mecole Hardman, and JuJu Smith-Schuster all left the last game with injuries. Kansas City was relying on Skyy Moore and Marcus Kemp to finish the game. The Chiefs really could use JuJu out there as a starter, and they could use at least one of Hardman or Toney. Both are not necessary.
Hopefully the bye week will allow for some good treatment and the Chiefs can be as healthy as possible for this matchup. The Eagles will view it the same way with Hurts' shoulder and right tackle Lane Johnson's groin injury.