NFL
Scott's Seven NFL Picks: Week 4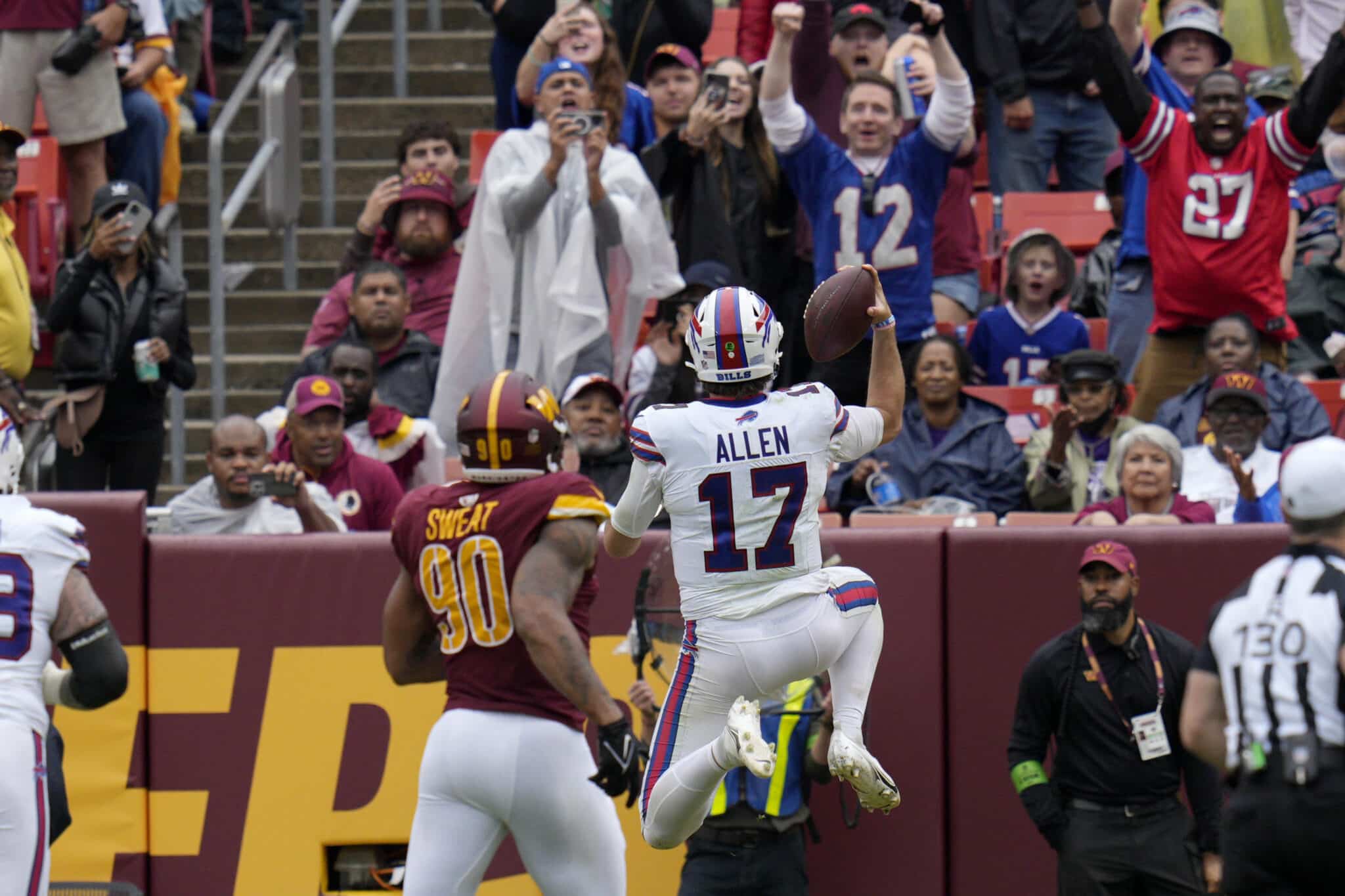 By Scott Kacsmar
If the games felt underwhelming last week, it's because they were. But the NFL has a better lineup for Week 4, headlined by an epic game in Buffalo between the Dolphins and Bills. You will find multiple NFL Week 4 picks for that game and more from other big division clashes like Buccaneers-Saints and Ravens-Browns. There is also a pick for the Bears and Broncos figuring out which team will be the biggest embarrassment a quarter of the way through the season.
Each Friday, we will share seven NFL picks that we are including in our bets for the weekend. These can be prop picks, spreads, totals, alternate lines, moneylines, same-game parlays, etc. We like to think outside the box instead of just telling you Justin Jefferson will have 50+ receiving yards with -700 odds. You can play the picks separately or parlay your favorite choices together.
Note: Picks are ranked in order of confidence (highest to lowest).
1. Dolphins-Bills: Please Be a Shootout
It may be a bit early for the Game of the Year, but this is definitely a big one and a timely one with the Dolphins coming off a historic 70-20 win. The Bills have also outscored the competition 75-13 in the last two weeks. These teams enter with the two highest points per drive averages in the league this year. Buffalo is also leading all offenses by converting 51.2% of the time on third down.
Earlier this week we claimed that Buffalo's 2021 wild card win over New England (47-17) and Miami's 70-20 win against Denver last week were the two best offensive performances in NFL history. Now these teams are doing battle again, and we can only hope the game is a great one with both offenses delivering.
Your biggest concern in a matchup like this is that the offenses move the ball so well that any turnover, failed fourth down, or missed field goal puts the over in danger as these teams may minimize possessions with how well they gain yards and burn clock.
But we are banking on the past matchups between these teams for guidance. In a snow game in Week 15 last year, the Bills won 32-29 on a last-second field goal. In the wild card playoffs, despite Miami having to start a third-string rookie quarterback (Skylar Thompson), the game still ended 34-31 thanks to so many turnovers.
It just seems like Mike McDaniel has a great feel for Sean McDermott's defense, and the Dolphins should get wide receiver Jaylen Waddle back this week from a concussion, adding another speed demon to this offense. But the Bills come in hot too, so this should be fun. We'll gladly take the over and enjoy this one.
Scott's NFL Pick: Over 53.5 (-112 at FanDuel)
2. Commanders-Eagles: Eating Up Sam Howell Like a Philly Cheesesteak
Last season, the Eagles sacked Washington quarterback Carson Wentz 9 times in a 24-8 win, a sign of how lethal that pass rush could be. The Eagles had 70 sacks by the end of the regular season.
But in the Week 10 rematch, the Eagles got into trouble with turnovers and struggled on third down defensively. Taylor Henicke replaced Wentz as the starting quarterback, and he was sacked only 3 times in a 32-21 upset win by the Commanders to hand the undefeated Eagles their first loss of 2022.
I think this week's matchup looks closer to that first one than the Washington upset. The Eagles (-8.5) certainly looked closer to the 2022 version that went to the Super Bowl in Monday night's 25-11 win in Tampa Bay. The defense has not been as dominant with 6 sacks, but they have had injuries in the secondary and are only allowing 6.7 yards per pass attempt.
But the reason to like Philadelphia big in this one is Sam Howell, the inexperienced quarterback for the Commanders who just took 9 sacks and threw 4 interceptions against Buffalo. Only five other quarterbacks in NFL history have had at least 9 sacks and threw 4 interceptions in one game.
Howell has already taken 19 sacks this season, putting him on pace for a record amount. His 15.7% career sack rate would be the worst in NFL history if he had enough attempts to qualify.
Against another experienced defense like the Eagles, I like Howell to struggle to put up points in this one. I also think the Eagles will not turn it over 4 times like the last home game against Washington, and they will cover this spread on their way to a 4-0 start.
Scott's NFL Pick: Eagles -8.5 (-110 at BetRivers)
3. Buccaneers-Saints: Fading the New Orleans Offense
The Saints are a 3.5-point favorite with a total of 39.5 points against their NFC South rival from Tampa Bay. But while the Buccaneers have scoring concerns and have had issues with the Saints over the years, I think the best value in this game is fading the New Orleans' scoring total (over/under 21.5 points).
Derek Carr is likely going to sit this one out with his shoulder (AC sprain) injury, putting Jameis Winston in line to start against his former team. The last time he did that, he threw 3 interceptions in a 20-10 loss at home last year. The Saints also lost 17-16 in the rematch with Tampa Bay, and the year before they won a 9-0 game in Tampa, so these teams have played three very low-scoring games in a row.
The Saints come in with the defensive hype as they have not allowed 21 points in 11 straight games. That streak may very well continue here, but I think the Saints also fail to score over 21.5 in this game.
Winston has turnover issues, and the Buccaneers are one of the blitz-heaviest defenses in the league behind Todd Bowles. He will not be afraid to dial up the pressure on this quarterback, and the Saints may have a rusty running game with Jamaal Williams on IR and Alvin Kamara just returning from suspension. Kamara has 23 carries for 44 yards in his last two games combined against the Bucs.
You have to question the protection issues for New Orleans right now. Carr was injured on a sack and his sack rate is 11.2% this season, more than double his career rate with the Raiders (5.1%). The Saints have scored 16, 20, and 17 points so far this season, and they even needed a punt return touchdown last week in Green Bay to get to 17 points before getting shut out in the second half after Winston replaced the injured Carr.
This offense has talent with the wide receivers, but things are not clicking yet. Do not expect it to get better with Winston taking over against a good defense. Take the under 21.5 points for the Saints, which has hit in the last 9 New Orleans games. In fact, the Saints have gone 9 straight games without scoring or allowing more than 21 points. The only longer streak since 1940 was a 12-game streak by the 1977 Falcons.
Scott's NFL Pick: Saints Under 21.5 Points (-114 at FanDuel)
4. Ravens-Browns: Old School AFC North Battle
It is a bit surprising to see the Browns as a 2.5-point favorite over the Ravens at some sportsbooks this week. Baltimore coach John Harbaugh is 24-6 SU against the Browns, and his Ravens have been favored in 26-of-30 matchups.
This line is likely the result of Cleveland's top-ranked defensive unit and the long list of injured starters for the Ravens, which contributed to last week's 22-19 overtime loss to the Colts. The Browns also beat Baltimore 13-3 in Cleveland in the most recent matchup between the teams, but Lamar Jackson did not play that day and Justin Tucker shockingly missed two field goals.
Jackson is back, and we are going to see if that's enough to outweigh these other injuries as players like Odell Beckham Jr., Justice Hill, Marlon Humphrey, and Ronnie Stanley are expected to be out again.
But Jackson has his top weapons in tight end Mark Andrews and rookie Zay Flowers. He is a better runner and better at avoiding sacks than Deshaun Watson. The Browns also are missing Nick Chubb, and despite last week's win over Tennessee, the Browns only rushed for 78 yards (62 excluding Watson's contribution).
Cleveland's defense is no doubt scary, becoming the first defense since the 2000 Titans to hold three straight offenses to single-digit first downs. But the Ravens have the experience of playing this team to deal with them better than Cleveland's first three offensively challenged opponents had, and Jackson is clearly playing better than Joe Burrow and Kenny Pickett right now.
I'm on a "let the Browns prove it first" deal this week. We've already seen them choke away a game in Pittsburgh. Jackson has outplayed Watson in their previous matchups. Also, the Ravens are 19-3-2 ATS as an underdog since 2018, which is easily the best record in the NFL. They are 14-3-1 ATS (82.4%) as a road underdog since 2018. Kevin Stefanski is only 8-13 ATS (38.1%) as a home favorite.
Tease the line to Ravens +3 if you want extra insurance, but I like Baltimore to cover and possibly win this one outright for your NFL picks.
Scott's NFL Pick: Ravens +2.5 (-104 at FanDuel)
5. Bengals-Titans: Cincinnati Continues Success Against Tennessee
The Bengals still did not look like the team we expected on Monday night against the Rams. But the good news is they got the win, the defense was all over Matthew Stafford, Ja'Marr Chase got going with 141 yards, and Joe Burrow finished the game without aggravating his calf injury.
Now Cincinnati can go on the road and look to stack wins against a familiar opponent. The Bengals are 3-0 against the Titans in the Burrow era, including that pivotal 19-16 win in the 2021 divisional playoffs despite Burrow taking 9 sacks in that game. Ryan Tannehill threw 3 interceptions, including a late one that set up the game-winning field goal.
The teams met again in Tennessee last year and the Bengals emerged victorious in that fourth quarter too in a 20-16 win that was similarly low scoring. The Titans have not looked good on offense themselves this year outside of the Chargers game. Tennessee had an abysmal 94 yards of offense in a 27-3 loss to the Browns last week. The Titans became the 9th team since the merger to have under 100 yards of offense in a game where they did not turn the ball over once. They had just stopped cold all afternoon long.
Look for Tannehill to be under pressure from the defensive line, Burrow to get back to finding his receivers better than he did in the first two games, and the Bengals should be able to escape Nashville with another 3-point win (or better) that gets them back to .500.
Scott's NFL Pick: Bengals -2.5 (-106 at FanDuel)
6. Dolphins-Bills: Josh Allen Owns Miami
A game so nice, that I had to use it twice for our NFL picks in Week 4. Not only do I like the over 53.5 points, but Josh Allen's touchdown passes provide great value in this one. Allen has faced the Dolphins 11 times, including last year's playoff game, and he has thrown at least 2 touchdown passes in all 11 games. How great is that? Only three quarterbacks in NFL history have had a streak longer than 8 games of throwing multiple touchdowns against the same opponent (playoffs included):
Josh Allen vs. Dolphins: 11 games (active)
Dan Marino vs. Jets: 10 games
Matthew Stafford vs. Packers: 9 games (ended in 2018)
Allen had 3 touchdown passes in the wild-card game against Miami, and he tossed 4 scores in Week 15 in bad weather conditions. That was a different defensive coordinator for the Dolphins, but Vic Fangio so far has not had a huge impact on this unit.
In fact, lost in the scoring craze for Miami is that the defense ranks 21st or worst in many categories, including points allowed (21st), yards allowed (23rd), third down conversion rate (23rd), and red zone defense (21st).
The last time Allen played against a Fangio-coached defense was the Broncos in 2020. He threw for 359 yards, 2 touchdowns, and ran for 2 more touchdowns. You can take the easy pick of Allen throwing over 1.5 touchdowns (-158 at FanDuel), but we say be bold and take Allen to throw at least 3 touchdown passes in this one.
Scott's NFL Pick: Josh Allen 3+ Passing Touchdowns (+270 at FanDuel)
7. Broncos-Bears: The National Embarrassment Bowl
Week 3 was brutal for these teams as the Broncos lost 70-20 and the Bears lost 41-10. Both teams sit at 0-3, but the good news is someone should get a win this week.
But this game is a bit of a nightmare from a prediction standpoint.
Are both teams going to light up the scoreboard as the Broncos (122) and Bears (106) have allowed the most points this year?
Are both teams going to struggle to hit 20 points as we know they've had issues with scoring going back to 2022?
Can Chicago get its running game going after seeing Miami rush for 350 yards last week? Can the Broncos get another solid passing game out of Russell Wilson against a defense that has been the worst against the pass since Matt Eberflus became the head coach?
Logically, Denver should win this game. The Broncos have a better quarterback and a better coach, they lost their first two games by 3 combined points, and despite what happened in Miami last week, they probably have the better defense too. This is why the Broncos are still a 3.5-point road favorite despite losing by 50 points a week ago.
But let's take a chance on some betting value and make a specific pick about the margin of victory. We know Denver played in a league-high 15 close games last year, and the first two games this season were no different. We also know Denver has blown 7 fourth-quarter leads since 2022, the most in the league.
Chicago has lost every game by double digits this season, but last year, the Bears were no stranger to losing close games, including 7 losses by one possession. But Justin Fields is also one of the least reliable quarterbacks in NFL history with the game on the line. He is 1-12 when he has the ball with a one-score deficit in the fourth quarter, the worst record among active starters.
We are going to take a chance and ride with Russ and the Broncos to get Sean Payton his first win by 1-6 points. It won't be pretty or give anyone confidence in this 1-3 team turning things around, but that's kind of the point. Meanwhile, Chicago needs to just blow the whole thing up and start over next year.
Scott's NFL Pick: Broncos win by 1-6 points (+300 at bet365)