NFL
Scott's Seven NFL Picks: Week 3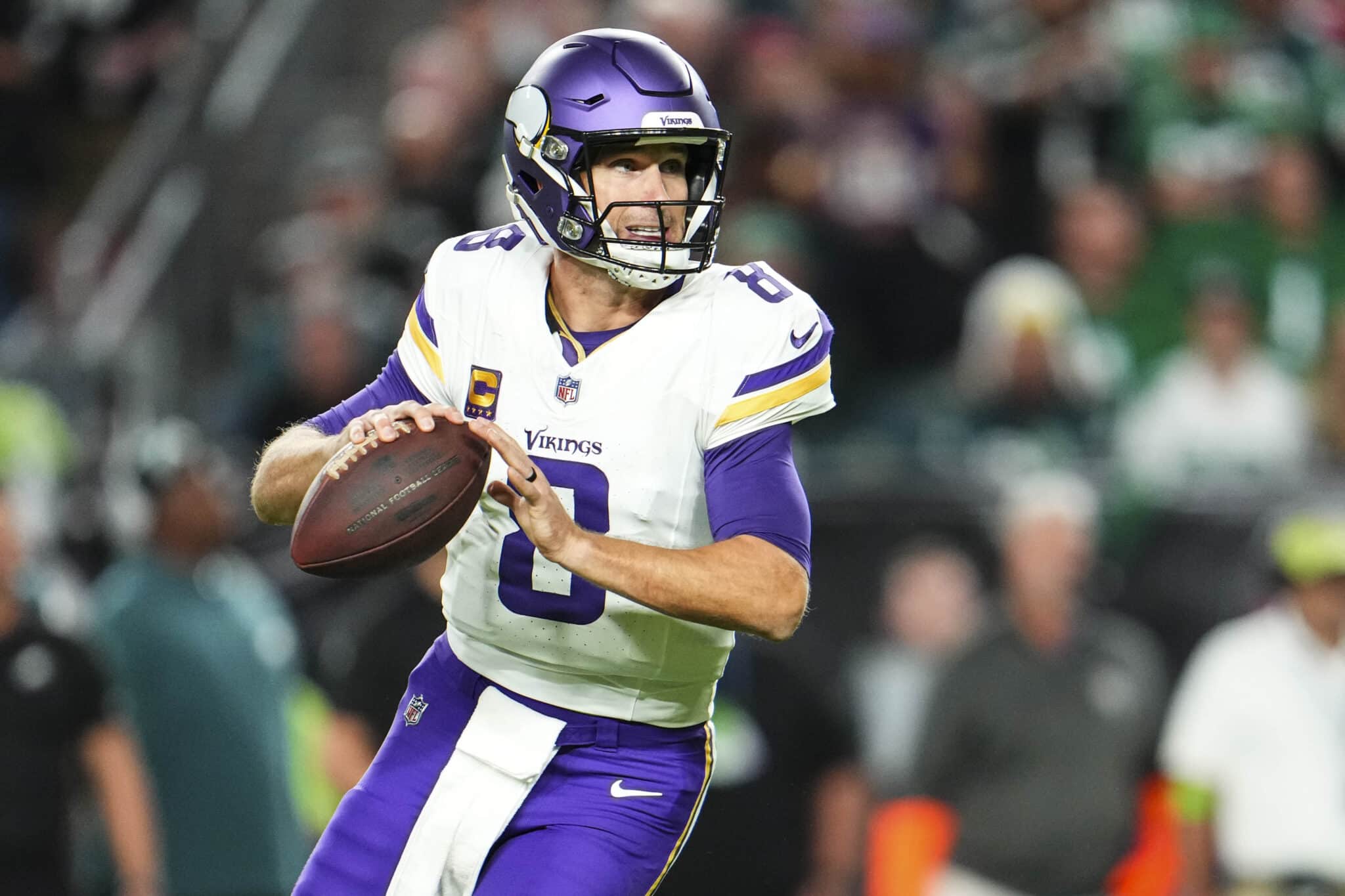 By Scott Kacsmar
After a much higher scoring Week 2 with some upsets, we bounced back from that 0-7 start to a 6-1 record on last week's picks. With half of the Week 3 schedule featuring teams favored by a touchdown or better, this might be a week for more blowouts. Thursday night between the Giants and 49ers might just be the start of that.
Each Friday, we will share seven NFL picks that we are including in our bets for the weekend. These can be prop picks, spreads, totals, alternate lines, moneylines, same game parlays, etc. We like to think outside the box instead of just telling you Patrick Mahomes will throw for 250+ yards with -500 odds. You can play the picks separately or parlay your favorite choices together.
Note: Picks are ranked in order of confidence (highest to lowest).
1. Chargers-Vikings: Captain Kirk Hits 300 Again
Frankly, the NFL's Week 3 schedule is a bit weak. There is no real marquee game, especially for the Sunday slate. But if there is one game you had to watch on Sunday, there may be nothing more entertaining than the battle of 0-2 teams in Minnesota.
The Chargers and Vikings love scoring points, allowing points, making comebacks, and blowing leads. Both teams have followed their close wild card playoff loss with a couple of one-score losses in 2023.
This game should absolutely be a high-scoring affair with plenty of offense, but we are backing Kirk Cousins and the Vikings. Cousins has actually played well outside of a few turnovers in the games. He threw 4 touchdowns and no picks in Philadelphia last week, and he has not had a running game in either loss.
The Chargers have been abysmal against the pass. They were lit up by Miami in Week 1 with Tua Tagovailoa and Tyreek Hill going off for 466 yards (215 to Hill). Even Ryan Tannehill and the run-based Titans were 20-of-24 for 246 yards through the air last week.
The over/under for Cousins in this game is 293.5 yards, but I would take it a step further and have him hit the 300-yard milestone. He's already had 344 and 364 yards in the two games this year.
This game will go down to the final possession, which could even be in overtime. You should count on Cousins to put up 300 yards as the Vikings hope to avoid starting 0-3, which would be fatal for their playoff chances.
Scott's NFL Pick: Kirk Cousins 300+ Passing Yards (+104 at FanDuel)
2. Patriots-Jets: Belichick Still Owns the Jets
This was supposed to be the year the Jets ended the 14-game losing streak to the Patriots. This was going to be the year Bill Belichick's Patriots slipped to last in the AFC East for the first time since 2000 after the Jets finally found a quarterback in Aaron Rodgers.
Welp. The dream lasted 4 snaps before Rodgers tore his Achilles, putting the Jets right back in the familiar spot of not having a quarterback. Worse, they are trying to make do with Zach Wilson, who only put up 10 points in Dallas last week in an ugly loss where the Jets couldn't run the ball and even the defense failed to impress.
So, as usual, Belichick catches a break as he is 4-0 against Wilson, who has 2 touchdowns, 7 interceptions, and he averages 6.5 yards per pass against the Patriots. His passer rating is 50.6, which would have been awful in the 1960s, let alone the 2020s.
The Patriots are not well off at quarterback either with Mac Jones, who was trapped in a 3-3 game with Wilson last year before the Patriots won on a 84-yard punt return touchdown.
But this year, the 0-2 Patriots have scored 17-to-20 points against the Eagles and Dolphins, who they held to 24-25 points, and they were inches short of a 4th-down conversion on the final drive of both games. They were close against Super Bowl contenders.
Without Rodgers, the Jets are no longer a contender. They have issues up front, and the defense may have gotten too much buzz as this is not a scary unit like the 2009 Jets had. While the Patriots may not light up the scoreboard in this one either, we will trust Belichick to do what he does best and beat the Jets again by at least a field goal.
Scott's NFL Pick: Patriots -2.5 (-110 at FanDuel)
3. Texans-Jaguars: Houston's Scoring Woes Continue
If the Jaguars can hold Patrick Mahomes and the Chiefs to 17 points, they should be able to do the same to C.J. Stroud and the Texans, right? Of course, this usually comes down to turnovers. The Jaguars got enough of them (3) against the Chiefs to keep that score low, and the Chiefs even got to take a kneeldown with a 1st-and-goal at the 1 to end the game for the win.
In Week 1, the Jaguars allowed 21 points to the Colts, but that included a fumble touchdown return on a weird play where most of the players stopped running after some confusion. The Jacksonville defense has been just fine this year.
The Houston offense has not been fine, and not all the blame can be put on the rookie quarterback. The Texans have had most of their starting offensive lineman out, and Stroud has the fourth-highest pressure rate (30.8%) so far. Houston also has yet to play with a lead as the defense has struggled.
The Texans have only scored 29 points in two games this year. Last season, Houston scored a combined 16 points against Jacksonville in two games, losing 31-3 in Week 17 in the most recent meeting.
This is a different coaching staff and quarterback but look for the Jaguars to rebound from last week's loss with a comfortable win and hold the Texans under 17 points.
Scott's NFL Pick: Texans Under 17.5 Points (-128 at FanDuel)
4. Saints-Packers: New Orleans to Start 3-0
The Saints are a 1.5-point road underdog in Green Bay, but here are the reasons to pick New Orleans in an upset win:
The Saints have not allowed more than 20 points in 10 straight games, the longest streak in the NFL since the 2013-14 Seahawks (11 games).
No one has scored more than 18 points against the Saints in the last 8 games.
According to Next Gen Stats, Jordan Love throws into tight windows at the highest rate in the league despite not being intercepted yet, and he has the 2nd-worst completion percentage over expectation (-11.0%) in 2023.
The Packers blew a 12-point lead in the fourth quarter in Atlanta last week, and Derek Carr has the most fourth-quarter comeback wins in a quarterback's first 10 seasons in NFL history (28).
While running back Aaron Jones returned to practice Thursday for Green Bay, No. 1 wide receiver Christian Watson (hamstring) did not, and his 2023 debut is still up in the air.
Green Bay's secondary has not been tested much at all with the average pass traveling 5.2 yards against this defense. Derek Carr is averaging about double that, the deepest average throws in the league. He has a very good wide receiver trio and should be able to put up 20 points (at least) on the road in this one.
That might be all the Saints need with the way the defense has been playing. Trust New Orleans to force Love into his first interception of the season and get this win to start 3-0.
Scott's NFL Pick: Saints ML (+105 at Caesars Sportsbook)
5. Bears-Chiefs: Petty Pat Passes for Three Scores Against Chicago
Patrick Mahomes will never forget the 2017 draft when the Chicago Bears used the No. 2 pick on quarterback Mitch Trubisky while the Chiefs picked Mahomes 10th overall, setting the NFL on a far different path as we know it.
When Mahomes played the Bears in 2019, a 26-3 Kansas City win, he threw a pair of touchdowns and rushed for another. He held up 10 fingers to signify the No. 10 pick in the 2017 draft and how much the Bears regret it as Mahomes was on his way to winning his first Super Bowl that season.
Now Mahomes gets the Bears at home and after a tumultuous week where Chicago's defensive coordinator resigned. The Bears were dead last against the pass and in points allowed last year, and things have not started well this season. Baker Mayfield and Mike Evans just tore the Bears up last week.
The Chiefs only have 37 points this year, but this feels like the spot where Mahomes and Travis Kelce light it up at home and they get this offense moving like we are used to seeing. Take Mahomes to throw at least 3 touchdown passes in this one, something he did in 9 games last year (playoffs included).
Scott's NFL Pick: Patrick Mahomes Over 2.5 Passing Touchdowns (+124 at FanDuel)
6. Falcons-Lions: Rookie Running Backs Face Off
In what should be a fun game between two NFC teams looking to end their playoff droughts, the spotlight will be on rookie running backs Bijan Robinson and Jahmyr Gibbs. They were the top two drafted this year, and so far, Robinson has certainly lived up to the hype while Gibbs has flashed potential behind starter David Montgomery.
But Montgomery was injured last week against Seattle and is considered day-to-day, which should give Gibbs more opportunities. His touches went from 9 to 14 in the second game after he caught 7 passes against the Seahawks.
Gibbs is looking for his first touchdown and his odds are just as good (-130) as Montgomery's in this one. As for Robinson, he had 172 yards from scrimmage against the Packers last week, including his first 100-yard rushing game, but he did not score a touchdown as the Falcons struggled in the red zone.
In a game where both teams should score into the 20s at least, this feels like a good opportunity to pick both rookie backs to shine against one another and parlay them together to both score touchdowns. If not touchdowns, then take Robinson's over in rushing yards and Gibbs' over in receptions.
Scott's NFL Pick: Same Game Parlay – Bijan Robinson and Jahmyr Gibbs Anytime Touchdown Scorers (+262 at FanDuel)
7. Titans-Browns: Tannehill Outplays Watson in Cleveland
This season has been very rough on running backs, and it is only Week 3. Nick Chubb was lost Monday night to a season-ending knee injury. Derrick Henry did not practice Thursday and is also questionable to play with a toe injury.
But the Titans were 6-3 when Henry missed half the season in 2021, he still may play, and the team drafted Tyjae Spears exactly for this reason in April. Spears should be able to do more than Chubb replacement Jerome Ford, who despite a 69-yard run in Pittsburgh, has rushed for just 85 yards on his other 38 career carries. The Browns are going to miss Chubb as you could already see Monday night when the offense had no consistency without him.
The Chubb injury is the reason to like the Titans in this one. They consistently force teams to abandon the run – Titans are allowing 2.7 yards per carry this year – and win through the air. The Deshaun Watson of 2020 and before could do that, but the guy Cleveland paid for is not. Watson was a 67.8% passer in Houston and is down to 57.3% in 8 starts with the Browns. He just has not applied himself to Kevin Stefanski's offense, looking worse than Baker Mayfield (2020) and Jacoby Brissett (2022) did in their initial run with it. The Titans also have their best pass rusher back in Harold Landry.
Both quarterbacks in this matchup are sack merchants, but Ryan Tannehill is still a more trustworthy option, and he has a better No. 1 receiver this year in DeAndre Hopkins. Treylon Burks also had a 70-yard catch last week.
The Titans can win this game on defense. Neither opponent has cracked 20 first downs or 70 yards rushing on this unit, which has only allowed 3 touchdowns on 9 red zone drives.
The Titans are a 3.5-point road underdog, but this suits coach Mike Vrabel well. Since Tannehill became the starter in 2019, the Titans are one of four teams with a winning record (18-16) in games as an underdog.
We'll take the Titans to add another win to that record.
Scott's NFL Pick: Titans ML (+160 at FanDuel)