NFL
NFL Injuries from Week 6 That Could Affect Your Fantasy Team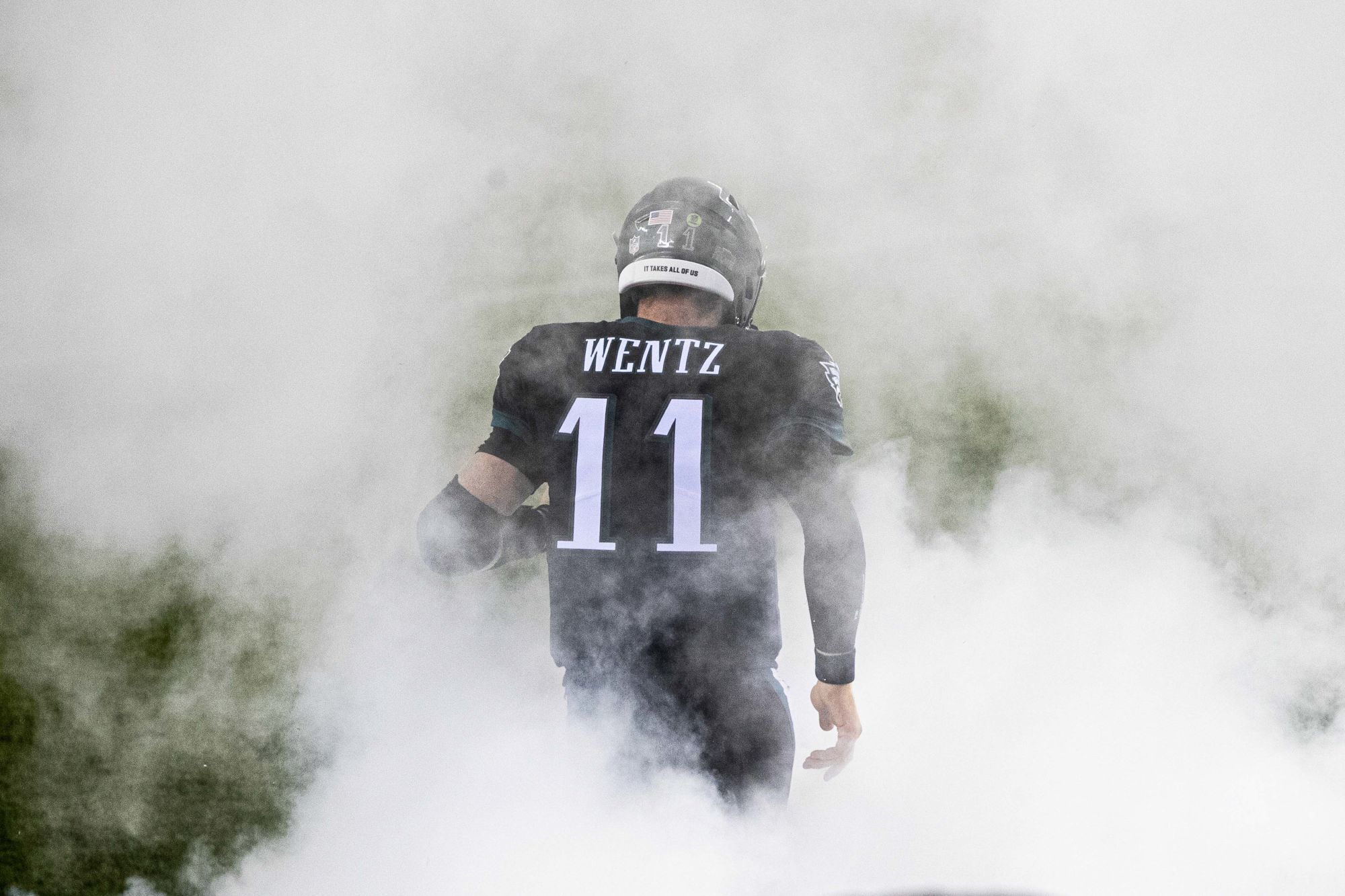 By Scott Kacsmar
The 2022 NFL season has been such a big one for quarterback injuries already. Through Week 6, 42 different starting quarterbacks have already been used with a couple teams (Dolphins and Patriots) using three different starters.
We lost a few more signal callers in Week 6, though other positions have been hit hard too, and that type of injury density can be most crippling to teams. The Steelers somehow beat Tom Brady without their top three corners, but the Saints came up a little short against the Bengals while missing their top three wide receivers.
Here are the notable injuries from Week 6 that you need to consider for your fantasy teams, DFS lineups, Same Game Parlays, and other prop bets this week.
QB Carson Wentz, Washington Commanders
Carson Wentz at least has a valid excuse for why he did not throw for 100 yards in last Thursday's win over Chicago. As we saw during the game, Wentz fractured his ring finger when he contacted a defender's helmet on his follow through of a pass.
This was the injury that ended Russell Wilson's ironman streak last year, and it is a miracle this doesn't happen to every quarterback every season or two given the 500-to-700 chances they have to do it when they throw.
Wentz has had surgery and will miss four-to-six weeks to recover. He could be placed on injured reserve, which does not mean his season is over. This is going to put Taylor Heinicke back as the starting quarterback in Washington. He made 15 starts last season when he threw for 3,419 yards and 20 touchdowns.
Heinicke's numbers are right on par with what Wentz was doing this year, if not a little better as he averaged 6.9 yards per attempt to 6.4 for Wentz. But does it do much for No. 1 receiver Terry McLaurin? Not likely. McLaurin has averaged 7.8 yards per target with Heinicke and 9.9 yards per target with Wentz.
Either way, the Washington offense is still not a good one to rely on for positive production.
QB Skylar Thompson, Miami Dolphins
Do we need a weekly section for the Miami quarterback room? This is the fourth week in a row the starter was knocked out of the game, and the third week in a row a different starter did not return to the game. It is hard to imagine another team in NFL history has ever lost three different starting quarterbacks in three straight games.
Skylar Thompson was the third-string rookie starting because of Tua Tagovailoa and Teddy Bridgewater being in the concussion protocol. But a thumb injury knocked him out of action early against the Vikings. Bridgewater was able to come in and finish the game with over 300 yards passing, but it was a third-straight loss for the Dolphins.
The good news is Thompson and Bridgewater should be fine, and the even better news is that Tua is getting cleared to start Sunday night's game against Pittsburgh. Tagovailoa still leads all quarterbacks in QBR (80.0) this season, but he still has something to prove this year.
QB Kenny Pickett, Pittsburgh Steelers
You can make many criticisms (or jokes) about NFL legend Brett Favre, but his ironman streak of 321 consecutive starts (playoffs included) will likely never be broken. It may even be impossible with the way the NFL has cracked down on concussions following the Tua Tagovailoa situation.
However, maybe things are not that different. Kenny Pickett lasted a little over eight quarters into his NFL career before suffering a concussion after taking a sack in the third quarter and banging his head off the ground. He did not return to action and Mitch Trubisky finished the game, outplaying Tom Brady and getting the Steelers the upset win of the season.
One might assume Pickett would be out this week with the new protocol, but on Tuesday, head coach Mike Tomlin already said Pickett will be cleared to practice and if he gets the full medical clearance, he is going to start on Sunday night in Miami, his first national game.
So, maybe players suffering their first concussion will still have some leeway to return the following Sunday. The Steelers just had some players sit out Sunday due to a concussion, including tight end Pat Freiermuth, but he has had multiple concussions in his career already.
If the "Tua Rule" was a thing, Pickett would be ruled out Sunday. Instead, he just might be playing against Tua. How concussions are handled, especially at the quarterback position, remains one of the biggest stories this season.
RB J.K. Dobbins, Baltimore Ravens
At least the week was light on running back injuries, but J.K. Dobbins has a concerning situation in Baltimore. He was held out of the second half after his knee tightened up on MetLife's artificial turf that is notoriously a problem for some players.
Dobbins missed the entire 2021 season with a torn ACL and needed over a full year to recover for this season. He was seeing nearly 50% of the snaps in his first three games back, but the Ravens may need to be careful about using him next week if he even plays.
Kenyan Drake stepped up with 119 yards and a touchdown against the Giants, by far his best game for the Ravens this season.
WR Marquise Brown, Arizona Cardinals
The Arizona offense has been disappointing to say the least, but Marquise Brown has looked the part of a No. 1 receiver while the team still waits to get DeAndre Hopkins back from his suspension.
But late in Sunday's loss to Seattle, Brown had a little fracture in his foot. He is expected to miss around six weeks. It is a bummer for him as he leads the team in catches (43) and yards (485) by a fair margin.
While the Cardinals traded for disgruntled Carolina receiver Robbie Anderson on Monday, the only player worth monitoring in Arizona is the return of Hopkins, who should fill his role as the No. 1 again. When healthy, Hopkins is one of the best talents in the game. But after turning 30 and having a career-low 572 yards in 10 games last year, he will have to work his way back into shape in this struggling offense.
WR Randall Cobb, Green Bay Packers
Just when Aaron Rodgers thought he could go back to old reliable Randall Cobb like it was 2014 again, Cobb injured his ankle against the Jets and was carted off. He'll reportedly miss a few weeks.
This comes on the heels of Cobb's best game of the season in London against the Giants as he had seven catches for 99 yards. But in playing 26 snaps on Sunday against the Jets, Cobb was only targeted once for an 8-yard grab. The 27-10 loss is the worst ever in a home game in the regular season for Aaron Rodgers as the starting quarterback.
Now he is down his favorite receiver. Well, he was already down his favorite receiver (Davante Adams) coming into the season. Now he's lost his most trusted one left.
WR Kendrick Bourne, New England Patriots
The Patriots are starting to get on a roll, but the offense has been one of the most injured this season. Kendrick Bourne started this season playing two snaps in Week 1 because he was in the coach's doghouse, but he played four snaps in Week 6 because of turf toe.
Fortunately, he may be back as soon as Sunday. But the Patriots have not found much use for him with Jakobi Meyers, DeVante Parker, and Nelson Agholor (also injured) ahead of him on the wide receiver depth chart.
TE Cameron Brate, Tampa Bay Buccaneers
It was a scary moment on Sunday when the game stopped to place Brate on a backboard for a neck injury. Players from both teams stood by close watch as they tended to the tight end who just had a concussion a couple weeks ago. But Brate was able to give the thumbs up on his way out and is reportedly doing fine. The medical staff just takes extra precautions in these situations after what happened to Pittsburgh linebacker Ryan Shazier in a nationally televised game in 2017.
But the scan concluded a neck sprain for Brate, which is the best news it could have been given the circumstances. There is no timetable for his return, so it could be rookie Cade Otton at tight end again in Week 7 for the Buccaneers. Otton played 94% of the snaps and caught six passes for 43 yards in Week 5 against Atlanta when Brate healed from his concussion.