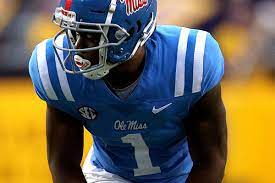 By Will Helms
And we're back. While we didn't get a ton of closing line value on our early bets, we finished 2-2 and finished the weekend 6-2 overall. This week there's a bit more early line value, but only just. I'm looking at a few games that I like this week.
Our value is mainly on totals this week (On which we're 5-3 this season). We're taking the over in three games, hoping bad defense reigns supreme.
Ole Miss +1.5 (@ LSU)
I'm not sure if we should classify this as an "early line to jump on" because the line is easing the other direction, but it's strange. LSU hasn't looked good against any defense with a pulse this season (Sorry, Florida) and unlike past years, Ole Miss has a great defensive unit.
The Rebels have one of the best rushing attacks in the country and LSU just hasn't faced many of those. I expect the Rebels to play some unfamiliar football, going to Baton Rouge and grinding out a slower, lower-scoring win with a strong rushing attack.
The Rebel backs may reach 250 yards in this one and should bust a few long runs in the process. I just do not trust Jayden Daniels to play mistake-free football in a game that could be decided by field position. Both defenses excel when opposing teams have to drive the length of the field and I trust the Rebel offense to make more splash plays that make that task much easier.
Prediction: Ole Miss stays undefeated in a methodical 28-24 win.
Wake Forest/Boston College o61.5
We love points and in this case, defenses that struggle to stop the big play. These teams feature some of the best playmakers in the country in AT Perry for the Demon Deacons and Zay Flowers for Boston College. No receiver (Except perhaps TCU's Quentin Johnston) in the country is as hot as Flowers right now who is almost a lock for 2-3 huge plays every game.
The Boston College defense has given up points in just about every game it has played while Wake Forest can't stop scoring. The difference in this one is that Boston College should be able to score with the Deacs. Expect the Demon Deacons to pull away in the second half, but not before Boston College scores a few touchdowns of its own.
Prediction: Wake runs away with it, but Boston College scores too. Wake wins 45-21
Oklahoma State +6.5 (vs. Texas)
I don't typically fall into rankings traps and this could be one of them (Just like Ole Miss-LSU). However, I like the Pokes in this one against a solid Texas team. This should be a closely contested, high-scoring affair between two solid offenses.
While the Cowboy defense has struggled a bit when looking at raw numbers, the adjusted totals look a lot better. The defense isn't breaking any national records, but sits in the top 60 in points per drive against, a metric that factors out blowouts and non-FBS games.
Texas has Quinn Ewers back and is a substantially better football team because of it. However, after narrowly escaping a struggling Iowa State team last week, Texas is vulnerable. The Longhorns have caught several teams at the perfect time, but a good Oklahoma State team on the road following a close loss is not one of them. It'll be a great game, but I'd put this more as a pick 'em than Texas by 7.
Prediction: The Pokes narrowly beat the Longhorns in a classic, 35-31.
Houston/Navy o51.5
One of the quietly intriguing storylines of 2022 is that Navy has developed a somewhat competent passing game.
After starting the season in a few ugly games, Navy has scored 51 and 34 points in each of its last two, showing the occasional ability to move the ball through the air.
The defense still can't stop the pass (130th in yards per pass against) and Houston's Clayton Tune is getting it together as a quarterback, averaging over 275 yards a game over his last four contests.
Both of these teams are in the top 35 in plays per game and all but two of their FBS games this season have gone over 50. This week they'll play bottom half defenses while both offenses seem to be rolling. On top of it all, this should be close enough that each team is trying to score at the end. Expect points.
Prediction: It's not quite what you'd call a shootout, but there will be plenty of points as Houston edges Navy, 31-28.
West Virginia/Texas Tech o68.5
Admittedly, this didn't initially stand out to me, but as I perused the opening lines at Circa Sports (Which is probably the top sportsbook when it comes to handicapping) I was intrigued.
Circa set the total at 75.5, the highest total of the weekend by six points.
Upon further examination here, I'm all in on the over. The over in games involving either of these two teams this season is 9-3 hitting by an average of 9.6 points (Including misses on the three unders).
Last week, Texas Tech quarterback Behren Morton came back from injury and attempted 62 passes as the Red Raiders ran 103 plays on offense (They lead the country in plays per game).
West Virginia's offense is cooking as the Mountaineers score 43 on Baylor. JT Daniels looks comfortable and this one will be fun.
Prediction: First one to get a stop wins. Baylor squeezes it out, 42-38.