NFL
NFL Injuries from Week 16 That Could Affect Your Fantasy Team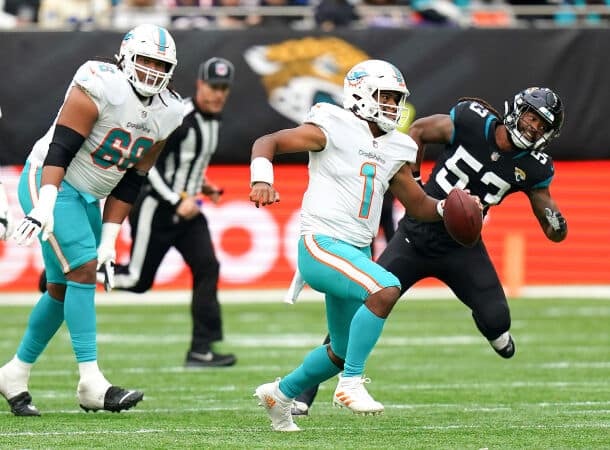 By Scott Kacsmar
From Thursday to Monday, it was a long Week 16 in the NFL with games spread out over four days during the holidays. But the injury list for skill players was fortunately not as long as some weeks this year. However, there is one big name who has appeared here way too often in 2022.
Here are all the notable injuries from Week 16 that you should prepare for your fantasy teams, DFS lineups, Same Game Parlays, and other prop bets this week.
QB Tua Tagovailoa, Miami Dolphins
The most surprising, important, and disheartening injury news of Week 16 comes from Miami. Quarterback Tua Tagovailoa has already been on the receiving end of two head injuries earlier this season that led to widespread disapproval of the NFL's handling of these concussion situations, and this latest event may not help that perspective.
On Monday, we found out that Tua is in the concussion protocol again. He finished Sunday's game against Green Bay with no noticeable symptoms, but fans have pointed to a play in the game where he appeared to bang his head on the ground again. Given some of his uncharacteristic decision making during a fourth quarter where he threw three bad interceptions, it is fair to speculate if the team missed a chance once again to get him out of the game with a brain injury.
Tagovailoa only reported symptoms on Monday, and then he was promptly placed back in the concussion protocol. The last time he had a concussion against Cincinnati, he missed the next two games.
Every quarterback's health situation is different. When Kenny Pickett (Steelers) had his second concussion of 2022, he missed the next game, then was back a week later. The Dolphins are only officially saying Tua has had two concussions, because they do not want to acknowledge the mishap in the Week 3 game against Buffalo where Tagovailoa returned after he shouldn't have been allowed to after being visibly wobbly on the field following a hit. This could very well be three concussions since Week 3.
With the frequency of his head injuries this year, it would seem that Tua playing this weekend is very much in doubt in an important game with New England. Teddy Bridgewater is going to be prepared to start, and the veteran has plenty of experience under his belt with 65 starts, including one playoff game. Bridgewater is 33-32 as a starter in his career.
While Tua is 4-0 against the Patriots in his career, his production and the Miami scoring output have been modest at best in those games. Bridgewater can get the job done with Miami still holding out hope for a playoff spot after a four-game losing streak has dropped them from sure thing to shaky No. 7 seed with an 8-7 record.
But the Dolphins have to prioritize the long-term prospects here and what is best for Tagovailoa's health. Missing the playoffs this year is a small price to pay if it means not destroying Tua's career just so you can lose on wild card weekend as a No. 7 seed.
WR Christian Watson, Green Bay Packers
That Packers-Dolphins game was a rough one as Watson once again left a game early with an injury. It was the sixth game this season where Watson did not play at least 40% of the offensive snaps.
This time it was a hip injury that cut Watson's day short. He insists he will be fine, and he better hope that is accurate as the Packers are still in must-win mode every week with the playoffs still a possibility.
Watson will have very favorable matchups with the Vikings and Lions if he can return. But his constant run on nagging injuries may scare some fantasy owners away next year if he doesn't prove to be more durable than he has been as a rookie. Still, his speed and talent are hard to ignore.
WR Shi Smith, Carolina Panthers
Smith had injuries to his head and foot that knocked him out of Saturday's game after one catch for 17 yards. His current status is unknown going into Sunday's big game with Tampa Bay with the NFC South still up for grabs.
Smith is not a big contributor to the offense, but he is the team's leading punt returner this season. You want someone experienced with catching those punts, especially in a big game where a muffed punt to give up a short field is so damaging.
RB Travis Homer, Seattle Seahawks
The running back depth has been greatly tested in Seattle this year. Travis Homer had to recently start a game for the Seahawks with Kenneth Walker and DeeJay Dallas injured.
But Homer lasted one offensive snap against the Chiefs before exiting with an ankle injury. His status going forward is to be determined, but he's not a big contributor with Walker back. Homer has 19 carries for 74 yards and 16 catches for 157 yards this season.
TEs Hunter Henry and Jonnu Smith, New England Patriots
The Patriots had a rough day against Cincinnati. Not only did they lose the game, but they lost both relevant tight ends on their roster. Jonnu Smith was evaluated for a head injury after a sandwich hit, and he was ruled out.
Hunter Henry had a knee injury to end his day after three offensive snaps, a big loss to the Patriots. The good news is the injury does not sound serious enough to end his season, so there is a good chance Henry will be back as the team is still in must-win mode this week.
TE Greg Dulcich, Denver Broncos
One of the few bright spots for the Denver offense this year has been third-round rookie tight end Greg Dulcich. A hamstring injury ended his day short against the Rams, but not before he caught his second touchdown of the season.
Dulcich is averaging 41.1 yards per game, which is quite good for a third-round rookie on arguably the worst offense in the NFL.
The Broncos fired head coach Nathaniel Hackett on Monday, so we'll see if the Broncos choose to put Dulcich back on the field for the last two meaningless games. Eric Saubert is the second-leading tight end on the team with 12 catches for 118 yards this year. He would likely be the next man up if Dulcich remains out.