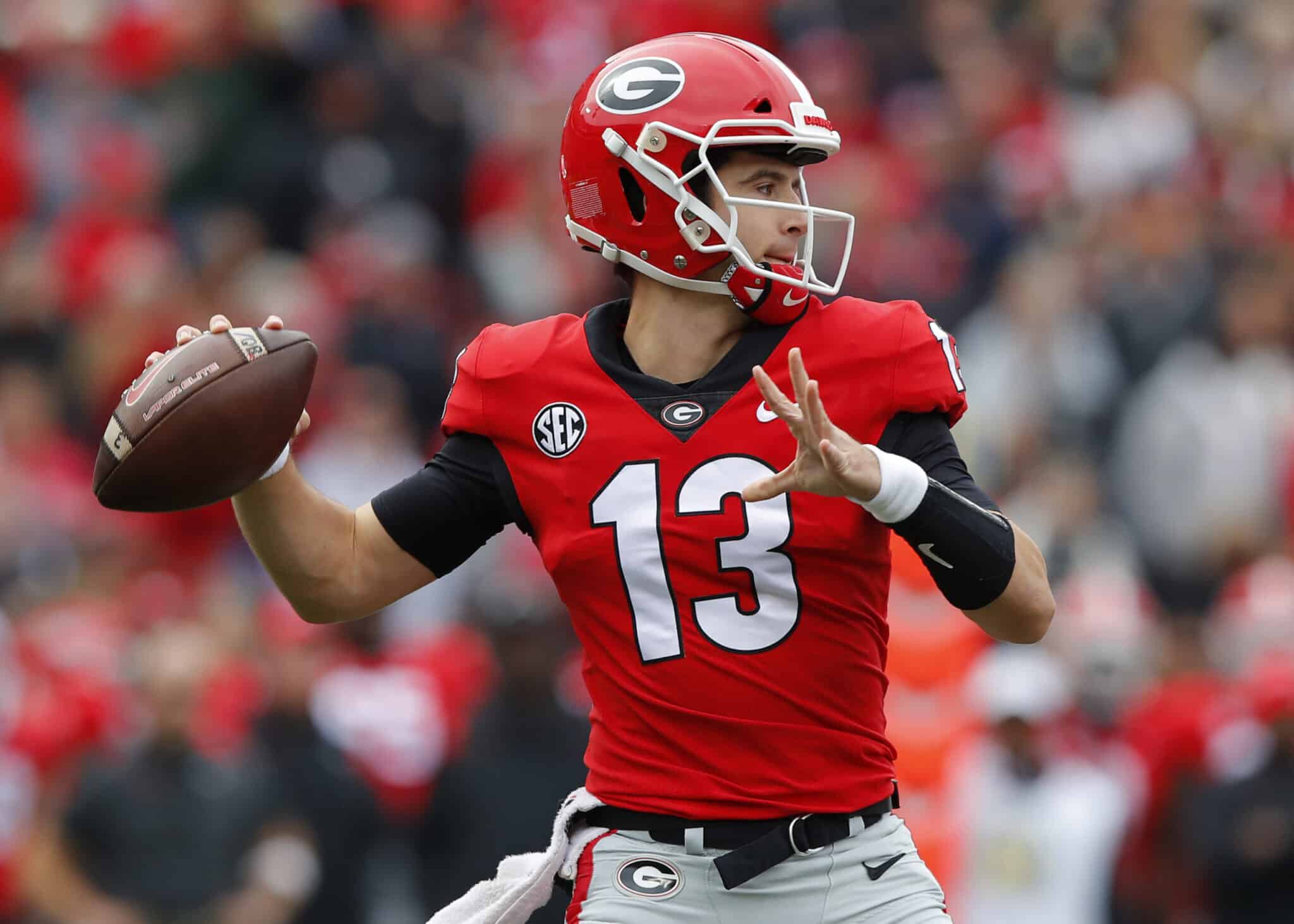 By Will Helms
With New Year's Eve nearly upon us, it's almost time for the College Football Playoff Semifinals. Teams arrived at their respective locations on Tuesday and are practicing for their biggest game of the year.
I'm intrigued by this year's semifinal matchups, a round that traditionally has produced more duds than close contests. First, we get No. 3 TCU and No. 2 Michigan in the Fiesta Bowl at 4 Eastern before No. 4 Ohio State takes on top-ranked Georgia at 8 Eastern in the Peach Bowl.
As always, 365Scores has you covered with picks against the spread, straight up and thoughts on the over-under for each matchup.
TCU-Michigan
What I'm looking for
Michigan opened as a 9-point favorite in this one, and I immediately jumped on TCU. The Horned Frogs have a reputation this season for narrowly escaping multiple upsets, which seems to drop them in the minds of media pundits. However, the Horned Frogs faced one of the tougher schedules in the country and dont seem to get credit for that.
We know about Michigan. The Wolverines bounced back from a jarring playoff semifinal loss last season to go undefeated, including a dominant win over rival Ohio State. The question I have is whether Michigan is built to win in the Playoff or simply built to beat Ohio State.
When you have a rivalry as big as "The Game", it can be easy to let other things slide to the backburner. It was clear that the Michigan that beat Ohio State has the talent to win a National Championship. Can the Michigan we saw for games 1-11 do the same? And which Michigan will we get in the Playoff?
Without Blake Corum, the Wolverine offense became more pass-happy, which worked well against an Ohio State team wholly unprepared for that style of gameplay. I have my reservations about whether the Wolverines can throw consistently in the Semifinals and, ultimately, the National Championship.
Horned Frogs a Playoff Spoiler?
For TCU to win, Max Duggan has to play better than he has all season (In a Heisman-level season) AND the Horned Frogs have to create a few splash plays. Keandre Miller will have some difficulty finding running lanes, but may be able to have a chunk play or two. He'll need a few for the Horned Frogs to win outright. That's a lot of "ifs" that I don't feel completely comfortable with expecting.
To cover, the Horned Frogs need much less to go right and I like them at the opening +9 line. I expect the Horned Frogs to shorten the game a bit to keep it close. I actually think TCU keeps it low-scoring and close. Michigan should win outright, but I like the under and TCU to cover.
Prediction: TCU keeps it close in one of the better Playoff games we've had in recent years. Michigan outlast the Horned Frogs, 31-24.
Georgia-Ohio State
What I"m Looking for
I see a lot of value on the spread in this one, especially due to Vegas' estimation of Ohio State's talent level. From a pure football matchup perspective, I'm excited to watch Kelee Ringo go against Marvin Harrison Jr. on the outside. Both of those guys are future first round picks and it should be really fun to watch.
I'm interested to see if CJ Stroud can succeed when things in the pocket break down. When he has time to throw and a clear path to step up in the pocket, he's probably the most talented quarterback in the country. However, when things break down, he's struggled tremendously. On 80 pressured dropbacks this season, Stroud has completed just 26 passes with seven turnover-worthy plays, one of the worst ratios in the country.
What's saved Stroud is that he's only been pressured on 21 percent of his dropbacks. However, the Georgia defense has pressured opposing quarterbacks 228 times, nearly three times as often as teams have pressured Stroud. Jalen Carter and the defensive front should be able to get to Stroud and if so, the Buckeye offense could struggle a bit.
Defensively, the Buckeyes have gotten tougher up front, but I'm not sure they're up to the challenge that the Georgia offense will bring. I expect the Bulldogs to keep Stroud off the field and run the ball a bit more, bleeding clock and frustrating a Buckeye defense that has played most of the season as the favorites.
The Buckeyes will have to make a few stops on defense to have a chance in this one, they won't win in a shootout.
Can Ohio State make the most of its second chance?
Brock Bowers should have a day and the Georgia rushing attack will wear down a thinner Buckeye defense. If Stetson Bennett takes care of the football, I think this one could get out of hand. I see a lot of value in the line as I think Georgia could run away with it.
I don't love the value on the total as Georgia should put up some points, but I don't have confidence either way in the Buckeye offense to contribute enough. I could see this one ending up 38-31 (Over) or 38-17 (Under). I just feel confident in Georgia scoring. This one could get ugly because Georgia is the best team in the country. We've seen crazier things in the past, but I really think Georgia wins and covers fairly easily.
Prediction: Georgia asserts its dominance in a 38-24 win before winning the playoff in a closer game, 31-27.