Soccer
Erling Braut Haaland's Numbers are NOT Human!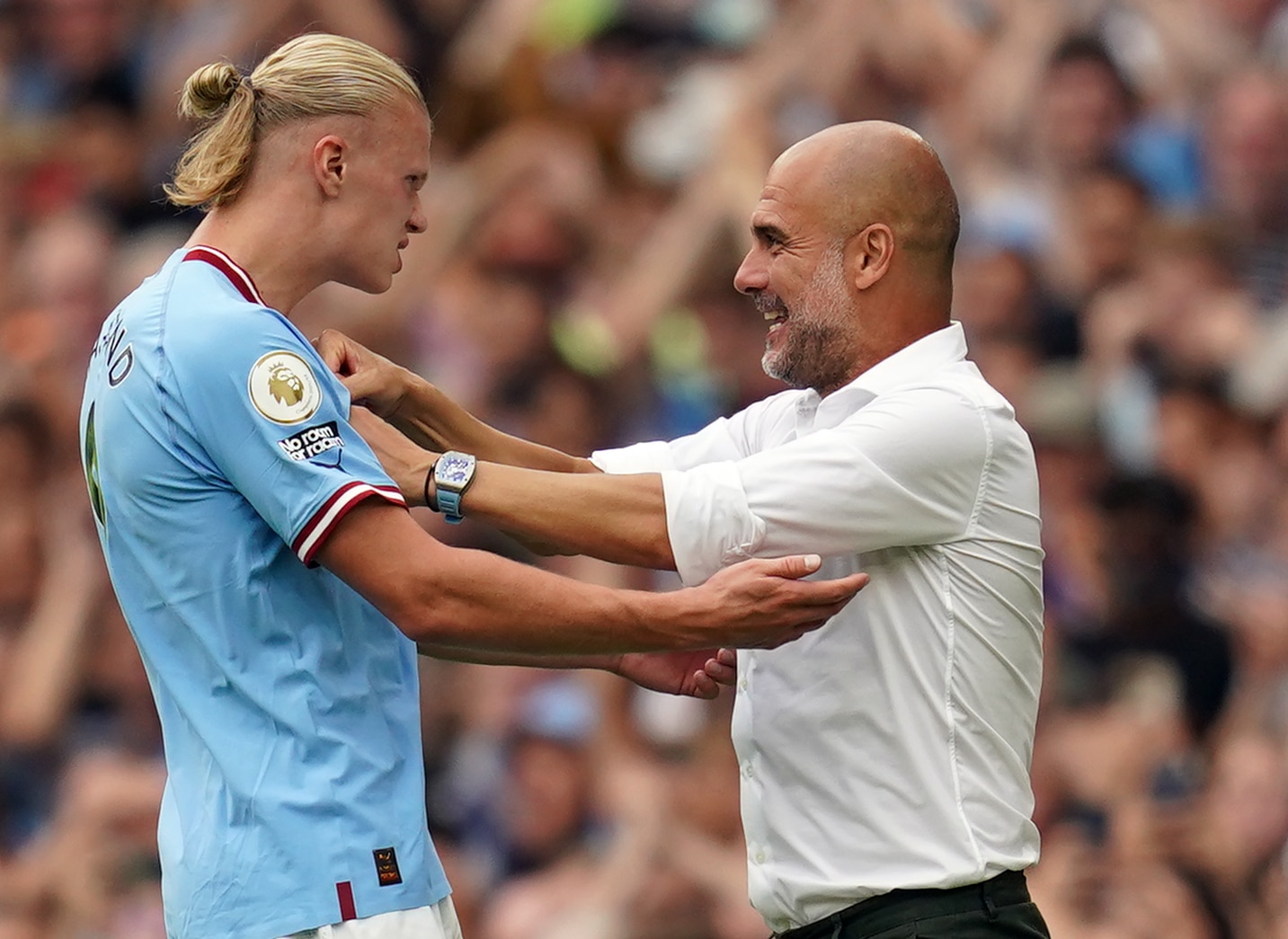 By Gilad Nagar ~ 15/03/2023
"My super strength is scoring goals" claimed Erling Braut Haaland following his five-goal haul against Bundesliga side RB Leipzig. Believe us, Erling, we know!
In the second leg of Manchester City's UEFA Champions League round of 16 clash against the German outfit, the Norwegian striker put on an absolute shooting clinic scoring 5 goals. The whole football world was in shock and disbelief as Haaland broke record after record on the night. Whilst some attempt to diminish the Norwegian's feat by criticizing the quality of each goal scored, you would be quite wrong to dismiss Haaland's performance as one to remember in Champions League history.
Words could never do justice to Haaland's lethal eye in front of goal, so let's take a look at his inhumane numbers to truly appreciate the striker's unparalleled goal-scoring ability!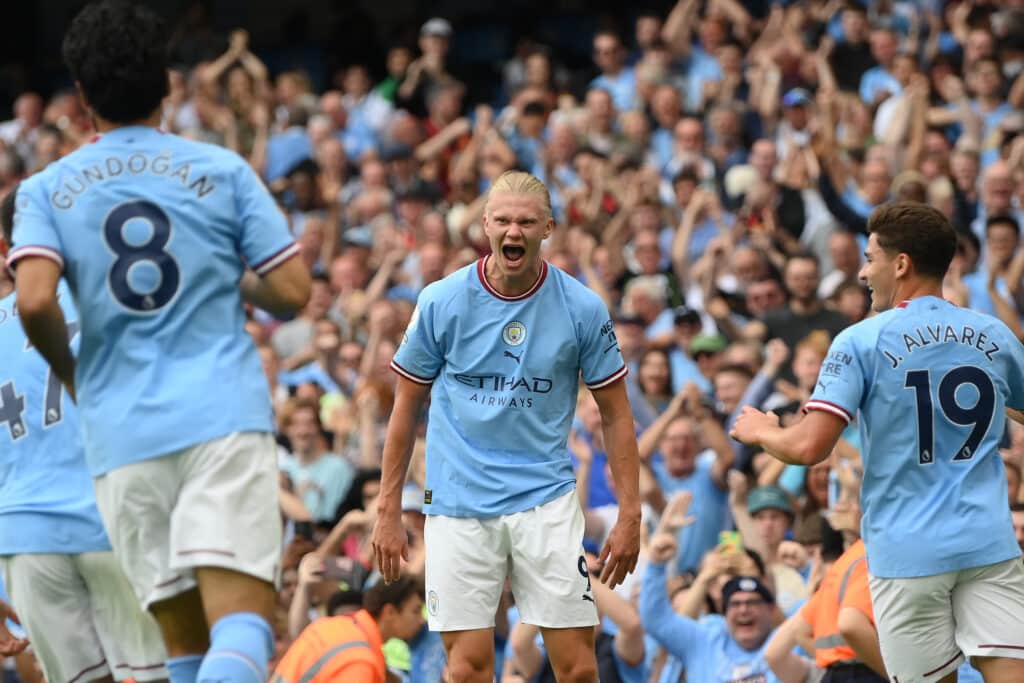 Haaland's Historic Night
The fans at the Etihad Stadium were there to witness a classic striker performance from the former Borussia Dortmund striker. In 63 minutes of play: Haaland scored 5 goals, had 8 shots on target, created 1 chance, successfully dribbled 2/2 times, won 3/3 aerial duels and touched the ball 30 times!
Meaning, that about every 4th touch for Haaland on the night resulted in a shot on target and every 6th touch resulted in a goal!
In Manchester City's 7-0 demolition of Bundesliga's 3rd placed side, Haaland scored more goals than Darwin Nunez, Leo Messi, Son Heung-Min and Kai Havertz each have in the Champions League so far this season! 5 goals on the night also firmly placed the Leeds born striker at the top of this season's Champions League scoring leaderboard, passing Mo Salah, Kylian Mbappe, and Vinicius Junior.
The most mind-blowing of all records though on the night, is Haaland becoming the third-ever player to score 5 goals in a Champions League game. Manchester City's summer signing joins Lionel Messi and Luiz Adriano as the only 3 players to score 5 goals on a Champions League night. Quite remarkably though, Messi and Adriano completed this feat in 84 and 82 minutes respectively – Haaland completed it in 57 minutes!
Haaland's Debut Season in England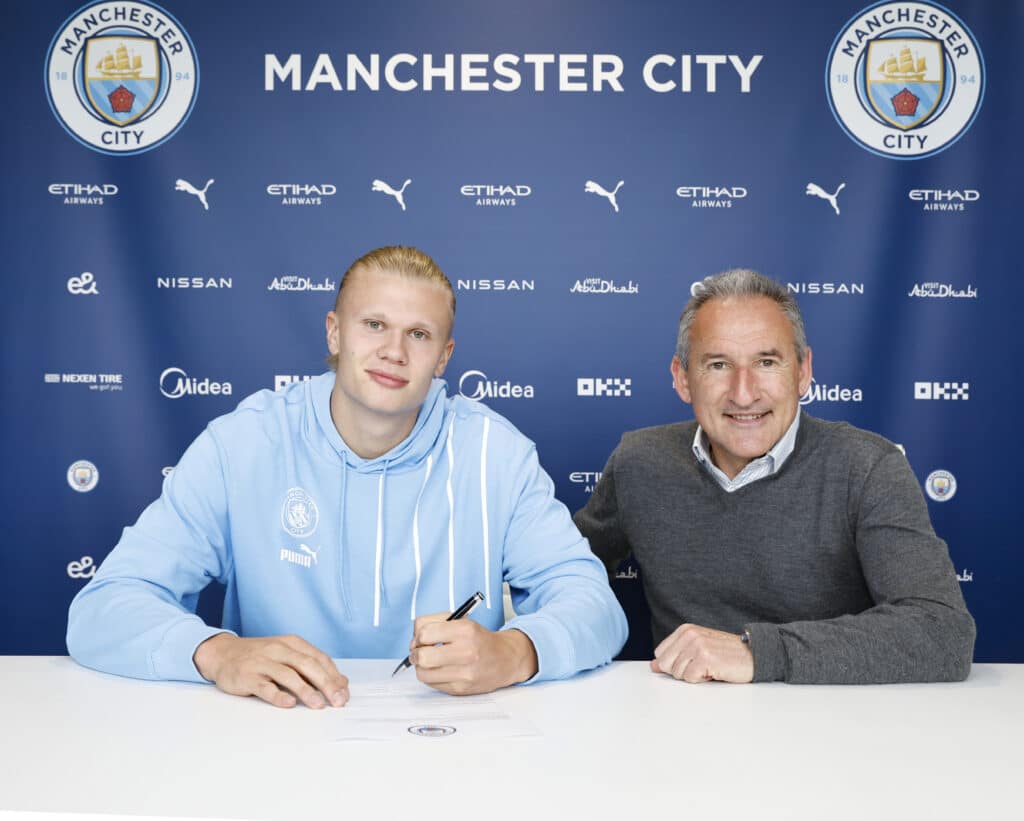 Whilst Haaland's numbers on the night are unbelievably remarkable, the Norwegian's statistics so far in his first full season at The Citizens are also mind-blowing!
The most interesting record broken by Haaland this season is one that has stood at Manchester City for 94 years. Despite it only being March and Haaland playing only 36 games for the Mancunian side, the striker has already broken the record for most goals scored in a single season for Manchester City. In the 1928/29 season, City's Tommy Johnson scored 38 goals and has held the record for most goals scored in a season until last night. Haaland's 4th goal tied Johnson's record and his 5th goal – his 39th goal of the season – broke the long-lasting Man City record. With Manchester City potentially playing another 20 games across the FA Cup, Premier League, and UEFA Champions League, Haaland could continue to find the back of the net and make this an unbreakable record for City.
Another Manchester City record acquired by Haaland is the most goals in a Champions League campaign. With Haaland's 10 goals in the continental competition so far, he has already scored more goals in a single campaign for The Sky Blues than any other City player before.
The 6'4" striker has had his fair share of hattricks this season, 5 to be exact. With that number, he becomes the first Premier League player to score 5 hattricks in a season since Harry Kane did so in the 2016-17 season. Haaland also now has the most hattricks across all of Europe so far this season.
Haaland's historic night in Manchester has also placed him closer to the record for the most goals scored by a Premier League player in one season in all competitions. Currently, on 39 goals, the English-born striker is 5 goals away from Mo Salah and Ruud van Nistelrooy's record of 44 goals in all comps in one season!
Warning: Chelsea fans look away! To put further salt in the wounds of Chelsea fans around the world, Erling Haaland has now scored as many goals as the West London outlet in all competitions so far this season! In fact, Erling Haaland has scored as many or more goals than 8 Premier League teams this season in all competitions. The teams are Southampton, Bournemouth, Everton, Nottingham Forest, Crystal Palace, Wolves, Aston Villa and Chelsea. Meaning, that the Norwegian international has scored at least as many goals as 40% of the Premier League in 2022/23!
Haaland's Career Numbers So Far
Despite Haaland's name already being etched in the history books, he is still at the beginning of his long and illustrious career. I mean, sometimes we forget the guy is 22 years old! He has already scored 33 goals in 25 Champions League games for Salzburg, Borussia Dortmund, and Manchester City. In fact, last night he became the youngest and quickest to reach the 30-goal mark!
With 9 games to spare, Erling Haaland broke Dutch striker Ruud van Nistelrooy's record for fastest to 30 UCL goals. Also, Haaland broke PSG superstar Kylian Mbappe's record for the youngest player to reach 30 goals in Europe's most esteemed club competition. Breaking the Frenchman's record by 116 days, Haaland becomes the youngest player in history to reach 30 UCL goals at the age of 22 years and 236 days. Interestingly and impressively, Haaland is now the quickest player to 10, 20 and 30 Champions League goals!
The Norwegian loves to play on Tuesday and Wednesday nights at home, scoring 22 goals in 12 home appearances. That's 1.83 goals per appearance, and in total the striker has a goal-per-game ratio of 1.32 in the competition. With 3 assists added to his 36 goals, Haaland's 39 goal contributions mean that he delivers a goal or assist every 51 minutes and 40 seconds in the Champions League. Truly mind-blowing stuff!
Placing himself ahead of all-time greats, Haaland has now scored more UCL goals than Wayne Rooney, Samuel Eto'o and Kaka. Along with this, Manchester City's 51.2 million pounds summer signing has scored more UCL hattricks – with 2 – than Henry, Ronaldo and Rooney.
Perhaps this was inevitable though, as Erling Haaland loves a game against RB Leipzig. In 6 games against the East German outfit, the Norwegian has scored 11 goals in the Champions League, DFB-Pokal and Bundesliga. Last night's demolition saw Leipzig become the side that Haaland has scored the most goals against in all competitions.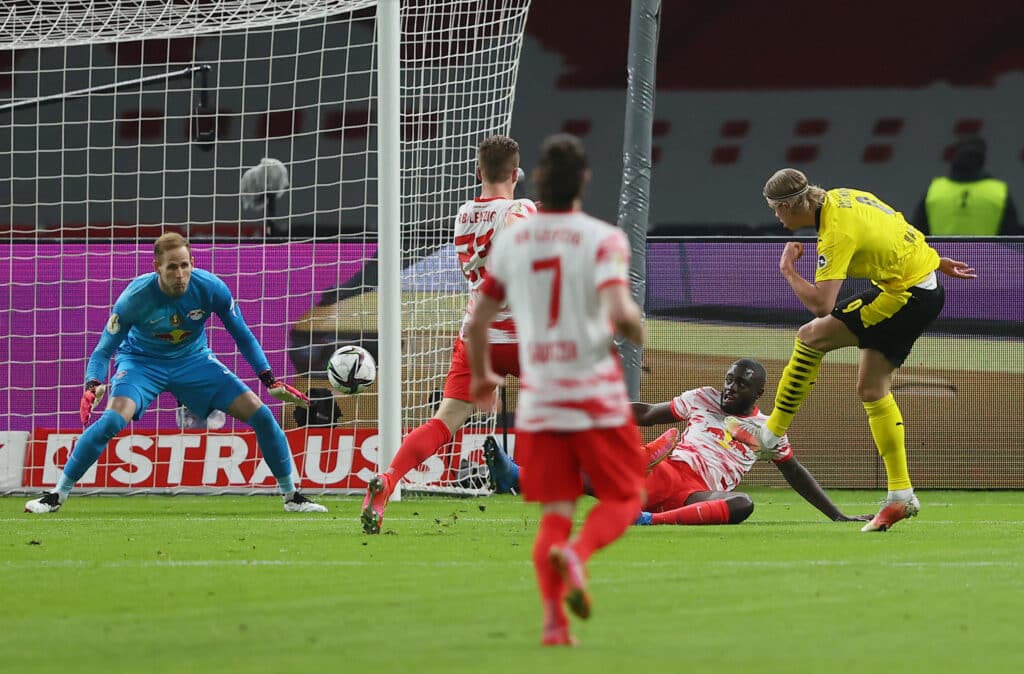 What's next for Erling Haaland?
With more records and statistical superiority in his sight, the 6'4" Man City striker will look to score more goals and become an even more successful and prolific striker. Whilst individual statistics will not supersede trophies for the Norwegian, Haaland will surely love to see his goal-scoring numbers go through the roofing season by season. After all, with agility, speed, and a large and intimidating figure, Erling Haaland is a freak of nature who will continue to score goals with ease.
Erling Haaland has admitted that he was signed by Manchester City last summer to help them win their first Champions League. #MCFC pic.twitter.com/ezNwE0NpgZ

— The Athletic | Football (@TheAthleticFC) March 15, 2023
For this season, Haaland hopes to bring the Premier League back to The Citizens and help them win their 7th Premier League trophy in 11 years. Higher on City's priorities though is the UCL. Haaland will be hoping to bring European success to Manchester and win Manchester City their first-ever UEFA Champions League trophy.
What do you think?
(function(d,s,id){var js,fjs=d.getElementsByTagName(s)[0];if(d.getElementById(id))return;js=d.createElement(s);js.id=id;js.src='https://experience.ex.co/sdk.js';fjs.parentNode.insertBefore(js,fjs);}(document,'script','exco-sdk'));