NFL
Best NFL Anytime TD Props for Divisional Round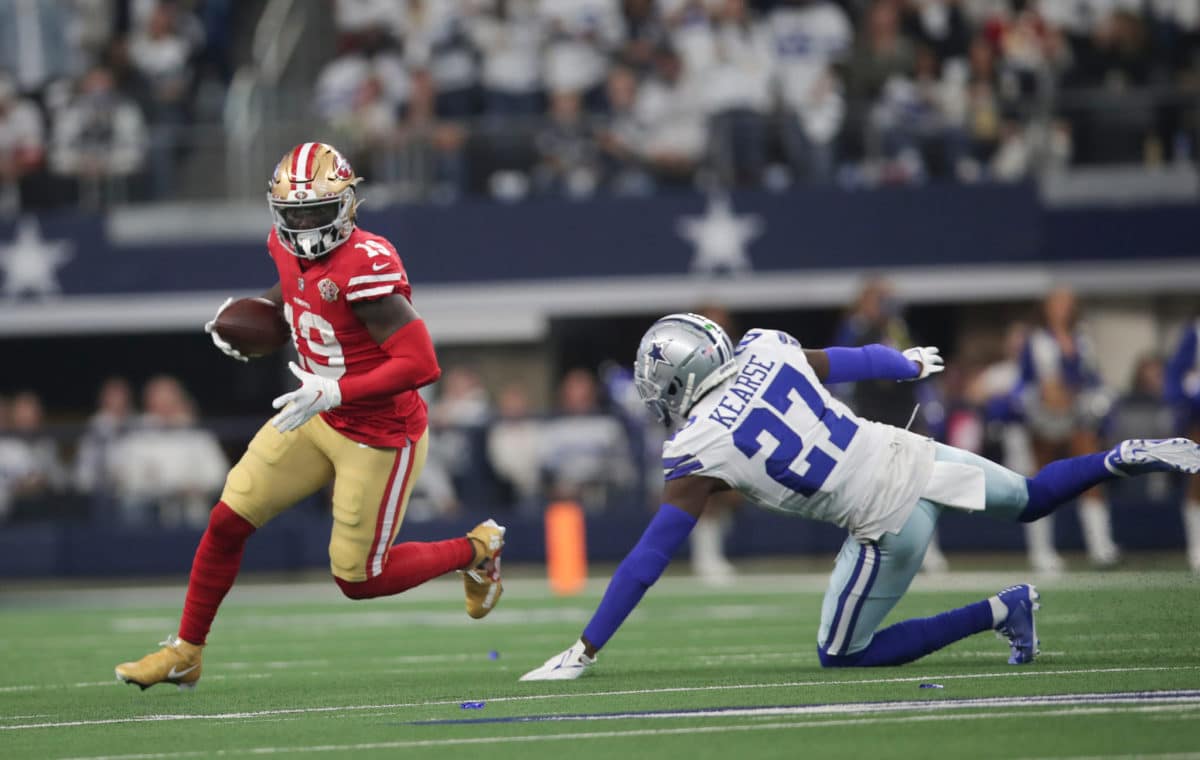 By Scott Kacsmar
With four big games for the NFL's divisional round, we are looking at the best bets for one of everyone's favorite player props: Anytime Touchdown Scorer.
These NFL props can be found at most sportsbooks, and we are going to use the current odds at FanDuel as we look at the safest bets, the best value bets, and the longshots worth a play for each game this weekend.
Jacksonville Jaguars vs. Kansas City Chiefs
Safest Pick: Travis Kelce (-145)
Is it safe? The Chiefs have gotten along just fine with Travis Kelce not scoring a touchdown in six straight games, the longest streak of his career with Patrick Mahomes as his quarterback. You would have to go back to the 2016 season with Alex Smith at quarterback to find the only time Kelce went seven straight games without finding the end zone.
But this is a big game, and Kelce has scored in six of the last seven playoff games for the Chiefs. The only time he did not was in Super Bowl 55, the game the Chiefs did not score any touchdowns.
Kelce caught one of Mahomes' four touchdown passes in Week 10 against the Jaguars. He should be able to end his drought in this game.
Best Values: Isiah Pacheco (+100) and Christian Kirk (+185)
While Jerick McKinnon keeps stealing all the touchdowns in this No. 1 offense, doesn't the longest streak of games with a touchdown catch by a running back (six) have to end any day now?
McKinnon barely carries the ball in this offense, and that role has been served by Isiah Pacheco, who established his career high with 16 carries against the Jaguars in Week 10. He has only surpassed that number in one game since, but Pacheco also has a touchdown in back-to-back weeks coming into this game.
The Jaguars have allowed 13 touchdowns of 1-to-3 yards this season, and 10 of them were rushing scores. Look for Pacheco to pound one in plain and simple in this game.
If you needed a Jacksonville scorer, then Christian Kirk (+185) should be good value again. He had two touchdowns in Week 10 against the Chiefs and has scored in the last two games. Only the Cowboys (22) have allowed more passing touchdowns to wide receivers than the Chiefs (20) this year.
Longshots: Kadarius Toney (+210) and Trevor Lawrence (+400)
You never know if Kadarius Toney is going to do something spectacular or finish with zero catches and one bad hamstring in a game. But he scored his first NFL touchdown in Week 10 against the Jaguars, who did not even bother covering him on the play. It was his breakout game with the Chiefs as he had six touches for 90 yards.
Toney has scored in two of the last three games, including a rushing play against the Raiders in Week 18. With Mecole Hardman still out, Toney can be the gadget player in this offense in the red zone for the most creative plays. He is worth a play this weekend.
As for Trevor Lawrence, he looked good extending on the two-point conversion against the Chargers last week. He has solid mobility and has scored a rush touchdown in four games this year. If the Jaguars struggle on the ground with Travis Etienne like they did in Week 10 again, Lawrence could call his own number in the red zone for a score as a longshot value.
New York Giants vs. Philadelphia Eagles
Safest Pick: Jalen Hurts (-120)
One of the most effective plays for the Eagles this season has been running Hurts in short-yardage situations. Of his 13 rushing touchdowns, nine of them have come from inside the 3-yard line. Hurts only has one passing touchdown from 1-to-3 yards out this season, so the Eagles definitely take a run-first approach in that area.
Hurts scored a rushing touchdown against the Giants in Week 14. He has as many games (one) with a rushing touchdown against the Giants as Miles Sanders has in his career despite Sanders starting against them three more times.
Best Value: A.J. Brown (-105)
Brown has been a fantastic addition to the Eagles this year, and one of the main reasons they had improved to a No. 1 seed and top offense. He caught Jalen Hurts' last touchdown pass back in Week 14 against the Giants.
While playing in Tennessee for offenses that underwhelmed in the passing game in the playoffs, Brown still caught a touchdown in each of the last two postseasons. He usually comes up big in big games.
The Giants did an excellent job of shutting down Justin Jefferson in Minnesota last week after the opening drive, but the Eagles have a few more weapons to use, so it is hard to take any one receiver out of this offense. But even if you have any fear of Hurts not having a good game, Brown is someone who can create a touchdown with his strength and yards after the catch. I would trust him this weekend.
Longshots: Boston Scott (+390) and Daniel Jones (+230)
Is it really a longshot when it's Boston Scott, the Giant Killer? Of his 17 career touchdowns, 10 have come against the Giants. That is an absurd 58.8% of his touchdowns in the NFL.
He scored in both games this year, though it's a longshot because he doesn't play many snaps for the Eagles (usually a number in the teens).
Still, Scott has scored a touchdown in all eight games he has played against the Giants. Not sure what this franchise has ever done to him, but he always comes to play during Giants week.
As for Daniel Jones, the most famous play of his career so far is when he fell flat on his own face in the open field against the Eagles in 2020 in a prime-time game. He looked like he had an 88-yard touchdown run lined up before stumbling 8 yards short of the end zone.
How fitting would it be if he got his redemption and ran in a touchdown for this game? We know he has the mobility to do it, and he had 17 carries against the Vikings last week and 80 yards before he took a few knees. He also rushed for two touchdowns on the Colts in Week 17. He comes into this game playing very well and his legs are a big part of that.
Cincinnati Bengals vs. Buffalo Bills
Safest Picks: Stefon Diggs (+110) and Ja'Marr Chase (+125)
In lieu of having any real Bills-Bengals game in recent years to project from, we are following the old adage of big-time players make big-time plays in big games.
This game has an outstanding matchup of No. 1 wide receivers in Stefon Diggs and Ja'Marr Chase, neither of which were on these teams (or in the NFL) when the Bills and Bengals last officially met in Week 3 of the 2019 season.
Diggs has nine games with a touchdown this season, but the Dolphins did a good job of making sure he never got one in three games against them. He still had 114 yards last week and looked great on a deep ball early in the game.
Chase caught a touchdown against the Ravens last week and is always a preferred target for Joe Burrow. He doesn't have to catch a deep one to score either as he can create YAC with the best of them.
This should be a great one.
Best Values: Gabriel Davis (+165) and Tee Higgins (+190)
It's not always the No. 1 wide receiver who has to shine this time of year. With a touchdown catch this week, that would be four playoff games in a row for Gabe Davis, who would tie the likes of past players such as John Taylor (49ers), Lynn Swann (Steelers), and Jermaine Kearse (Seahawks). Even David Givens (Patriots) ranks second all time with seven straight games with a playoff touchdown catch.
Davis certainly looks the part of a big-play receiver, but his consistency has been an issue. Still, it's a playoff game, it's expected to be a shootout, and Davis always seems to light up when Jim Nantz and Tony Romo are calling the game. Let's ride him again like last week when he delivered.
As for Tee Higgins, this might just be a sentimental pick as he was the player involved in the hit that led to Damar Hamlin's cardiac arrest when these teams met in Week 17. Higgins did nothing wrong on a routine play, and Hamlin has recovered incredibly well and will probably be in attendance Sunday.
Higgins is also a great receiver who would be a No. 1 on many teams, so just for that reason he should be a good pick as he will likely get his share of targets not matched up with Buffalo's best corner Tre'Davious White.
Longshot: Tyler Boyd (+330)
Definitely thought about taking the Cincinnati defense since it scored last week and the Bills gave up a return touchdown last week, but that may be a little too on the nose. The juice on Tyler Boyd is too tempting, and you may recall he caught the touchdown that never officially counted in Week 17 against Buffalo's defense.
When the defense has to focus on Ja'Marr Chase and Tee Higgins so much, Boyd can take advantage of that and has good size for a red-zone target. This game should be high scoring, so there will be multiple touchdown opportunities for the Bengals here. Boyd is good value.
Dallas Cowboys vs. San Francisco 49ers
Safest Pick: Christian McCaffrey (-155)
A game like this is what the 49ers brought Christian McCaffrey in for. He has been great with a touchdown in seven straight games and in 9-of-11 games coming into this weekend.
McCaffrey can score on the ground, or he can do it as a receiver too as we have seen the last two weeks when both of his touchdowns were receptions.
Best Values: Brandon Aiyuk (+220) and Deebo Samuel (+140)
The Cowboys have allowed 23 passing touchdowns this season and a league-high 22 of them were to wide receivers. Brandon Aiyuk has had a strong connection with Brock Purdy, but he dropped a touchdown in the fourth quarter last week after Purdy made an incredible improv play to keep it alive. Aiyuk tried to focus on his footwork in the corner of the end zone and forgot to make his hands work.
While the two many not have a play that nice this week, look for Purdy to go back to his best natural route runner in this offense. Hopefully the hands will work this time.
But if you do want a good pick at better odds, Deebo Samuel is also Mr. Reliable in these moments. He has scored a touchdown in three of his last four playoff games, including a rushing touchdown in Dallas last year.
Longshot: Dak Prescott (+700)
Maybe the last thing Dallas fans want to see is Dak Prescott run against the 49ers in a playoff game, but it's okay if we aren't talking about a quarterback draw in the final seconds again.
Prescott has scored a rushing touchdown in four straight playoff games, so he is more than willing to do that in a big game for this team. Ezekiel Elliott is struggling with just 70 yards on his last 40 carries. Tony Pollard has not scored in four straight games.
We know the 49ers can get pressure, but maybe Prescott runs one in by design this time from a much closer space than he did in last year's failed playoff attempt.