NFL
AFC Championship Game Preview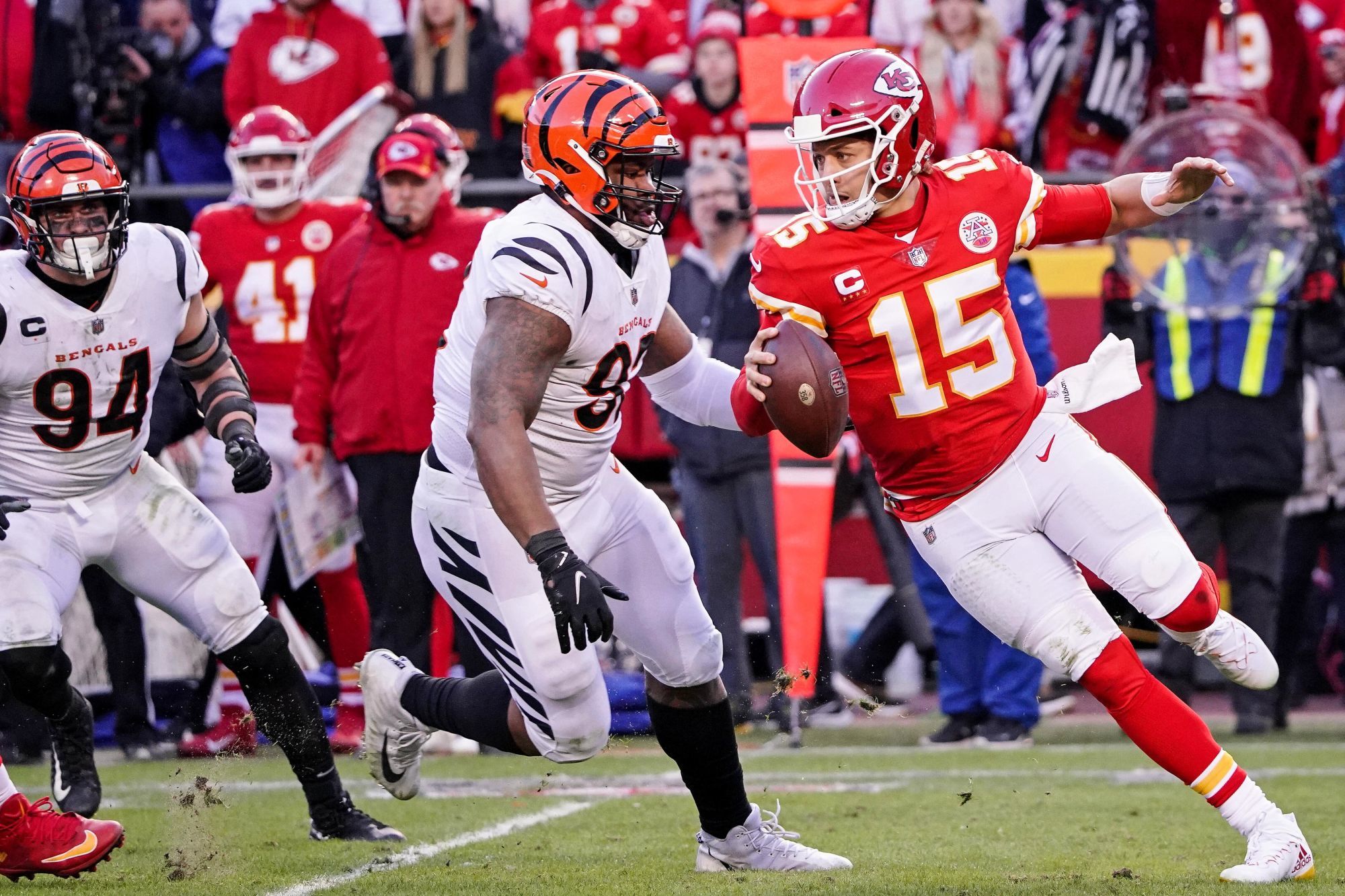 By Scott Kacsmar
The date has changed, but the AFC Championship Game is still the Cincinnati Bengals against the Kansas City Chiefs in Arrowhead just like it was a year ago.
Is the result going to change this time? It did not in Week 13 when the Bengals once again beat the Chiefs by a 27-24 final, though overtime was not necessary as Joe Burrow ran out the clock on Kansas City's defense.
The Bengals are back-to-back AFC North champions. They just beat a Buffalo team by 17 points on the road after Buffalo had gone 26 straight games without a loss worse than 6 points. Now they set their sights on improving to 4-0 against Patrick Mahomes and the Chiefs, doing it twice in Arrowhead in title games.
Everything just seems to be going Cincinnati's way in this new AFC the last season and a half, and now Mahomes has a high-ankle sprain that he suffered in the first quarter against Jacksonville. He is almost certainly going to play, but he is just as certain to not be 100% as he could barely get the handoff on some running plays last Saturday. Some of the throws came out funny too, though he did find a way to lead two scoring drives in the second half.
The sportsbooks are definitely taking notice as this is the kind of injury that usually knocks a quarterback out for a couple of games. The Chiefs have gone from opening as a 2.5-point home favorite to a 2.5-point underdog, though the line continues to move and has gone back to Bengals -1.5 with a total of 47 points.
This feels like a major legacy-shaping game in the AFC. Either the Bengals are going to back-to-back Super Bowls, or the Chiefs are gutting one out for a third trip in the last four years.
We have a full preview, predictions, and betting advice for this epic matchup below.
The Last Meeting and Exploiting Mahomes' Mobility
Week 13: Bengals 27, Chiefs 24
The Chiefs had a couple of adjustments to make in their latest matchup with the Bengals, and they failed to deliver on nearly all accounts after blowing a fourth-quarter lead and losing 27-24 again.
For one, could they slow down Burrow and the receivers? Negative, because with Ja'Marr Chase finally back in the lineup that day, Burrow completed 25-of-31 passes for 286 yards and the Bengals even dropped an easy touchdown in the end zone on a third down. Burrow was charted with just two bad throws, three drops, and was sacked once on what was literally the only pressure the Chiefs got in the entire game.
Even the run game worked really well for the Bengals as it was one of three games all year where they topped 150 yards. Burrow contributed 46 of those yards to go along with a touchdown run. He has shown good mobility against the Chiefs after escaping a few sacks with scrambles in last year's championship game too.
But in Week 13, the Bengals also called an abysmal fourth-and-1 play in the red zone, so they easily could have topped over 30 points that day. They also ran out the final 3:19 on the clock to keep the ball from going back to Mahomes, which is always the best way to close a game.
So, 27 points on eight drives when you run out the clock on the last drive is a very efficient day on offense. As for the defense, the Chiefs hit two big plays to Marquez Valdes-Scantling in this one for 71 yards in the third quarter, but Mahomes was still held to 223 yards passing for the game.
In the fourth quarter with the Chiefs leading 24-20, the Bengals produced a fumble off Travis Kelce near midfield, which set up Burrow and company for the go-ahead touchdown. When Mahomes got the ball back, the drive stalled after a quick sack on third down made for a 55-yard field goal attempt, which kicker Harrison Butker missed. The Bengals ran out the clock.
But the timely third-down pressure on Mahomes was a flashback to the 2021 AFC Championship Game where the Bengals switched up to a three-man rush in the second half and confused Mahomes numerous times. Mahomes ended up getting sacked four times in the fourth quarter, and three of those plays were from a three-man rush. He then threw an interception in overtime, which set up the Bengals for the game-winning field goal.
It was the worst half of Mahomes' career. Part of Cincinnati's success against him is making him indecisive and holding onto the ball longer than he usually does. Look at this data from Next Gen Stats on tracking Mahomes' average time to throw over the last two seasons:
In the 2021 regular season, Mahomes' average time to throw was 2.84 seconds (ranked 12th longest) and it was 2.89 seconds in 2022 (ranked 12th longest).
2021 Week 17 vs. Bengals: Mahomes' average time to throw was 3.11 seconds, his highest game in 2021.
2021 AFC Championship Game vs. Bengals: Mahomes' average time to throw was 3.03 seconds, another above-average game for him.
2022 Week 13 vs. Bengals: Mahomes' average time to throw was 3.21 seconds, his highest game in the last two years.
Mahomes' time to throw was above 3.0 seconds in each of his last five losses going back to last year's initial meeting with Cincinnati.
There is definitely something to mimic here as blitzing Mahomes is a bad idea that most defenses have learned to avoid. But in the 2020 season, Mahomes only lost two games all year against the Raiders in the regular season and the Buccaneers in the playoffs. You'll never believe what happened in both.
The Raiders used their four-man rush to make Mahomes hold the ball for an absurd 3.71 seconds per throw. He traveled 495 yards before throwing the ball or taking a sack, a record in any game since 2016 until he broke it in Super Bowl 55 against Tampa by scrambling for 497 yards on his dropbacks while getting pressured 29 times. I could not locate his time to throw in that game from Next Gen Stats, but Pro Football Focus has him at 3.51 seconds that night, which sounds accurate.
But only the Bengals have consistently made Mahomes hold the ball for over 3.0 seconds the last two years. Once is an accident, twice is a coincidence, but three times is a pattern. Cincinnati defensive coordinator Lou Anarumo has been coming up with awesome plans for this overachieving defense in the last two postseasons, but we'll see if he changes things up this week to account for Mahomes' injury.
(Patrick Mahomes) Injury Watch
Well, this one is obvious. Everyone is holding their breath to see if the Bengals will get left tackle Jonah Williams (kneecap) and right guard Alex Cappa (ankle) back for the offensive line, right?
It is possible they return, but there is no announcement yet for their status. The Bengals did a very good job without them in Buffalo last week, though the snow may have helped not give the Bills a strong pass rush. Then again, the Bengals played on the same surface and pressured Josh Allen nearly twice as effectively.
Anyways, this is the Mahomes injury watch. High-ankle sprains have degrees of severity, and you are not going to get a straight answer from the Chiefs (nor should we) on how severe this one is. But it was severe enough to temporarily knock Mahomes out of a playoff game, and he looked very hobbled at times just getting a run play off or when he scrambled for one first down. It was probably the worst a quarterback has looked in a big game injured since Washington kept playing Robert Griffin III on a bad leg a decade ago.
But while Mahomes gutted it out and even led a nice touchdown drive in the second half, the disparity in how he finished the game with the impressive athleticism he started it with was striking. Mahomes looked to bring his A+ game on that opening drive, constantly beating the Jaguars with different throwing angles and using his legs to get to them. It was great stuff while it lasted.
With this type of injury, it usually is a bad one for quarterbacks that keeps them out for 2-to-3 games. This has been the case in recent years for Mac Jones, Jimmy Garoppolo, Baker Mayfield, and Daniel Jones. Ben Roethlisberger had one in the first half of a game in 2011 and also stayed in to throw a touchdown on it, but even with 11 days of rest before playing the following Monday, he was awful and a sitting duck against a strong San Francisco pass rush in a 20-3 loss.
Mahomes had a high-ankle sprain in Week 1 of the 2019 season. But he was not as visibly hobbled in the game as he was this time. He finished it, then he threw for over 400 yards in Oakland against the Raiders in an odd game as the Chiefs scored all 28 of their points in the second quarter and neither team scored after halftime.
Well, he's not playing the Raiders this week, and if anything, he might look more like the quarterback who had his ankle tweaked against the Colts in Week 5 that year in a shocking 19-13 loss, which was still the only time in Mahomes' first 50 starts where he did not score at least 22 points.
Health really matters, and it will be interesting to see if the Bengals exploit this injury and test out his mobility by sending more pressure than usual. Mike Hilton is a defensive back who is known to blitz, so that could be an option. Sam Hubbard was a terror for Mahomes in last year's title game, and he could have himself a day if the quarterback's mobility is really that compromised.
But if the Bengals are going to dictate this matchup, then the Chiefs are in trouble. Andy Reid has to come up with his plan of the year, whether it's featuring the ground game with Isiah Pacheco, more screens and gadgets for Kadarius Toney, using running back Jerick McKinnon as a slot receiver, or doing what they did with Kelce last week when he caught 14 balls for 98 yards on a lot of underneath routes. The Chiefs are going to have to protect Mahomes, because if his time to throw is over 3.0 seconds again in this matchup, you can chalk up another loss for the Chiefs against the Bengals.
If anything, this is a great week to work on the quick, short passing game not unlike what the Chiefs did to Buffalo two years ago in the 2020 AFC Championship Game when Mahomes had a foot injury and was knocked out of the previous game with a nerve injury. They have to change it up and protect him better in this one.
Stats to Know
Here are some relevant and informative statistics for these teams heading into this matchup.
Spread records:
The Bengals are 13-5 ATS this season, which ranks second.
The Chiefs are 6-11-1 ATS this season, which ranks 29th.
Since drafting Joe Burrow in 2020, the Bengals are a league-best 36-18-1 ATS (66.7%), the only team above 60%.
Since 2021, the Bengals are 17-4 ATS (81.0%) in road games, the only team above 69%. They are also 5-1 ATS in playoff games and 7-3 ATS as a road favorite.
In the Mahomes era, the Chiefs are 7-5 ATS (58.3%) in playoff games.
Mahomes is 7-1-1 ATS as an underdog in his career, though he failed to cover for the first time as a home underdog this season against Buffalo (-2.5), a 24-20 loss. This game is trending to be only his second career game as a home underdog.
Of the 12 Conference Championship Games since 1970 with a spread under 3 points, 10 of the 12 games have been decided by double digits, and the favorite is 6-6 SU.
The Chiefs have had at least a fourth-quarter or overtime tie in 31 straight games.
The Chiefs have not lost by more than 4 points in 31 straight games, the sixth-longest streak in NFL history (record is 34 games by the 1940-42 Bears).
Scoring marks:
The Colts (17) are the only team to hold the Chiefs under 20 points in their last 27 games.
The 2022 Chiefs are the ninth team since 1978 to have a fourth-quarter lead in every game of a regular season. They can become the fourth team to do it in 19 games in a season including playoffs, joining the 1984 49ers, 2007 Patriots, and 2013 Seahawks.
In six playoff games the last two years, the Bengals have never scored more than 27 points, but they have never allowed more than 24 points either.
The Bengals are 3-1 when allowing at least 24 points this season.
The Bengals are 13-0 when scoring more than 20 points this season and 1-4 when not surpassing 20 points.
The Chiefs have eight games with 30 points this season and all but one of them have come on the road.
The Chiefs have scored more than 27 points at home once this season.
The Bengals have held their last eight opponents under 25 points.
Team stats:
The Chiefs are No. 2 at red zone touchdown percentage on offense and No. 31 at red zone touchdown percentage on defense.
The Chiefs have allowed 33 touchdown passes this season, four more than any other defense.
The Bengals are second in the NFL in first downs gained via penalty (40) despite playing one fewer game.
The Chiefs (48.7%) and Bengals (46.1%) rank No. 2 and No. 3 in third-down conversion rate on offense.
Only the Saints (11) have fewer fourth-down attempts on offense than the Chiefs and Bengals this season, who have 12 attempts each. Kansas City is 9-of-12 (75%) while the Bengals are 3-of-12 (25%, lowest in NFL).
Player stats:
Mahomes is 54-3 (.947) when the Chiefs allow fewer than 27 points, but two of the losses were this season (20-17 vs. Colts, 24-20 vs. Bills).
Mahomes is 15-15 (.500) at fourth-quarter comeback opportunities, tied for the second-best record among active starters.
Burrow is 5-12 (.294) at fourth-quarter comeback opportunities, which ranks 22nd among active starters.
Burrow has not led a fourth-quarter touchdown drive in six career playoff games while he has one interception and his defense has a fumble return touchdown in the fourth quarter.
Ja'Marr Chase had 266 yards and three touchdowns in his first game against the Chiefs. He had 54 yards and a touchdown in the 2021 AFC Championship Game and 97 yards in Week 13 this year.
Travis Kelce has scored a touchdown in two of the last three meetings with Cincinnati, but he did have that big fumble at midfield in Week 13. The Bengals held him to 56 yards.
For Week 13, running back Joe Mixon was inactive and backup Samaje Perine rushed 21 times for 106 yards, his most rushing yards since 117 in a game in 2017.
In Week 13, the Bengals pressured Mahomes on 35.5% of his dropbacks, his highest pressure rate since Week 1 according to Pro Football Reference.
The Fatal Flaw
What is the factor most likely to lead to each team's downfall this postseason and in this matchup in particular?
Bengals – Offensive Line
Between getting an injured Mahomes with his weakest supporting cast, then the prospects of extra prep time to face a rookie quarterback (Brock Purdy) or the Eagles in the Super Bowl, it feels like the Bengals are going to do a serviceable job on defense the rest of this postseason.
It comes back to what it usually does with Cincinnati: offensive line. The unit looked good down three starters in Buffalo, but they should get a tougher test this week with the Chiefs, who ranked No. 2 with 55 sacks. If they can get past this game, then they'll face the Eagles (70 sacks) or 49ers (Nick Bosa's league-high 18.5 sacks). That's going to be a ton of sack talk, but it is warranted with this offense.
In his last 30 games, Burrow is 21-1 when he takes fewer than five sacks and 1-7 when he takes five or more sacks.
Simple as that. The only game they survived a sack fest was last postseason when Burrow was sacked nine times in Tennessee, but Ryan Tannehill helped with three interceptions in a 19-16 final.
Elite pass rushers are usually the driving force behind big sack days against Burrow and his line, though the Bengals might be catching a break here. While the Chiefs ranked No. 2 with 55 sacks, they were led by Chris Jones, the All-Pro defensive tackle with 15.5 sacks, tying a career high.
But Jones has zero sacks in 13 career playoff games, one of the hardest stats to believe for a player of his caliber. That does not mean he has not been useful in several playoff games for the Chiefs, but not once has he taken a quarterback down to leave his mark in a big spot. Jones and the Chiefs had a hand on Burrow a few times in last year's title game but he scrambled away for good gains.
Wouldn't this be the best week possible for Jones to break that streak, which he is well aware of, by sacking Burrow a few times and helping Mahomes out? What if the Chiefs' best defensive player was finally the headliner in a playoff game?
That is what a well-rounded team would do, but the Chiefs have put a lot of their eggs in the quarterback basket.
Chiefs – Superman's Kryptonite
If the Chiefs survive this game, then maybe we can talk about why the No. 21 defense in points per drive is unlikely to win a Super Bowl, but the focus here has to be on Mahomes' health. If they always come up short against this team when he's been healthy, what is going to happen when he had a high-ankle sprain eight days earlier?
Mahomes already went from Superman to Clark Kent in the second half of last year's AFC Championship Game. What if Clark shows up for the opening drive this week? No one reliably knows how he's going to play on this injury until the game is happening.
It is also going to be very cold with temperatures likely in the teens, which is not good for an injury like this where you want to stay warm. The Chiefs had a very cold game against Seattle last month and they had a season-low 297 yards of offense. They won 24-10.
It would be great if Mahomes' teammates could have his back this week, and the defense can step up and shut down a good offense the way the Bengals did to Buffalo last week. The run game with Pacheco and McKinnon could have a huge game. Maybe win the turnover battle for a change as the Chiefs are still minus-1 on the season even after going plus-2 against the Jaguars last week.
But the standard has been set so high in Kansas City with Mahomes, that it is just hard to see his team delivering for him this week. That is why he is going to win the MVP award for a second time, and this is partially why no MVP has been able to win a Super Bowl in the same year since Kurt Warner with the 1999 Rams. You cannot rely on just one player this time of year to keep advancing.
The injury is bad timing, but the Chiefs were already in for a dogfight before that happened against this Cincinnati team that just seems to have their number on both sides of the ball.
Best Bets and Prediction
We know the Bengals are playing very well on this 10-game winning streak, and they have all the confidence in the world they can win this game because of past success against the Chiefs.
Something that stands out is that in Week 13 against the Chiefs and in both playoff games against the Ravens and Bills, the Bengals are playing games with only a total of 16 possessions each when excluding kneeldowns. This only gives your opponent about eight drives, so any mistake like Kelce's fumble, Butker's missed 55-yard field goal, or the Ravens coughing up a quarterback sneak for a 98-yard touchdown gets magnified. It is extra harmful than it would be in a game with 11 or 12 drives.
The Bengals' opponent still has to have a modicum of efficiency for the game to play out that way as constantly going three-and-out or turning the ball over will make it hard to keep the drives that low. Just see Week 18 against Baltimore's backups when that game had 28 total drives. But we know the Chiefs average the most yards per drive in the league and Reid and Mahomes are going to have some plan to put up a good fight. They have three losses together by more than 8 points in 92 games.
But where does the injury show up this week? Is it on a couple third-down throws where his mechanics are just a little off and the drive ends in a punt or field goal? Is it on a third-and-1 where they do some goofy thing like a direct snap to Noah Gray instead of a normal run and it doesn't convert? That happened twice last week against Jacksonville as the Chiefs failed on a pair of third-and-1 runs. Does he rush a throw because he doesn't feel he can escape the defender and it gets intercepted?
Those two or three failed possessions where Mahomes is compromised by his ankle could be all the difference in winning and losing this game as we have seen how razor thin the margin usually is between these teams.
Cincinnati may have been the right pick all along with the better defense, but the high-ankle sprain to the pass-happy team's quarterback seals the deal. The Bengals should win this game and improve to 4-0 against the Chiefs, and they may even win this one by more than a field goal this time.
I do not like the total (O/U 47 points) in this one as there is so much uncertainty on what kind of Mahomes we are seeing here, but the teased number should work either way at over 41 or under 53. I also like Chase to score a touchdown for the third playoff game in a row as the Chiefs have not had answers for him or most No. 1 receivers this season.
Hard to believe the Bengals are in a favorable position to reach back-to-back Super Bowls after 30 straight seasons without a playoff win, but this is what the new AFC looks like. We will probably see this matchup again in a season or two.