NFL
Where Should the Giants Find Receivers for Daniel Jones?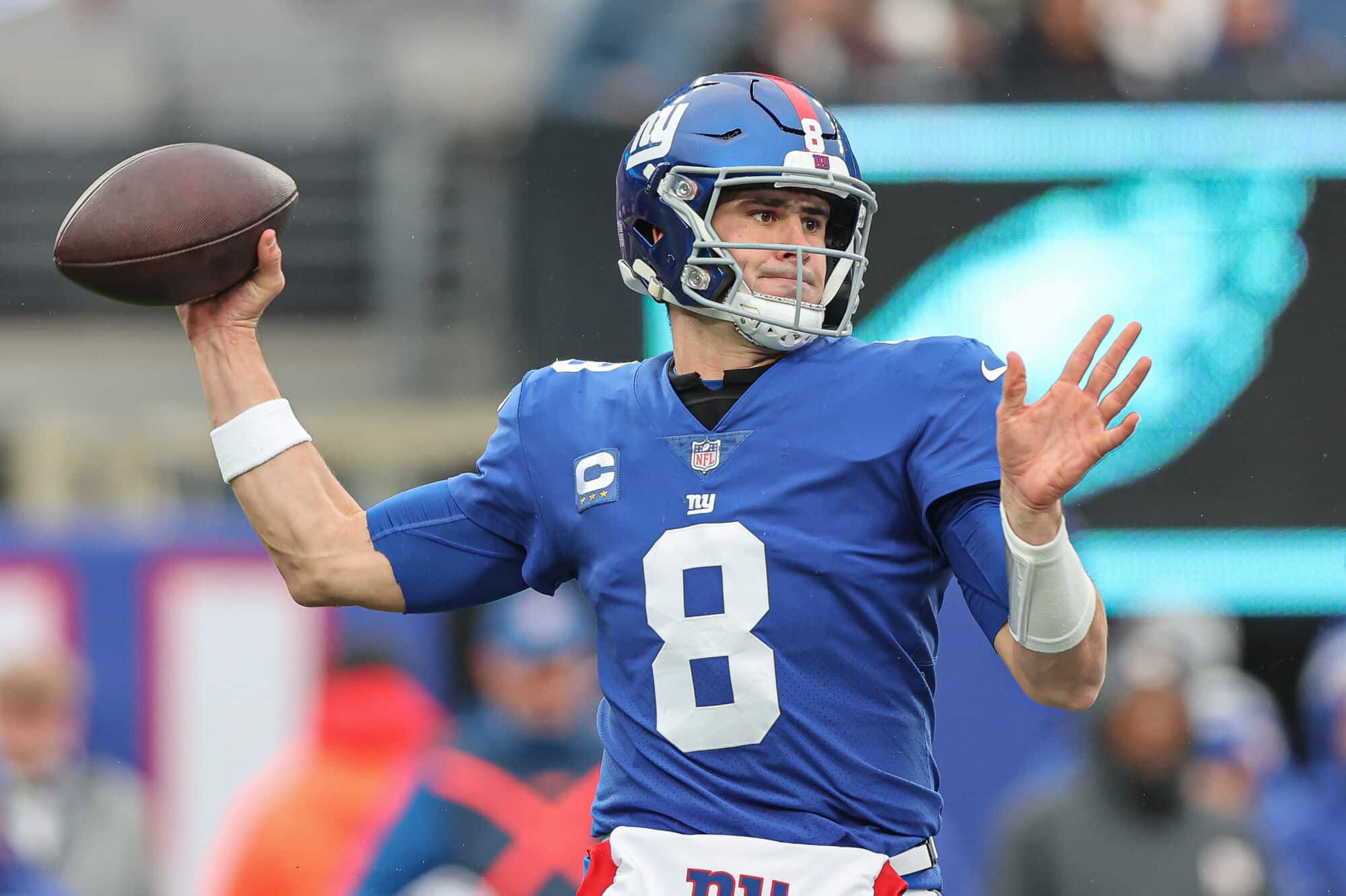 By Scott Kacsmar
The New York Giants did not let the suspense build on whether Daniel Jones would return for a fifth season and beyond with the team. Jones has received a four-year extension worth up to $160 million, making him one of the better-paid quarterbacks in the league while still in the awkward position of waiting for a true breakout year.
Sure, Jones is coming off a season with a playoff win and one where he ranked No. 6 in QBR, but once you dig just a little deeper beyond the surface, you will see that things are still not consistently where they need to be.
But a big part of that blame could be on the revolving door of disappointment with Jones' receivers in New York. Now that the team has traded for Darren Waller, what else can the Giants do to help make sure 2023 is the best Jones season yet as he embarks on the start of his second contract?
Why Jones Still Has Not Had a Breakout Year
First, we need to identify that the Giants are more than just a "great receiver away" from competing for a Super Bowl in the weakened NFC. With Brian Daboll as the reigning Coach of the Year, there is a want by fans to compare this situation to the Buffalo Bills in 2020 when Daboll took off in his third year offensively with Josh Allen at quarterback thanks to the addition of Stefon Diggs at wide receiver.
If the Giants can just find a Diggs, then Jones will be a top-tier quarterback.
But there is a big issue with marking off Jones as having "arrived" at the position in 2022 just because the team won a playoff game. First, the Giants started 6-1 with Jones leading five game-winning drives, becoming the first quarterback in NFL history to lead five game-winning drives through seven games. Most of those wins were against subpar teams too.
That also means the Giants finished 3-6-1 in the regular season. While Jones had the lowest interception rate (1.1%) in the league, that stat is really the one a quarterback has the least control over. Jones was also 28th in touchdown pass rate (3.2%), which is bad.
The Giants were No. 18 in yards per drive and No. 17 in points per drive, so it was basically a mediocre offense. While Jones ranked No. 6 in QBR (60.8), it was a down year for quarterback play. Do you want proof? Jones' QBR of 60.8 would have been tied for 12th in 2019 and it would have ranked 16th in 2020.
QBR is also a stat that loves quarterback runs to death, and that is no doubt one thing Jones does very well. He can scramble effectively, he can run by design, and he can run in some touchdowns. Just on passing plays, Jones ranked 20th in DVOA at Football Outsiders, which again speaks to a below-average passing performance.
Jones should really consider sending a nice fruit basket or gift to the 2022 Minnesota defense. Jones has passed for 300 yards in four of his last 43 games, and half of those efforts were against Minnesota late in the season, including his first playoff win. This was a Minnesota defense that also allowed Mac Jones to throw for a career-high 382 yards on Thanksgiving.
Jones is still 3-18 when he throws the ball more than 35 times in a game in his career. Daboll did not so much greatly improve his quarterback's game as he covered him up with a better running game and defense, and he allowed him to do some of the mobile things he does better more often than the previous regime.
It is really hard to find cases of a quarterback having a true breakout season in Year 5 or later. Alex Smith did it before, but that was a rare case. Still, believers will say it was the receivers (or lack thereof) for Jones, and there is an argument there.
The Giant Mess at Receiver
In four seasons, Jones' most prolific receiver has been Darius Slayton, which does not say a lot about the receiving rooms the Giants have put on the field. Odell Beckham Jr. left just before the Giants drafted Jones in 2019.
Sterling Shepard is the No. 2 receiver for Jones, and he has missed more games (36) than he has played (32) the last four years due to various injuries. Slayton and Shepard are both solid receivers, but they should not be a No. 1 on any team.
It gets worse:
Tight end Evan Engram was better known for his drops than anything, though he did have a respectable first year in Jacksonville in 2022.
Golden Tate played out his last two seasons with the Giants in 2019-20 before retiring.
Kadarius Toney was a first-round pick in 2021 that multiple coaching staffs for the Giants could not find a role for, and he is frequent traveler to the blue tent and MRI room, which is why he was traded to the Chiefs last year.
Kenny Golladay was a massive free-agent bust in New York, catching one touchdown in 26 games and averaging 23.2 yards per game after he averaged 65.3 yards per game in Detroit.
Some of this looks really bad for the receivers, but at the same time, their success with quarterbacks not named Jones makes you very curious how much of the problem is quarterback vs. receiver. Trevor Lawrence had no problem getting a career year out of Engram this year. Patrick Mahomes will find Toney for as long as he is healthy next year as a potential No. 1 wide receiver in Kansas City. Golladay was not just a one-year-wonder in Detroit.
Jones was marked as being on target with 81% of his passes in 2022, the highest mark in the league according to Pro Football Reference. His "Danny Dimes" nickname made some sense in his 2019 rookie season when some of his best throws were down the field to receivers who did not have huge separation. He had bigger issues that year with fumbles and sacks more than anything else. He is not woefully inaccurate or anything.
But in the last three seasons, there is this general malaise with Jones as a passer. Maybe that is the receivers, maybe that is Jason Garrett (former offensive coordinator) and Joe Judge's coaching in 2020-21, but some of it can also be Jones himself.
When you see him throw so well to unheralded receivers like Richie James and Isaiah Hodgins against a bad defense like Minnesota, you have some optimism that maybe he can beat a better defense like Philadelphia if he has stronger weapons.
But where exactly does New York find those players for him?
Enter Tight End Darren Waller
A surprising move prior to the official start of free agency was the Raiders sending tight end Darren Waller to the Giants for a third-round pick. This gives Jones a legit weapon and the best tight end he has ever played with. Last year, the Giants had Daniel Bellinger as their leading receiver at tight end, and he caught 30-of-35 passes for 268 yards and two touchdowns. Nice efficiency but not a big game changer.
Waller can be that player, but he has to stay healthy. Yes, this already sounds troublesome given the past failures with Toney and Golladay. Waller had back-to-back years with over 1,100 yards in 2019-20, but he has missed 14 games the last two seasons. Even when he has played, it has not been as good as he averaged just 43.1 yards per game in 2022. He also has not been a big red-zone target with 2-to-3 touchdown catches a year except for that 2020 Pro Bowl season when he caught nine scores in his best year.
But Waller is fast and he has better hands than Engram ever did. He can open this offense up and give them a dimension they were lacking in 2022. For just a third-round pick, this was a fine move.
Good Luck Finding a Diggs
The Giants are getting Sterling Shepard and 2022 second-round pick Wan'Dale Robinson back at wide receiver, but both are coming off ACL tears. Hodgins is back, but the only other notable wide receiver is Collin Johnson, who is coming off a torn Achilles. Again, Odell Beckham Jr. must have cursed this wide receiver room before he left.
Adding Waller was nice, but clearly, the Giants still have work to do at wide receiver. Unfortunately, this was never going to be a great free-agent period for the position. Players who were unlikely to have any transformative effect on Jones or Daboll's offense have already been signed, including JuJu Smith-Schuster (Patriots), Jakobi Meyers (Raiders), and Allen Lazard (Jets).
Does bringing Adam Thielen, DJ Chark, Nelson Agholor, or Sammy Watkins really move the needle for the Giants? I think not. This is why we are seeing teams pursue some aggressive moves for wide receivers via trade these days.
This was all the rage last offseason when Tyreek Hill (Dolphins), Davante Adams (Raiders), A.J. Brown (Eagles), and Marquise Brown (Cardinals) were all moved as No. 1 wide receivers.
You could argue the Stefon Diggs trade from Minnesota to Buffalo in 2020 set the precedent for this type of move now. Acquire a young receiver who has proven his worth already to help your young quarterback.
The Bears just moved the No. 1 pick in the draft to Carolina for a haul of picks and No. 1 wide receiver D.J. Moore, so there is another one off the list. It is not like the Giants can just call up and ask for Ja'Marr Chase, Justin Jefferson, Deebo Samuel, or CeeDee Lamb.
They may be able to entertain the Seahawks about DK Metcalf, a name that has come up in trade discussions before, but his last two seasons have not been that great after such a good start.
Instead of reuniting with Beckham as another receiver coming off an ACL injury, getting DeAndre Hopkins from Arizona is more realistic. But he creates little separation and has to win a lot of jump balls even in his prime. He will be 31 this season and has already shown signs of slowing down.
Brandin Cooks has seemingly been traded to half the NFL, but that is a speedier option the Giants could keep open. He would be more of an asset than signing Mecole Hardman, the mistake-prone Kansas City receiver who was always a bit of a poor man's Tyreek Hill.
Maybe Jerry Jeudy is the kind of young receiver the Giants could target in a trade just because Sean Payton is a new coach there and does not have that invested interest in him. However, Jeudy was the best receiver for Russell Wilson last year, so they should not mess with that chemistry.
The Giants are likely going to have to settle for an average veteran to share snaps with Shepard, Hodgins, Robinson, and the tight end Waller. That may not be the most exciting solution, but the next run on making outrageous moves for wideouts is going to have to wait another offseason or two. Give Justin Jefferson another year or so before he concludes he will never win anything playing with Kirk Cousins.
But there is still the draft.
Draft Targets for the Giants
The Giants hold the 25th, 57th, and 89th pick in the draft's top 100 picks this year. At least one of those picks almost certainly needs to go on wide receiver.
He may not be there at No. 25, but should the Giants move up a little, an explosive receiver like Tennessee's Jalin Hyatt might make the most sense for this offense. That would give them the speed element down the field while Shepard works the slot, Hodgins runs the shorter routes, and Waller can use his speed down the seam too. It would give Daboll and Jones more options than last year for sure.
Another receiver expected to be one of the first five or six off the board is USC's Jordan Addison. He had that monster year at Pittsburgh in 2021 with 100 catches, 1,593 yards, and 17 touchdowns, then he went to USC and had 875 yards and eight more touchdowns in 11 games last year. He can take short throws a long distance.
Conclusion: Help Jones Help Himself
Since drafting Jones in 2019, the Giants have spent multiple top 20 picks on the offensive and defensive lines. Now might be the time they start supplying their quarterback with more weapons, especially when they are paying him like one of the best in the league who can get production out of anyone they pair him with.
But as the last four seasons have shown with Jones, he still needs help to become one of those quarterbacks. He still has more growing and developing to do. Despite one playoff win, Daboll's job is far from finished. But if the Giants are going to take this four-year contract for Jones seriously, they need proper reinforcements.
Finding some receivers who will have more touchdown catches than scheduled MRIs would be a good start in 2023.