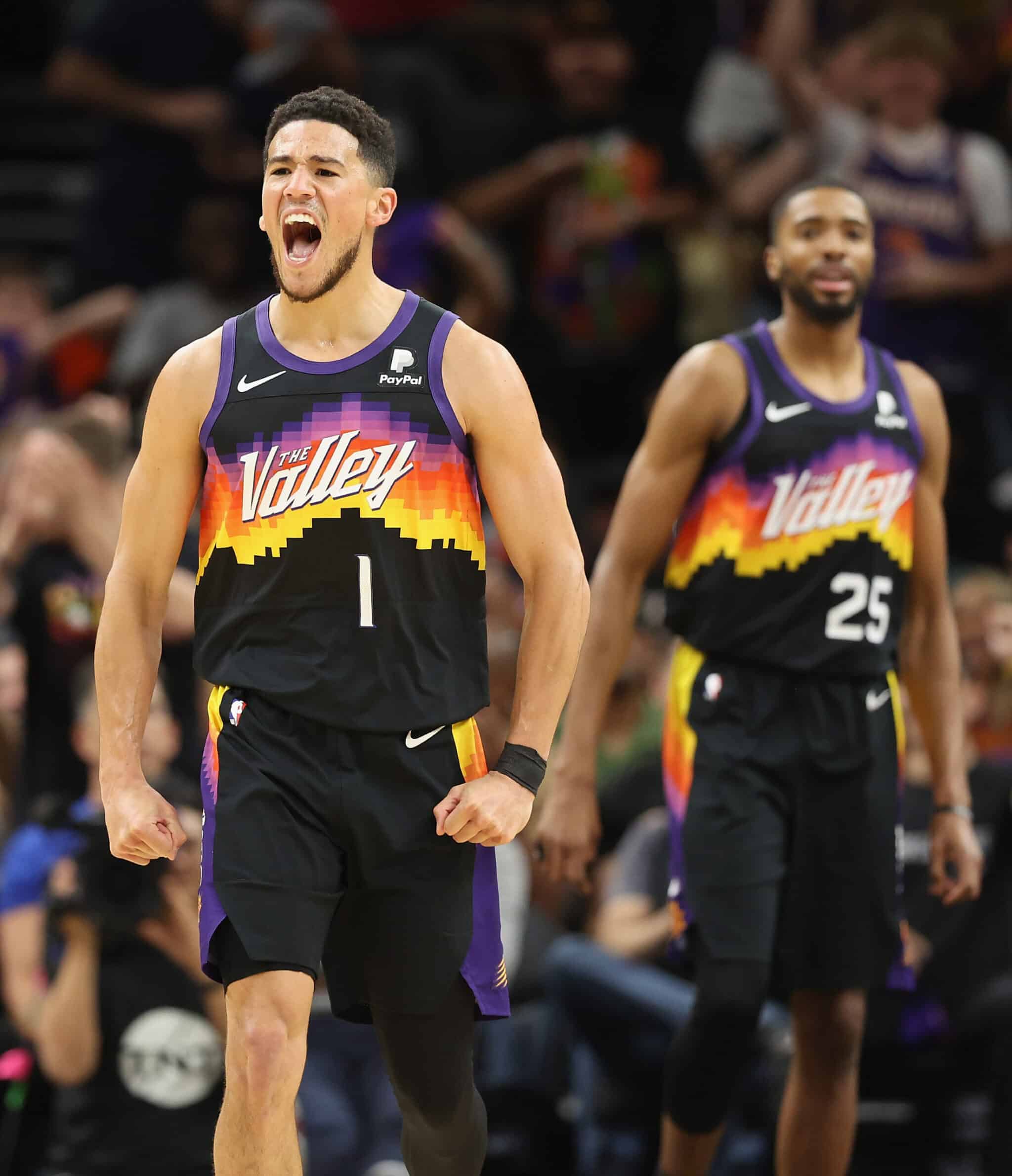 Phoenix Suns @ Los Angeles Lakers
Game Info
Date/Time: Wednesday, March 22nd, 2023, 7:30 PM Local Time (PST)
TV: ESPN, SportsNet LA, and BSAZ
Location: Crypto.com Arena in Los Angeles, California
With both Kevin Durant and LeBron James out with injuries, the focus will be on co-stars Devin Booker and Anthony Davis to carry the load against their Western Conference foes.
Suns Preview
After losing their recently acquired superstar Kevin Durant to an awkward ankle injury, the Suns have lost 4 out of their last 5 games and hope to regain their balance down the final stretch of the regular season. In a log-jammed Western Conference with only 3 games separating the 4 seed from the 10 seed, the Suns are clinging to the fourth spot with 11 games remaining on their schedule. Aside from Durant's unfortunate injury, the Suns are also without their two-way big man Deandre Ayton who has been nursing a hip injury for the past two games.
Since Durant has been out of the lineup with an ankle injury over the last 6 games, the Suns have struggled offensively ranking 21st in the league in offensive rating. Even with their dynamic scoring guard Devin booker picking up the slack on the offensive end and scoring 33.6 points a game in Durant's absence, the Suns still have struggled to score and put complete games together. In their last game, the Suns fell to the Thunder 124-120 even with Booker scoring 46 points on an efficient 64% shooting. In order to get back on track, the Suns will need other players to step up on both ends of the floor. Role players like forward Josh Okogie and backup point guard Cam Payne must elevate their game to keep up with a Lakers team that has a quality bench unit.
Lakers Preview
It may have taken an unexpected all-time 35-point performance from Austin Reaves, but the Lakers managed to successfully escape and win a crucial one in their last game against the Orlando Magic. It wasn't pretty, but as the sentiment has been for the past three weeks, the purple and gold will take any game we can get at this point. Right now, it's looking like the Lakers' play-in faith will likely be determined until the last few games of the season, making this matchup against a banged-up Suns team a critical one.
The Lakers have exactly 10 games left on their schedule, and because of two avoidable losses to the Houston Rockets and Dallas Mavericks last week, they're currently not even in the play-in picture in the wild Western Conference standings. They carelessly let their margin of an error slip away and because of that, games like Wednesday's against the Phoenix Suns, are way way more crucial than it was supposed to be. This time, it'll take more than an Austin Reaves 35-point performance to take down an incomplete Suns team. This is one of those games that have to be won with a formula that involves a dominant Anthony Davis plus the presence of the Lakers' depth. 
Game Preview
There's no doubt that Devin Booker is going to get his but since Durant's injury, he's had to play near-perfect games in order to keep his team competitive every night. It's up to the Lakers guards — specifically D'Angelo Russell, Malik Beasley Reaves and Dennis Schroder — to contain and keep up with Booker's production. This shouldn't be the night where the Lakers struggle from the perimeter and let role players like Cam Payne or even Damion Lee get hot from downtown. The Lakers' bench has been bolstered since the trade deadline and came up huge against Orlando. With a clear advantage over the Suns bench, they'll have to do the same if they want a chance in this one.
Phoenix has won both meetings between these teams and have defeated Los Angeles nine straight times. With injuries holding back the Suns, the Lakers may finally be able to break their losing streak against the Suns and claw their way back into the playoff picture.
Game Picks and Predictions
Moneyline – Los Angeles Lakers (-105) (1.95)
Since acquiring Jared Vanderbilt, Malik Beasley, and Deangelo Russell at the trade deadline, the Lakers have been playing much better even with LeBron out of the lineup. With a clear depth advantage in this matchup, that should be the difference between two teams that are without their best player. With the Lakers steadily improving and the Suns struggling without Durant, they will need a herculean effort from Booker to win this game, but with many solid wing defenders that the Lakers can throw at Booker, it is unlikely that he will be able to do enough to get the win.
Prop – Anthony Davis Over 26.5 Points
Anthony Davis is clearly the most important piece to this Lakers team and with Ayton out, AD should be able to dominate the paint and control the game. The Suns have turned to Bismack Biyombo to take over at Center who at only 6'8 is a significant mismatch against the 6'11 Davis.
Additionally, the Suns defense gives up the most free throws a game in the entire league, so Anthony Davis' aggressiveness should give him plenty of opportunities for free points at the charity stripe. AD shoots 80% from the line with 7.7 attempts per game. With a mismatch in the interior and a good chance of racking up points at the free throw line, Anthony Davis over 26.5 points is too good of a prop bet to pass up.
Prop – Devin Booker Over 32.5 Points
The Suns don't have as much depth as the Lakers do, so they will heavily rely on Booker to keep up with the Lakers. Coming off a 46-point outing in their last game, look for Booker to start the game aggressively. Although the Lakers can throw many capable defensive wings at him, Booker's scoring ability is virtually unguardable, so it is likely that he scores more than 32 points and hits the over.