NFL
NFL Injuries from Week 5 That Could Affect Your Fantasy Team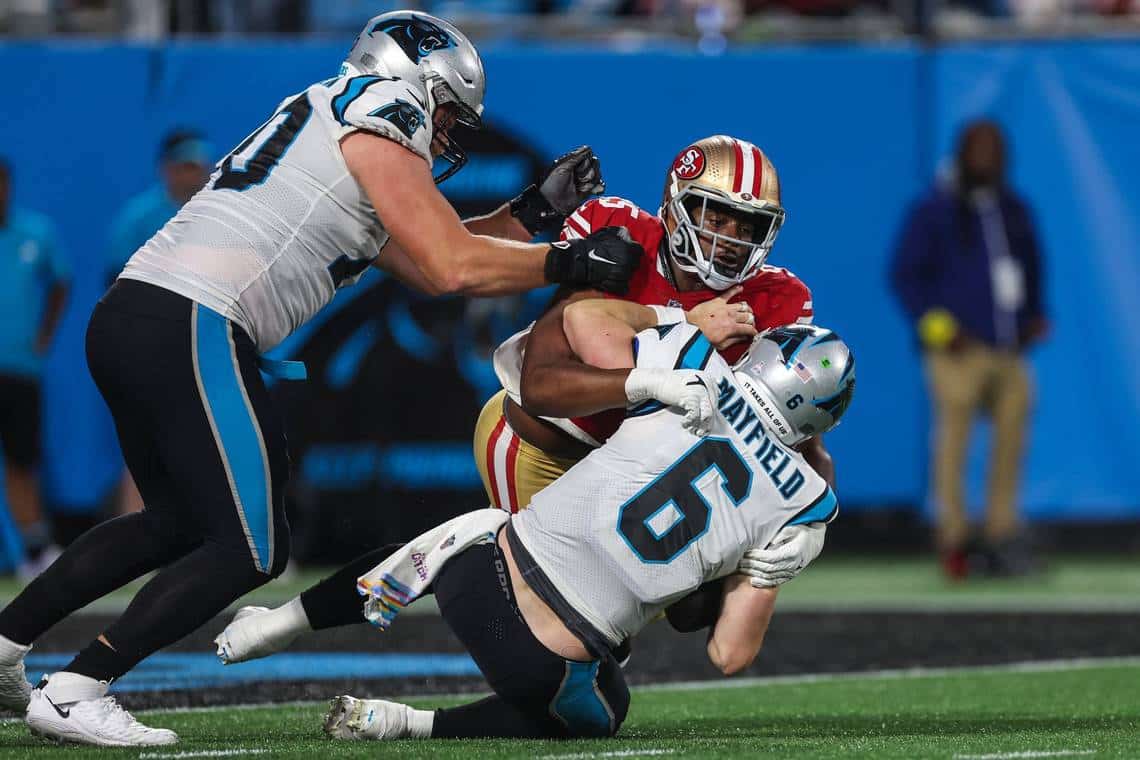 By Scott Kacsmar
For the fifth week in a row, this NFL season saw a starting quarterback go down with an injury. We also saw a high-profile running back lost for the season in the NFC West, and the new concussion protocol is going to make things difficult for some players to suit up in Week 6 after leaving this weekend's game with a concussion.
Here are the notable injuries from Week 5 that you may need to adjust around for your fantasy teams, DFS lineups, Same Game Parlays, and other prop bets this week.
QB Baker Mayfield, Carolina Panthers
Big changes in Carolina with head coach Matt Rhule getting the axe after a 1-4 start, and some of his coaching staff will be leaving with him as well. But the other necessary change is probably at quarterback as Baker Mayfield, the lowest-rated quarterback in 2022, has just looked awful with his new team. His double-clutched pick-six against the 49ers would have been the last straw in most situations, but now it appears there is an injury behind this poor play as well.
With a high ankle sprain, Mayfield is expected to miss two-to-six weeks. P.J. Walker is set to get the start against the Rams, but while he is 2-0 as a starter with the Panthers, he has not been impressive in his few NFL appearances, throwing two touchdowns and eight interceptions. Interim coach Steve Wilks, who was fired after one brutal year in Arizona with Josh Rosen, is unlikely to spark much of an improvement in this bottom-ranked offense.
There may be a fire sale going on in Carolina soon.
QB Teddy Bridgewater, Miami Dolphins
The Dolphins cannot seem to catch a break this month with the health of their quarterbacks. This time it wasn't even self-inflicted as Teddy Bridgewater left Sunday's game after just one pass attempt following a head injury that led to him being put in concussion protocol.
This did not look as bad as what Tua Tagovailoa went through, but the extra caution taken with protecting Bridgewater is a direct result of that mishandled process. Still, Bridgewater remains in the protocol and his status for Sunday's game against Minnesota is uncertain.
Meanwhile, the Dolphins have still not cleared Tua for "football stuff" so it is likely he will not be ready for Week 6 either. This could mean the first start for rookie Skylar Thompson, who got his feet wet with 33 pass attempts in Sunday's loss to the Jets.
Do not rule out Bridgewater returning on Sunday to face his first NFL team, but the Dolphins right now are a banged-up mess on offense. Wide receiver Tyreek Hill and left tackle Terron Armstead also had to leave Sunday's game and are questionable for this Sunday. Hill was in a walking boot after the game and already had a quad injury going into it.
RB Rashaad Penny, Seattle Seahawks
The news is bad for Rashaad Penny, Seattle's 2018 first-round pick who has a long history of injuries. He broke his fibula on Sunday one week after a great game with 151 rushing yards and two touchdowns.
Penny led the NFL with 6.3 yards per carry in 2021 and he was back at it with 6.1 yards per carry this season. He averages 5.7 per run for his career but staying healthy has just never worked for him. Penny will have played in just 42 of a possible 82 games in five regular seasons.
The Seahawks should turn to rookie back Kenneth Walker, who I had as a dark horse for Offensive Rookie of the Year before the season in large part due to Penny's durability problems. Walker scored his first touchdown with a 69-yard run on Sunday.
RB James Conner, Arizona Cardinals
Since he was drafted in 2017, James Conner has always missed multiple games due to injury in every season of his career. So far, he has started all five games for Arizona, but Sunday's rib injury saw him exit in the third quarter, the second time he was unable to finish a game in 2022 and played fewer than 25 snaps.
The Cardinals just want to be cautious with him as backup Darrel Williams also left the game with a knee injury. For now, assume Conner is back in the lineup in Week 6 for a juicy matchup with the Seahawks.
RB Damien Harris, New England Patriots
Harris managed just six snaps against the Lions before a hamstring injury ended his day. He had five touches on those six snaps too, so it was going to be a huge day for him against a bad Detroit defense. Now he is expected to miss multiple games with this hamstring injury.
This is big news for Rhamondre Stevenson, who was already getting nearly half the touches in the backfield when Harris was healthy. He had a career-high 161 rushing yards against Detroit and should be a viable scorer in the coming weeks with Harris out.
WR Tee Higgins, Cincinnati Bengals
This has been a tough start to the season for one of the best young wide receivers in the league. Higgins had a concussion in the first half of Week 1 against the Steelers, he narrowly avoided a second one against the Jets, then he thought he could play on a bad ankle against the Ravens before exiting after 10 snaps and zero targets.
The Bengals may be wise to give him a week off to heal before playing the Saints. The Bengals are still obviously fine at wide receiver with Ja'Marr Chase and Tyler Boyd. They need Higgins for the long term.
WR Chris Olave, New Orleans Saints
Olave has been one of the most impressive rookie wide receivers, but he suffered a concussion after scoring his second touchdown of the season on Sunday. With the new protocol in place, do not assume he will be ready to go on Sunday against the Bengals.
The Saints have had a ton of injuries on offense as of late, but wide receivers Michael Thomas and Jarvis Landry will have a shot to return this week. There is a good chance the Saints won't be down their top three wideouts. If worse comes to worst, they can start Tre'Quan Smith and Marquez Callaway. Smith is fourth on the team with 133 receiving yards.
WR Nelson Agholor, New England Patriots
It is unclear if Nelson Agholor really had a hamstring injury that knocked him out after logging seven snaps, or if he has entered Bill Belichick's doghouse after losing a ball that was intercepted.
Either way, it does put some attention on how banged up the New England offense has been this year with injuries to Mac Jones, Jakobi Meyers, Damien Harris, and possibly Agholor. Meyers just returned on Sunday to have a great game before the team lost Harris and got frustrated with Agholor's mistakes.
WR Christian Watson, Green Bay Packers
The Packers used the 34th pick in this year's draft on wideout Christian Watson, but so far, he has caught 6-of-10 passes for 27 yards from Aaron Rodgers. His "biggest" reception was a 25-yard catch on the final, meaningless snap of the team's Week 1 loss to Minnesota. He also has a 15-yard touchdown run, but in terms of being a trustworthy target for Rodgers, that is going poorly.
Having already missed one game with injury, Watson might be out again with a hamstring injury suffered in London. He has 18 receiving yards since Week 2. It is going to be hard to expect much from him in this offense at this rate.
At least fellow rookie Romeo Doubs has been producing and is catching 75.9% of his targets for the Packers. But Rodgers is starting to rely more on old faithful Randall Cobb, who has taken over the receiving lead in Green Bay with 249 yards.
TE Pat Freiermuth, Pittsburgh Steelers
Adding to Pittsburgh's misery in the 38-3 blowout in Buffalo, tight end Pat Freiermuth was knocked out with a concussion, something he has dealt with before. If Freiermuth cannot go against Tampa Bay, then Zach Gentry will get the starting nod. He had five catches for 43 yards against the Bills in Freiermuth's absence. That is about the full extent of what you could hope for him in this offense, which is at least getting George Pickens heavily involved now that Kenny Pickett is the quarterback.
TE Dalton Schultz, Dallas Cowboys
This has been a tough season for Dalton Schultz, who had a career year in 2021 with 78 catches, 808 yards, and eight touchdowns. But he has just 18 yards since Week 2 after suffering a knee sprain that has caused him to miss one full game and a reaggravation limited him to 10 snaps on Sunday in Los Angeles.
Schultz's plan is to play on Sunday with the Cowboys in Philadelphia in a huge game, but it is hard to expect anything out of him. Not only is the knee a problem, but he has not picked up much of a connection with backup Cooper Rush, who is likely going to start this game again for Dallas.
The other tight ends in Dallas, Jake Ferguson and Peyton Hendershot have six catches for 63 yards between the two of them. Tight end is not a fantasy viable position in Dallas until Schultz can get healthy and/or Dak Prescott returns at quarterback.