NBA
NBA Finals Spread and Player Prop Picks for Nuggets-Heat Game 4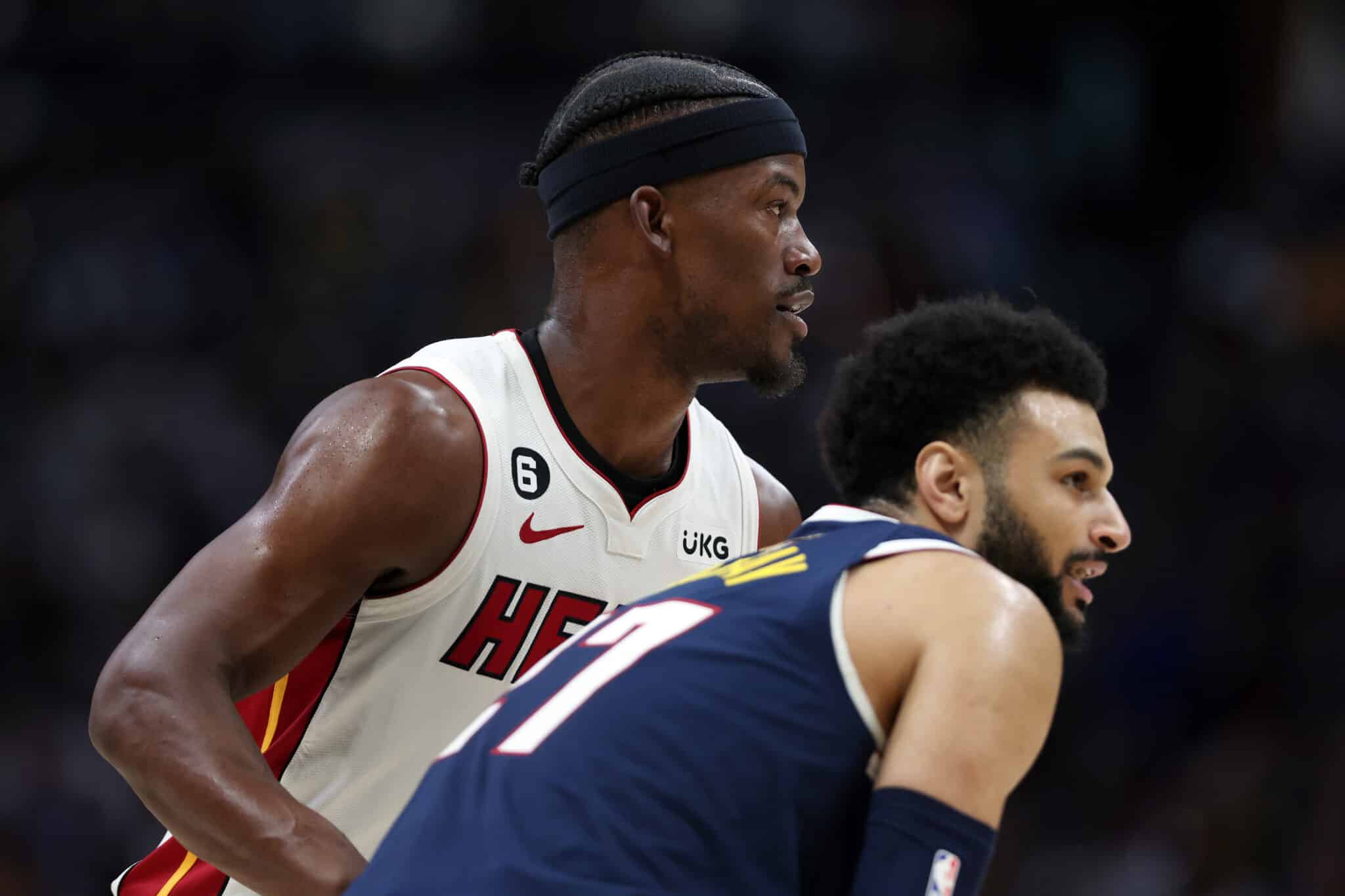 By Scott Kacsmar
The Denver Nuggets lead the Miami Heat 2-1 in the 2023 NBA Finals after a historic performance in Game 3. Denver can take a commanding 3-1 lead this Friday evening in Miami, but the Heat have been a resilient team all postseason long.
Historically, the team up 2-1 is only .500 in Game 4, including a 22-22 road record and a 9-9 home record. This is really the last stand for the Heat when you consider teams down 3-1 are 1-35 in the series in Finals history. Only the 2016 Golden State Warriors blew a 3-1 lead to the Cleveland Cavaliers.
We have our spread pick for Game 4, as well as a handful of our favourite player prop, picks for a series that has seen the role players struggle to step up for both teams.  
Denver Nuggets vs. Miami Heat (+3.5)
In Game 4, Denver is a 3.5-point road favorite with a total of 211 points. Here are some notable records and stats for this matchup:
Miami is 7-3 ATS as a home underdog this season.
Denver is 12-17 ATS (41.4%) as a road favorite this season.
Excluding the 2020 bubble, the Miami Heat have never lost 4 straight home playoff games in franchise history. They have lost 3 straight heading into Game 4.
Winners of 4 straight road games, the Denver Nuggets had never won more than 2 straight road playoff games in franchise history (2020 bubble excluded for no travel).
Just 24-of-61 teams (39.3%) in NBA history to win 4 straight road playoff games extended to a 5th-straight road win.
Home teams are 2-8 in Game 4 of the NBA Finals in the last decade after going 7-3 in the previous decade.
The only time the Heat lost consecutive games this postseason was a 3-game losing streak after taking a 3-0 lead against Boston in the Eastern Conference Finals.
Denver and Miami are both 21-12 SU (63.6%) in non-conference games this season.
It is not encouraging that Miami has trailed by at least 15 points in every game of the Finals, but the good news is Game 3 was a bad one, and this postseason has been full of bounce-back performances. That's just how the game of basketball often works.
We already saw it in Game 1 to Game 2, and the Heat will hope to repeat the same from Game 3 to Game 4. Here are some of the key areas where the Heat are hoping for positive regression:
Bam Adebayo scored 48 points on 46 shots in Games 1 & 3, but he was 8-of-14 shooting for 21 points in the Game 2 win. He also was a plus-17 on the court compared to a minus-26 in the other games.
Max Strus went from 0-for-10 in Game 1 to making 4 3s in the first quarter of Game 2, but he has gone 1-for-7 from 3 in the last seven quarters. He needs to step up again.
Caleb Martin only scored 3 points in each of Games 1 & 2, but he finally showed a little more in Game 3 with a quick 10 points.
Gabe Vincent was 9-for-16 from 3 to start this series and led the team in scoring (23 points) in Game 2 win, but he was only 2-for-10 from the field with 7 points in Game 3.
In Game 3, the Heat shot 37% from the field. All four times this postseason where they shot under 42%, they bounced back the next game and shot over 47.5% each time.
Another thing Miami has in its favor is protecting the ball (season-low 4 turnovers in Game 3) and it is making Denver play at a slower pace. In fact, it is creating a weird statistical oddity where Denver has shot over 50% from the field in every game of the Finals, but the Nuggets have yet to crack 110 points on the scoreboard. No team has had a 4-game streak like that since the Orlando Magic in 2015. It is the first time any team has ever done this in the NBA Finals.
We also know 3-point shooting volatility has been a big boost in Miami's favor this postseason, and the Nuggets are not shooting the 3 well in this series. If the Heat can get some better shooting from Strus, Adebayo, Vincent, Martin, or Duncan Robinson, then they could make up the disadvantage they have in the paint where Denver shines.
Also, the Nuggets played Nikola Jokic and Jamal Murray about 44 minutes each in Game 3, big minutes for both with only one day of rest between road games here. It paid off of course with Jokic and Murray becoming the first teammates in NBA history to drop 30-point triple-doubles in the same game. But while Jokic is consistent, Murray is not as reliable to score big every night, and we already saw his off game in Game 2 lead to a Miami win.
With the Nuggets getting so little from Kentavious Caldwell-Pope and Michael Porter Jr. in this series, let's count on the Heat to clamp down on the two-man game of Jokic and Murray and grind out another close one to even this series.
If the Heat drop this game, you can likely put a nail in the coffin in Game 5 on Monday night in Denver. Miami must deliver here.
NBA Pick: Heat +3.5 (-110) at FanDuel
Player Prop Picks
We hit 4-of-5 prop picks in Game 3 with only Caldwell-Pope being a letdown, but when the next choices for going over in 3-point shots were between Porter Jr. or Strus, let's just say it was a doomed night for that market.
Kentavious Caldwell-Pope (Nuggets) – Over 7.5 Points
Who is ready to get hurt again? KCP has been a shooting bust this series, and he is just 2-for-8 from the field in the last two games. But this line has gone so far down to 7.5, a mark he has gone over in 12-of-18 playoff games this year.
Beyond that, KCP has not gone 4 straight games without scoring 8-plus points since three seasons ago. He never did it for the Wizards in 2021-22 and not once for the Nuggets in 2022-23. He has had some fine looks from passes from Jokic and Murray in this series, but his shots just have not been falling.
With Michael Porter Jr.'s shot looking even worse, let's trust KCP one more time to step up as another shooter for the team and to hit this very low over for a starter.
Bam Adebayo (Heat) – Over 3.5 Assists
The efficiency has not been there, but no one can say Bam Adebayo has not been aggressive in the Finals. He has scored at least 21 points and had at least 9 rebounds in every game. But his assists have dropped by one each game from 5 to 4 to 3.
This is more about his teammates' poor shooting in Game 3 than anything. Adebayo's teammates were just 3-of-9 (33.3%) on his potential assists according to NBA.com. That rate should be 50% or better.
Adebayo has gone over 3.5 assists in 10-of-21 playoff games this year, but the Heat need a better offensive showing in this one. Adebayo being more of a passer and rebounder instead of a shooter would be a good start after he finished 7-of-21 shooting in Game 3.
Count on more assists for the Heat in Game 4, and Adebayo is a great choice to hit an over.
Jimmy Butler (Heat) – Over 6.5 Rebounds
Does Playoff Jimmy have one more vintage performance in him? Butler had just 2 rebounds ( his playoff low this year) in 40 minutes in Game 3. He had 10 opportunities and deferred 2 more to teammates. Butler has only converted 6-of-20 rebound opportunities (30%) in the last two games according to NBA.com. This comes on the heels of a 7-game stretch where Butler was averaging 7.9 boards per game with over 6.5 rebounds in 6-of-7 games.
Maybe the ankle injury is hurting way more than he lets on, but Butler has not been the same player since earlier in the playoffs. However, let's trust him to step up his rebounding game in this one and snag some more boards if the Nuggets are going to fail to shoot over 50% for the 4th game in a row.
Michael Porter Jr. (Nuggets) – Over 1.5 Made Threes
It could be now or never for Porter Jr. (and Caldwell-Pope) in this series. Porter Jr. scored just 2 points in Game 3, 7 points since Game 2, and he is 6-for-29 (20.7%) from 3 since Game 4 of the Western Conference Finals.
But his line finally dropped from 2.5 made 3s to 1.5 made 3s, and this feels like the right time to pounce on him finally stepping up and hitting some shots. Porter has gone over 1.5 made 3s in 13-of-18 playoff games and 49-of-62 (79.0%) regular-season games this year.
He is too good of a shooter and has too much of a size advantage in this series to not make a couple of 3s in a game. Let's give him one more night of trust to hit his over and do his part for Denver.
Bam Adebayo (Heat) – Over 0.5 Steals
In Game 3, we were able to predict Aaron Gordon would end his 8-game streak without a steal. The steals have been hard to come by in this series, but Adebayo is the player to circle after he has produced 0 steals in the last 4 games. Adebayo had a steal in 13-of-17 games to start this postseason.
It is the first time since January 2021 that Adebayo has gone 4 straight games without a steal. He has not done it in 5 straight games since April 2018 when he was a rookie who barely played.
Worse, Adebayo is averaging 40.9 minutes per game during this 4-game drought. That means this is the first time in his career where he has gone 4 straight games where he had 0 steals and played at least 22 minutes.
Let's end another drought and see if Adebayo can help the Heat pull even in this series.