NBA
NBA DFS Prop Picks for Friday Night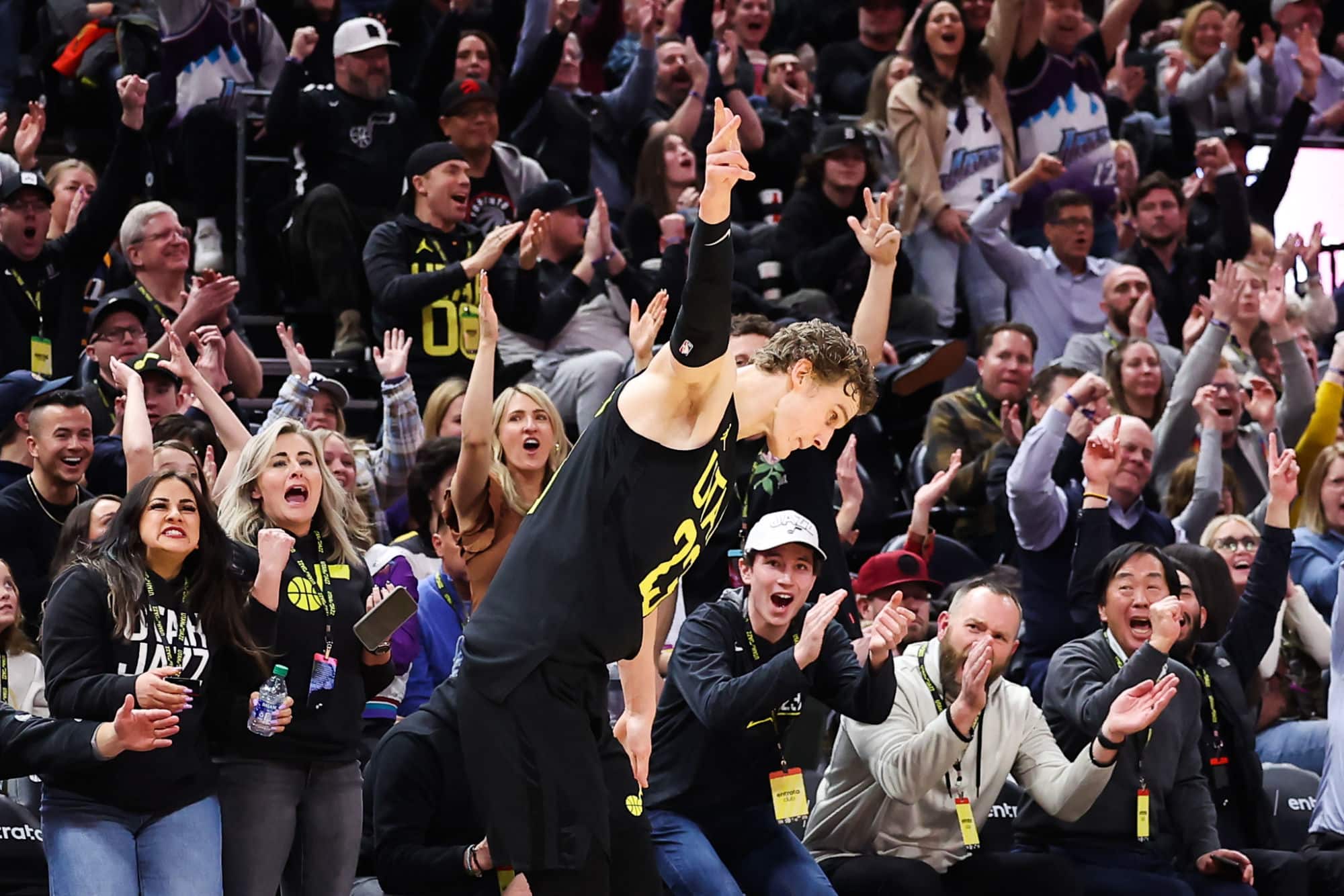 By Scott Kacsmar
The NBA rolls into the first Friday of February with an 8-game slate, including Suns-Celtics on NBA TV. We are looking at some of our favorite over/under props grouped by the markets for points, rebounds, assists, and three-point field goals.
Points – Over/Unders
Lauri Markkanen (Jazz) – Over 26.5 Points vs. Hawks
Markkanen's breakout season continues to impress as he is still shooting 52.0% from the field after shooting 45.5% for his career. He takes more threes than ever this season and is making 43.2% of them, a great number. That allows him to average 24.9 points per game, easily clearing his previous best season (18.7 with Chicago in 2018-19).
Markkanen has been consistent too. He has scored at least 21 points in 19 straight games, including games of 29 and 28 points in his last two outings against Dallas and Toronto. Atlanta allows almost the exact number of points to small forwards that Toronto does this season, according to FantasyPros.
Markkanen played the Hawks earlier in Atlanta this season and dropped 32 points in that game, hitting 6-of-8 from three. Look for him to rise to the occasion and be a big scorer again as the Jazz try to outdo the effort from Trae Young and company.
Bojan Bogdanovic (Pistons) – Over 22.5 Points vs. Hornets
These teams met once in the middle of December and Bogdanovic scored 24 points on what wasn't even a great shooting night for him (3-of-9 from three). The Hornets allow the third-most points per game and are No. 27 in Defensive Rating.
Bogdanovic is rested after the Pistons' last game was postponed for ice, and he scored 29 points in his last outing against Dallas. The Hornets allow an average of 22.1 points per game to power forwards, so they are right on this line. With a projected total of 240.5 points for the game, go for the high scoring and for the Pistons' leading scorer to go over.
Al Horford (Celtics) – Over 7.5 Points vs. Suns
This is not so much a big game with the Suns (27-26) struggling, but it is still the national game this Friday night. Al Horford at home is usually reliable for a couple threes and timely plays a game for the top-seed Celtics.
Horford has gone over 7.5 points in 25-of-41 games (61.0%) this season, including 9 points on three made threes in the 43-point blowout win over the Nets on Wednesday.
Horford missed Boston's 27-point blowout win over the Suns nearly two months ago, but he should be able to contribute at least 8 points to this one to hit his over.
Rebounds – Over/Unders
Domantas Sabonis (Kings) – Over 13.5 Rebounds vs. Pacers
Sabonis will be taking on his former team for the second time this season. He played the Pacers at the end of November and only finished with 11 points, 10 rebounds, and 7 assists, which is a low game for his capabilities.
But a lot of that was the script as the Kings won by 23 points, Sabonis had four fouls in 23 minutes, and it is one of only three games this season where he did not play at least 25 minutes.
His lines are all high for this game when you consider how often he has hit these benchmarks, but the Pacers are a great matchup for him as they are one of the worst teams at limiting centers across the board.
But instead of going for points or assists, let's look at the rebounds. According to Fantasy Pros, the Pacers allow 16.1 rebounds per game to opposing centers, the fourth-highest average in the league this season.
Sabonis has not hit this mark in his last six games, but that comes after a four-game streak where he did clear 13.5 rebounds. Let's bank on him to do it again with an opponent that has no answer for him.
Assists – Over/Unders
Jayson Tatum (Celtics) – Over 4.5 Assists vs. Suns
With guard Marcus Smart still out, that leaves more opportunities for Jayson Tatum to make plays as a passer. In the last five game since Smart was injured, Tatum has notched two games with 7 assists and three straight games with 4 assists.
The Celtics had 29 assists in their last big win over Phoenix earlier this season. Smart had 6 assists in that game, but his production can be split among the likes of Tatum and Derrick White.
Tatum has been on a hot 30-point scoring streak and made seven threes in his last game. Perhaps the Suns come after him more in this game and he can pass for some easy opportunities with good ball movement from the NBA's No. 2 offense.
Monte Morris (Wizards) – Over 4.5 Assists vs. Trail Blazers
Washington sitting at 24-26 with three different players averaging over 20 points per game makes sense when you consider how erratic Kristaps Porzingis and Kyle Kuzma can be from game to game.
Similar things can be said about point guard Monte Morris, who can go from 12 assists one night to 2 the next like he did earlier this season. He just had a game with zero assists against the Pelicans this week, then he notched 4 helpers in his last game against the Spurs.
But we are going with the matchup here as the Trail Blazers allow the third-most assists per game to opposing point guards. Morris has gone over 4.5 assists in 26-of-43 games (60.5%), so he is more likely to do it than not this season.
Three-Point Field Goals – Over/Unders
Mike Conley (Jazz) – Over 1.5 Threes Made vs. Hawks
The 35-year-old point guard has not had his best three-point shooting season, but he is still a 36% shooter from deep. But Conley has hit a slump and is 0-for-7 over his last two games.
He has not gone three straight games without a three since January 2020, so look for him to connect in this one. He also goes over 1.5 made threes in 50% of his games this year, and he shoots 39.4% from three at home compared to 33.0% on the road this season.
Trust Conley at home to hit a pair of threes.
Fred VanVleet (Raptors) – Over 3.5 Threes Made vs. Rockets
VanVleet is actually shooting a career-low 34.4% from three this season, but he is still taking 8.6 attempts per game, so you can trust him to get some volume.
But his recent shooting stretch has not been bad. In VanVleet's last nine games, he is shooting 41.0% from three with 3.8 makes per game. VanVleet has made over 3.5 threes in 6-of-9 games coming into this one.
But we are playing the matchup here as Houston has allowed 3.84 made threes per game to point guards this year, which is almost a half made three more than the next closest team (Golden State, 3.38). Sure enough, VanVleet made a season-high seven threes when these teams met in early November.