NBA
NBA DFS Prop Picks for Friday Night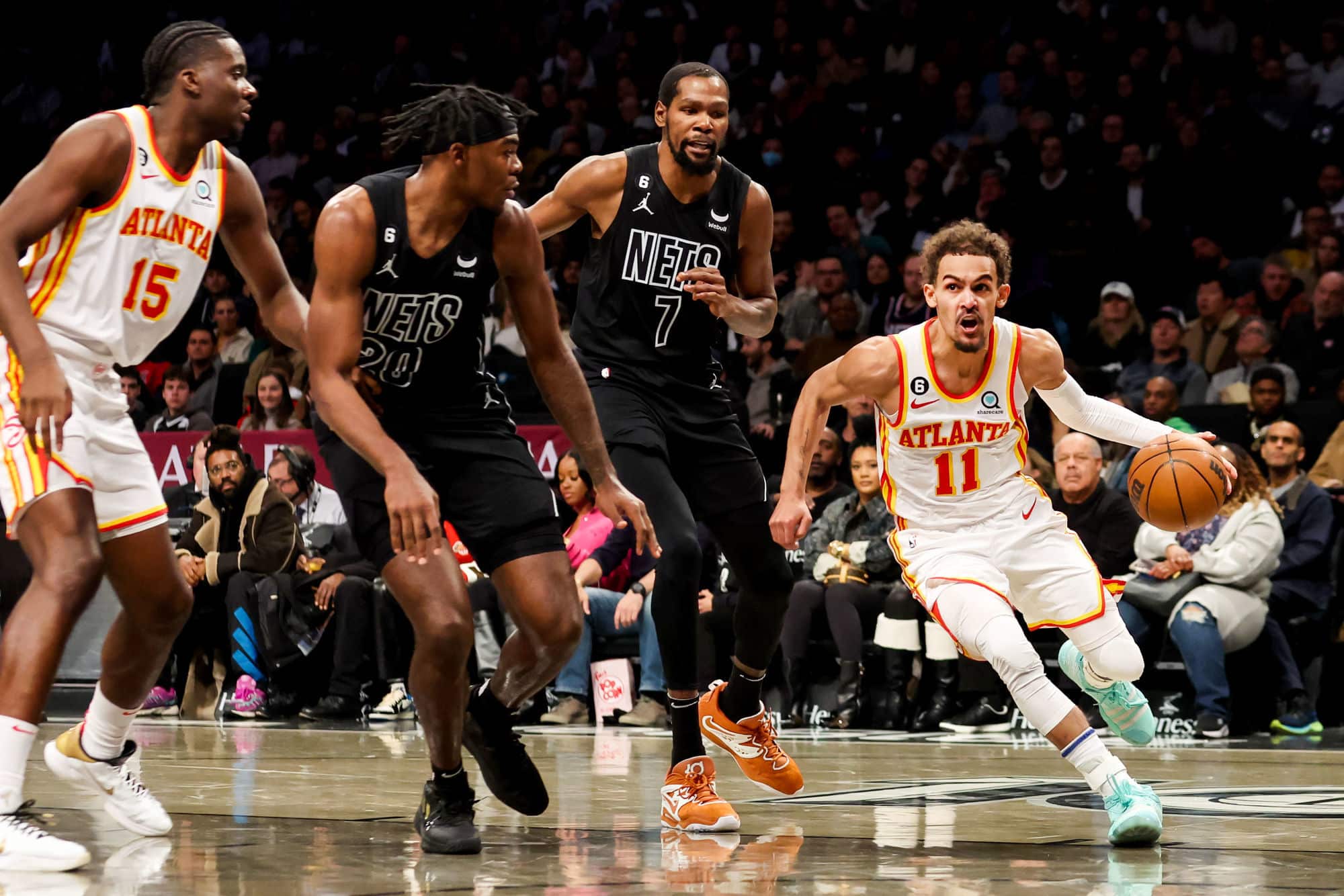 By Scott Kacsmar
The NBA heads into the first Friday of March with a 10-game slate, including an ESPN doubleheader with Nets-Celtics and Grizzlies-Nuggets. We are looking at some of our favorite over/under props grouped by the markets for points, rebounds, assists, and three-point field goals.
Points – Over/Unders
Trae Young (Hawks) – Over 26.5 Points vs. Trail Blazers
When these teams met a month ago, Damian Lillard (42 points) and Dejounte Murray (40 points) put on a show in a high-scoring thriller won by Portland. Lillard has been all the rage lately with his 71-point game earlier this week highlighting a big scoring run for him.
But let's not forget about Trae Young, who missed the only meeting between these teams this season. That explained in part why Murray went off the way he did with a season-high 40 points. He had to carry the load without the team's best scorer active.
But Young is back, and he has gone over 30.5 points in three straight games for the Hawks. He also does a lot of his best work at home this year whereas Murray's bigger scoring games come on the road and Lillard's come at home. This game is in Young's building, so look for him to keep the scoring going against a Portland team that is still No. 27 in Defensive Rating.
Nikola Jokic (Nuggets) – Under 23.5 Points vs. Grizzlies
These teams just met on Saturday, and Jokic was held to 15 points and tied his season low with 3 assists. But a lot of that was the game script with the Grizzlies up 24 at halftime and never looking back. No starter in the game played 27 minutes in a 112-94 win for Memphis.
But in both meetings this year, Jokic never scored more than 15 points. He only had 13 points in a win in December, a game where he also had 13 rebound and 13 assists. That has kind of been Jokic's season as he seeks a third-straight MVP. He does not have to score as much because he is doing so well with assists and setting up teammates this season.
Jokic can obviously still score as he had 40 points against the Clippers this week, but that was sandwiched between 15 against Memphis and 14 against lowly Houston. This is a home game where the Nuggets have been so good this year, and a lot of low-scoring Jokic games this season have been at home in easy wins for the team.
I would look more towards the assists and rebounds for overs for Jokic in this matchup. Take his under for points as Memphis allows the 5th-fewest points to opposing centers according to FantasyPros.
Kevin Durant (Suns) – Over 21.5 Points vs. Bulls
How impressive was Kevin Durant's Phoenix debut? Consider he missed 20 games and was playing his first game with a new team. But at the end of the day, it is still just basketball. Durant shot 10-of-15 from the field for 23 points in just 26:50 of action. You can see the Suns eased him into action as all the other starters played at least 32 minutes.
But Durant does not need a ton of minutes to put up over 21.5 points. He has played the Bulls twice this season and finished with 32 and 44 points in those games, surprisingly both losses. But in the last meeting, Durant had 44 points and a Game Score at Basketball Reference of 37.9, his highest in any game this season.
The Suns do not need Durant to score like that to win this game, but Durant should be good for over 21.5 points here.
Rebounds – Over/Unders
Paolo Banchero (Magic) – Over 7.5 Rebounds vs. Hornets
In looking for a good rebound matchup, it is hard to go wrong with a team playing the Charlotte Hornets. The Hornets allow an absurd number of rebounds to frontcourt players, ranked in the top three for small forwards, power forwards, and centers according to FantasyPros.
Paolo Banchero is not posting huge rebounding numbers in his rookie season, but in two matchups with the Hornets, he had 10 and 12 rebounds. The Magic also won both games and are favored by 3.5 points here.
Winning a game is usually a good sign for rebounds. It means the other team is missing more shots and giving you opportunities for those boards. Banchero is averaging 7.4 rebounds per game in wins compared to 6.1 in losses this year.
Banchero is a threat to have another 20/10/5 game against the Hornets for the third time this season. But we will be satisfied with over 7.5 rebounds for the hit here.
Assists – Over/Unders
Marcus Smart (Celtics) – Over 4.5 Assists vs. Nets
Full disclosure: I am a bit salty about betting on Marcus Smart after he had zero rebounds in 36 minutes against Cleveland on Wednesday, but this is why we are looking at assists.
The Celtics have had the Nets' number in recent years. Smart was only healthy for one of the three matchups this year, and he had 10 assists in that game. Smart had over 4.5 assists in all four playoff games against the Nets last year for what it's worth as the team looks very different now.
But with Jayson Tatum (8) and Derrick White (5) having nearly half of Boston's assists in the last game, look for Smart to get back on track at point guard and have a more productive game against a defense this top-ranked offense has toyed with the last few years.
Mike Conley (Timberwolves) – Over 6.5 Assists vs. Lakers
Mike Conley is a 35-year-old veteran who has seen everything in this league. The Lakers are an underachieving team missing their best player (LeBron James). Conley already had games (with Utah) with 10 and 12 assists against the Lakers earlier this season.
Since coming to Minnesota, Conley is averaging 5.8 assists in six games, but it has not been the greatest couple of weeks for the team. Playing these Lakers should help as they allow the 8th-most assists per game to point guards according to FantasyPros.
Conley has hit 7 assists in back-to-back games, and he has the command of the new offense to do it a third game in a row.
Three-Point Field Goals – Over/Unders
RJ Barrett (Knicks) – Over 1.5 Threes Made vs. Heat
Barrett played the Heat once this season and he finished 0-for-5 from three. It was one of seven times he did that (or worse) in a game this season, so that says more about Barrett than anything special the Miami defense did.
The Heat allow the third-most made threes to shooting guards this season.
Barrett is a streaky shooter. He also has six games with over 3.5 made threes this season. We will play the matchup and bank on this being one of his good games with multiple made threes.
Harrison Barnes (Kings) – Over 1.5 Threes Made vs. Clippers
In three games this season, Barnes is 2-for-10 from three against the Clippers. But Los Angeles looked awful in the second half last night against Golden State, and now they are playing a back-to-back without Kawhi Leonard (load management).
Barnes just lit it up from three in his last game, hitting 4-of-5 shots against the Thunder. It was two days earlier in Oklahoma City where he was just 1-of-5 from deep, so he turned it around and could do the same after shooting 1-of-4 from three against the Clippers on February 24.
Barnes' last game actually ended a 9-game streak where he failed to make multiple threes. It is not something he does often, but sartging on January 1st, Barnes had a 9-game streak with multiple made threes. After it ended, he also had back-to-back games with six made threes in late January.
Maybe this is the start of another streak, but we are fading the Clippers and what they called defense last night on a back-to-back with a Sacramento team that is playing well right now (7-2 over last nine games).