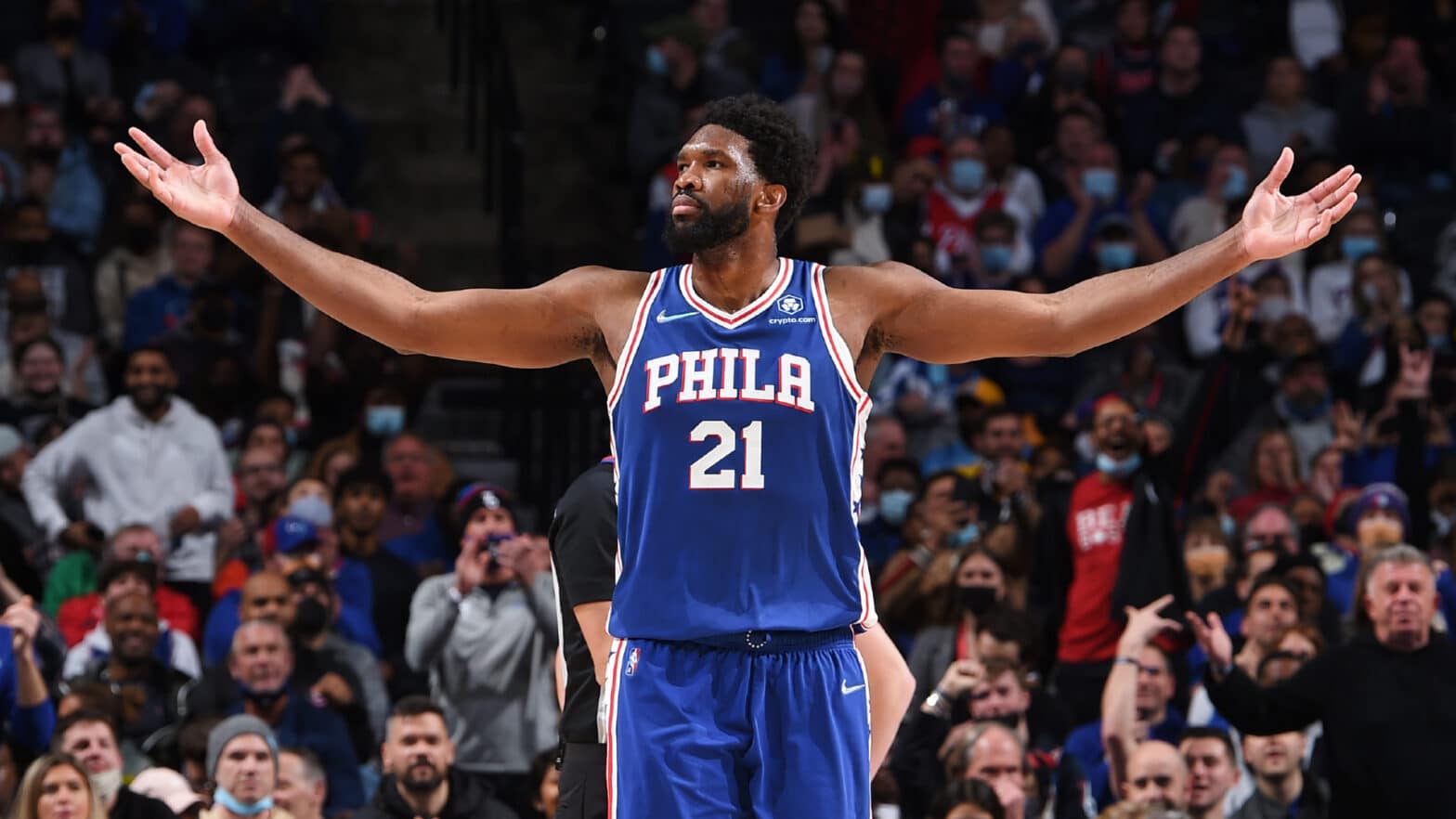 Joel Embiid just won his first MVP of his career after being the runner-up for the award for the past two seasons. He is only the seventh international player and second African to win the award, with the other African MVP being Embiid's favorite player growing up, Hakeem Olajuwon. Now that he finally has won the MVP, let's take a look at his remarkable career by the numbers.
3 – In the 2014 NBA Draft, the Philadelphia 76ers selected Joel Embiid out of Kansas University with the 3rd overall pick, starting the infamous slogan "Trust the Process"
6 – Between the 2018 and 2023 seasons, Embiid was selected to 6 straight All-Star appearances and was an All-Star starter in 5 of those games.
10 – From March 2nd to March 20th 2023, the Sixers big man had 10 consecutive 30+ point games, surpassing Allen Iverson and Wilt Chamberlain for the most consecutive games with at least 30 points in 76ers history.
15 – Joel Embiid grew up in Cameroon, originally planning to play professional volleyball in Europe. He only started playing basketball at age 15, modeling his game after NBA Hall of Fame Center Hakeem Olajuwon. Embiid was discovered at a basketball camp by Luc Mbah a Moute, a fellow native of Cameroon and an NBA player. With Mbah a Moute as his mentor, Embiid moved to the United States at age 16 to devote himself to becoming a professional basketball player.
21 – Embiid chose to wear number 21 after one of his role models Tim Duncan.
33 – The 7'2 big man averaged 33.1 Points Per Game this season which led the entire NBA for the second straight season, becoming the first 7-footer to lead the NBA in scoring since Shaquille O'neal in 2000 and the first big man to lead the NBA in scoring in back to back seasons since Kareem Abdul-Jabbar in the 1971 and '72 seasons.
52 – On April 4th, 2023, Embiid scored 52 points on 20-of-25 shooting from the field, along with 13 rebounds, 6 assists and 2 blocks in a 103–101 win over the Boston Celtics. He became just the second player in history to produce a stat line of at least 50-10-5 while shooting 80% or better. Embiid also joined Wilt Chamberlain and Kareem Abdul-Jabbar as the only three Centers to have three 50+ point games in a season in NBA history.
55 – Even though he attempted the most shots per game in his career, Embiid also had the highest field goal percentage of his career this season at 55%.
59 – On Novermber 13th, 2022, Embiid scored a career-high 59 points along with 11 rebounds, 8 assists, and 7 blocks in a 105–98 victory over the Utah Jazz, with 26 points and 5 blocks coming in the fourth quarter. He became the first player in NBA history with 50 points, 10 rebounds, 5 assists and 5 blocks in a game since blocks became an official stat in the 1973-1974. This was also the fifth-best scoring performance in 76ers franchise history.
196 – On August 17th, 2021, Embiid signed a four-year, $196 million extension with the 76ers that runs through the 2026-27 season.
215 – In his first three seasons in the NBA, Joel missed 215 games due to injury. In his one and only season in college at Kansas, Embiid injured his foot and had to get surgery just 3 days before the NBA draft. He missed his entire rookie season in 2014 and after scans revealed less healing than anticipated, he had to get a second surgery that set back his recovery, ultimately forcing him to miss the 2015 season as well. Embiid finally took the floor for his "rookie" season in 2016, but only managed to play in 31 games before tearing his meniscus in his knee and missing the remainder of the season. Many wondered if Embiid could ever stay healthy for a full season and labelled him as the next Greg Oden, who famously was also a 7-footer and top draft pick who couldn't stay healthy early in his career and quickly found himself out of the NBA. Luckily for Joel, he was able to get healthy following the 2016 season and string together 6 straight All-Star selections, capping it off with an MVP season this year after being the runner-up for the award for the past two seasons.
10,718 – On February 15th, 2023, Embiid scored his 10,000th career point in a game against the Cleveland Cavaliers. He also surpassed Allen Iverson as the fastest player to reach 10,000 career points in 76ers history, doing so in just 373 games. Just a few months later, he now is at 10,718 points for this career.
Now that Embiid has finally won the MVP award that he deserves, the focus will be on whether or not he can lead his team to an NBA Championship. The 76ers are currently up 1-0 against the Boston Celtics in the Semi-Finals of the Eastern Conference Playoffs and play Game 2 tonight, but Embiid is battling with a knee injury and it is unclear when he will return to the lineup. If Embiid is able to return soon, the 76ers are in prime position to make a run at a title and compete for an NBA Championship, but they will need Embiid playing at his top form to prove why he is the MVP of the NBA to reach their full potential.