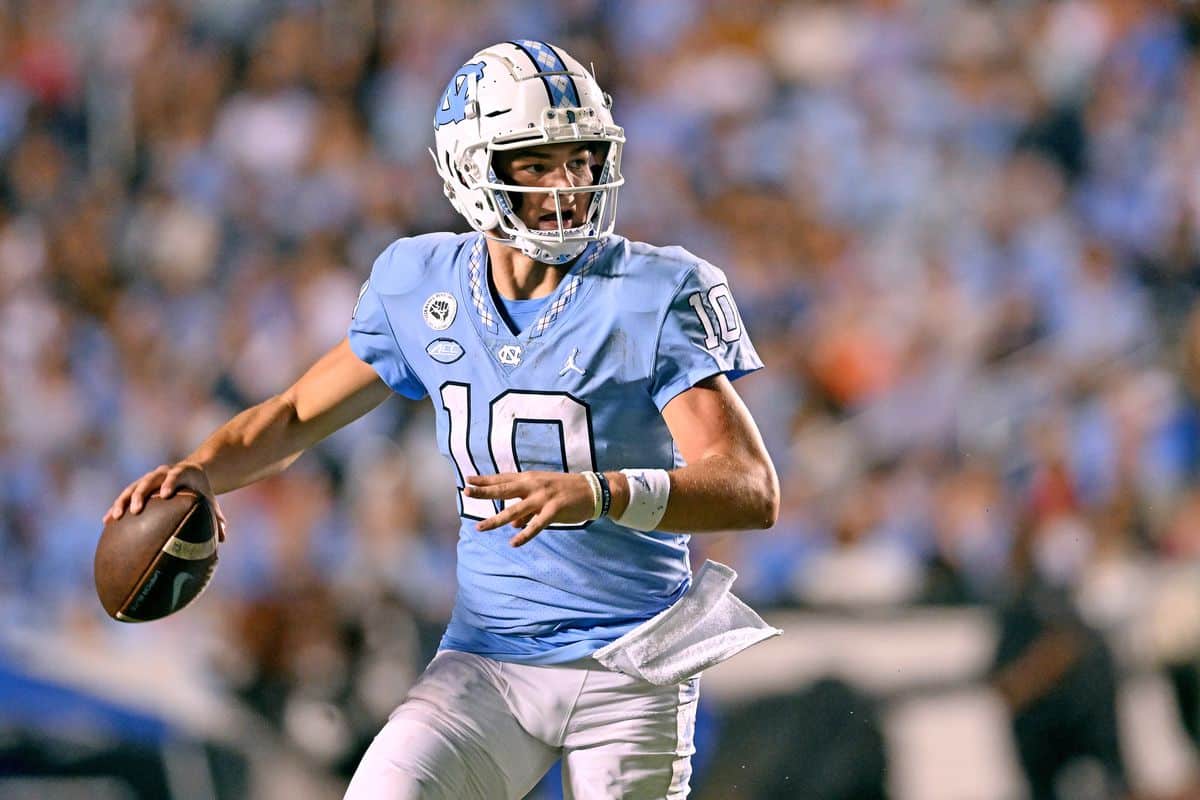 By Will Helms
I'm going to pretend like last week didn't happen and point out that despite having the worst week I've ever had, I'm still positive over the last three weeks, going 7-5 against the spread since September 17.
We're at the point in the season where Vegas has the data needed to set accurate lines. Because of that, we shouldn't expect to get way ahead of the crowd and find a lot of closing line value. Instead, we're looking for value elsewhere.
The work now is identifying lines we like—even if we don't expect them to move a lot—and betting on them at the right time. Because of this, I've identified a few lines I like now, and two I'd love to move a bit and bet later.
Best Early Week 7 CFB Lines
North Carolina -6.5 (@ Duke)
This line hasn't moved much so far and I don't expect it to, but I'd love to get in under the all-important number of 7. North Carolina's offense is special and while Duke has been better than expected this season, the defense isn't equipped to handle the Tar Heels. While North Carolina's defense hasn't been great, it's been slightly improved, holding Miami and Virginia Tech to a combined 34 points.
I expect the Tar Heels to come out firing and score some points early. If so, I don't expect Duke's running game to keep up. North Carolina has won each of the last two meetings by multiple scores and I expect that again this weekend.
Prediction: Drake Maye throws for four touchdowns in a 35-24 win.
Clemson -3.5 (@ Florida State)
This line hasn't flown in Clemson's direction like I thought it might, but there's still time. Even if it doesn't close around eight or nine, this line provides us with a lot of value.
I don't follow the transitive property often, but I think it applies here. Florida State has lost back-to-back games against Wake Forest and NC State, two teams Clemson beat. Florida State's offense is just not equipped to score consistently on talented defenses and Clemson's is the best the Seminoles have faced all season.
DJ Uiagalelei is a completely different quarterback this season and the Tigers are humming. It may be close early, but expect the Tigers to pull away late.
Prediction: Florida State struggles to score and Clemson wins, 31-20.
Michigan -7 (vs. Penn State)
This is one of my favorite lines of the week. Michigan hosts Penn State in the Big House and only lays seven points? The kicker is that Penn State isn't very good. After beating Auburn by 29, the books suddenly decided they loved the Nittany Lions, who have now failed to cover in back-to-back games.
The offense simply isn't good enough to keep up with Michigan and Blake Corum. We've bet the Wolverines in a few big spots this year and for the most part, they've delivered. The Wolverines should be able to control the ball and the clock and I trust Sean Clifford to give us a big play or two in our favor.
Prediction: I'm not putting Michigan on upset alert this week. Wolverines win, 31-17.
Bonus: Late Bets
Now that Vegas has made it more difficult to find early value, we have to get creative. I have two bets that are moving in the opposite direction. Because of this, I'm waiting to see if I can get a better number later.
Kansas +7.5 (vs. Oklahoma)
This line opened at 7 and is slowing ticking up. The problem is it should be moving the other direction. Oklahoma is on one of the worst ATS streaks this century. The Sooners have underperformed their closing line by 98 points in the last three games.
Kansas isn't a cinderella, the Jayhawks are actually a good team. Because of that, we like them in this spot. Oklahoma's defense is abysmal and the Jayhawks should score on them. If the line continues to climb, we'll wait and buy in later in the week. I'd love to get the Jayhawks at +8.5 or even +9. If not, I don't see this line moving the other direction, so we'll gladly take +7.5 if it doesn't move anymore.
Prediction: Kansas continues its incredible season, 31-27
Arizona/Washington u72.5
This number is crazy high, especially when one of the defenses isn't all that bad. Washington has certainly underachieved at times, but the Huskies haven't been that bad. The implied score in this one (factoring in the spread) is about 43-28. Washington's defense is having a run of bad form, but I just don't see the Huskies giving up a ton of points this week.
This opened at 72 and has creeped up half a point. I could see this one being some sort of 38-24 win for Arizona. That'd be two scores under the total, so we like the wiggle room we have here. Let's wait and see if we can get another point or two later in the week.
Prediction: Washington wins a slower game than expected, 38-24.