NFL
Best NFL Monday Night Football DFS Picks for Rams vs. Packers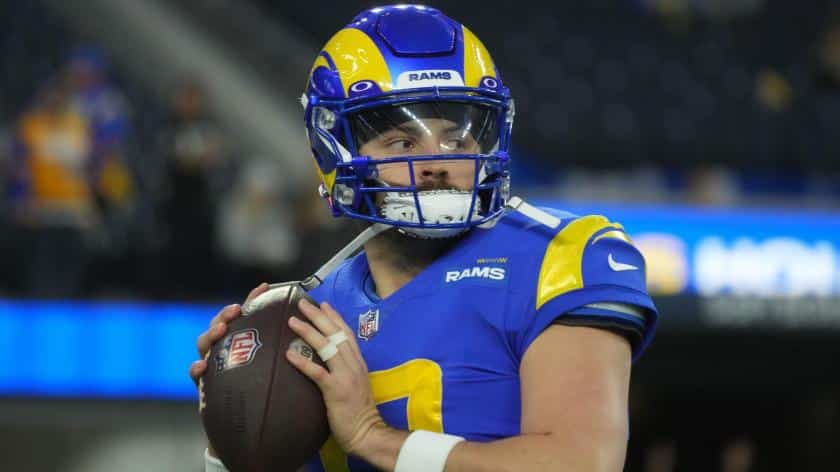 By Will Helms
It seems like every week I start my lede with something along the lines of, "After another crazy week of football, we've arrived at the final NFL game". This week, even more than others, I mean it. Saturday and Sunday brought us one of the craziest slates of football we've seen all season.
While Monday's matchup probably won't live up to its initial preseason billing, there's still plenty of intrigue in the all-NFC matchup. 365Scores has you covered when making Daily Fantasy lineups on both FanDuel and DraftKings.
MNF FanDuel DFS Plays
MVP Options
As a heads up, I've gone a more contrarian route on both sites than I have in past weeks. Both sites are far lower on a few players than I am and I'm trying to cash in on that fact. One of the guys I'm using as my main MVP options is sixth in salary.
I'm using AJ Dillon ($11,500) as a main MVP play. Last season, he got stronger as the year went on and he's put up over 16 points in each of the last two. Aaron Jones ($13,500) has been banged up and was untouched by Jones, 21-to-14 last week. To be clear, I'll play Jones as well and I play on making him an MVP option as well.
The game script should be fairly run-heavy against the banged up Rams, who may be chasing the game early. If the Packers can build a lead, we should get a steady dose of both Jones and Dillon.
The Packers still have Aaron Rodgers ($16,000), but make no mistake, they're a power running team. Trust the running backs and you should profit.
Value Plays
Weirdly, we don't need any overly cheap options Monday. The most expensive player on the slate is Rodgers and I'm fading No. 2 Baker Mayfield ($14,000). Because of this, we can play Dillon, Jones and Rodgers and still have $9500 to spend on each of our final two players.

Relative to his normal price, Allen Lazard is cheap. At $10,000, he's a lot cheaper than should be realistically expected for a guy that leads his team in targets by a wide margin. Because I'm all over the Packers tonight, I had to find some cheaper Rams to work with. Kyren Williams is only $7000, so he's an option, as is Tutu Atwell ($6000) who seemed to have some chemistry with Mayfield.
If you want to try to cash in on a random touchdown from Rodgers, both Romeo Doubs and Robert Tonyan are $6500, which gives you a lot of extra money with which to work.
MNF DraftKings Lineup Plays
Captain Options
Because of the extra money saved by playing a cheaper captain, I like Dillon ($9,300 as captain) who is the 10th-most expensive player on the slate. Even Doubs ($10,200) is more expensive than Dillon, and I feel good about Dillon in this matchup (Feel free to fade him simply because I said that).
Of course, Rodgers ($16,200), Christian Watson ($13,200), Jones ($16,800) and Lazard ($11,400) are also captain options. Rolling with Rodgers and Jones makes it essential to find a cheap player or two to balance out your lineup, so I'm making Dillon my main captain, though I have some lineups in cheaper contests with the former two as captains.
Value Plays
The main two value plays that I'm looking at on DraftKings (Aside from Dillon, who is a steal) are Ben Skowronek ($5200) and Atwell ($4400), both of whom found some success with Mayfield a week ago.
If you'd like to go a different direction and want to perhaps take advantage of a struggling Rams offense, the Packers defense is only $5000 and Rams kicker Matt Gay—who has been remarkably consistent—is just $4000.
Notes
I didn't play Christian Watson in as many lineups as some might think for a few reasons. First, you simply can't play everyone. Second, while the Rams defense hasn't been great this season, Jalen Ramsey still has a great reputation. While this has been arguably his worst season in years, he's still limiting holding top receivers below their season averages. I think Watson draws Ramsey, leaving other Packers receivers open.
I'm aware a risky captain option can backfire. I'm mitigating some risk by captaining Rodgers in some lineups and rotating the receivers that I play, to try to take advantage of Rodgers' ability to spread the ball around. If all goes well, it should be a very profitable evening.