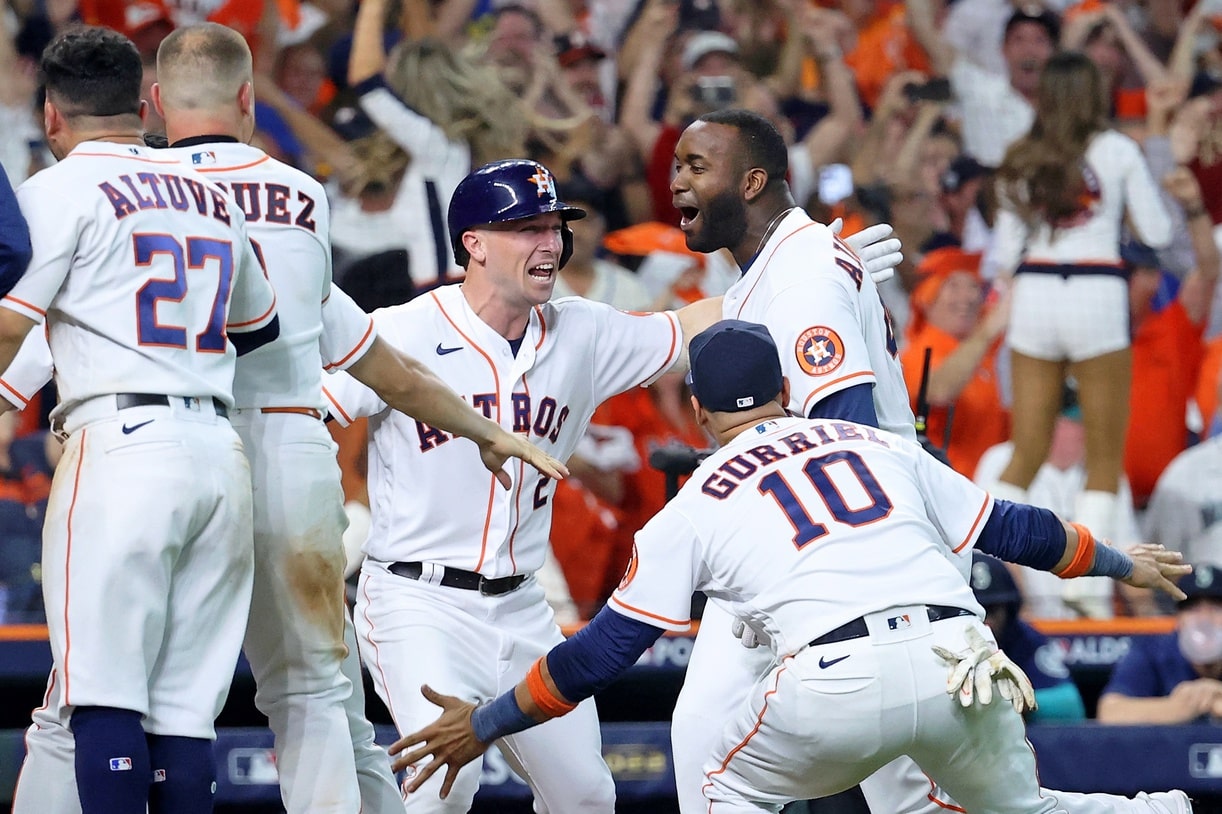 By Robert Sanchez
After another 1-1 day on Tuesday for some slight profit, that brings my postseason record to 2-4 which is simply unacceptable. Today, I get back on the right track.
There's not a whole lot to choose from on Thursday with only two games being played and one of them possibly getting pushed back to Friday due to the threat of rain. With rain in the forecast in the Bronx, I'm not even going to bother with the Yankees-Guardians game as inclement weather is always an unpredictable factor. However, I did find a bet that I absolutely love in the Astros-Mariners game and it's a little different than bets I've made in the past on here.
Read all the way through to find a first inning prop I like and to get a little crazy with me with alternate totals!
SEA @ HOU, ALDS Game 2, 3:37 p.m., Astros team total runs o3.5 -114 (FanDuel)
There are so many reasons why I like this bet, but I think I'll start with how good the Astros offense has been this year. Going into the postseason, Houston scored 737 runs during the regular season (4.55 runs per game) which was the eighth most runs scored in MLB and the third most in the American League.
After the All-Star break, what was already a potent offense got even better as the Astros scored an average of 4.70 runs per game (up from 4.43 runs per game before the All-Star break). Houston's 334 runs scored in the second half was the sixth-best mark in the majors and second-best in the AL, behind only the Toronto Blue Jays.
Their offense was even better during day games this season as they averaged 4.85 runs per game during the day versus 4.39 runs per game at night. The Astros also scored the fourth most runs in the first inning this season with 103, which is an average of 0.63 runs. That number increased to 0.72 at home.
This is important because if Houston can score in the first inning, not only does it get us closer to cashing our bet, it would likely mean getting Mariners' starter Luis Castillo out of the game sooner. And even though Seattle's bullpen has the sixth-best ERA in MLB at 3.33, the more pitchers that come into a game mean more chances that one of them has an off night and gives up runs. Just look at Game 1.
Speaking of Seattle's pitching, coming off a brilliant performance against the Toronto Blue Jays in Game 1 of the Wild Card Series, Castillo now has to face another offensive juggernaut on the road. And despite going 7.1 scoreless innings in Toronto last Friday, road starts have not always been kind to the right-hander as his 4.15 career road ERA would suggest.
In fact, in six road starts for the Mariners during the regular season, the opposition went over 3.5 runs in three of them. Also, the best time to get to Castillo is early in the game, specifically the first inning where he owns a 4.32 ERA. That should play nicely into the hands of Houston who I mentioned is one of the best teams at scoring early, which is why I also like the Astros to score in the first inning at +265 (Bet365).
But it's not all about Castillo. This season, the Astros were wildly impressive at scoring runs with Framber Valdez on the mound. In 31 of Valdez's starts, Houston went over 3.5 runs in 19 of them. In 14 home starts, they went over this number nine times. For whatever reason, with Valdez pitching, the Astros scored runs in bunches.
Lastly, Houston has simply owned Seattle over their history. In 191 regular season games against the Mariners, the Astros are 119-72 and 63-39 at MinuteMaid Park. In 10 home games this season, Houston scored more than three runs seven times. They scored eight runs in Game 1 of this series with five of those runs coming after the seventh inning which I think demoralized the Mariners who definitely thought they were about to steal a Game 1 win in Houston after being up 7-3 going into the eighth inning.
I think it's going to be hard for Seattle to recover from that, especially against a relentless offense. So, if you want to have some fun with me, feel free to join me in laddering the Astros' team total over at o4.5 +165, o5.5 +290, o6.5 +450, o7.5 +750, o8.5 +1200 and o9.5 +1500 which can all be found on Bet365.
And just in case you've never laddered before, it means putting less and less money on each higher alternate total. For example: o3.5 (-110) 1.1 unit, o4.5 (+165) 0.5 unit, o5.5 (+290) 0.25 unit, o6.5 (+450) 0.15 unit, o7.5 (+750) 0.1 unit, o8.5 (+1200) 0.05 unit, o9.5 (+1500) 0.05 unit. Good luck!
Game 2 Prediction: Astros win 7-3