NBA
Basketball
2023 NBA Finals Predictions: Spread and Player Prop Picks for Heat vs Nuggets Game 1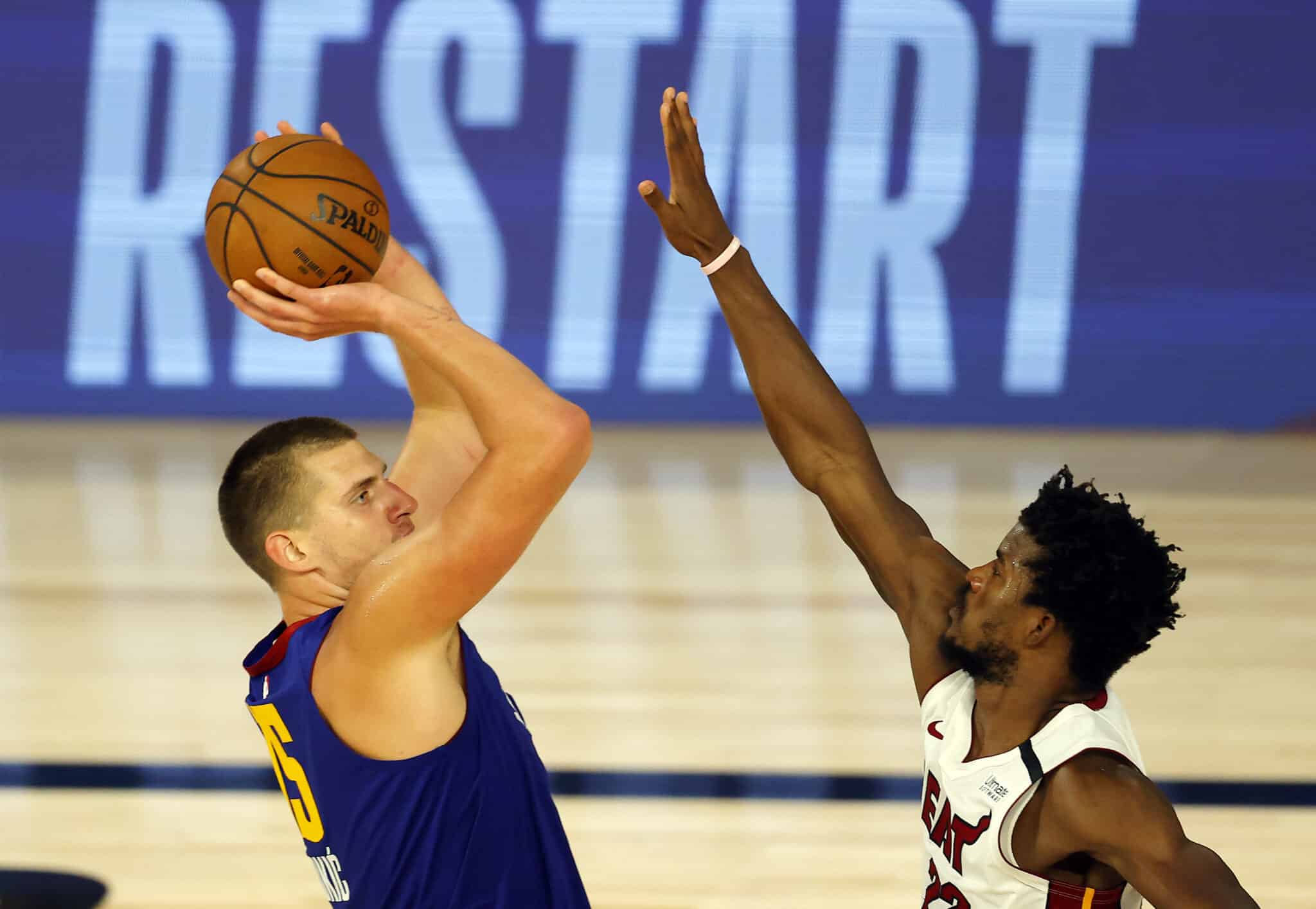 365Scores expert picks for the NBA Finals
By Scott Kacsmar
The 2023 NBA Finals are here with the top-seeded Denver Nuggets hosting the No. 8 Miami Heat in Game 1. The Heat enter as the second-biggest underdog (+350) in the last 16 NBA Finals, but the favorite is only 7-5 in the last dozen years. This is also the sixth appearance for head coach Erik Spoelstra, who also led the 2020 Heat to the Finals with Jimmy Butler as the main attraction.
The only player with better odds than Butler to win Finals MVP is Nikola Jokic, who can put a bow on this dominant 3-year run that has already seen him win two MVP awards and lead Denver to the first NBA Finals in franchise history.
We have our spread pick for Game 1, as well as a handful of our favorite player prop, picks for the first of what should be several exciting games in this series.
Miami Heat vs. Denver Nuggets (-9)
Miami has been an underdog all postseason long, and this game is no different as the Heat are a 9-point road underdog with a total of 219 points. Here are some notable records and stats for this matchup:
Denver is 14-7-1 ATS (66.7%) with a rest advantage, the best record in the NBA this season.
Oddly enough, Miami was a league-worst 6-14-1 ATS (30.0%) with a rest advantage.
Denver is 30-18-1 ATS (62.5%) as a home team, the 2nd-best record.
Miami was 30-49-3 ATS (38.0%) in the regular season, tied for the NBA's worst record, but the Heat are 13-5 ATS (72.2%) in the playoffs, the best record of any team since the 2020 Heat were 16-5 ATS (76.2%).
Since 2018, Miami (40-21 ATS, 65.6%) and Denver (34-28-1 ATS, 54.8%) have the best spread records in playoff games among all teams (min. 8 playoff games).
Miami is 10-3 ATS and 7-6 SU as an underdog of 7+ points this season.
Miami is 5-1 ATS and 4-2 SU as an underdog of 9+ points.
Denver is 9-14 ATS and 17-6 SU as a favorite of 9+ points.
Denver is 2-8 ATS and 7-3 SU as a favorite of 9-to-10 points.
The home team is 23-4 SU in Game 1 of the NBA Finals since 1996, and 16 of the 27 games (59.3%) were won by double digits by the home team.
Denver is 9-1 against Miami since the 2018-19 season.
Denver is 2-0 against Miami this season, though the 124-119 win in December at home required an 8-point comeback in the fourth quarter.
No coach has a better record against Erik Spoelstra (min. 10 games) than Denver's Mike Malone, who is 12-6 (.667) against him.
Denver is 8-0 at home in the playoffs, but only 4-of-8 games were won by double digits.
Miami had the most player games lost to injury in the regular season among teams to make the playoffs, which can explain the mediocre statistics and record.
Simply put, the Heat are not your typical No. 8 seed. The core of this team already played in the Finals in 2020, losing in Game 6 of the bubble to the Lakers, and they were the No. 1 seed last year before losing Game 7 of the Eastern Conference Finals. The Heat already upset the top-seeded Bucks in the first round, and they closed out the No. 2 Boston Celtics, who also won four more games than Denver did in the regular season.
The Nuggets should definitely be favored, but the odds should probably be a little closer than they are. Miami is a tough out with six double-digit comeback wins this postseason already. In the Jimmy Butler era, Miami is 9-2 in Game 1, though this should be a tougher test than most given how good Denver is at home, and how much extra rest it has had for this game.
The Nuggets had 10 days to prepare for Game 1 while the Heat had to play in Boston on Monday night. We will see how much of a factor that is both at the start of the game if the Nuggets come out rusty and misfiring, and at the end of the game if the Nuggets look fresher in the altitude of Denver.
But the Nuggets have had the best offense in this playoffs, the best rebounding metrics, and the best assist-to-turnover ratio. In fact, Denver's 2.27 assist-to-turnover ratio this postseason would be the highest in history since turnovers were first officially tracked in 1977-78. Nikola Jokic is playing outstanding and already has the new single-season playoff record for triple-doubles with 8. He has serious help too with Jamal Murray, who averaged 32.5 points per game in a sweep of the Lakers.
Both teams are designed well to get huge nights from unheralded contributors such as Caleb Martin, Max Strus, and Gabe Vincent on the Heat, and for the Nuggets you have to watch out for Michael Porter Jr., Kentavious Caldwell-Pope, Aaron Gordon, and even Bruce Brown off the bench.
These are not super teams or even teams taking the "Big Three" approach. They both have a clear duo (Butler and Bam Adebayo, Jokic and Murray), and then they are well-rounded and coached the rest of the way down the line.
Miami averaged a league-low 109.5 points per game in the regular season, but it has done a much better job of being offensively productive in the playoffs. However, Denver clearly has the better offense. In the regular season, Denver led all teams in FG% (50.4%) while Miami ranked No. 26 (46.0%).
The size advantage could also be significant in this series. Denver has three starters 6'8" or taller while the Heat only have one in Adebayo (6'9"), who is shorter than Jokic (6'11") and Porter Jr. (6'10").
Denver should be good to win this game, but covering a 9-point spread is a big ask. The two regular-season meetings were decided by a combined 9 points between these teams, and that was even with Jokic posting great numbers for Denver. Picking against the Heat feels sacrilegious this postseason, so let's continue going with the hottest pick in the league and taking Miami with the points.
NBA Pick: Heat +9 (-110) at FanDuel
Player Prop Picks
Is it a night for Butler to redeem himself? Does Boston have a role player go wild at home? We make our favorite prop picks for the final game of the Eastern Conference Finals.
Duncan Robinson (Heat) – Over 8.5 Points
The Heat are going to need their shooters in this series against a great offensive team like Denver. Duncan Robinson has been up and down all season, but he was useful in the Boston series.
When Robinson gets over 20 minutes of action this postseason, he is 10-for-10 at going over 8.5 points. When he gets no more than 15 minutes on the court, he is 0-for-8 at going over 8.5 points.
Even with Caleb Martin exploding against Boston, Robinson has seen his playing time increase and he has scored double digits in 5-of-6 games coming into Thursday. He had 9 points on 3 made 3s in his only trip to Denver this year back in December.
Robinson could be a good value pick for scorers who only need a few baskets to hit theןר over in this matchup.
Nikola Jokic (Nuggets) – Over 9.5 Assists
Expectations are very high for Jokic to perform in this series after the high standard he has set for himself. Jokic already has eight triple-doubles this postseason, and his continuing to average a triple-double in the Finals would certainly put the final stamp of approval on this title run for him.
The Heat were statistically great at limiting opposing centers in the regular season, holding them to the 2nd-fewest points, 2nd-fewest rebounds, and fewest assists according to FantasyPros.
But how many centers can compare to Jokic? He had 8 assists in his last game against Miami and 12 assists in his last home game against Miami. Jokic has gone over 9.5 assists in 9-of-15 playoff games, and 7-of-8 coming into Game 1. Jokic's 10.3 assists per game are just behind Luka Doncic in 2021 for the most assists per game in the last five postseasons (min. 7 games).
We like the triple-double for Jokic, so over 9.5 assists it is in Game 1.
Gabe Vincent (Heat) – Under 2.5 Rebounds
The Heat do not get great rebounding numbers from their guards, and the size advantage the Nuggets have could also be problematic in this matchup. Caleb Martin gives the Heat another solid rebounder in recent games, but Gabe Vincent is expected to continue playing in place of injured guard Tyler Herro.
Vincent has gone over 2.5 rebounds in just 4-of-17 playoff games. He had 2 rebounds in his last game against Denver in February. Look for Butler, Adebayo, and Martin to do the majority of rebounding for Denver and take the under on Vincent, who needs to be more of a shooter and passer in this matchup.
Also, Denver allows a league-low 40.8 rebounds per game.
Kentavious Caldwell-Pope (Nuggets) – Over 1.5 Made Threes
The two superstars in this game (Jokic and Butler) are not known for shooting 3s. A lot of role players for both teams have lines set to 2.5 3s, so the best value may be taking the over 1.5 for KCP, who has done that in 9-of-15 playoff games and 39-of-76 regular season games (51.3%).
Back in December against the Heat at home, Caldwell-Pope had his best shooting game of the season when he was 7-for-7 from the field and 4-for-4 from 3 on his way to 20 points.
The Heat were also the Finals opponent in 2020 when KCP won a ring with the Lakers. He made multiple 3s in 5-of-6 games in that series. Let's count on him to have a good showing here in Game 1 and make a couple of deep ones.
Also, Caldwell-Pope's teams are 22-4 (.846) in the playoffs when he scores in double figures, which is the best record among all players since 2019. The Nuggets are 41-11 (.778) this season when KCP scores in double figures, which is also the best record for any one player in the 2022-23 season (playoffs included).
Aaron Gordon (Nuggets) – Over 0.5 Steals
Gordon has been overshadowed by his teammates in this postseason, but he is arguably coming off his best game in the clincher against the Lakers when he had 22 points, 6 rebounds, 5 assists, and 2 blocks.
One thing Gordon did not put on his stat sheet was a steal, and in fact, it was the sixth playoff game in a row where he had no steals despite averaging 36.3 minutes per game during this time.
Gordon had a steal in 6-of-9 games to start this postseason. He had a steal in 33-of-68 regular season games (48.5%) too, and he has not gone more than six straight games without a steal since March 2022.
Let's bank on the Heat having the worse night with turnovers on the road, and for Gordon to end the drought and get a steal for the Nuggets.
[ays_poll id=63]