Tennis
Roland Garros 2023 Preview – The Coronation of a New King?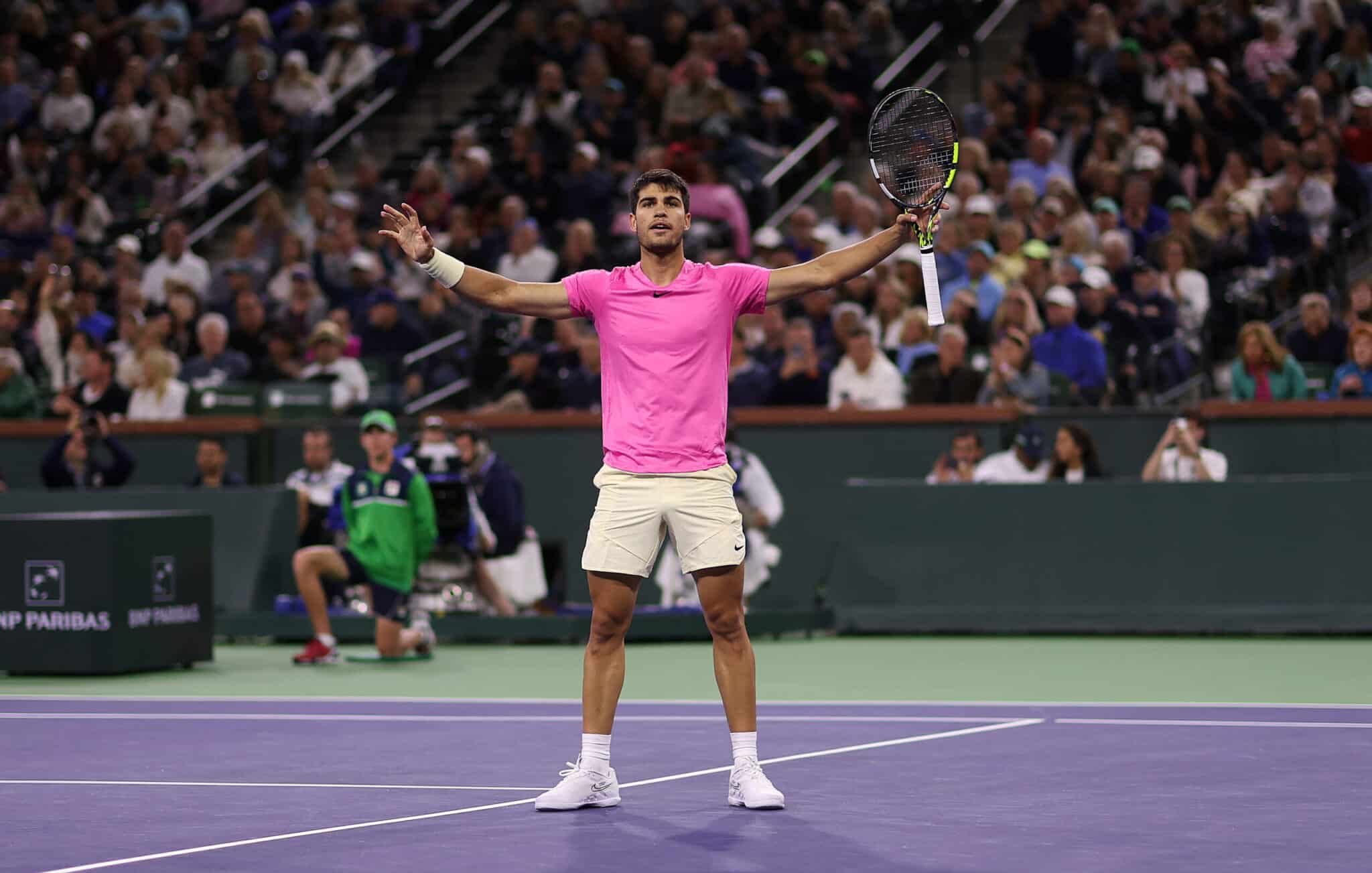 France's annual celebration of tennis provides spectators and viewers with the spectacle of the Roland Garros. Following the Australian Open earlier on in the year, the French Open becomes an epic way to conclude the yearly clay season. This year's edition of the major tournament will be the 127th time that Paris has hosted this prestigious tournament, dating all the way back to 1891.
2023's Roland Garros will be played between the 22nd of May and 11th of June; with the 28th of May being the 1st round of Men's and Women's Singles competitions. There currently remains one Masters tournament in Rome and 2 smaller ATP 250 tournaments before the 2nd Grand Slam of the year.
Last year's French Open saw record-breaker Rafael Nadal secure his 14th Coupe de Mousquetaires. At 36 years of age, the Spaniard defeated Norwegian Casper Ruud 6-3, 6-3, 6-0 inside Court Philippe-Chatrie to continue his nearly 20-year reign of terror in France.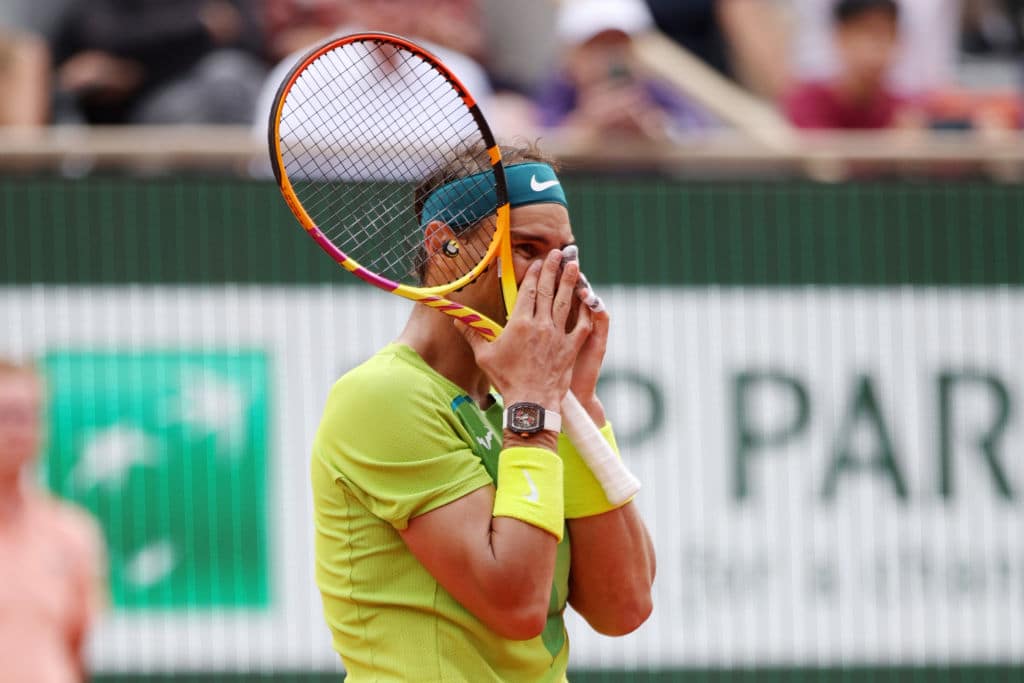 For some, the French Open symbolizes the simplistic beauty and intricacy of the tennis game. Instead of big powerful serve dominating play, the clay court compels competitors to 'grind it out' more in tense high-quality rallies. The slower-paced nature of playing on the clay provides spectators with the true perseverance and discipline involved in maintaining prime tennis for longer periods of time.
With the extravaganza of a Grand Slam on the way, let's take a look at the top 3 favorites to be crowned Men's Singles champion come mid-June!
3. Rafael Nadal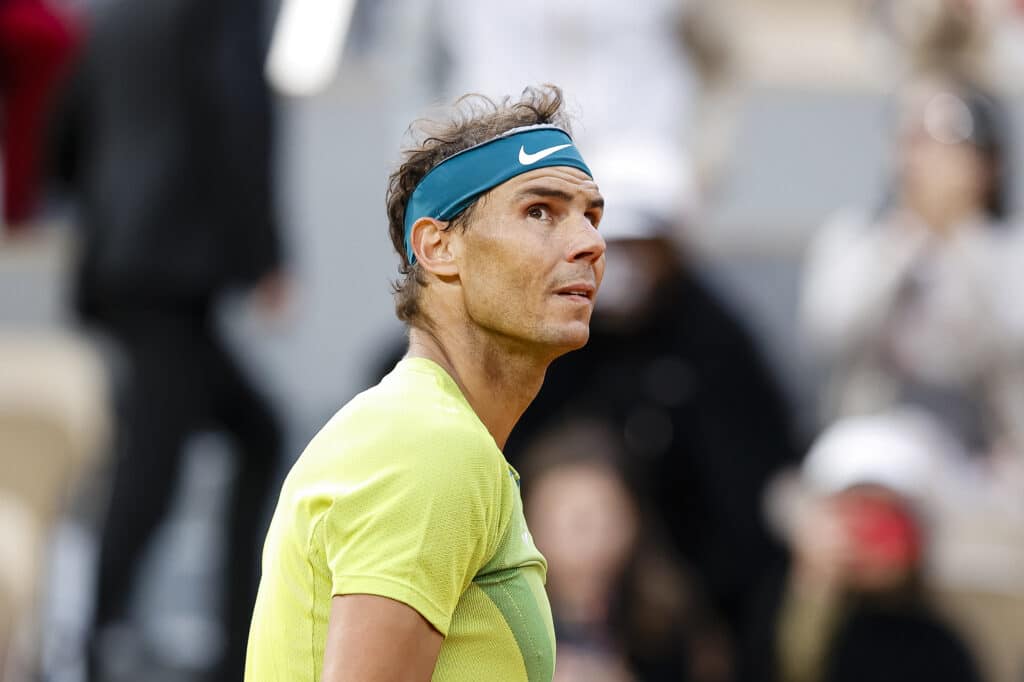 Of course, if we are going to talk about the French Open, we are going to talk about Rafael Nadal. The helicopter forehand, the left-handed spinmeister, the Spanish phenom, and the clay G.O.A.T. Rafael Nadal absolutely loves playing in France! With a record 14 Roland Garros titles, the Spaniard can never be counted out of the tournament regardless of physical or psychological state. No one in tennis history can compare to the 14x champion's triumphs in Paris, with Bjorn Borg's 6 French Open titles being the next best in the open era.
Despite a strong 2022 where Rafa won 2 Grand Slam trophies in a calendar year for the first time since 2019, El Nino's 2023 has not been a year to remember. Unfortunately becoming more and more typical for Nadal is his time on the sidelines due to injury. In this year's edition of the Australian Open, Nadal picked up a hip flexor injury in his second-round matchup against American Mackenzie McDonald. Although the planned recovery time was 2 months, Nadal is yet to step on the court since early January.
This ongoing hip crisis has resulted in Nadal only playing 4 competitive games this year, coming away with a 1-3 record. It's also pushed Rafa down the rankings, falling to 14th in the ATP leaderboards. Quite remarkably, El Nino has fallen outside the 'Top 10' for the first time since the 18th of April 2005!
Most recently, Nadal was forced to withdraw from the upcoming Masters 1000 in Rome. Having won the tournament in central Italy 10 times, there becomes increasing worries that Rafa will be unfit for the Rolland Garros which begins in just 2 weeks. The 22x Grand Slam champion has also withdrawn from Masters in Miami, Madrid, and Monte Carlo.
Additionally, Nadal supporters' main concern could be his lack of consistency and games played leading into the second Grand Slam of the year. Many believe that the Spaniard needs many games to find a rhythm, but with only 1 win for the year, Nadal would need to find his best form swiftly in Paris. Nadal's coach and former world number 1 Carlos Moya rejected this notion of consistency. Debunking the myth that Nadal needs to play several matches to be fit and firing, Moya said to the French newspaper L'Equipe that "[he thinks] it's an urban legend that Nadal needs a lot of matches to be ready when he came back from injury he always achieved good results."
Regardless of match-play, it is undoubtedly that the French Open is Nadal's for the taking when he is fully fit. Nadal's 91.3% win ratio on clay includes an all-time record of 112 wins and 3 losses in Roland Garros. This 97.4% win rate at the French Open has spanned across 18 tournaments since 2005. The only other players to reach triple digits in the win column at a major in the Open Era are Federer (Australian & Wimbledon), Serena (US Open), Navratilova (Wimbledon), and Chris Evert (US Open). Navratilova's 120 Wimbledon wins are the most all-time, and Nadal's 112 in France is second on the list. Rafa would need to win this year's edition of the Roland Garros and reach at least the 3rd round in 2024 to break Navratilova's incredible record.
Not only does the King of Clay lift the Coupe de Mousquetaires year after year, but he is also rarely challenged inside Court Philippe-Chatrie. Overall, has a record of 333-34 in sets in the Roland Garros. In his 115 matches in the tournament, he has only been pushed to 3 sets thrice! 4 times (2008,2010, 2017,2020) Rafa has won the esteemed competition without dropping a set, the most in history! Federer has done that twice and Djokovic has never accomplished this feat.
You would have to be a maniac to discredit Nadal and his unprecedented level of dominance at the Roland Garros. Whilst his fitness and physical capabilities may be in question nearly at 37 years old, Rafa cannot be counted out and is surely a contender for 2023's French Open!
2. Carlos Alcaraz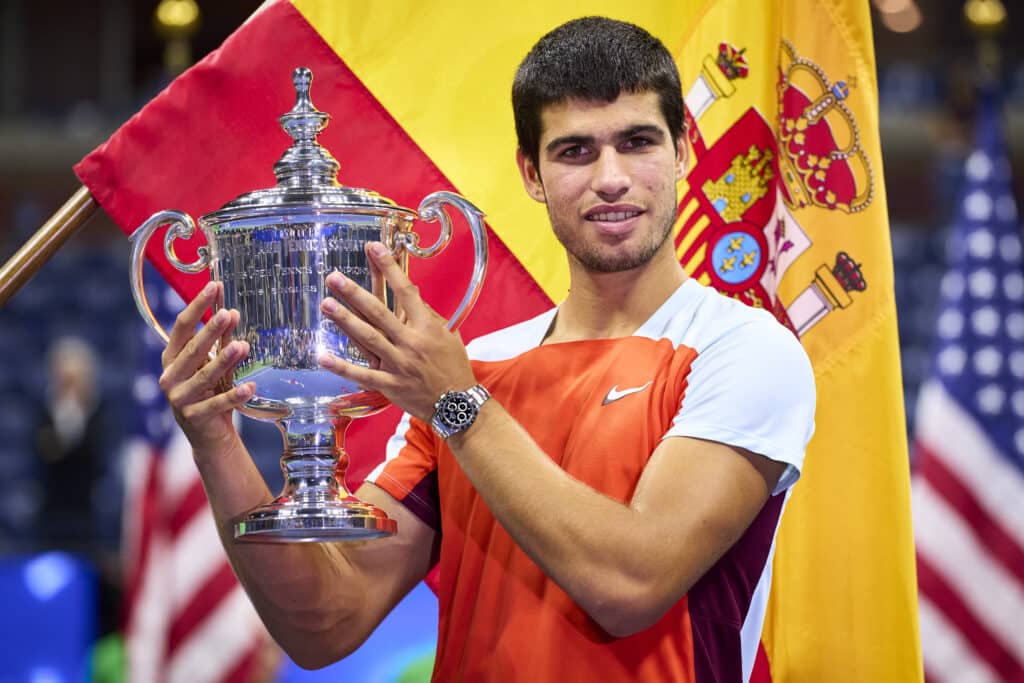 At the young age of 20 years old, Carlos Alcaraz is the game's brightest up-and-coming star. I mean, up-and-coming may be an outdated adjective for the Spaniard. Having already taken the tennis world by storm, Alcaraz has injected a sense of youthful energy which the sport has been crying out for. Even more so, Charly's rise to stardom has come as a relief for tennis aficionados, with the future of the sport being unknown given 'The Big 3' of Rafa, Novak and Roger are nearing the ends of their respective careers.
Carlos Alcaraz comes into this year's Roland Garros as world number 2. However, his exceptional level of play could return him to the summit prior to the Grand Slam in France. Following his tournament triumph in Madrid, Alcaraz's 2023 has seen him go 29-2. With a 4-0 record against 'Top 10' opponents and 4 titles already secured, Carlitos has returned from injury in style.
Slightly concerning for Alcaraz is the number of injuries he has already sustained at such a young age. In November of 2022, the world number 2 sustained an abdominal injury at the Paris Masters which kept him out of the 2022 ATP Finals in Turin. Not the greatest conclusion to his historic 2022.
The start of 2023 wasn't more positive for Alcaraz either. A muscle injury in his right left kept him out of the Australian Open and continued to keep Alcaraz away from the court until February. An ATP 250 tournament in Buenos Aires saw Alcaraz return to action for the first time in 3 months.
Despite his time away from tennis, Alcaraz has picked up 2023 just like he left off 2022. Reaching at least the semi-finals in each of the 6 tournaments he has played, the Spaniard comes into the French Open with a record of 19-1 on clay this year. In fact, Alcaraz's all-time record on this surface is 82.9%, his best win ratio out of the three major surfaces.
Alcaraz's 2022 truly placed his name on the tennis map. Beginning the year ranked 32, expectations were set for the youngster. He proceeded to completely blow them out of the water. February saw Alcaraz win his first-ever ATP 500 title in Rio and weeks later become the youngest winner of the Miami Masters. This tournament triumph actually saw the Spaniard become the 3rd youngest Masters 1000 winner behind Rafael Nadal and Michael Chang. Another 2022 highlight saw Alcaraz win the Masters 1000 in Madrid, where he defeated Nadal, Djokovic and then world number 3 Zverev in consecutive matches to win the tournament.
Alcaraz's biggest title run came in the last Grand Slam of the year. Winning the US Open, Carlito became the youngest men's singles winner at the American major since 19-year-old Pete Sampras in 1990. He also became the youngest Grand Slam champion in men's singles since 19-year-old Nadal at 2005's Roland Garros.
The 3 majors (Miami, Madrid, US Open) saw Alcaraz equal the likes of Andy Roddick, Lleyton Hewitt and Marat Safin for their personal records of most major trophies in a calendar year. Pretty good company for the 20 year old to be in!
Perhaps most impressive though, was Alcaraz becoming the youngest ever year-end number 1. Prior to Charly's historic rise, the record was held by Australian Lleyton Hewitt at 20 years and 275 days. But, the Spanish superstar reached the summit aged 19 years and 214 days. Alcaraz joined the King of Clay – Rafa – as the second ever year-end number 1 from Spain.
In Alcaraz's 2 years competing in the French Open, he has reached the Round of 32 and the Quarter-Finals. Despite this, Alcaraz's form coming into the tournament is top-notch. Having won 21 consecutive matches on Spanish clay and winning the most matches in his first 150 tour matches in history, Alcaraz has placed himself in a good position leading into Roland Garros.
1. Novak Djokovic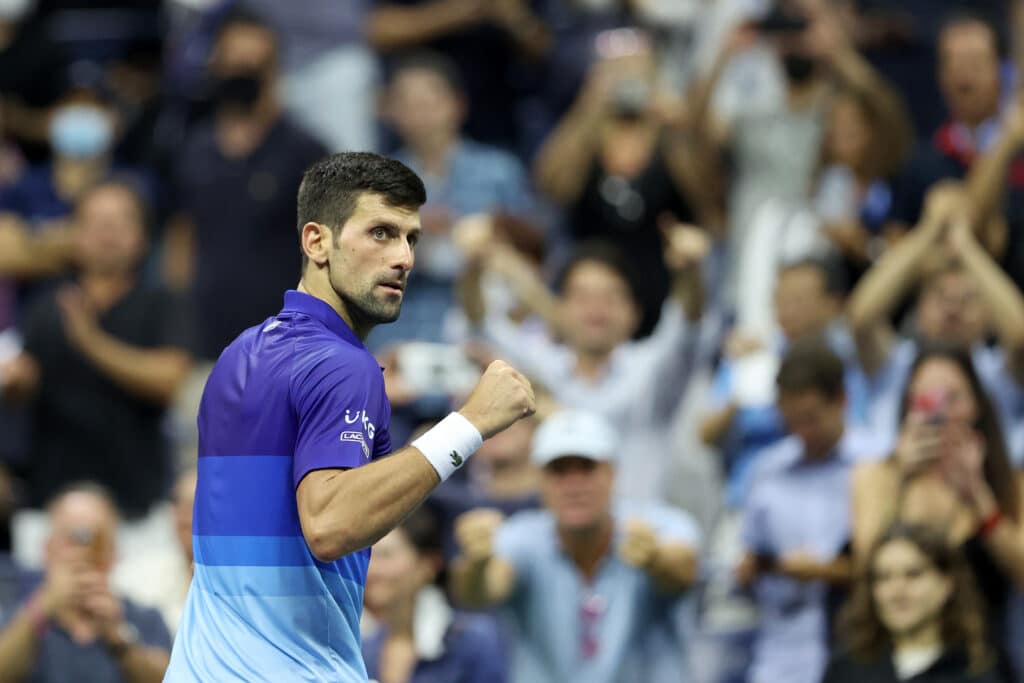 How to describe Novak Djokovic? Passionate. Talented. Controversial. Moody. G.O.A.T? The 35 year old could be perceived as unlucky that he has played in the same era as Rafael Nadal; otherwise, his Roland Garros trophy count could be much higher. Nonetheless, the Serbian star has won the tournament twice in 2016 and 2021.
Interestingly, Djokovic's win-loss ratio of 259-65 on clay is his worst win ratio of all three major surfaces. Regardless, the current world number 1 has made 6 final appearances in the French Open.
Djokovic's 2023 has had some serious highs and some serious lows. After a frustrating 2022 where Novak only competed in 2 Grand Slams for the first time since joining the pro tour, 2023 began positively with the Serbian winning a record 10th Australian Open. A trophy in Adelaide just prior to 2023's first major also indicated that 2023 could be Novak's year.
However, the 22x Grand Slam champion's post-Australian Open campaign has been far from top-notch. With a record of 5-3 since the AO, Djokovic has had some shocking losses to the likes of Lorenzo Musetti (ranked 21) and Dusan Lajovic (ranked 70). Another worry for The Joker is his lack of gameplay. Despite there being 4 Masters 1000 tournaments since the Australian Open, Djokovic has only played in one. Monte-Carlo saw him lose to Musetti in the Round of 16.
Moreover, Djokovic's record on clay to start the year has not set the world alight. With a 2-2 record on Roland Garros' surface in 2023, The Joker is not optimally equipped for the tournament in Paris. Even his two wins came against Ivan Gakhov and Luca Van Assche who are ranked 198 and 87 respectively.
Although, recent history has seen Djokovic's post-Australian Open tournaments be unsuccessful. In fact, there has been a trend of The Joker performing well below average between the two Grand Slams, but still making deep runs in the French Open.
Excluding 2020 due to the COVID-19 complications on tour, the last 4 seasons have seen Djokovic win 3 titles between the AO and Roland Garros despite competing in 20 tournaments. This time period in 2018 to 2022 saw him lose to the likes of Jiri Vessely (ranked 123), Martin Klizan (ranked 140), Taro Daniel (ranked 109) and Benoit Paire (ranked 47). Despite that, since 2018 Djokovic has reached the: Quarter-Finals twice, Semi-Final once and Final twice of the French Open.
Along with this, The Joker still maintains a 17-3 record for the year and a record of 3-1 against 'Top 10' opposition. Not bad for an off-time period.
Ultimately though, it is Novak Djokovic. The guy is the definition of a big game player. A record 22 grand slams, record 38 ATP Masters 1000 tournaments and a career win-loss ratio of 83.4%. Novak Djokovic cannot be counted out and should not be taken lightly by any player on the tour.
OUR PREDICTION: CARLOS ALCARAZ
For the first time since 2003, we believe a Spaniard that is not Rafa Nadal will win the French Open title inside Court Philippe-Chatrie. Carlos Alcaraz, will be firing in Paris and obliterate any competition that stands in his way.
Unfortunately for Nadal, his ongoing injury crisis could see him arrive in France in less-than-ideal physical condition. Given the grueling and grinding nature of his matches, especially on the clay, Nadal's age and physical wear and tear might finally catch up to him.
Djokovic might not be impacted by injury, but just might not be able to compete with Carlitos.
Alcaraz's near-perfect form on the clay really places him in the driver's seat for Roland Garros. His tournament victories in Madrid, Barcelona and Buenos Aires already this year mean that he has won 3/4 clay tournaments he has competed in. His drive and desire to win in Paris just may be too much when it is paired with his unmatched talent and presence on the court. With few players to really challenge Carlitos on the court, a major slip-up would need to occur for the Spaniard to not waltz his way to his second-ever Grand Slam trophy.
Just like King Charles III, there will be a coronation in France. The Roland Garros will be the coronation of a new king of tennis. The new best player in the world. Carlos Alcaraz.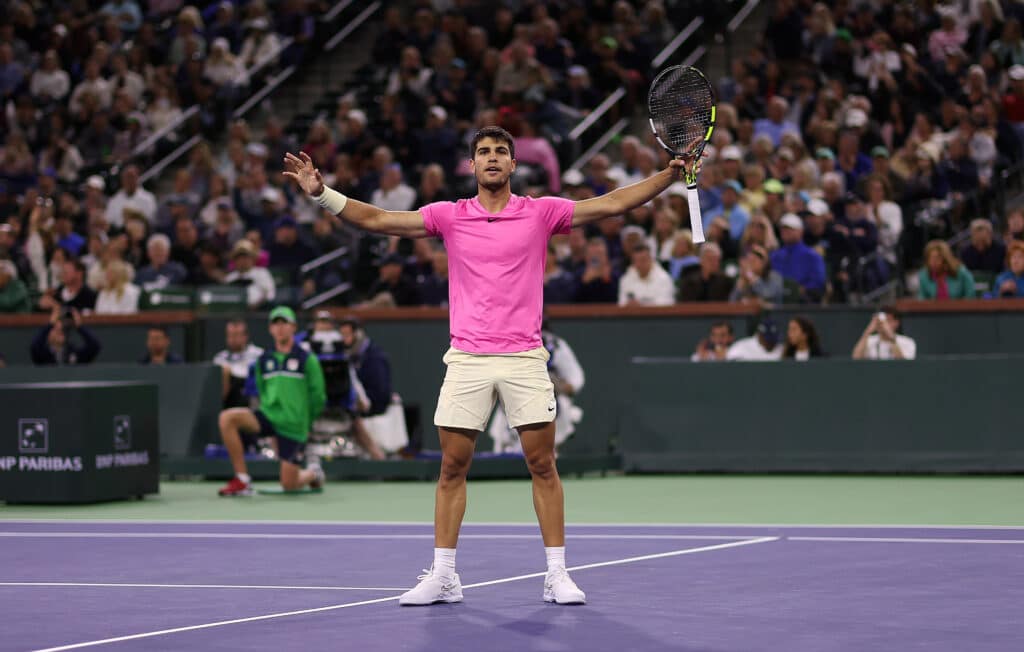 [ays_poll id=45]
By Gilad Nagar 7/05/2023