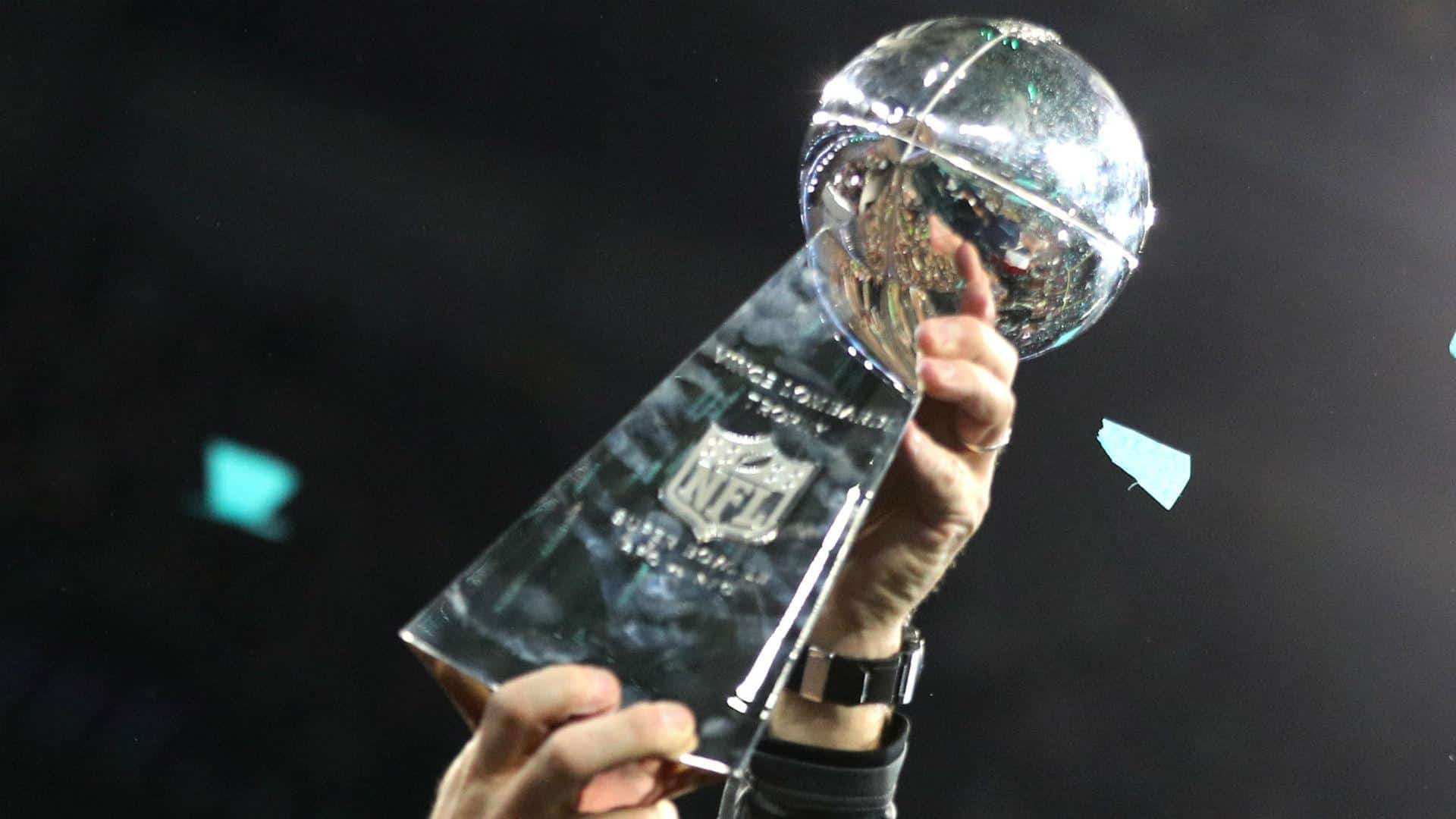 How to bet on the 2023 Super Bowl online
Betting on the Super Bowl at a retail sportsbook can be a memorable experience. But it's also tough to beat the convenience of betting online or via an app. There are a number of methods to explore on those fronts.
Here are our top sports betting apps in 2023 to bet on Super Bowl 57.
DraftKings Sportsbook
DraftKings has consistently received high marks for its platform. It's packed with features while being easy to use. NFL bettors will find a clear listing of available props for the big game, and a live betting platform once it kicks off.
DraftKings Sportsbook is available in the following states: AZ, CO, CT, IL, IN, IA, KS, LA, MD, MI, NH, NJ, NY, OH, PA, TN, VA, WV & WY
FanDuel Sportsbook
Being user-friendly and visually appealing has helped the FanDuel platform stand apart from the crowd. Navigation is easy, and all of the main functions work well. Hallmarks include competitive lines and parlay features.
FanDuel Sportsbook is available in the following states: AZ, CO, CT, IL, IN, IA, KS, LA, MD, MI, NJ, NY, OH, PA, TN, VA, WV & WY
BetMGM Sportsbook
The MGM brand name is coming to be known for more than its iconic destinations. BetMGM has been growing rapidly, with a solid online and mobile offering. Super Bowl bettors will find a variety of bets and a large assortment of props.
BetMGM Sportsbook is available in the following states: AZ, CO, DC, IL, IN, IA, KS, LA, MD, MI, MS, NJ, OH, NV, NY, PA, TN, VA, WV & WY\
PointsBet Sportsbook
Since debuting in the US in January 2019, PointsBet has been making noise. The company has expanded its reach tremendously. A great interface and attention to the odds have certainly helped. The PointsBetting feature has been a hit with NFL bettors.
PointsBet Sportsbook is available in the following states: CO, IL, IN, IA, KS, LA, MD, MI, NJ, NY, OH, PA, VA & WV
BetRivers Sportsbook
This is another platform that's easy to use while looking great. BetRivers has become a popular destination for bettors in several states. A great rewards program has helped to build loyalty, while a clean listing of available wagers and smooth betting are among the highlights.
BetRivers Sportsbook is available in the following states: AZ, CO, IL, IN, IA, LA, MD, MI, OH, NJ, NY, PA, VA & WV
Super Bowl Promotions
Details on special offers and welcome bonuses for the Super Bowl from top legal sportsbook apps. We will update this space with new promotions as they are announced.
DraftKings Bet $5 on Super Bowl LVII & Get $200 in Bonus Bets
Super Bowl Promo: Open a DraftKings account, bet $5 on the Super Bowl, and get $200 in bonus bets instantly.
Sign up with DraftKings Sportsbook, make a $5 cash bet, and instantly get $200 in bonus bets (eight $25 bonus bets). You can use these to bet on the Super Bowl, or do so before the game and use your bonus bets on the Kansas City Chiefs-Philadelphia Eagles game.
FanDuel $3,000 No Sweat Bet
Super Bowl Promo: Sign up and your first bet at FanDuel will be of the no-sweat variety for up to $3,000.
Open a new FanDuel Sportsbook account and if your first bet loses, you'll be refunded for up to $3,000 in FanDuel bonus bets. You can use your first bet on the Super Bowl, or bet before then and use your bonus bets on a myriad of Super Bowl bets at FanDuel. No FanDuel promo code is required.
Caesars Super Bowl $57,000 Bet Credit Giveaway
Super Bowl Giveaway: All Ceasars Sportsbook users have a chance to win a $57,000 bet credit.
Opt-in via the Caesars promotions page. Then place a bet of at least $5 with minimum odds of -200 on the Super Bowl and you'll be entered into the drawing. Five lucky winners will get a $57,000 bet credit, 57 winners will get a $570 bet credit, and 570 winners will get a $57 bet credit.
How to bet on the 2023 Super Bowl online
You can be ready to bet on the 2023 Super Bowl online in a matter of minutes. Here's what you need to do.
Choose a legal online sportsbook to wager with. The Super Bowl is the biggest betting event of the year for legal US operators. There are plenty of different sportsbooks to choose from. We've highlighted some of the best options down below.
Know the rules. You must be of legal age and adhere to the terms and conditions of playing on the site while following the rules and regulations in your legal state.
Create an account. To wager with an online sportsbook, you'll have to sign up and create an account. It's a quick and painless process that generally takes just a few minutes.
Fund your account. After your account is created, you'll need funds to use for wagering. Just choose from the available payment methods on your chosen site and follow the on-screen instructions.
Decide what you want to bet on. You can locate the available options by clicking on the 'NFL' or 'Super Bowl' tab. There are a number of different options to consider, all of which we cover in more detail down below.
Choose your stakes. Deciding how much you want to wager is a personal decision, but there are two great rules of thumb to follow: bet with your head and never over it, and never wager with an amount that you can not afford to lose comfortably.
Place your bet. Click on the odds that correspond with your selection to add it to the betting slip, add in the amount that you want to wager, verify that everything is correct, and click through to place the wager.
How to bet on the Super Bowl
As soon as the Super Bowl matchup is official, sportsbooks will quickly release the odds for the game. The initial wave of lines will be for the three main bet types: moneylines, point spreads and totals. The listing will look something like this.

After the initial release, it's common to see the numbers move in response to betting action. For example, by the time the game kicks off, it's not uncommon to see a point or two of difference from the opening line.
It's always a good idea to shop around and compare the lines at multiple shops. They won't all move in unison, so you may be able to find better numbers just by taking a look around. As for the individual bet types, here's how they work.
Moneylines: Pick the side you think will win the game.
Point spreads: The side you choose has to cover the spread.
Totals: You can choose over or under the estimated number.
All three bets will bring in tons of action for the Super Bowl. They all make for great ways to get involved with the biggest betting event of the year, but they're also far from the only choices on the betting menu.
Live betting on the Super Bowl
Once the game kicks off, you can bet along in real-time with sportsbook apps in legal states. Live betting, also known as in-game betting, is one of the fastest-growing segments of the sports betting industry. It's a fast-moving market in which the odds and offerings will vary based on what's happening. Here are some examples of what you can bet on:
What will be the result of the next drive?
Total points or team to have the lead in a quarter or half.
Various player, team, and game prop-style bets.
An important note to keep in mind with live betting is this: It can be easy to get caught up in the action. If you plan on live betting, have a clear budget in mind and stick to it. It can be entertaining to wager along in real-time, but it will be much less so if you are betting beyond your personal limits
Super Bowl props
During the regular season and playoffs, there are several NFL games to choose from. On Super Bowl Sunday, it's just a single contest on the docket.
However, that doesn't mean you will be short on options to consider. Prop betting is one of the top highlights of the big game from a wagering perspective.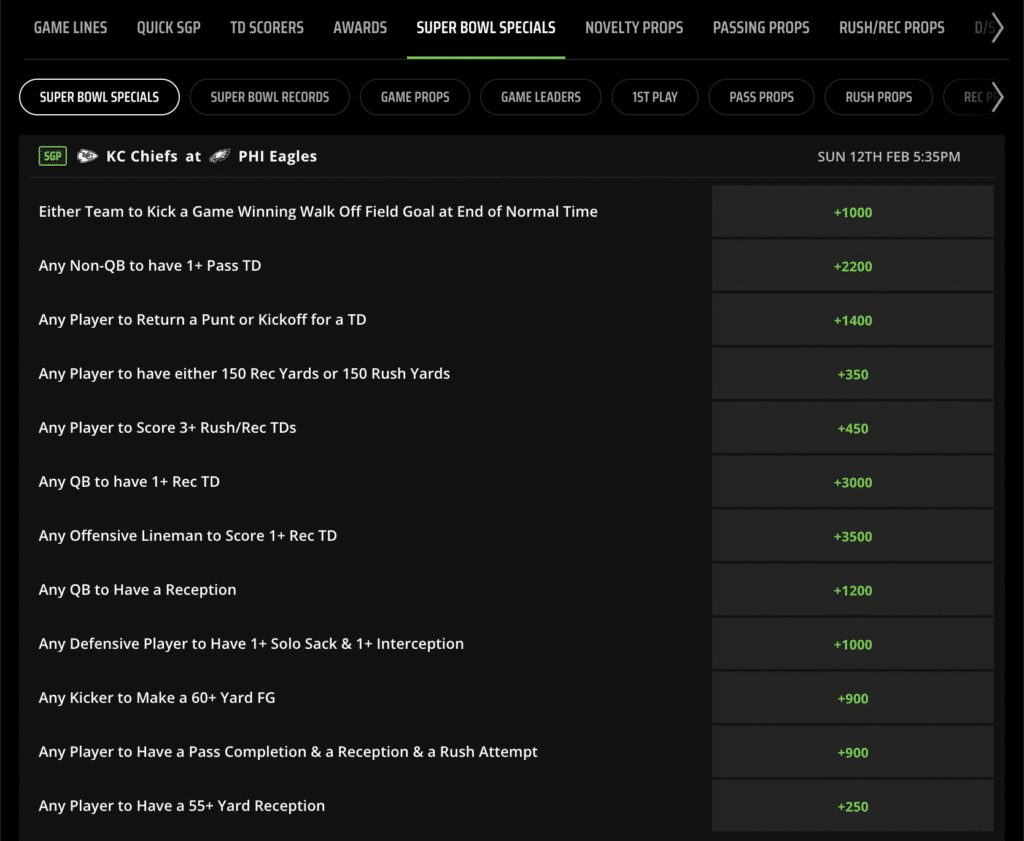 Sportsbooks go all-out as a result. There are hundreds of options to choose from. While many are of the standard variety and revolve around what happens on the field, there will also be some that have a little bit of entertainment flair attached:
Result of a coin toss.
Gatorade color is used for celebrating on the winning sideline.
While the above props are legal, there are just some examples of other entertainment-related prop bets that you won't see at legal US sportsbooks:
Will there be any nudity during the halftime show?
How many gambling references will the broadcast team make during the game?
Beyond the fun props, there's plenty of attention for those of a more serious variety, such as the player to be named Super Bowl MVP. While you'll find a lot of similarities in offerings between books, this is another good area to shop around as there may be some distinct offerings in certain spots that aren't available elsewhere.
How to bet on Super Bowl futures
Futures bets on the winner of the next Super Bowl will come out soon after the current game is in the books. Recently, it's been common to get a sneak peek from certain sportsbooks before the game is even final.
There will be odds for all 32 teams, ranging from the top favorites down to the also-rans of the league. Odds for a few of the favorites might look something like this:
Kansas City Chiefs +500
Tampa Bay Buccaneers +850
Green Bay Packers +1100
Buffalo Bills +1200
While the obvious idea is to nail the winner, there's a bit more to consider when playing the futures market. In a perfect world, you'll find your preferred selection at the best possible price. As such, it's always a good idea to line-shop and compare prices.
Naturally, you can't cash in winning tickets until the result is final, so Super Bowl futures require a long-term perspective. You can make a single wager and call it a day, but there are plenty of handicappers who stay engaged with the market all season long.
Rules and regulations for Super Bowl betting
Since legal states can set their own rules in regard to sports betting, there are differences and similarities across jurisdictions. For example, the legal age isn't uniform across states, but every state prohibits team- and league-affiliated personnel from betting on their own sports.
At individual sportsbooks, you'll find a similar story. There's a lot of uniformity in house rules across the industry, but also a few quirks here and there.
For betting on the NFL and the Super Bowl, here are a couple of the most common points:
All wagers are settled based on official league data and statistics.
For player prop markets, sportsbooks will remove wagers for athletes ruled out of the game prior to kickoff from the board.
One of the more interesting aspects of Super Bowl betting is the prop markets. As a general rule, bets have to revolve around the actual contest, but the lines get blurry here with questions such as the color of Gatorade used to shower the winning coach.
Offshore sites and illegal Super Bowl betting
Legal sports betting options may be prevalent in several states, but there's still an active market for illegal gambling. This includes offshore sites that claim to operate under what they call a cloud of uncertainty in US laws. The sites may look completely legitimate, but a closer look reveals they are operating in violation of federal law.
Among the red flags to watch for are the acceptance of alternative currencies as funding options, and the availability of bets that state regulators wouldn't permit. At the top of the list of drawbacks for taking your business, there is the fact that there are simply no guarantees that your funds will be safe.
State laws have specific protections in place for user funds, and you'll have a clear path toward resolution in the event that any problems arise. There are no such guarantees in place with offshore sites, so you're taking a roll of the dice.
Super Bowl 57 Date, Time, Location
The 56th edition of the Super Bowl saw the Los Angeles Rams come out on top of the Cincinnati Bengals. Here are some of the key details about the 2023 Super Bowl.
Date: Sunday, Feb. 12, 2023
Location: Glendale, Arizona
Venue: State Farm Stadium
Kickoff time: 6:30 p.m. ET
TV network: NBC
Streaming: Peacock, NBCSports.com
Super Bowl betting history
Prior to the Supreme Court ruling in May 2018, legal Super Bowl betting in the US was available only in Nevada. Las Vegas was quite a popular destination around the time of the game as a result, and the various books would go all-out for the festivities. While it remains that way today, the landscape has shifted mightily.
Now that sports betting is legal in a growing number of states, Sin City no longer has the event on lockdown from a betting perspective. Fans in a number of states can now legally and safely wager on the Super Bowl, and many more will have access to do the same in the future.
Unsurprisingly, the sportsbooks in legal states are doing some outstanding business. It's important to remember that this is with less than half of the US currently having access to legal sports betting, so it'll be interesting to see what's to come as additional states come online.