NFL
Best NFL Divisional Round ML Upset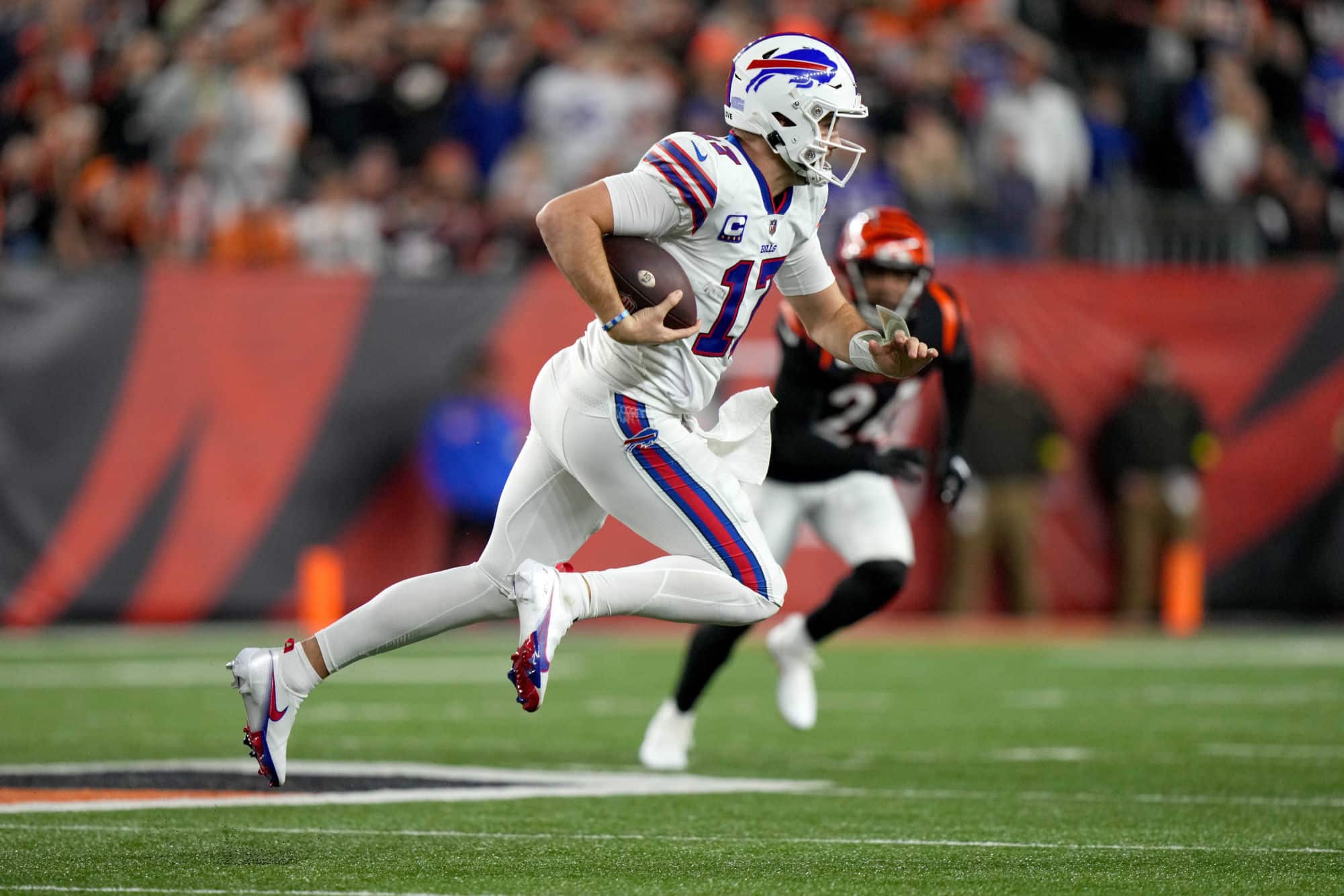 By Scott Kacsmar
In the last 20 NFL postseasons since division realignment, there have only been five instances where all four favorites won in the divisional round. There have only been four years where all the home teams won (2002, 2004, 2015, and 2018).
Over three-quarters of the time, at least one favorite will lose this weekend. Last season, we were 13 seconds in Kansas City away from all the favorites and home teams going 0-4.
What happens this year after such a competitive 2022 season? It seems unlikely we won't see at least one upset this weekend. We nailed our two upset picks last week of the Jaguars and Giants advancing, but this week, let's take a different approach.
We are going to chart a path to victory for all four underdogs, then finish by picking the best value underdog to win outright in the divisional round. Updated odds courtesy of FanDuel.
Game 1: Jacksonville Jaguars vs. Kanas City Chiefs
Spread: Chiefs -8.5
Underdog Moneyline: Jaguars (+380)
We have three reasons for why the Jaguars can win in Kansas City.
Reason 1: Turnovers
Technically, the 2022 Chiefs are the first 14-3 team in NFL history (17-game era), but they are not your normal 14-win team. The Chiefs finished minus-3 in turnover differential, something no other 14-win team has done besides the 2001 Rams, who were minus-10 with a 14-2 record. That team lost as a big favorite in the Super Bowl to the Patriots almost exclusively due to three turnovers, including a pick-six.
The Jaguars and Chiefs are the only teams in the NFL this season to win a game despite being minus-3 or worse in turnover margin. The Chiefs did it to the Jaguars in Week 10 when they were down 3-0 in turnovers, and the Jaguars of course just did it last week to the Chargers despite losing 5-0 in turnovers.
Needless to say, neither team wants a repeat of that performance, but the Chiefs do need to protect the ball better. Cut out the obligatory fumbles, muffed punts, bad interceptions, and just general mistakes that have made it hard on them to put games away comfortably this year.
Even in Week 10, the Chiefs fumbled a kickoff right before halftime, but the Jaguars were unable to make a 41-yard field goal to make them pay for it. We know Mahomes also threw a game-ending interception against Buffalo, and Travis Kelce had a huge fumble in the Cincinnati loss.
The Jaguars are still here because of some big takeaways late in the season in comeback wins against Baltimore (fumble), Dallas (pick-six in overtime), and Tennessee (game-winning strip-sack return).
Reason 2: Doug Pederson, The Underdog Legend
Jaguars head coach Doug Pederson is 0-2 against mentor Andy Reid, but he is a force to be reckoned with when playing with house money in the postseason. Going back to his Super Bowl run with the Eagles in the 2017 season, Pederson is 6-0 ATS and 5-1 SU as a playoff underdog.
He might be 6-0 if there wasn't a tipped interception in New Orleans in the 2018 divisional round. Pederson just knows how to embrace the underdog role and make some risky calls to give his team an edge.
With the Chiefs allowing the most touchdown passes (33) in the league and ranking 31st in red zone touchdown percentage, maybe he'll have his own Jacksonville Special lined up to throw a touchdown to Trevor Lawrence this week. Surprise onside kicks are not out of line either. Anything to steal a possession from Mahomes.
Reason 3: Jaguars Can Come Back Now, and Chiefs Can Still Blow Leads
When the Chiefs beat the Jaguars in Week 10 by a 27-17 final, it was your typical Jacksonville loss. The team was down 20-0 and couldn't make a comeback in a high-scoring game.
In fact, it was the 41st loss in a row in a game where Jacksonville allowed more than 20 points. But ever since the Jaguars beat Baltimore 28-27 in Week 12, the Jaguars are 4-1 in such high-scoring games. The Jaguars also have three 17-point comeback wins in their last 10 games after having one such win in their franchise's first 455 games. They just pulled off the third-largest comeback win in playoff history (27 points) against the Chargers last week.
Before you say that's just the Chargers, let's not forget the second-biggest blown lead in playoff history was Andy Reid's Chiefs blowing a 28-point lead in Indianapolis in the 2013 AFC wild card. He also blew a 21-3 halftime lead in the 2017 AFC wild card against Tennessee.
Before you say that wasn't with Mahomes playing, it was just a year ago when the Chiefs blew a 21-3 lead in the AFC Championship Game against Cincinnati, the largest blown lead at home in a title game in NFL history. Mahomes played the worst half of his career in that one.
So yes, it can happen. Outside of 2019, every Reid team has disappointed eventually in the postseason. It probably will take a fourth-quarter comeback for Jacksonville too, because the Chiefs have had at least a tie in the fourth quarter or overtime in 30 straight games.
You never know when one little slip-up can end your season. Maybe it's on special teams again like the Indianapolis loss. Chiefs kicker Harrison Butker had a career-low 75% FG% this season, and while he has been great in the postseason, he always looks like he's one bad game away from going full Lin Elliott on this team and costing them a big game.
Game 2: New York Giants vs. Philadelphia Eagles
Spread: Eagles -7.5
Underdog Moneyline: Giants (+290)
We have four reasons for why the Giants can win in Philadelphia.
Reason 1: The 2022 Eagles Peaked Too Early
When the Eagles were 8-0, this team was looking to be in historically good company with almost no weaknesses. They jumped out on teams early and never trailed in the second half of any of their first eight wins, just the third team since the merger to do that.
Remember the second-quarter dominance? The 2022 Eagles scored 133 points in the second quarter of their first eight games, the most ever in that quarter through eight games.
But what happened after that point? The Washington Commanders came in with Taylor Heinicke at quarterback, they started 12-of-16 on third downs, and they came up with four takeaways to beat the Eagles 32-21 in Philly for a shocking upset. Dallas Goedert was injured in that game and would miss some weeks.
Then Jalen Hurts mysteriously injured his shoulder in Chicago, missed the next two games, and the Eagles again turned it over four times in a 40-34 loss in Dallas. They also allowed Dak Prescott to convert a third-and-30 in the fourth quarter. Then backup quarterback Gardner Minshew, who played well in Dallas, threw a pick-six in a bad home loss to the Saints.
The Eagles went from 8-0 to a 6-3 record, a record that nine other teams equaled or bettered down the stretch in 2022. The Eagles scored 74 points in the second quarter of the last nine games, ranked ninth in 2022. A far cry from No. 1 all time through eight games.
Thanks to a bye week, the Eagles will have Hurts, Goedert, and right tackle Lane Johnson back for the playoffs. But the 49ers have surpassed them as the favorites in the NFC and it is hard to disagree with that.
If this team is not careful this week, they have some of the earmarks of a No. 1 seed who peaked too early and got upset by a division foe who got to know them well late in the year.
Remember, the 3-0 sweep is not inevitable. Teams going for it in the playoffs are 15-9, but that means 37.5% of the time they lose, including the last two times it's been tried in the divisional round (2020 Saints vs. Buccaneers and 2007 Giants vs. Cowboys).
Maybe the Giants are coming back for some of that 2008 revenge when the No. 6 seed Eagles beat the No. 1 seed Giants in their title defense. Crazier things have happened for both franchises in the postseason.
Reason 2: Jalen Hurts' Spotty History
Jalen Hurts had a near-MVP type of season for the Eagles, but he is not coming into the playoffs hot after missing two games with a shoulder sprain. Pro Football Reference has charted his three most inaccurate games this season as his last three games. That includes both games against the Giants, who held him to two of his worst figures in passing first down rate, a telling stat for success.
For the first time all season, Hurts didn't throw or run for a touchdown in Week 18 against the Giants, who mostly played backups that day. The Eagles held on for a 22-16 win despite being a 16-point favorite and trying to secure the No. 1 seed.
In four meetings with the Giants, Hurts has never cracked 7.0 yards per pass attempt, and he had the worst game of his career with three picks against the Giants in a 13-7 loss in 2021.
Hurts was 0-7 against playoff teams in 2021, and this year he has not really defeated many good teams who had their starting quarterback available. Beating Kirk Cousins on a Monday night in Week 2 before we knew the Vikings would be the biggest fluke of a 13-win team in NFL history is not exactly grounds for a signature win.
The Giants blitz more than any defense and should get after Hurts if they want to pull off an upset. Stuffing him on that unstoppable quarterback sneak with the players pushing him would be quite the achievement, but maybe the Giants need to emulate that themselves to convert some fourth downs and maintain possession in this one.
Reason 3: Giants Have Improved on Offense
While the competition has been Minnesota (twice) and Jeff Saturday's Colts, the last three games for New York's starters have been as good offensively as any this year. The Giants finally scored over 30 points for the first two times all year in these last two games. Isaiah Hodgins has been a find at wide receiver, and the other unheralded players are stepping up like Richie James and Darius Slayton.
Isn't that typical of the Giants in the playoffs? Quarterbacks and receivers you think so little of in the regular season stepping up while the defense shuts things down in the fourth quarter. They've only rode that formula to their last three Super Bowl wins, but this team is not as talented as those ones.
They'll need the offense to play well, but it really is more on the defense to deliver this upset. But if they can just keep it close and not 48-22 like last time with the starters…
Reason 4: Giants Have Been Better in Close Games
If the Giants can keep this one close, they do have an edge here. They were second to only Minnesota this year with Jones leading his sixth game-winning drive last week to beat the Vikings and end that team's 11-0 mark in close games this season.
We saw it in Week 1 when the Giants went for a go-ahead two-point conversion to beat the Titans. Head coach Brian Daboll is not afraid to do the things necessary for an underdog, and the Giants have a league-best 14-4 ATS record for a reason.
Overall, the Giants are 8-4-1 in close games adding last week's win, and the Eagles are 4-3 in close games with a 1-3 record at fourth-quarter comeback opportunities. Their only comeback win was in Indy against Jeff Saturday. Meh.
But that's the tale of the week. The Eagles do not have signature wins yet in the Jalen Hurts era. They need to at least survive this one if they want to add one in the next round.
Game 3: Cincinnati Bengals vs. Buffalo Bills
Spread: Bills -5.5
Underdog Moneyline: Bengals (+198)
We have three reasons for why the Bengals can win in Buffalo.
Reason 1: Sacks vs. Turnovers
It just missed working out in Super Bowl 56 for the Bengals, but they can mitigate sacks and pressures on Joe Burrow by getting turnovers from a Buffalo team that now has 30 giveaways in 17 games (third most).
Three turnovers almost did the Bills in last week against the Dolphins, who got an 18-of-45 passing performance from third-string rookie quarterback Skylar Thompson. Yet it was still a 34-31 game despite Miami's dropped passes, zero running game without its best running back (Raheem Mostert), and the Bills leading 17-0 early.
The Bengals are the best defense in the league right now at getting clutch turnovers in big games. They did it in the playoffs last year, they did it to the Chiefs this year with a Travis Kelce fumble, and they just did it again with a 98-yard fumble return touchdown to beat Baltimore in the wild card.
We are still learning Josh Allen's playoff identity. Is he the God-like quarterback we saw in 2021, or is he the chaotic, modern-day version of Brett Favre? The Bengals can help answering that in their first official big meeting with him by getting some more turnovers.
Buffalo's last loss was the Minnesota game, an insane ending that saw Allen turn it over three times late, including two red-zone picks and the most egregious fumble return touchdown in the NFL in over 40 years.
Burrow seems to have that lucky horseshoe with the defensive takeaways, so we'll see what they can conjure up here. While he has lost three offensive linemen to injuries, he catches a break in not having to face a stud like Von Miller, who tore his ACL on Thanksgiving in Detroit.
Reason 2: Bengals Can Score and Defend
The spread does seem a bit high here as the Bengals are No. 7 in points scored and No. 6 in points allowed. They are 11-1 in their last 12 games. They also can score with the best in the NFL.
This season, Buffalo has played seven games against teams with winning records, excluding the Steelers when they were lousy and gave rookie Kenny Pickett his first start. In those seven games, the margin of victory was always tiny at 2-to-4 points, and the Bills were 5-2.
There is no reason why the Bengals should not be able to keep this close and within striking distance. Only three of the last 38 Cincinnati games have been lost by more than 5 points.
Reason 3: Bengals Have Confidence, Bills Have Pressure
For as much as we talk about the Chiefs and Bills, the Bengals are the defending AFC champions. The Bengals beat the Chiefs for a third time in one calendar year this season. The Bengals were up 7-3 and driving for more when the Week 17 game with Buffalo was suspended for Damar Hamlin's cardiac arrest incident.
Hamlin has recovered well and will probably be at the game Sunday. But the Bengals have a legitimate gripe that this game should be played at a neutral field too since they were denied the chance to finish the game they led that would have given them the No. 2 seed with a win and allowed them to host this week.
That could very well give this team some extra motivation for this game. The Bengals already have this "they have to play us" mentality built on winning many games against AFC contenders in the last two years.
The pressure is on Buffalo to win at home after being the Super Bowl favorite for the majority of the year. The Bengals are still a dangerous team.
Game 4: Dallas Cowboys vs. San Francisco 49ers
Spread: 49ers -3.5
Underdog Moneyline: Cowboys (+172)
We have four reasons why the Cowboys can win in San Francisco in the final game this weekend.
Reason 1: Make the Rookie Look like Mr. Irrelevant
No rookie quarterback has ever started a Super Bowl, and Joe Flacco (2008 Ravens) and Mark Sanchez (2009 Jets) are the only two to win multiple playoff games and start a Conference Championship Game.
Brock Purdy is one win away from joining them and by having more impressive games than just about any rookie quarterback since World War II. Last week, Purdy became the first rookie quarterback to pass for over 300 yards and three touchdowns in a playoff win since the legendary Sammy Baugh did it in 1937. World War II didn't even start yet.
This has been an insane run, and if Purdy throws multiple touchdowns for the eighth game in a row, he'll stand alone in that streak for a rookie too. Justin Herbert (seven) is the only other rookie to do it in more than five straight games.
But at what point does Purdy finally look like Mr. Irrelevant? Did the 49ers really stumble on the greatest overlooked draft gem of a quarterback in decades, or is there something else going on here? Maybe playing a soft schedule with amazing talent and offensive design? But even Jimmy Garoppolo would have had a horrible game by now, and he's a veteran.
That is why the Cowboys have to make their defense, which ranks near the top in most categories, the story of this game. Get someone like Trevon Diggs to pick off a pass as Purdy is no stranger to throwing some dangerous ones. Get Micah Parsons in his face quickly.
The Cowboys lead the NFL in takeaways (33) for the second year in a row, which is extremely hard to do. They need takeaways in this game as the 49ers are 0-4 with multiple turnovers and 14-0 without that happening this season.
It really is that simple sometimes. But quarterback has never been as simple as showing up and getting all this offensive production and winning every game like Purdy has. Someone has to put an end to this run.
Reason 2: Is San Francisco a Paper Tiger?
The 49ers clearly have some of the most talented players in the league at various positions, a strong coaching staff, and some track record of success with NFC Championship Game appearances in two of the last three years and nearly one Super Bowl win if not for a third-and-15 letdown against the Chiefs.
So, it may not be fair to call them a paper tiger, but this team was 3-4 this year with bad losses to bad teams who were never any good, including the Bears (3-14), Broncos (5-12), and Falcons (7-10).
The 49ers have not lost since and have won 11 games in a row after adding Christian McCaffrey and going with Purdy after Garoppolo's injury. But who have they actually played during this streak? Two games against the mediocre Seahawks, who were not a better No. 7 seed than Detroit would have been, and a 22-16 comeback win over the Chargers are the toughest games during this win streak.
San Francisco played one of the six other teams with 12-plus wins this year and the 49ers were rocked 44-23 by the Chiefs in Week 7. Meanwhile, the Cowboys are 3-1 against the Bengals, Eagles (split), and Vikings. The only loss was in Philly at that team's peak without Dak Prescott.
This may not translate to a win this week for Dallas, but you cannot say that Purdy is battle tested yet. The 49ers had the weakest strength of schedule in the league this year.
Reason 3: Dak Prescott's Time Is Now
While Dak Prescott leads the NFL in interception rate and interceptions despite missing five full games, he's had some really bad luck with tipped balls too. The Cowboys finally avoided those mistakes in Tampa Bay, and Prescott ended his seven-game streak with an interception and shredded the Bucs with over 300 yards and five total touchdowns.
If that Prescott shows up in San Francisco, this will be a very interesting game. Before the horrible game in Washington in Week 18, Dak led the Cowboys to at least 27 points in nine straight games, the kind of streak that has always led to a championship game appearance in the past. In fact, teams on such a streak are 12-for-12 at appearing in a Super Bowl or Championship Game. Buffalo also did it this year, so we'll see how that holds up for the Cowboys and Bills in 2022.
But Prescott is a very good quarterback with some really solid playoff numbers outside of his 2-3 record. But if he can get the necessary help from a defense that is supposed to be elite, then he can pull this one off. He just has to make sure the rookie looks like the rookie in this matchup, and he doesn't make the crucial mistakes.
Reason 4: Kyle Shanahan's Bad Playoff Juju
If you think the Cowboys and Mike McCarthy have some bad playoff history in recent years, consider Kyle Shanahan's history. This is his fifth postseason as an offensive coordinator or head coach, and in each of the previous four, his team blew a double-digit lead, a fourth-quarter lead, and his offense scored zero fourth-quarter points.
The last three times, he's done all those things:
2016 Falcons (OC): Blew 28-3 second-half lead and 28-9 fourth-quarter lead vs. Patriots in Super Bowl
2019 49ers (HC): Blew 20-10 fourth-quarter lead vs. Chiefs in Super Bowl
2021 49ers (HC): Blew 17-7 fourth-quarter lead vs. Rams in NFC Championship Game
His supporters always want to blame everyone from Dan Quinn to Jimmy Garoppolo to Jaquiski Tartt dropping a Matthew Stafford interception last year, but zero fourth-quarter points is a hard thing to overlook.
Even when beating Dallas on the road last year, that was nearly a blown 23-7 lead in the fourth quarter by the 49ers. If only the Cowboys called something smarter than a quarterback draw at the end.
Hopefully they learned a lot from that game.
The Best Upset Pick in the Divisional Round
After laying out the four cases for an upset this week, which one should you pick?
I am going with the Cowboys to win in San Francisco to advance to their first NFC Championship Game since the 1995 season.
Sure, it may be a copout to pick against the rookie quarterback in the game with the smallest spread, but we want to pick a winner. While all four underdogs offer some great value as spread picks this week, when it comes to moneyline, Dallas has the best shot to bring this one home with some elite performances on both sides of the ball.
For as crazy as the NFL is at times, Brett Maher could even be the hero with a long game-winning field goal this weekend. That's why the divisional round is the best week of the NFL year in the eyes of many.